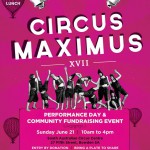 [ June 21, 2015; 10:00 am to 4:00 pm. ]
Cirkidz Circus School presents Circus Maximus!
Have you heard the news?
Circus Maximus XVII is back (and bigger than ever) on Sunday June 21.
Circus Maximus is:
a chance for the cirkidz kids to show off their hard work all semester
a community fundraising event for Cirkidz
a great family outing for young and old!
Don't forget to bring a plate to […]