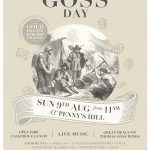 [ August 9, 2015; 11:00 am to 6:00 pm. ]
Head to Penny's Hill in McLaren Vale on Sunday 9 August to celebrate 161 years since Thomas Goss purchased the Penny Hill property.
This annual family friendly event celebrates the rich history of McLaren Vale with wine, food and fun.
Enjoy live music, open fire casserole lunches, wine deals, games and gold digging for minors. Entry to this […]