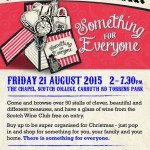 [ August 21, 2015; 2:00 pm to 7:30 pm. ]
Scotch College are holding their inaugural Pop-up Bazaar hosted by the Parents and Friends Association as a fundraiser and fun community event.
There will be over 50 private stalls showcasing their products, plus school community groups providing squid and chips, wine, soft drinks, cakes, coffee, olive oil, body scrubs, secondhand books and toys.
Entry is $10. Tickets are […]