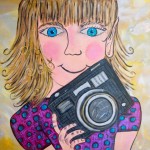 [ August 1, 2015 10:00 am to August 31, 2015 5:00 pm. ]
Children's Book 'I Create'
Tools for positive creative release
Bring your kids to a friendly, child safe environment for a children's book launch, illustration viewing and art expression workshop with emerging artist Tracey Grivell.
These workshops are FREE and will be held from 1 to 31 August 2015.
For more information and all enquiries please visit the SALA Festival […]