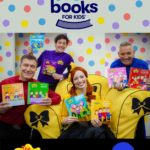 [ January 30, 2020 to March 19, 2020. ]
Free Books for Kids at Big W – The Wiggles
Toot, Toot, Chugga Chugga… the rumours are true! Free Books for Kids is coming back to a store near you!
Each Thursday, beginning January 30th until March 19th, 8 educational books from family favourites The Wiggles will be available to collect in-store.
The books are a fun way […]