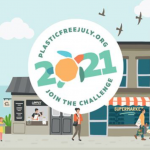 [ July 1, 2021 to July 31, 2021. ]
Plastic Free July – What you can do to help
Plastic Free July is a global movement that helps millions of people be part of the solution to plastic pollution – so we can have cleaner streets, oceans, and beautiful communities.
Now, more than ever our environment needs us.
Despite the challenges the pandemic has brought across the […]