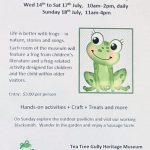 [ July 14, 2021 to July 18, 2021. ]
Froggy Days – School Holiday Event
Tea Tree Gully Heritage Museum is hosting frog-themed activities during the July school holidays.
Each room of the museum will feature a frog from a children's literature and a frog-related activity designed for children and the child within older visitors. There will be hands-on activities, craft, treats and more.
On Sunday you can […]