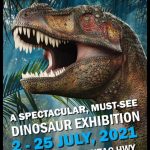 [ July 3, 2021 to July 18, 2021. July 23, 2021 to July 25, 2021. ]
Jurassic Creatures Interactive Dinosaur Exhibition Adelaide
Jurassic Creatures, is an interactive dinosaur exhibition coming to Edwards Park, Adelaide in the July school holidays.
Event-goers will be able to walk around the park and view the animatronic dinosaurs as they move and roar. Amongst the dinosaur inclusions will be Tyrannosaurus Rex.
The event promises that a range of other […]