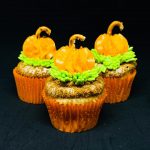 [ October 26, 2021 to November 13, 2021. ]
The Cupcake Lady Halloween Pop-up
Adelaide's favourite cupcake specialist The Cupcake Lady has returned to the Adelaide Central Market Producer in Residence stall until Saturday 13 November.
To celebrate Halloween, The Cupcake Lady has created two "spooktacular" limited edition collections for Market shoppers to purchase and enjoy ahead of 31 October 2021.
The team are back with 50+ […]