Adelaide July School Holidays 2019
Find all the best activities & ideas for the Adelaide Winter School Holidays.
To make it easier for you to find things for the kids to do during the school holidays, the Play & Go team have put together our Holiday Guide featuring some of the most popular, and some not-so-well-known activities on offer. There are venues all over Adelaide that offer vacation care programs, workshops, clinics, classes and activities for the kids, plus there are plenty of fun things to do together as a family.
We also have an extensive list of individual posts listing special events, entertainment, shows and much more in our
Winter Holidays 2019 category.
---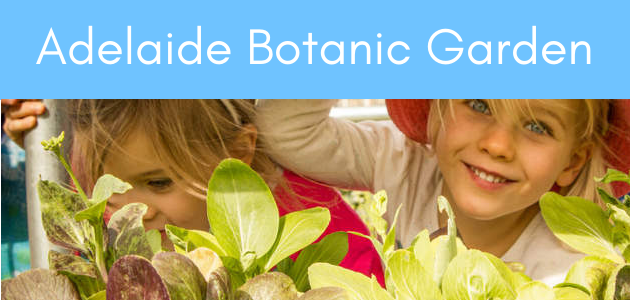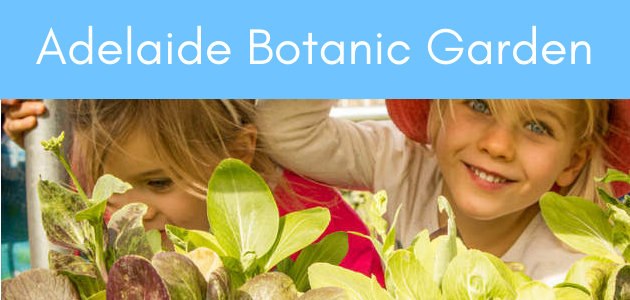 Adelaide Botanic Garden
Take your child to a beautiful Botanic Garden this July for an awesome school holiday activity.
There's something for everyone: budding gardeners, plant and animal lovers and crafty types! Taste bugs (yes, really!), get up close with native wildlife, make your own 'seeded' paper to grow at home, learn how to compost and much more!
Gardening Themed Activities  |  Composting is fun & Healthy gardeners
Plant Themed Activities  |  Aboriginal plant use & Plant Hunter's Treasure hunt
Animal Themed Activities  |  Bugs in the Bi-Con, Native wildlife show & Wildlife walk
Craft Themed Activities  |  Beginner's papermaking, Advanced papermaking & Bushland babies
Whatever your little one is in to, each event has been designed to promote fun, hands-on learning about plants, animals and the environment.
Suitable for 5-13 year olds. Costs vary. See the full program HERE or click the link below for more information.

Adelaide Gaol Escape Trail
Think you know the Adelaide Gaol Escape Trail? Think again.
The Adelaide Gaol is upping the ante these school holidays with a challenging new twist to their popular Escape Trail.
And this time, they'll be taking you to locations in the Gaol you may not have explored before!
So get your thinking caps on, and join the fun from 6 to 21 July for one of the most unique experiences these school holidays.
Since its opening in 1841, Adelaide Gaol has housed approximately 300,000 prisoners. There have been a number of famous escapes – including one ingenious (though unsuccessful) attempt in 1983, where a prisoner took his pyjama coat to an art class and painted it to resemble an officer's uniform. To add to his ensemble, he even created an impressive officer cap out of a biscuit box!
Saturday 6 – Sunday 21 July 2019 | 10am-4pm | 18 Gaol Road, Thebarton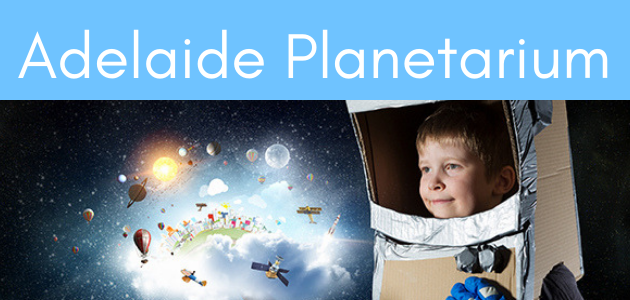 Adelaide Planetarium
Venture into space these school holidays
Adventure and entertainment await at the Adelaide Planetarium. Families are invited to fly to the moon with Tycho, explore the seasons with Annie and Max, venture into the Wildest Weather or witness the creative and spectacular encounters that fuel the cosmos in the new movie, Cosmic Collisions. There is something for all ages.
Planetarium Experience & Classroom Craft Activity
Explore the ever-changing constellations that travel through our night sky. Journey through the solar system and visit different and captivating planets, followed by a full dome movie.  The ultimate learning experience that will engage and excite children.
10am-12.30pm session | ages 4-8 | Planetarium experience with movie Tycho to the Moon followed by time in the classroom where you will have fun learning more about the sun and planets while creating your own solar system.
2pm-4.30pm session | ages 8+ | Planetarium experience with movie Wildest Weather in the Solar System followed by time in the classroom where you will assemble and paint a model of the solar system whilst each planet is looked at in detail.
Monday 8 – Friday 12 July & Monday 15 – Thursday 18 July 2019 | Planetarium experience $9 per person | Planetarium experience and craft activity $25 per child, $9 per adult | Bookings essential.

Expressions Media
Expressions Media is offering a range of school holiday workshops in Adelaide for primary and secondary students interested in arts, drama, creative writing and journalism.
Youths with a keen interest in creative expression and writing can come and create a painted poetic masterpiece, learn the tricks of the trade in media, or write and perform their own script for the stage. 
Tuesday 9, Thursday 11, Tuesday 16, Wednesday 17 & Thursday 18 July 2019 | Ages 5-18 | Cost: $60 per workshop
Expressions Media | 134 Hutt Street, Adelaide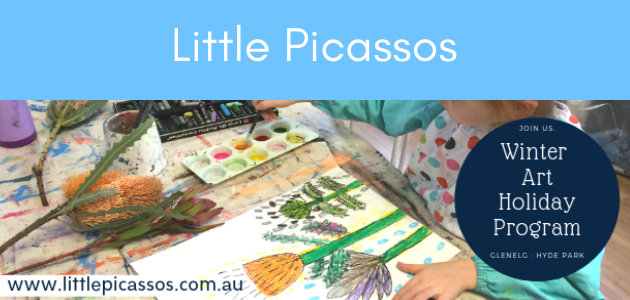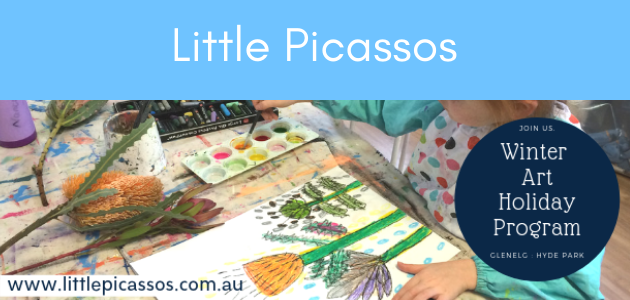 Little Picassos: Winter School Holiday ART Classes
Join Little Picassos this Winter break for a selection of wonderful holiday classes in a studio setting that provides an inspirational and motivational Art space for children.
Two studio locations, Glenelg and Hyde Park.
Their Art programs have something for everyone, classes with accompanying adults from 2 years, drop and go sessions from 4.5 years for 1, 2 or 3 hours, half and full day experiences in a variety of mediums including: drawing painting, printmaking, sculpture, clay, textiles and construction. If you choose more than one session on the day your child is fully supervised over the breaks, so you can make a full day of it.
Winter Art Camp and Winter Clay camp with experiences over two days.
Classes running Monday 8 July – Friday 19 July.  Times vary each day – check their programs for details.
Glenelg – 686 Anzac Hwy, Glenelg | Hyde Park – Rear of 330 Unley Road, Hyde Park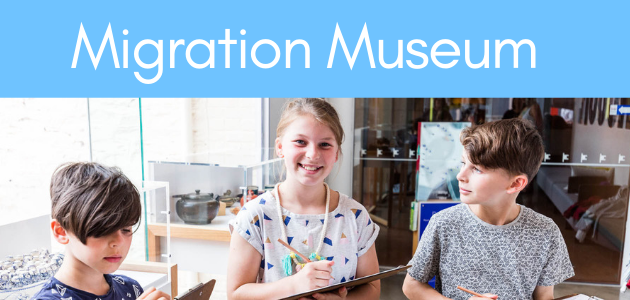 Migration Museum
Souvenir Shrinkies and Brilliant Badges
Visit the Migration Museum's Greetings From … the power of souvenirs exhibition. Be inspired! Take an old-fashioned polaroid selfie, make a souvenir key-ring out of shrinkie paper, and design a badge.  You can even design your own postcard.
Tuesday 9 & 16 July & Friday 12 & 19 July 2019, 11am – 12.30pm | Ages 8-12 years | Cost: $10 per participant – the museum will supply all the materials you need. One accompanying adult included in cost of ticket. Limited to 10 participants. Bookings preferred.
Migration Museum Magical Misery Tour
Mooch on down to the Migration Museum these school holidays to be gruesomely guided through a South Australian history splattered with sewage, swill, swindling…and reckless radioactivity!
Wednesday 10 & 17 July, 11am – 12pm | Ages 5-8  | Cost: $10 per participant – (Limited to 15 participants only) Bookings essential.
Chatterbox 
Make a paper origami 'chatterbox' at the Migration Museum. Children will fold and shape their own chatterbox with help from the museum guides and have fun seeing what their paper creation will reveal.
History Mystery 
Someone or something has been lost in the halls of the Migration Museum! Help solve the puzzle of the lost museum items. Visit the front foyer for your trusty History Mystery kit and then use your wits to solve the mystery. Young visitors will be rewarded with a prize on completion of their detective work.
Monday 8 – Sunday 21 July 2019, 10am – 4pm daily | Ages 5-12
Migration Museum | 82 Kintore Avenue, Adelaide | Ph 8207 7580 or Email: migration@history.sa.gov.au
National Motor Museum
School Holidays at the National Motor Museum – GooRoo Animation – Make Your Own Movies!
Visit the National Motor Museum this school holidays and make your very own 'Brick Film'. Drawing inspiration from the vehicles on display at the museum, kids can create their own Lego car chase, or assemble their own unique vehicle.
GooRoo Animation workshops will be held on the first weekend of the holidays where you can learn to create your very own movies. They will teach you about what goes into making a film, giving you a behind the scenes glimpse into producing an animated movie.
Movies will be filmed and put together using the Stop Motion Studio App available on mobile devices. They will then be uploaded to YouTube via the GooRoo Animation Workshops channel so you can share them with all your friends and family.
Saturday 6 & Sunday 7 July 2019 | 11am – 3pm | Free with Museum admission (bookings preferred)
National Motor Museum | Shannon Street, Birdwood | Ph: 8568 4000   E. motor@history.sa.gov.au

Nature Play SA Cubby Town 2019
Cubby Town is back for the Winter holidays.
Nature Play SA is excited to be teaming up with National Parks South Australia again for their 5th Cubby Town event for ONE DAY only on Wednesday 17 July at Belair National Park!
Tickets are now on sale and numbers will be capped to ensure the enjoyment of families in attendance. Families can enjoy cubby building, wattle and eucalypt crown making, guided ranger walks, bell tents for reading, Wodli building and walks with Tamaru, natural loose parts play along with as much free play as your nature players can handle in Belair National Park.
Tickets are $10 per child and $5 per adult per day [plus GST and Eventbrite fees]. Babies under 12 months do not require tickets.
Ticket's won't last long for this event, so snap yours up quickly!
Wednesday July 17 | 10am – 3pm | Belair National Park, Adventure Playground. Upper Sturt Road Belair | Children aged 0 – 12 years (older children are still welcome to attend)
SciWorld Pop Up Discovery Centre
Discover a world of science at SciWorld's Pop Up 'Discovery Science' Centre at the Adelaide Showground.
You'll explore the solar system in the Starlab, see the Fire and Ice or Planetary Chemistry Show, explore the exhibits and learn something new in one of their workshops.
Workshops:
Palaeontology
Up Up and Away
Bodies and Brains
or Stunning Statistics
Affordable, quality family fun at just $15 (plus booking fee) for children aged 4-15 years and accompanying adults and younger siblings completely FREE.  Tickets available at the door subject to availability for $20 per child.
Tuesday 9 – Thursday 11 July 2019 | 2-5pm | Stirling Angas Hall, Wayville

Scoffed School of Food and Fun
Turn things upside down this School Holidays.
Instead of booking your kids into the normal School Holiday activities why not book them into Scoffed Cooking School. They'll stay nice and warm from all the cooking they'll do, they'll have heaps of fun, get fed and learn to cook from scratch. How good is that?
View the full school holiday program here.
Scoffed School of Food & Fun | 441/D Magill Road, St Morris

South Australian Maritime Museum
School Holidays at the South Australian Maritime Museum – The Bigger Book of Pirates – A Dragon's Tale
Join Captain Salmonbeard and his reluctant crew during the holidays at the South Australian Maritime Museum for another perilous adventure on the seven seas. The bumbling crew of scallywags and misfits have become lost at sea on their very first attempt at becoming 'real' pirates.
While wallowing in the watery wilderness, a mysterious, though strangely familiar visitor, emerges from the depths and offers them help. The crew are going to have to write their own book of piracy as they've strayed so far off course.  And according to pirate legend, that book can only be written in dragon's blood…
The Bigger Book of Pirates is an adventure packed with surprises, on an ocean of possibility. Produced by the ever popular HeapsGood Productions, The Bigger Book of Pirates features performers from both HeapsGood and the critically acclaimed Adelaide Youth Theatre.
Monday 8 to Friday 19 July 2019 Weekdays | Performances at 11am and 1pm, $6 per child includes the lighthouse (bookings not required). Ages 7-16.
SA Maritime Museum | 126 Lipson Street, Port Adelaide | Ph: 8207 6255  E. maritime@history.sa.gov.au

Theatre Bugs
July School Holiday Programs
Theatre Bugs are back with their much loved school holiday programs. Children will enjoy a fun and fabulous week filled with drama activities, rehearsing, and making props which finishes with a production of SLEEPING BEAUTY at 5pm on the last day. Students perform with a stage set and costumes. Every child has a special role to play and lines to learn.
Join Sleeping Beauty, brave Prince Philip, Flora, Fauna and Merryweather as they work together to outwit the evil fairies, break the curse and wake Princess Aurora from her long sleep. A magical holiday adventure for a wonderful holiday program.
Theatre Bugs has been teaching Adelaide's children to act, sing, and dance for 21 years and during that time many 1000's of children have enjoyed attending the school holiday programs. It is always a thrill to see the brilliant performances the students are able to create in just five days.
Week 1: Norwood, Unley & Glenelg | Monday 8 – Friday 12 July 2019 | $230 for the 5 day program
Week 2: Norwood and Unley | Monday 15 – Friday 19 July 2019 | $230 for the 5 day program
BOOK NOW BEFORE SOLD OUT!
---
Want even more inspiration for the Winter School Holidays?
Click here

 to take a look at our list of ideas for every school holidays.
Remember, you can always check in with your Local Library (find yours here) or your Local Council (see our list) as most run special activities for children every school holidays – and many are inexpensive, or completely free!
Subscribe to our Weekly Newsletter
Keep up to date with our latest posts and find out what's on, where to go and what to do with the kids in and around Adelaide.
At Play & Go Adelaide we make every effort to provide accurate information to the best of our knowledge at the time of publication. We recommend confirming times, dates and details directly before making any plans as details may be subject to change. Holiday Activities in Adelaide…What do to with the kids during the holidays…School Holiday Ideas…South Australian school holiday guide…Great school holiday ideas….What's on for kids in Adelaide 
---