School Holidays in Adelaide Sep/Oct 2021
Find out what's on in Adelaide's September/October School Holidays for kids in Adelaide. This is your handy guide to the top activities, ideas, events and school holiday programs happening around Adelaide in the school holidays.
Spring is the perfect time to get out and about as a family exploring South Australia's walking trails and fantastic playgrounds. There are also some fabulous shows, exciting festivals and fun school holiday activities for kids during September and October.
To make it easier for you to find things for the kids to do, see our School Holiday Guide below, featuring some of the most popular, and some not-so-well-known activities on offer.
Most programs are open to school age children 5 years and older but there are some specifically for younger kids. Remember to book in early if your child is interested in participating as there will be number restrictions and classes fill quickly. When making a booking be sure to tell them you heard about them through Play & Go!
South Australian

Spring

School Holidays: Saturday 25 September – Sunday 10 October 2021
We're continually adding new kids' activities, programs and events to our guide, so keep checking back for more fun school holiday ideas!
We also have an extensive list of individual posts listing special events, entertainment, shows and much more in our Spring School Holidays 2021 category.
---
Adelaide Beaches
Top Activities in Adelaide Beaches these School Holidays
Adelaide Beaches has so much to offer these school holidays with fun activities for all ages.
These school holidays, get out and about and enjoy the fresh air and fun times along Adelaide Beaches 30km of coastline from Seacliff to North Haven.
Enjoy the coastal scenery or an action packed day out from swimming with dolphins, stand up paddle boarding, Beachouse entertainment centre to cooking classes and high teas.
We have compiled the complete guide to the best activities along Adelaide Beaches over the September/October school holidays to help make your life so much easier!

Adelaide Central Market
Big Market Adventures for Little Foodies is back at the Adelaide Central Market these school holidays!
All holiday activities are free or low cost and include the ever popular Market Trail, Little Market Chefs plus FREE art and craft workshops on Friday mornings (1 & 8 October). Be sure to try the Market Trail, where each little foodie will receive a market bag and map to guide them to each of the ten pit-stops to receive a sample item at each stop. The sample items range from cheese, yoghurt, a piece of seasonal fruit and sweet treat. You can't beat the Market Trail for value and fun these school holidays and it is recommended that you book your place in advance as tickets are limited, however (when available) bookings will be accepted on the day.
If you have a little chef in the house you may wish to try Little Market Chefs, cooking classes by Sprout for kids aged between 6 and 12 years. All of the produce will be fresh from Market stalls and the classes will be fun, interactive and each class will include a small take away meal of the dish they prepare. Bookings essential.

Adelaide Strikers Holiday Programs
Gear up for the cricket season ahead by playing fun and fast games with friends during the school holidays this October.
Registrations are now open for the Adelaide Strikers Holiday Programs. Six programs are available in October for boys and girls aged five to 10 years old. Gear up for the cricket season by playing fun and fast games with friends in an active and social environment – it's the perfect school holiday activity! Guided by the South Australian Cricket Association's accredited coaches over two days, participants will also receive an Adelaide Strikers Holiday Program pack.
The programs will run from Tuesday 5 October – Friday 8 October and locations include Adelaide, Golden Grove, Morphettville, Mount Barker, Woodville South and Mount Gambier.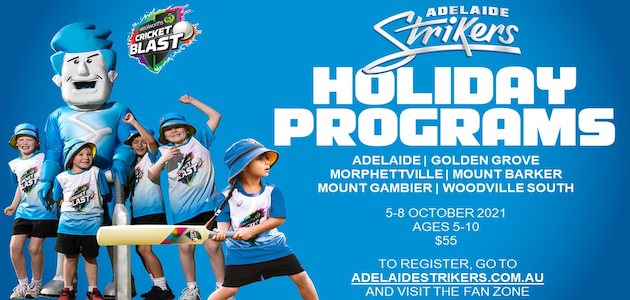 Adelaide Thunderbirds Netball Clinics
The popular Adelaide Thunderbirds School Holidays Clinics are back!
If your little one loves netball, is eager to develop their skills or simply wants to give it a go and have fun, then sign them up! These interactive clinics vary depending on the age and skills of the players and aim to cover all aspects of the game. Best of all, it's a great way to make new friends and be part of this fun and inclusive environment. Get your child and their friends together for this great school holiday activity!
Spots are filling up fast, so register online today.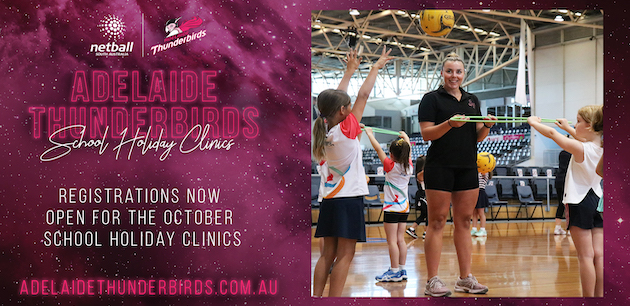 Adelaide University Sport
Adelaide University Sport has the perfect boredom busting, energy burning and friendship building school holiday program, with loads of sports and activities to keep your children engaged and having fun all day long.
The Adelaide University Sport School Holiday program is designed to develop your child's gross motor skills in a safe and social environment with qualified coaches and staff. The program focuses on building your child's self-esteem, social skills and physical activity through fun and inclusive activities. Their activities range from a modified approach for the littlies to introduce them to different sports including basketball, tennis, athletics, hockey and other gross motor skill sports, ensuring they have a positive experience.
For the older children, they introduce a more structured approach to increase their hand-eye coordination and build confidence in their sporting ability, whilst maintaining a fun and sociable setting.

OffSpring at Adelaide Zoo
Spring is in the air and that means one thing – baby animals!
Do you know how old Quokka joeys are when they leave the pouch? Have you ever wondered how much a Giant Panda cub weighs at birth?
Discover everything you've ever wanted to know about baby animals and how the Zoo cares for them on a magical day out filled with fresh air, fun and learning these school holidays.
Ticket Cost: Adult: $39 / Child (4-14): $21 / Cub (0-3): FREE. Discounted family passes available.
To help manage capacity requirements, all visitors including current Zoos SA members will require a date-specific ticket.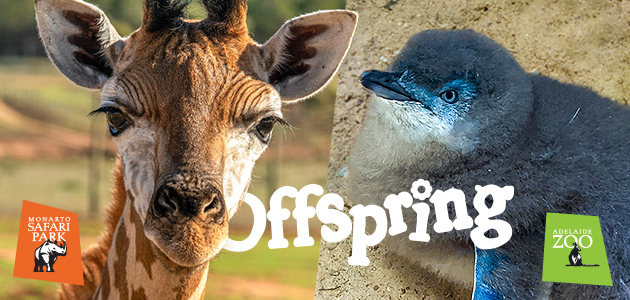 A
dventure Hubs South Australia
Adventure Hubs is running some great family fun experiences these school holidays!
The Mount Lofty Adventure Hubs day experiences are the talk of South Australia. Their all new Rock Climb, Zipline and MEGA SWING experience has been a hit, and they are also running their Rock Climb, Abseil and Zipline experience!
Loved the Mount Lofty Adventure Hub and ready for something new? Then the Southern Adventure Hub is for you! Set in the heart of wine country, the Southern Adventure Hub is a must try start to your day of exploring McLaren Vale. Book in quick to get a spot on their Rock Climbing and Ropes Experience, an adventurous and fun event for the whole family.
Phone: 08 8472 0933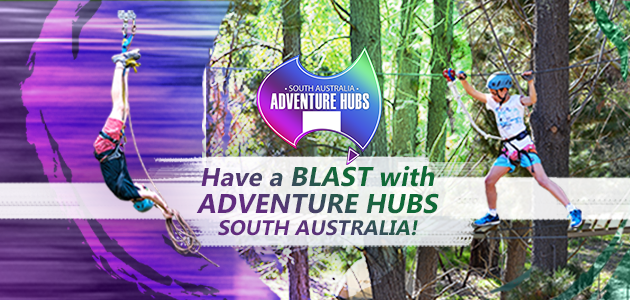 AFL MAX School Holidays
Book your kids in for the experience of their life this school holidays at the Crows and Port Adelaide Academy.
The Academy is for 6 – 12-year-old footy fans covering all things footy and FUN! Kids will be working on their skills and insights into how professional players train.
Academy covers:
Contest: Marking – Fundamental craft and body work technique.
Attack: Attack as a Team- what to do when you don't have the ball.
Defense: Defending the lead- positioning and reading the cues.
Leadership: Connect and Communicate as a team.
Performance: Fitness- agility and speedPlay to the Max these School Holidays!
With 2 hours of play from just $22.50 – kids can explore the trampolines, rock climbing, inflatables, interactive screens, field games, skill challenges and more!
For the little ones, join their Mini Max School Holiday Sessions (3-4yr olds) it's a great way to get kids involved and excited about physical activity from a young age, build connection and have FUN.
Parents, relax in the café with barista made coffee, lunch specials, fully licensed bar, WIFI and great views of the kids below.
AFL Max is open all school holidays – Friday 24 September – Sunday 10 October 2021 | 9am-4:30pm
The Beachouse
The Beachouse is the PERFECT destination for a fun family day out, with so many different attractions, they have something for everyone! And these school holidays, they are open every day from 10am.
And when they say fun for the whole family… they mean it! Their attractions include:
3 fully enclosed heated waterslides (Two body, One Raft)
Soli Italian Formula 1 Dodgem Cars
Blaster Boats
Historic 120 year old Carousel
Western themed 18 hole Mini Golf course
A dizzying 5 mini story Play Castle (Indoor Playground)
Miniature Train
2 levels full of awesome arcade, prize & ticket games
The venue is also fully licensed, and the Cafe serves up lots of goodies ranging from hot food, espresso coffee to even homemade gelati! Check out their website for loads of school holiday specials! No bookings required.
Colley Terrace, Glenelg Ph 8295 1511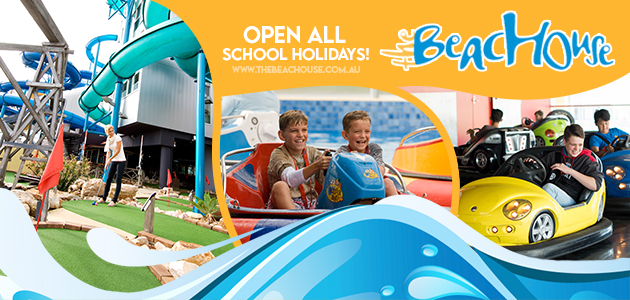 The Big Wedgie
The Big Wedgie is BACK and opening for the Spring & Summer School Holidays at West Beach Parks! It's a family-friendly inflatable waterslide event with 4 awesome inflatable waterslides, The Big Wedgie has something for perfect for all ages and thrill-levels.
The Big Wedgie is the world's TALLEST and most EXTREME inflatable waterslide standing at a whopping 18.2m tall and 82m long, with an awesome 55-degree slope. Plus it's a 3-lane racer so you can have a blast rocketing down the steep slope racing your mates at the same time! The Big Chucka is their most extreme slide – an 80-degree plunge, throwing you into the air, flying up to 9m to then land on an inflatable Hollywood stunt-man landing pad!
The Just Right Wedgie is the perfect waterslide for those looking for a wedgie that's not too big, not too small, but juuuuuust right! Awesome fun for kids aged 3 and up. The Little Wedgie is the smallest wedgie of them all! A mini-version of The Big Wedgie, it's perfect for young ones. And don't forget to check out The Little Skidda as well – an inflatable slip 'n' slide! Both The Little Wedgie and The Little Skidda has been designed just for kids aged 3-5 years.
Spring Dates: Saturday 25 September – Sunday 10 October 2021. For 10% off tickets online, use code PLAYANDGO (valid for the Spring School Holidays (ending 10 October 2021) only.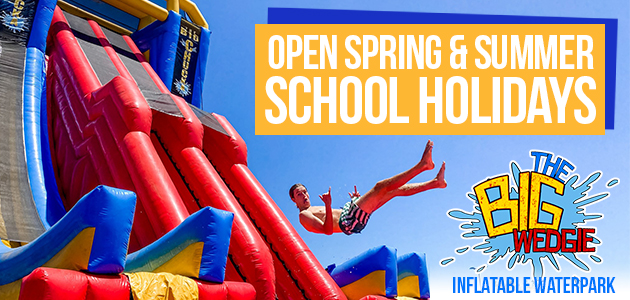 Birds in the City
Come along and discover the importance of birds in our city with fun, free bird-themed activities and learning tools for kids this school holidays.
In partnership with the Nature Festival, discover the amazing birds that live in the Park Lands, step into another world through our augmented reality experience, meet the artist behind the Rundle Mall Pigeon and pick up your free Bird Adventure booklet! There's lots to see, do and learn about the biodiversity in our city this school holidays!
Saturday 25 September – Monday 4 October 2021

BOUNCE Inc
The BOUNCE SA venue is based in Adelaide in Marleston. It's a massive indoor adventure park that provides an adrenaline rush for all ages.
Imagine more than 50 interconnected trampolines with the Big Bag, Slam Dunk and Dodgeball courts rolled in. It's also home to the famous BOUNCE X-Park obstacle course so you can get your ninja on! Taste the rush of extreme sports and freestyle gymnastics without the hard landing. Whether you're practising your aerial tricks or just getting a killer workout while you warp the laws of gravity, it'll be pure awesomeness every time. Unleash your free spirit!
The team are super fun and helpful, and while there are some current changes to the way Bounce works thanks to Covid restrictions, essentially you can enjoy everything that you usually would and rest assured knowing the cleaning and venue management are professional.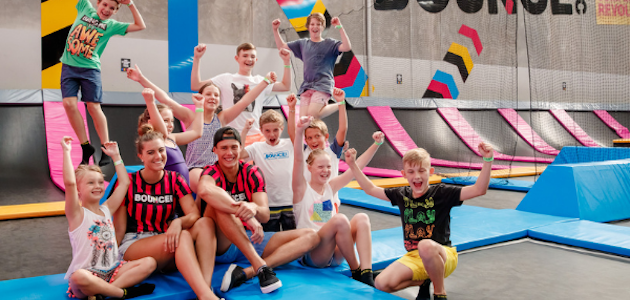 The Capri
The Capri brings you two fantastic live shows these school holidays to keep the little ones enthralled and entertained.
The Amazing Drumming Monkeys – The Amazing Drumming Monkeys Show is one of Australia's most popular children's entertainment acts. Catch them banging away on the Capri's stage in the coming School Holidays. Book now so you don't miss out!
Sunday 26 September, 11am
Bubble Laboratory – You will laugh, cry and gasp in awe at the loveable characters in the Bubble Laboratory's outrageous adventures. The stories are told through the beauty of bubbles in every conceivable shape, size and artistic sculpture.
Wednesday 6 October, 11am
Barry Hall will play the mighty WurliTzer organ before both of these events.
Tickets: $20 Adults | $17.50 Kids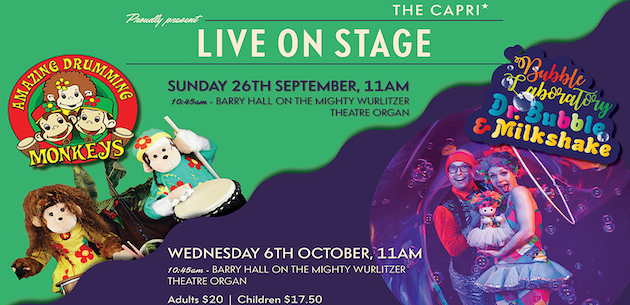 Churchill Centre
Dive into Churchill Centre these school holidays with FREE craft!!
Decorate a reusable tote bag and do your bit to help our special friends who live under the sea.
Week 1:
Wednesday 29 September – Saturday 2 October 2021 | 11am-1pm

Sunday 3 October 2021 | 12pm-2pm
Week 2:
Wednesday 6 – Saturday 9 October 2021 | 11am – 1pm
Sunday 10 October 2021 | 12 pm- 2pm
No bookings required. Limited number of items per day. Check-in and social distancing measures apply.
AND don't forget to visit Little Chicago Express, Adelaide's largest and FREE indoor Shopping Centre playground! Located in the Food Court. Click here for playground opening hours.
Eat, drink, shop and play at Churchill Centre. Churchill Road, Kilburn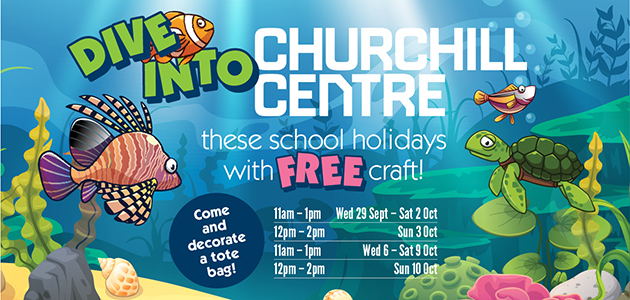 Circus – The Show
WINNER – Best Children's Event, Adelaide Fringe Weeklies 2021
ROLL UP ADELAIDE! The CIRCUS is flipping into town these September school holidays for 3 shows only at the newly renovated and stunning Her Majesty's Theatre! Prepare to enter into a world of utter whimsy, wonder amazement where your imagination will soar like never before in this jam-packed family circus spectacular!
"What you have experienced keeps you smiling, wondering and shaking your head long after the show is over! ★★★★"– The Advertiser
Featuring world-class illusions, tumbling acrobats, highly skilled jugglers, breath-taking and elegant aerialists, an endearing clown with his GIGANTIC 6ft balloon, and enough side-splitting comedy to send any grown man running for the toilet – this show is an absolute MUST for the entire family these school holidays! DON'T MISS OUT!
Her Majesty's Theatre | Monday 27 & Tuesday 28 September 2021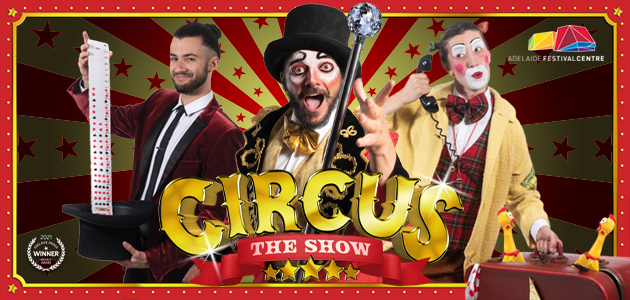 CIRKIDZ
Did you know circus is the perfect way to exercise your body and your brain while having the most fun ever?
Get off the couch and run away to Cirkidz in the Spring school holidays! Cirkidz are hosting 2 weeks of awesome half-day and full-day sessions of circus learning and fun. Parkour through an obstacle course, flip out on the trampoline, soar among the rafters, learn acro tricks certain to impress, or try a bit of everything to discover YOUR circus superpower… all while keeping warm and dry in our indoor & fully-equipped circus centre in Bowden. And if you live up North, Cirkidz are hosting Parkour and circus sessions at JMC in Smithfield Plains!
All your favourite fun, friendly and experienced circus trainers are back, guiding you through the sessions that you know and love (Off The Wall, Soar & More, Circus Smorgasbord, Circus Pick'N'Mix, and Ready, Set, Circus). Come for the morning, the afternoon, or all day! All sessions are suitable for ages 5 – 12 (except for Parkour, which is strictly for ages 8 – 12). All holiday programs recently have completely booked out, so we recommend acting fast!
Read more about the Cirkidz school holiday programs & book your spot on our website: https://www.cirkidz.org.au/holiday-programs/
Read more about the Cirkidz school holiday programs & book your spot online.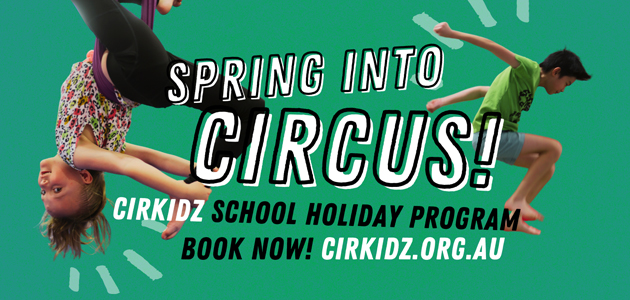 Free School Holiday Sports Program
Kids of all abilities, aged from 3-17 years, are welcome to now register for the next City of Charles Sturt School Holiday Sports Program.
Throughout the entire school holidays (Friday 24 September to Sunday 10 October), 21 sports providers will be offering up to 72 activity sessions across the Council area, including karate, dragon boating, dance, tennis and much more.
There are also some sessions available for kids with special needs.
Bookings are essential as spots are limited.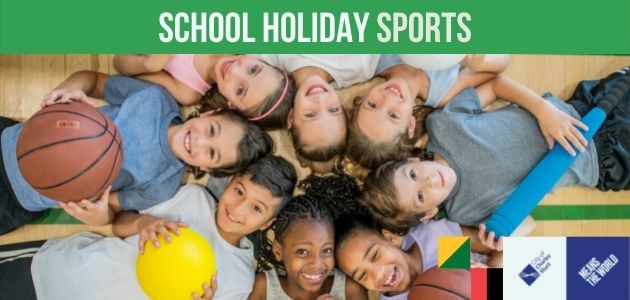 City of Salisbury School Holiday Program
Join in the fun these school holidays with the Salisbury Libraries, Community Centres and Hubs School Holiday Program!
From learning how to code with ScratchJr to digging for dinosaurs, there is always an affordable and fun activity suitable for children of all ages (including youth).
Activities this coming holidays include:
Movies at The Mawson Centre (come along and watch 'Raya and the Last Dragon' or 'Tom and Jerry')
Come and try the BBC MicroBit computer at the Salisbury Community Hub
Design your own pot plant and gardening craft activities at the Para Hills community Hub garden
Have a yarn and do some craft with Elder Frank at the Morella Community Centre
Learn dance moves from all around the world with MOVEIT Fitness' Dancing through the Decades activity
Experience the fun in reading with a family bedtime story time session at Ingle Farm and much more!
Bookings are essential.
Cleland Wildlife Park
First Nations Cultural Experiences at Cleland Wildlife Park these School Holidays.
In the October school holidays, two First Nations cultural experiences will be offered at Cleland Wildlife Park.
Cultural Guided Tour: Walk on country with First Nations people as they share their culture, providing insight into the traditional life and Song-Lines of the First Nations people, and their connection to land and wildlife
First Nations Sharing of Stories and Songlines ART WORKSHOP: Join First Nations women to explore Australia's First Nations Culture through art and story. Learn about some of our iconic Aussie animals and their importance to local First Nations people, with hands-on artwork painted in ochre that you can take home with you.
Both experiences include a Welcome to Country and a Smoking Ceremony and will be held on Tuesdays and Thursdays during the school holidays.
Wildification – Drop the kids off at Cleland's very own school holiday program for a day full of games, fun activities and animal experiences, whilst exploring Cleland Wildlife Park and its amazing resident animals, plus much more! Get active, be hands-on and try new things!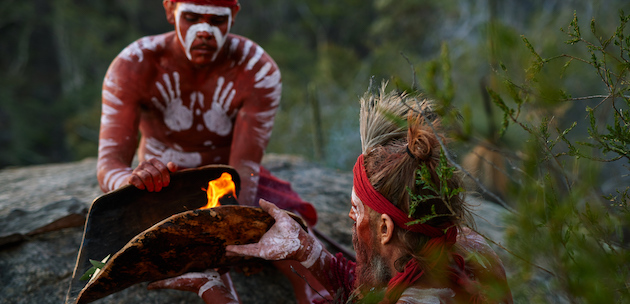 Diving South Australia
Jump in and Try Diving during the school holidays!
Join Diving SA for their Try Diving program over the holidays at the SA Aquatic & Leisure Centre at Oaklands Park. Designed for children aged 7 and over who would like to try diving. Sense of adventure handy. Confident swimming in deep water a must.
What's involved on the day? Having fun! They offer an introduction to the sport of diving where you will learn new skills and build confidence. A Wibit session is held from 11am-12pm after the diving session finishes.
Week 1: Tuesday 28 – Thursday 30 September (9am-12pm) REGISTER HERE (register by midnight Friday 24 September)
Week 2: Tuesday 5 – Thursday 7 October (9am-12pm) REGISTER HERE (register by midnight Friday 1 October)
Book 1, 2 or 3 sessions each week. Facility entry & WIBIT* ticket included in the registration. *Wibit entry supervision policy: Please note that under 10 year olds must be actively supervised by a parent/guardian at all times. Parents/guardians will need to be available at 11am to oversee their child's Wibit session.
Spaces are limited so book early to avoid disappointment.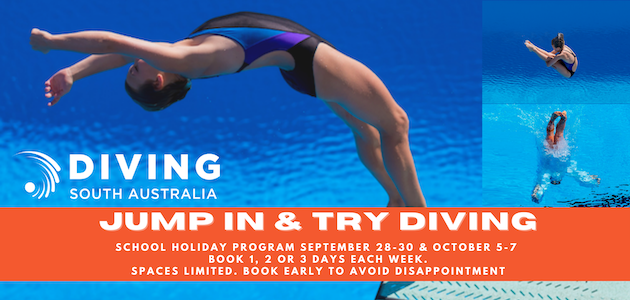 Dolphin Sanctuary Kayak Tours
Take a guided kayak tour through some of SA's most beautiful and interesting waterways.
Kayak down creeks home to 10,000 year old mangrove forests, have the opportunity to see the resident dolphins up close where you can watch them peacefully socialise, play, feed or nurse their young in their own environment and view the abundant birdlife within this marine park.
The Garden Island Ship's graveyard is another unique feature of this area where you will paddle amongst some spectacular relics from the past.
The tour is led by a marine biologist who will give you an understanding of the environment, the dolphins and the history of this unique and beautiful part of SA, right in your backyard.

Participants do not need any prior kayaking experience and the tour will travel at a comfortable pace to accommodate all fitness levels. Demonstrations and equipment will be provided on arrival. This tour is for children 8 years + (children must be accompanied by an adult)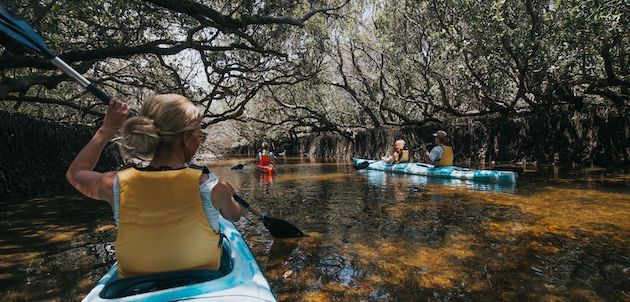 Earth Adventure
Earth Adventure is running some amazing family friendly tours during the September-October School Holidays.
Enjoy scenic views of the cityscape on their Adelaide City Kayak Tour. Relax as their fully qualified instructor guides you on a kayak along the River Torrens. As you enjoy your tour you can find out more about the history and significance of the river and surrounds, making it a fun and educational experience for all!
Looking for something a bit more thrilling? Go Rock Climbing and Abseiling with Earth Adventure's qualified rock-climbing guides! At two great locations, Morialta Conservation Park and Onkaparinga River National Park, this is a fun day on the rocks for you and your family. From beginners to experienced climbers, Earth Adventure has the set up for you.
Phone: 08 8165 2024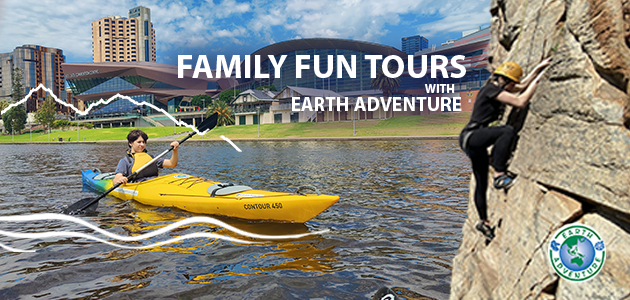 Gilles Plains Shopping Centre
It's officially here! Dino Mania has taken over Gilles Plains Shopping Centre with FREE roar-some school holiday fun!
Enjoy dino slime, balloon modelling and meet Rowdy The Raptor (Adelaide's only giant roaming dinosaur)!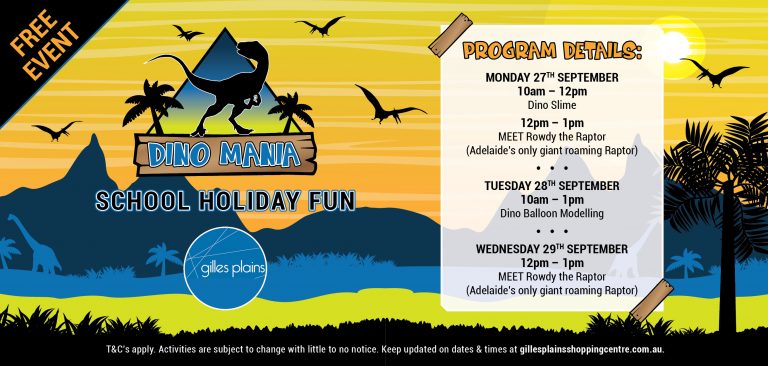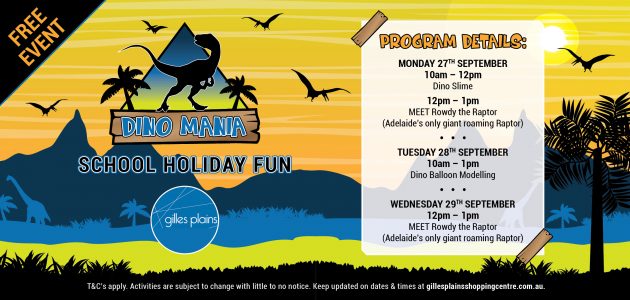 Homefresh Experience Kids School Holiday Cooking Classes
HomeFresh kids fun cooking classes will entertain (and feed) your children every school holidays giving you a well-earned break.
For just $27 your child can enjoy one and a half hours of fun, learning to shop and cook with their talented Homefresh chefs at Golden Grove and Port Adelaide.
Your child will dress in their Homefresh chefs uniforms, shop for ingredients, then prepare and cook healthy food from scratch and devour the result, all while you have a coffee or shop the local area in peace.
Our popular program has been carefully designed to get the kids to experience shopping for ingredients, making good food choices, learning that they can cook it themselves and giving them a sense of achievement and enjoyment of creating and eating good food with the other kids.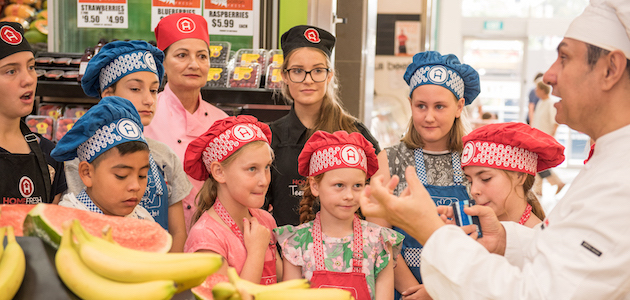 ICA Sportzworx Stepney
Kids of all ages are welcome to join in on the holiday fun at ICA Sportzworx Stepney.
The day is full of sports and games and any skill level and age can be accommodated by our Sports Coaches. Kids can play soccer, netball, cricket, dodgeball and other fun games.
The fun starts at 9.30am and finishes 3.30pm plus lunch is provided for all kids. There is also a morning session available for 3 hours starting from 9.30am. Prices start from $30.
There are 4 full-sized courts, a function room and a kiosk and plenty of room for all.
Bookings are essential and are super quick and easy to do online.
Visit ICA Stepney's website for more details, pricing and how to book online.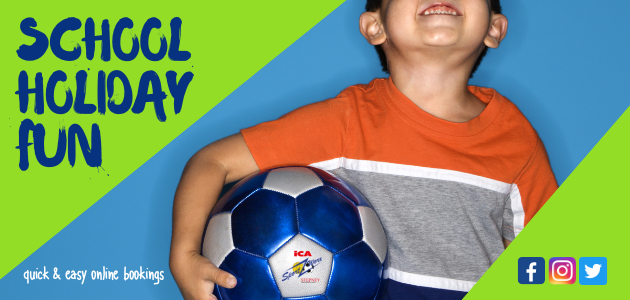 Inner North East Adelaide YMCA
Gymnastics & Parkour workshops
Leap into spring and learn new skills with Gymnastics and Parkour workshops in the school holidays at Windsor Gardens. Try an intro to gymnastics or their parkour academy, enhance your skills with a choice of Handstands and Cartwheels, Dance Acro, Trampolines and Tumbling, Rhythmic Gymnastics or a two-hour Aerials and Handsprings workshop.
Select School Holiday Sessions for details and schedule here.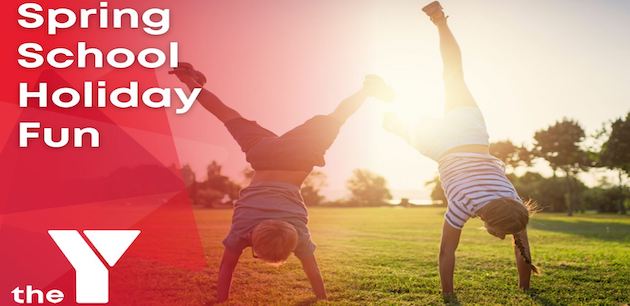 Little Picassos: Spring School Holiday Art Camp, classes and Events
Join Little Picassos this Spring for a selection of wonderful holiday classes in a studio setting that provides an inspirational and motivational Art space for children.
Their Art programs have something for everyone, classes with accompanying adults from 2 years, drop and go sessions from 4.5 years for 1, 2 or 3 hours, half and full day experiences in a variety of mediums including: drawing painting, printmaking, sculpture, clay, textiles and construction. Choose more than one session on the day your child will be fully supervised over the breaks.
Classes running from Monday 27 September to Friday 8 October with something different each day. Times vary– check their programs for details.
Three studio locations:
GLENELG – 686 Anzac Hwy, Glenelg | HYDE Park: Rear of 330 Unley Road, Hyde Park | MAGILL: 485 The Parade, Magill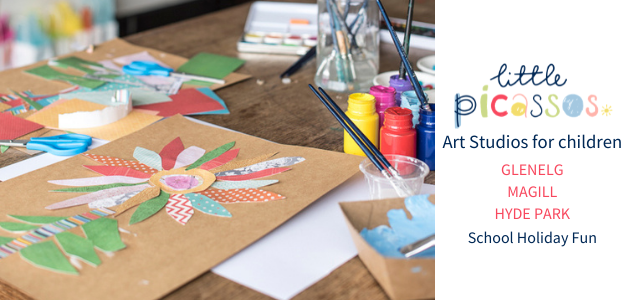 Melba's Chocolate Factory
Are you looking for something deliciously fun to do these school holidays?
Look no further … Make plans to head for the Adelaide Hills and visit Melba's at Woodside! Watch deliciousness in the making, pick up your favourite treats and even enjoy a yummy Hot Chocolate!
Take the kids, the excitement and enjoy a fun day out at their Factory! They're open daily from 9 am – 4:30 pm!
Melba's Chocolate Factory | 22 Henry Street, Woodside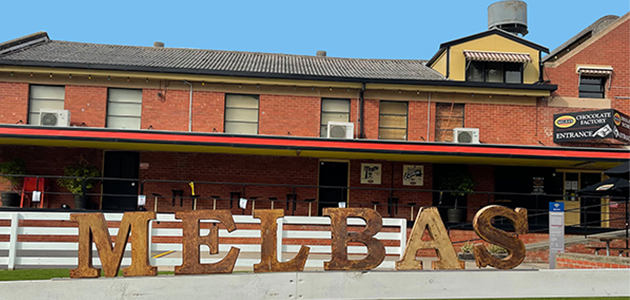 Mighty Good Productions
Mighty Good Productions is reviving, for the last time, everyone's favourite pantomime, 'Cinderella'.
This original version written and produced in the 1990's by Malcolm Harslett (Cyril the Servant) also stars Richard Laidlaw and Tony Carpenter (the original Ugly Sisters). New comers Charlie Herkes (the Prince), Michael Evans (Buttons) and Emily Jo Davidson (Step Mother, Fairy God Mother and Queen) round out the characters with Talia Monaghan playing the title role.
Performances: Saturday 25 September 2021 – Sunday 3 October 2021 | Star Theatres, 145 Sir Donald Bradman Drive, Hilton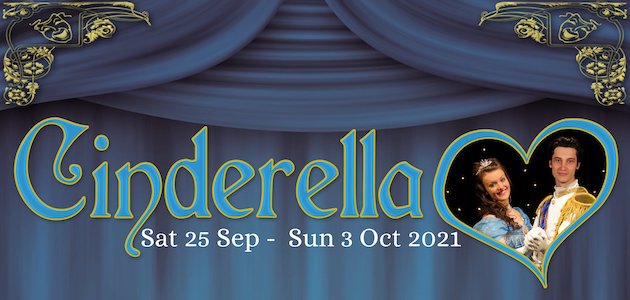 Migration Museum
Visit the Migration Museum this school holidays and hear about the stories of South Australians past and present.
The brand new exhibitions Paving the Way and ReClaiming Country are now open. Immerse yourself in the unique migration tales from our past and step out onto the pavers Settlement Square, dedicated to those who have migrated to South Australia. Learn about the history of the Aboriginal flag; how it was created, the meaning behind it, and what it means to First Nations people now.
All this and more are ready and waiting at the Migration Museum – and it's all FREE.

OffSpring at Monarto Safari Park
Spring is in the air and that means one thing – baby animals!
Do you know how old lion cubs are when they open their eyes? Can you list how many toes an African Painted Dog has?
Discover wild fun facts about baby animals and how they are cared for on a magical day exploring Monarto Safari Park these school holidays.
Ticket Cost: Adult: $39 / Child (4-14): $21 / Cub (0-3): FREE. Discounted family passes available.
To help manage capacity requirements, all visitors including current Zoos SA members will require a date-specific ticket.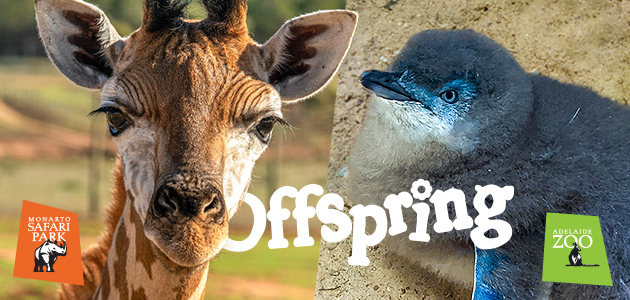 National Motor Museum
GooRoo Animation Workshops
Are you the next Steven Spielberg? Visit the National Motor Museum these school holidays to create your very own movies and find out! From 1 – 3 October, Cam will teach you about what goes into making a Claymation film, giving you a behind the scenes glimpse into producing an animated movie at a professional level. On 4 and 5 October, Dani will be hosting drawing animation workshops.
Be inspired by the vehicles on display, and create your own plasticine or drawn car to be the star of the show. Movies will be filmed and put together using the Stop Motion Studio App available on mobile devices. They will then be uploaded to YouTube via the GooRoo Animation Workshops channel so you can share them with all your friends and family. You will also receive a FREE Holden Heroes colouring book every day of the school holidays, which you can use as inspiration for your film!
Friday 1 – Tuesday 5 October | Time: 11am – 3pm | Free with Museum admission
Bookings are preferred (via phone) – 08 8568 4000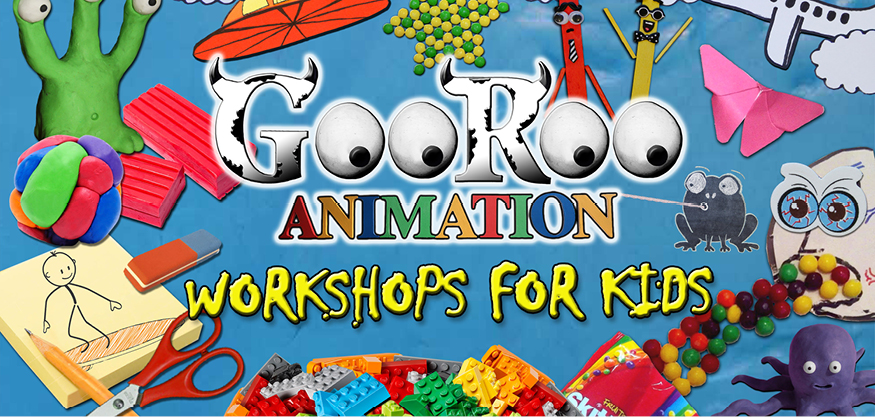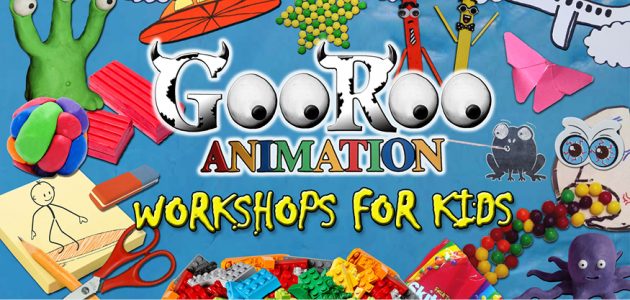 Semaphore Steam Train
The Semaphore Steam Train will return for the September/October school holidays.
The Semaphore Steam Train is operated by the National Railway Museum and runs along the foreshore and sand dunes from Semaphore to Fort Glanville at Point Malcolm, with great views of the sea.
Trains depart from the Semaphore Jetty from 11am to 4pm. Each return trip takes about 35 minutes and trains depart approximately every 50 minutes.
The train runs every Saturday and Sunday, every Monday, Wednesday and Friday during the school holidays. *Not running Tuesdays or Thursdays.
Tickets can be purchased on the train at Semaphore – EFTPOS or cash. QR check-in and COVID Safe Plan applies.
Fares: Adult – $10 | Child (3 – 15 yrs) $5 | Group/Family (up to 4 people, with one being a child) $25 | Under 3 years travel for free!
The National Railway Museum at Port Adelaide is open every day of the September/October School Holidays with engines and carriages to explore, displays and a huge model railway plus miniature train rides included with admission.
Admission: Family $36 (2 adults & up to 3 children) | Adult $15 | Concession $9 | Child (5yrs to 15yrs) $6
Ph: 8341 1690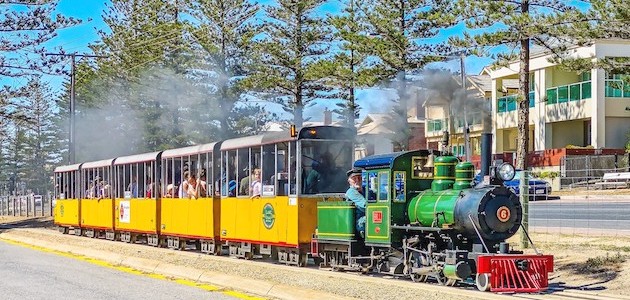 Nature Festival
Nature Festival is returning to South Australia from the 25 September to the 4 October, with a huge program of events featuring an expansive array of talks, exhibitions, nature walks, workshops, bird watching and nature poetry to name only a few.
From our own back gardens to the majesty of the Flinders, nature is central to who we are as South Australians and that is exactly what Nature Festival aims to celebrate.
Family highlights from the 2021 program include a Pigeon Workshop with sculptor of the now famous Rundle Mall pigeon sculpture Paul Sloan, who will uncover the secrets behind his piece of art while the kids get messy with a range of fun art activities. Children can also enjoy an ornithological lab at the South Australian Museum, and artworks at the Art Gallery of South Australia. Other family friendly activities include a mangrove inspired Labyrinth at Garden Island and a night nature tour in the Southern Parklands to see the rich nature and plant life that thrive at night.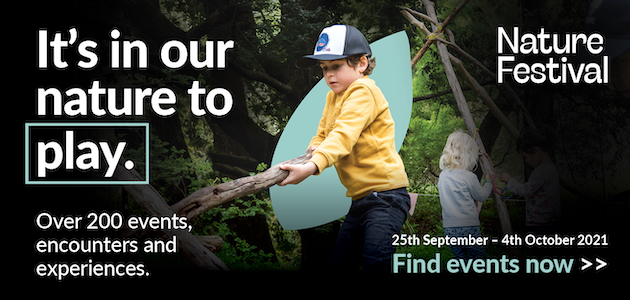 Nova's (Not) The Royal Show
Rides, showbags, food trucks, Paw Patrol meet and greet plus nightly fireworks.
When this year's Royal Adelaide Show was cancelled again, Nova's Ben & Liam were just as disappointed as all of the kids and families around Adelaide. Another year of no rides, no showbags and no sideshows. What were they going to do?
That's when Ben & Liam had one of their bright ideas. What if Nova organised a COVID-FRIENDLY version of the Royal Show and invited all of Adelaide's families along?
Introducing Nova's (Not) the Royal Show at Adelaide's Bonython Park.
Entertainment includes over 25 rides, more than 60 different showbags, sideshow games and delicious food trucks. Meet and greet Paw Patrol characters will be out and about during the daytime sessions and there will be fireworks at 9.30pm each night (weather permitting). Entry is $3 (+booking fee) per person with kids under 2 years free.
Bonython Park, Port Road, Adelaide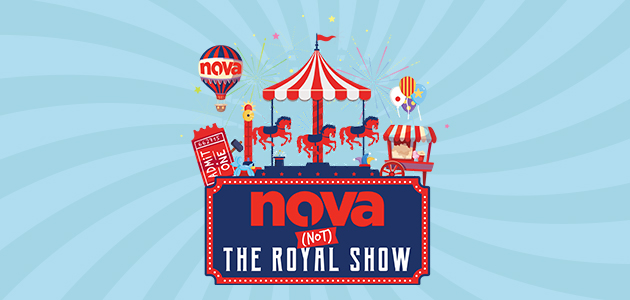 Para Hills Community Club Kids Crew
Join the Para Hills Community Club's Kids Crew for school holiday fun!
Choose from a range of different entertainment and activities which will surely keep the kids happy these school holidays. All holiday activities are affordable and include lunch for the kids.
Whilst the kids are being entertained, you can sit back and enjoy yourself with a meal or a drink in their Bistro.
Slime Workshop – Monday 27 September | Click here to book
Animals Anonymous – Wednesday 29 September | Click here to book
Animals Anonymous – Wednesday 6 October | Click here to book
Terracotta Pots – Friday 8 October | Click here to book
WEBSITE | FACEBOOK | INSTAGRAM

Pixar Putt – Pop Up Mini Golf
Get ready to kick some serious putt when Pixar Putt heads to Adelaide for the first time this September!
Australia's much loved open-air mini golf sensation is inspired by some of Pixar's most adored films. Putt your way around 9 or 18 holes at Riverbank Promenade, Adelaide Convention Centre for a limited season from Friday 24 September until Sunday 24 October.
This immersive open-air mini-golf experience features interactive putt-putt holes inspired by the stories, characters and icons from some of Pixar's most beloved films including Toy Story, The Incredibles, Monsters, Inc., A Bug's Life, Soul, Inside Out and more. Pixar Putt is Adelaide's must-do attraction during the September school holidays and is set to take guests to infinity…and beyond!
Sunday to Wednesday: 10am – 8pm (last entry 6.45pm)
Thursday to Saturday: 10am – 10pm (last entry 8.45pm)
While perfect for players of all ages during the day, 'Pixar Putt After Dark' sessions for adults 18+ will be available Thursday to Saturday nights from 7pm-10pm.
By its very nature, Pixar Putt is one of the most physically distanced events you could find anywhere! The safety of patrons is top priority and Pixar Putt will operate with a commitment to a COVID-Safe environment under a full COVID-Safe Plan.
Riverbank Promenade, Adelaide Convention Centre, North Terrace, Adelaide (outdoors)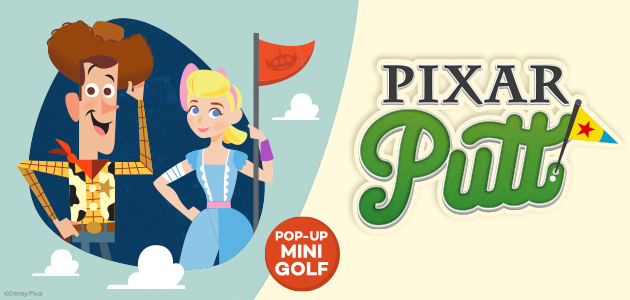 Port Adelaide Plaza
Keep the kids entertained these school holidays at Port Adelaide Plaza!
FREE Come & Try Sports
Monday 27 September – Sunday 10 October, 10am-4pm | *Sundays 11am-2pm | No classes on Mon 4 Oct. Located outside SportsPower
FREE Little Picasso Art Classes
Thursday 30 September & Friday 1 October, 11am-2pm | Thursday 7 & Friday 8 October, 11am-2pm. Located outside Aldi.
HomeFresh Cooking Classes
Monday 27 September – Sunday 10 October, 10am-3pm. Cost $27, located outside Coles. * Book at homefreshcooking.com.au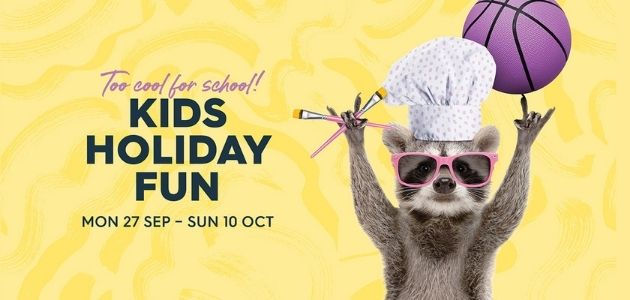 SA Base Camp Ninja Arena
Do you have a Ninja in the making?
The Ninja Arena at SA Base Camp is the perfect place for them to run off some energy and practise their Ninja skills in a safe and friendly environment.
With 3 Ninja courses that replicate the show 'Ninja Warrior' and designed to suit kids from 4yrs right up to adults.
SA Base Camp's Ninja Arena offers Free Play Sessions, Structured Ninja Classes as well as epic Ninja Campouts!
Their facilities include a cafe to sit and relax with free entry for kids under 4 with access to their under age playground.
During the school holidays the Ninja Arena is Open:
Mon-Fri 10am-5:30pm and Sat/Sun 10am-4:30pm | Entry is only $15 for 1 hour or $20 for 2 hours of Ninja FUN!
Online Bookings Essential to avoid disappointment.
South Australian Maritime Museum
Ship N Bricks & GooRoo Animation Workshops
THEY'RE BACK – and ready to be tracked down! The Maritime Museum's displays have yet again been taken over by all sorts of maritime characters – of the LEGO kind. Use the Ship n Bricks guide book to find all the LEGO characters that are hiding in their displays. There will be a letter with each character that will spell out a secret phrase. Find the letters, write out the phrase and go in the draw to win your very own LEGO Lighthouse set!
Keep the LEGO fun going with their GooRoo Animation workshops held from 11am – 3pm on 25 – 28 September! Spend your visit searching for the missing LEGO figures hiding in the displays, then head down to the set to create your own LEGO movie.
Both activities are FREE with museum entry.
25 September – 10 October (workshops are 25 – 28 September) | Open 10am-5pm daily | Activity free with entry

SHANX Mini Golf
Australia's best mini golf has arrived in Adelaide!
Located at Regency Park Community Golf Course, SHANX @ Regency Park is a mini golf experience like no other. GreenSpace Management, in partnership with the City of Port Adelaide Enfield are proud to provide this outstanding family based amenity for the entire community of Adelaide to enjoy.
SHANX @ Regency Park caters for children, families, golfers and everyone in between and is guaranteed to provide a fun, relaxed and exciting activity. With two pins per hole, the Regency Course provides a fun experience full of 'hole in one' opportunities, whilst the SHANX Course will challenge beginners and golfers alike. Night golf will be open for play on Fridays and Saturdays.
SHANX @ Regency Park will be open Sunday to Thursday from 7am – 7pm and Friday to Saturday 7am – 9.30pm.
Pricing is $14 per person and children under the age of 6 years are FREE. Groups of 4 or more are just $12 per person, which means a family of four can have a day out for under $50! Bookings are essential.
Regency Park Community Golf Course | Days Road, Regency Park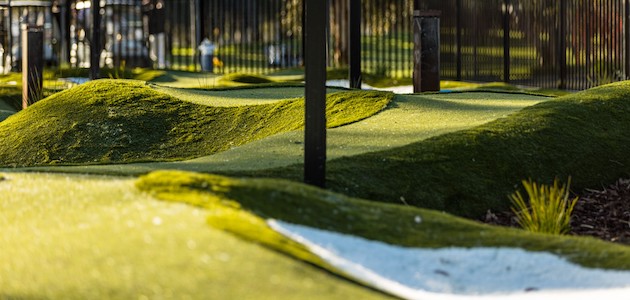 STEMmania – Science Collective
A great school holiday event for children that love all things science and technology, with chemistry shows, robotics, Questacon exhibits and more.
STEMmania provides many learning opportunities for young minds but the most important aspect is that it is heaps of fun and children will never want to leave.
During the afternoon families will be entertained by Nitro Nat's amazing colourful Chemistry Show and a Wildlife Show by Animals Anonymous. In between you can visit the bugs n slugs display, engage with Techspace Learning's robotics, try to work out some puzzles on the Questacon exhibits, make and launch your own paper rocket, design an electric circuit or two and have fun with some dinosaur-themed craft activities.
This is an action-packed three hour science experience that will fire children up to say to their teachers "we want more science!"
Tuesday 5 – Thursday 7 October 2021, 1.30pm – 4.30pm | Norwood Concert Hall, 175 The Parade | *Bookings essential.

Temptation Sailing – Dolphin Boat Cruise
Temptation Sailing's Dolphin cruise is an absolute must-do.
Dolphins are one of the Earth's most fascinating and curious creatures. Experience an amazing wild dolphin encounter, something that you will remember forever.
Swim with dolphins – put on your snorkelling gear and immerse yourself into the dolphins' world. Their front swim puts you right in the middle of the dolphins riding between the hulls of Temptation. Or their back swim, where you will view wild dolphins swimming right alongside you.
Dolphin watch – for those who want to watch all the action whilst staying dry on board. Be in awe as the playful dolphins dart and weave between the boat's hull, just out of reaching distance, enabling watchers to enjoy and capture on film their playful displays.
Whatever you decide everyone comes away with a close-up encounter with wild dolphins.
Operating from Marina Pier, Glenelg only 15 minutes from Adelaide CBD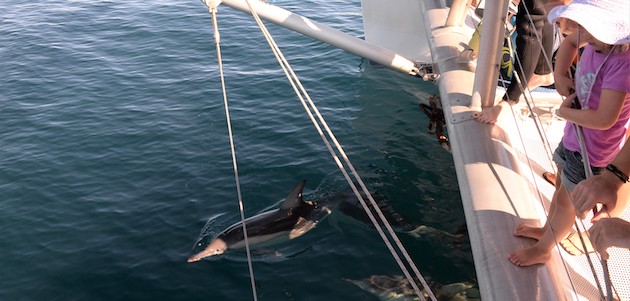 TreeClimb
Tree-mendous school holiday fun at TreeClimb
Grab the kids and head into the Adelaide City Park Lands for a day in the trees.

For the smaller children (100cm +) TreeClimb has 3 levels of adventure all within the Kids Course. Each one ends in a zip-line, and is full of obstacles for your little ones to navigate at their own pace. Every climber has a different ability and their staff are trained to help them move through the course, build confidence and develop new skills.
Adults don't climb this one, they can however follow the whole way along from ground level or grab a seat with a good view and enjoy a coffee or two while the kids fly overhead.
For the more confident tweens, teens and adults (above 135cm) who are ready to head to new heights (literally!) the Grand Course is for you. Made up of 5 smaller courses, The Grand Course will be sure to test your boundaries. Filled with a range of obstacles including ziplines, a rock climbing wall and MORE!
Don't miss out, follow the link below to check out the availability of their session times and secure your spot!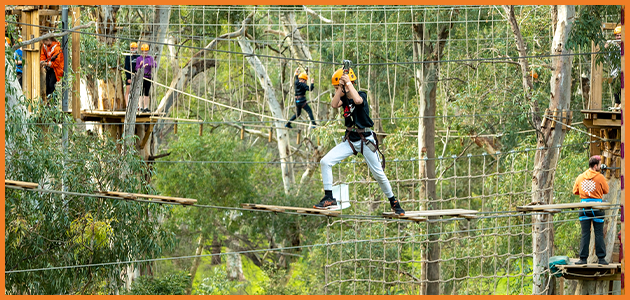 Uniqorn Eats
Uniqorn Eats is a fun-filled, over the top cafe on Grenfell st.
If you're looking for a food experience like nothing else you've ever seen before, you can't go past Uniqorn Eats, Australia's brightest, funnest and most colourful cafe! Inside is a magical wonderland of all things unicorns, rainbows and fun times.
Located at 226 Grenfell St (Trust us, you can't miss it!) This little hidden gem is everything a child or big child could ever dream of! We're talking rainbow pancakes, HUUGE waffles, burgers, over the top milkshakes, their world famous rainbow cheese toasties and ALL of the lollies and Uniqorn treats.
The adults aren't forgotten either, they have a great cocktail list, healthy brunch options and heaps of vegan options.
Uniqorn Eats adds some spectacular and crazy specials weekly, so make sure you follow their socials and flick them a message to reserve your spot
Check out their insta here for all of their amazing creations!

Urth Clay Studio
School holiday pottery classes for kids.
Kids have wild imaginations. Urth Clay Studio is a place where children can explore their creativity. They can submerge their hands in the mud to reach places that regular conversations won't allow.
Urth Clay Studio's goal is to build self-confidence, trigger curiosity, and allow the artistic flair to bloom from each child.
Term 4 and holiday sessions are available now.
Sesions: Monday 27, Tuesday 28, Wednesday 29 September & Friday 1 of October 2021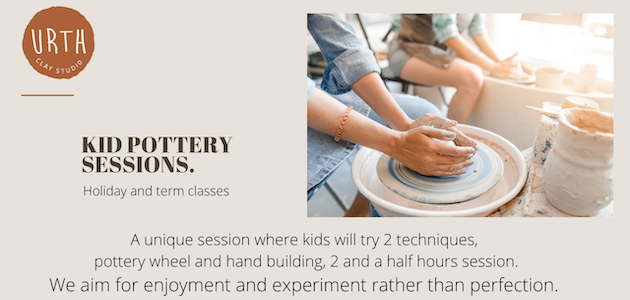 West Beach Adventure
West Beach Adventure is Australia's most iconic aerial adventure park.
There's aerial adventures, obstacles and fun for all ages, plus amazing views over the coastline.
Mega Climb – Australia's largest challenge course boasting over 80 aerial obstacles, ranging from heights of 5 to 25 meters. The MegaClimb is a truly stimulating experience giving guests of all abilities the opportunity to push their limits.
MegaJump – For those who are up for the ultimate challenge, you can take a leap of faith from the MegaJump.
Giant Swing – After being strapped into your seat on the ground, you'll be slowly lifted to 18m high where you can take a quick look around – revel in the views of the ocean and the beautiful Adelaide coastline, before plummeting back to earth at speeds of up to 70kph. Ride alone or enjoy the thrill with a couple of friends.
Kids Course – Little ones not ready to tackle the iconic MegaClimb? Test their metal with the new Kids Course! With ten exciting challenges finishing with a thrilling Zip line, the mini course is the perfect way to tire out little monkeys. Ideally located next to West Beach Adventure's Cafe, you will be able to encourage them from the ground while enjoying a cup of their shockingly good coffee.
4 Hamra Ave, West Beach | Ph 08 8355 1480
Wilderness Escape Outdoor Adventures
Wilderness Escape Outdoor Adventures school holiday programs are back on this September!
Give your child the gift of adventure with one of their amazing outdoor programs. Ranging from rock climbing days, Adventure Hub ziplines and mega swings, exploring nature and wildlife, crazy chemistry, mountain biking, surfing and much much more, there is something for every age group to do and see. Plus, it's fun and educational!
Wilderness Escape is one of the largest outdoor education program providers in South Australia and has been running for well over twenty years. With fully qualified instructors, and a wealth of experience under their belts you can rest easy knowing that your child is having a fun day under their care.
Ph: 08 8165 2022 | Email info@wildernessescape.com.au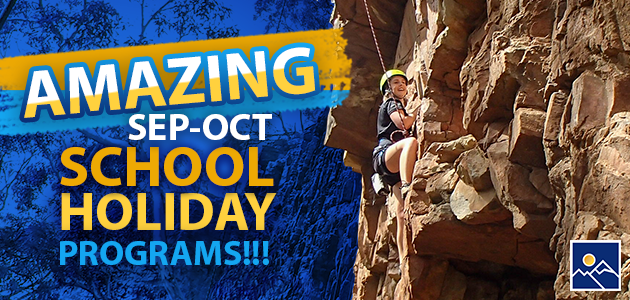 WINGS2FLY JUNIOR THEATRE
Wings2Fly Junior is an informal introduction to theatre, suitable for young actors in years 1-5.
Students will be separated into small groups on the first morning (keeping friends together). Each group will have their own director and together they will rehearse and learn a short play in only 3 days, ready to perform on the stage to family and friends on the final evening. There will also be time for drama games and activities over the workshop.
This performance will include basic costumes, set, props and the most important thing – lights – fully supported by Wings2FlyTheatre's highly regarded industry professionals. No prior experience necessary. Perfectly suited to young theatre enthusiasts, with opportunities to also build self esteem, make new friends, improve reading skills and have a lot of fun along the way!
Limited places available – register via the Wings2Fly Theatre website.
Dates: Rehearsals Tuesday 5 – Thursday 7 October | Performances Thursday 7 October @ 5.30pm & 7pm | Holden Street Theatres, 34 Holden Street Hindmarsh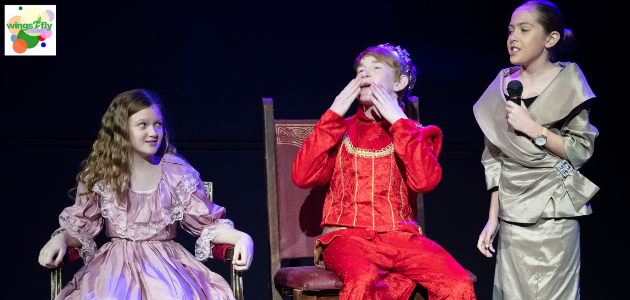 Woodhouse Activity Centre
Spring is a pretty magical time at Woodhouse.
After the cold winter, the plants and trees start to blossom and flower and some new faces start to appear as many fury residents have their babies.
The cool (generally dryer) nights are prime for sitting around a campfire and roasting some marshmallows and the milder weather makes for some ideal camping conditions too!
Check out this season's hottest activities and events – and what makes them so special in Spring…
School Holidays UNPLUGGED: Action-packed Day Camps for 5-13 year olds | 27 September – 8 October
Cool enough to cosy up around a campfire, warm enough to whiz down a grassy hill on a giant ice-block, awesome enough to book in more than one day!
SPRING BREAK: Labour Day Weekend Family Camping Party | 1, 2 & 3 October
Featuring Outdoor Cinema and Twilight Tube Sliding
DAY ADVENTURES: Just 10 minutes up the S.E. Freeway | 9-5pm, 7 days!
Idyllic temperatures for outdoor adventures means you can be active without working up too much of a sweat. Need to warm up? Take a walk up Challenge Hill (or drag Tube up the Tube Slide return)!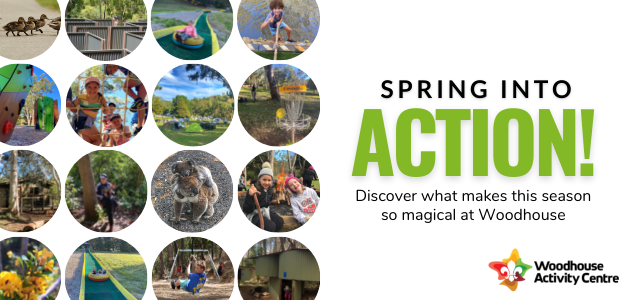 ---
MORE IDEAS FOR THINGS TO DO IN THE SCHOOL HOLIDAYS
Play at a Playground – See our list of Top Playgrounds Around Adelaide
Top Family Things to do in the Adelaide Hills – check out our list of ideas here
South Australian Beaches – Best Beaches Around Adelaide
Go for a swim – See our list of Adelaide's Swimming Pools
Book a caravan or camping holiday – check out our South Australian list here
Go for a family hike – See 50 Great Walks & Hikes for Families here
Explore the Barossa Valley – see our list of family friendly places to visit
Indoor Play Centres – Indoor Play Centres & Cafes Around Adelaide
National Railway Museum Event Program for Spring | Sep & Oct
Australian Geographic Nature Photographer of the Year Exhibition | 27 Aug – 31 Oct
Challenge 21: Challenge yourself in honour of Sam Roberts | 25 Sep – 10 Oct
Camp Quality's Big Walk for Little Kids | Sep
Friends! The Musical Parody at Her Majesty's Theatre | 24 & 25 Sep
Carrick Hill School Holiday Program | 29, 30 Sep & 1 Oct
Amphibian – Windmill Theatre Company | 25 Sep
Hahndorf Winter Lantern Festival | 26 Sep
Woody Trails Bike Maintenance and "Get Stoked" Event | 29 Sep
Free Family Nature Play Event – Seaford Community Centre | 30 Sep
Time For Kids Camp Out | 2–4 October 2021
SteamRanger Train Journey – The Southern Encounter | Oct
The Festival of Now | 8 Oct
Hub Gymnastics Holiday Program | 27 Sep


---
At Play & Go Adelaide we make every effort to provide accurate information to the best of our knowledge at the time of publication. We recommend confirming times, dates and details directly before making any plans as details may be subject to change.
Image Source: Play & Go
SUBSCRIBE
Want to get all the latest events and activities straight to your inbox?
Subscribe to our weekly email newsletter below to keep up to date with our latest posts and find out all the best events & activities for Adelaide families. Newsletters are only sent once a week, and you may sometimes get a special offer exclusively for our subscribers only!