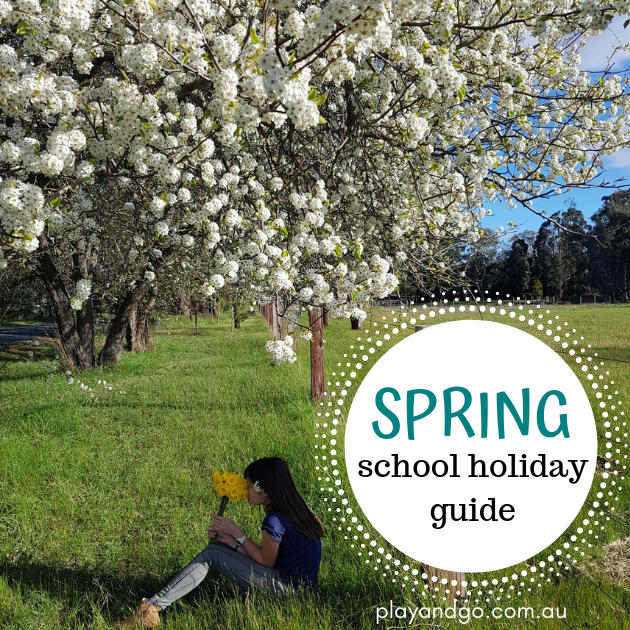 Adelaide School Holiday Guide – Spring 2019
Your guide to all the best activities & ideas for the October Adelaide School Holidays.
South Australian Spring School Holidays: Saturday 28 September 2019 – Sunday 13 October 2019
Spring is the perfect time to get the kids out and about these October school holidays. Throughout Adelaide there are free events as well as workshops, vacation care programs, clinics, classes and activities for kids, plus there are plenty of fun things to do together as a family.
To make it easier for you to find things for the kids to do during the school holidays, the Play & Go team have put together our Holiday Guide featuring some of the most popular, and some not-so-well-known activities on offer.
Below you will find a list of venues and links to their websites so you can simply click through to check out the activities on offer. Most programs are open to school age children 5 years and older but there are some specifically for younger kids. Remember to book in early if your child is interested in participating as classes fill quickly.  When making a booking be sure to tell them you heard about them through Play & Go!
We also have an extensive list of individual posts listing special events, entertainment, shows and much more in our Spring School Holidays 2019

Category

.
CLICK ON A CATEGORY BELOW OR SCROLL DOWN TO SEE OUR FULL GUIDE:
If you know of a venue that should be on our list or you would like to advertise with us, please feel free to leave a comment or send an email via our contact page here.
---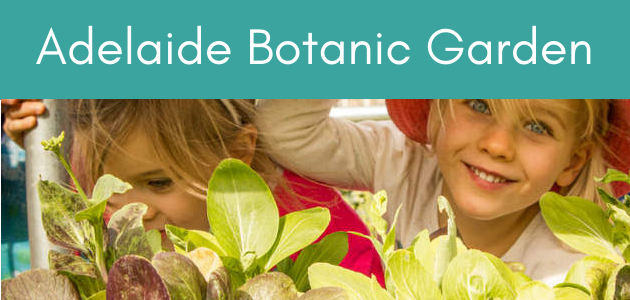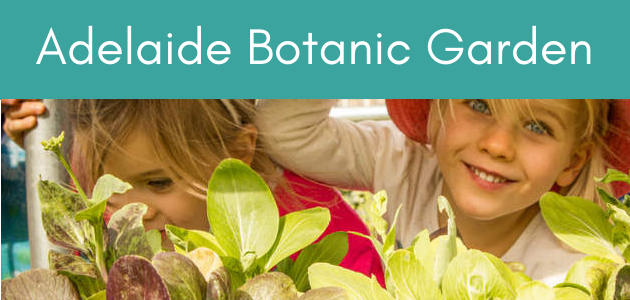 Adelaide Botanic Garden
Take your child to a beautiful Botanic Garden this October for an awesome school holiday activity.
Bring your children along to one of the many awesome school holiday activities from Monday 30 September through to Friday 11 October.  There's something for everyone: budding gardeners, plant and animal lovers and crafty types, with morning and afternoon sessions available.  Whatever your little one is in to, each event has been designed to promote fun, hands-on learning about plants, animals and the environment.
Suitable for 5-13 year olds but parents will enjoy the activities too.  Parents are encouraged to book early as spots will sell out.
Please note that all children must be accompanied by a parent/caregivers at all times. Tickets are only required for children (parent/caregiver attends FREE).
Gardening Themed Activities  | Spring Blooms Mobile Photography & Health Gardeners
Plant Themed Activities  |  Aboriginal Plant Use & Botanical Treasure Hunt
Animal Themed Activities  |  Wilbur's Wildlife Show & Wildlife Walk
Craft Themed Activities  |  Fairy + Goblin Gardens & Bushland Babies
The Australian Shakespeare Company returns to Adelaide Botanic Garden with the much loved performance of Alice in Wonderland from 28 September to 13 October.  Join Alice on her amazing journey through Wonderland and experience an adventure like no other.  90 minute performance.  Suitable for all ages.  Free for children under the age of 12 months.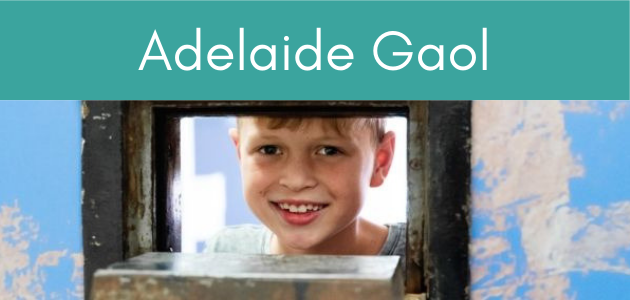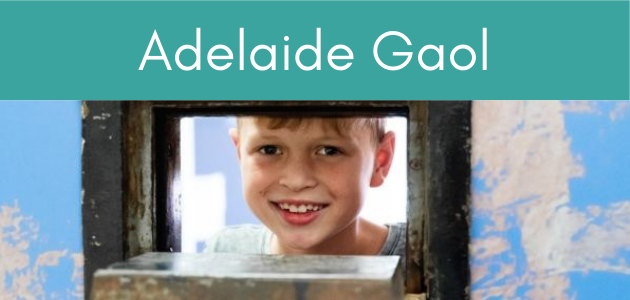 Adelaide Gaol
Think you know the Adelaide Gaol Escape Trail? Think again.
Adelaide Gaol is upping the ante these school holidays with a twist to their popular Escape Trail, with kids able to learn about one of the Gaol's most infamous prisoners with a special Who am I? edition.
Perfect for spring, Adelaide Gaol has plenty of open spaces to explore and guarantees an adventurous and engaging experience.
So get your thinking caps on, and join in the fun.
Since its opening in 1841, Adelaide Gaol has housed approximately 300,000 prisoners. With many ingenious (though typically unsuccessful) escape attempts. Visit today to learn the stories of previous prisoners and learn about the State's unique history.
Saturday 28 September to Sunday 13 of October 2019 | 10am-4pm | 18 Gaol Road, Thebarton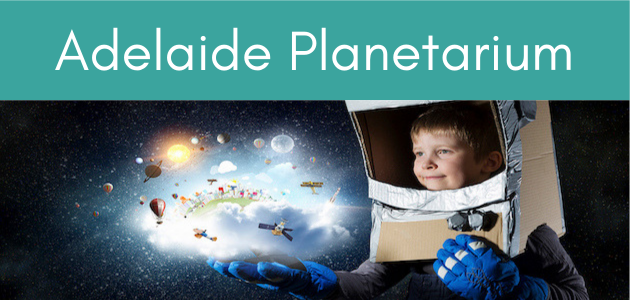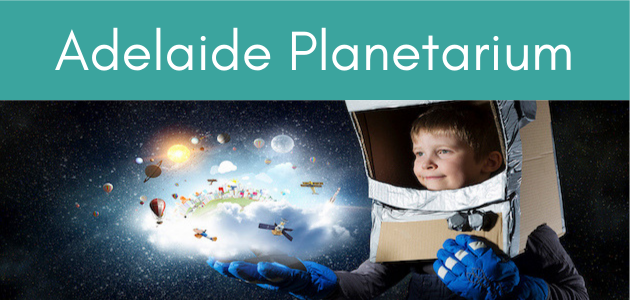 Adelaide Planetarium
Venture into space these school holidays.
Adventure and entertainment await at the Adelaide Planetarium. Families are invited to fly to the moon with Tycho, explore the seasons with Annie and Max, venture into the Wildest Weather or witness the creative and spectacular encounters that fuel the cosmos in the movie, Cosmic Collisions. There is something for all ages.
Planetarium Experience & Classroom Craft Activity
Explore the ever-changing constellations that travel through our night sky. Journey through the solar system and visit different and captivating planets, followed by a full dome movie.  The ultimate learning experience that will engage and excite children.
10am-12.30pm session | ages 4-8 | Planetarium experience with movie Tycho to the Moon followed by time in the classroom where you will have fun with playdoh learning more about the sun and planets while creating your own solar system.

2pm-4.30pm session | ages 8+ | Planetarium experience with movie Wildest Weather in the Solar System followed by time in the classroom where you will assemble and paint a model of the solar system whilst each planet is looked at in detail.
Monday 30 September – Friday 11 October | Planetarium experience from $9 per person | Planetarium experience and craft activity $25 per child, $9 per adult | Bookings essential.
Little Picassos: Spring School Holiday ART Classes
Join Little Picassos this Spring for a selection of wonderful holiday classes in a studio setting that provides an inspirational and motivational Art space for children.
Three studio locations, their new Magill Studio, Glenelg and Hyde Park.
Their Art programs have something for everyone, classes with accompanying adults from 2 years, drop and go sessions from 4.5 years for 1, 2 or 3 hours, half and full day experiences in a variety of mediums including: drawing painting, printmaking, sculpture, clay, textiles and construction. If you choose more than one session on the day your child is fully supervised over the breaks, so you can make a full day of it.
Classes running Monday 30 September to Friday 11 October 2019. Times vary each day – check their programs for details.
Glenelg – 686 Anzac Hwy, Glenelg | Hyde Park – Rear of 330 Unley Road, Hyde Park | Magill – 485 The Parade, Magill
Lucy's Search for Starz
Internationally recognised Dance Coach Lucy Ellis will launch her new children's show in Adelaide these October school holidays.
Aimed at kids aged 3 – 9, Lucy's Search for Starz sees Lucy and a cast of talented young dancers embark on a magical singing and dancing adventure. Bop along to upbeat songs and  funky dance routines and help Lucy teach young dancer Ellie, to work hard, be kind to others and always believe in herself!

Plus, you can dance with Lucy on stage after and learn the moves to some of your favourite songs from the show.
Written by Caitlyn Burt and directed by Linda Ellis, choreographed by Lucy Ellis.
Wednesday 9 October 2019, 1pm & 3:30pm.| New Venue: GWB Studios, 50 Sir Donald Bradman Drive, Mile End
Suitable for ages 3-9 years | Cost: $15  (ages 0-13), $25 (14 and up)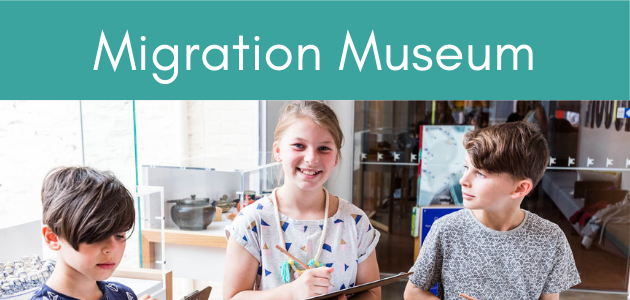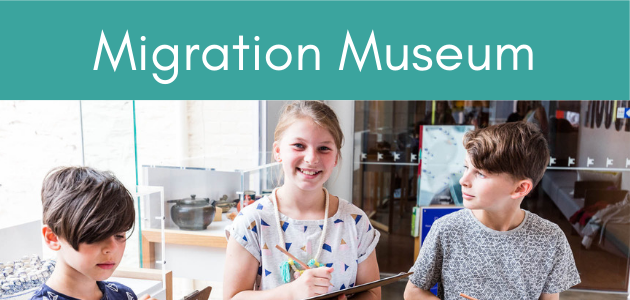 Migration Museum
School Holidays at the Migration Museum
Star Jars & Milky Way Maps – The stars have always been important in the history of human migration – they guide us across oceans, light our way, illuminate our stories, and give us something to wish upon. Learn about some southern constellations, listen to night sky dreaming stories, relax under a night sky projection, and make a constellation-in-a-jar and a star atlas to take home for your room.
Tuesdays 1 & 8 October 2019, 11am – 12pm | Fridays 4 & 11 October 2019, 11am – 12pm | Strict age limit: 8 years plus. (No toddlers allowed due to small choking hazards) Sharp objects, glitter, glue in use. Cost: $15.00 per child (One accompanying adult included in cost of ticket)
Migration Museum Magical Misery Tour – Mooch on down to the Migration Museum these school holidays to be gruesomely guided through a South Australian history splattered with sewage, swill, swindling…and reckless radioactivity!
Thursday 3 & 10 October 2019, 11 – 12pm | Ages 5-8 | Cost: $10 per participant – (Limited to 15 participants only) Bookings essential.
Migration Museum | 82 Kintore Avenue, Adelaide | Ph 8207 7580 or Email: migration@history.sa.gov.au
National Motor Museum
Visit the National Motor Museum this school holidays and make your very own 'Brick Film'.
Drawing inspiration from the vehicles on display at the museum, kids can create their own Lego car chase, or assemble their own unique vehicle.
The GooRoo Animation workshops will teach you about what goes into making a film, giving you a behind the scenes glimpse into producing an animated movie.Movies will be filmed and put together using the Stop Motion Studio App available on mobile devices. They will then be uploaded to YouTube via the GooRoo Animation Workshops channel so you can share them with all your friends and family.
Monday 30 September, Tuesday 1 & Wednesday 2 October 2019 | 11am – 3pm | FREE with Museum admission (bookings preferred)
National Motor Museum | Shannon Street, Birdwood | Ph: 8568 4000   E. motor@history.sa.gov.au
South Australian Maritime Museum
School Holidays at the South Australian Maritime Museum – Pirates in their PJ's
Pirates in their PJ's gives us a glimpse into some of the things that can go wrong while sailing in search of excitement.  It tells the story about how adventures are seldom as glorious as we would like them to be.
What was it like having to deal with pirates?  What do you do if the food runs out or the winds stop? How do you cope if your clothes are washed overboard, and all you have are your pyjamas?
Follow Captain Pedro Pyjama and his crew on their adventure to almost discover some of the world's greatest treasures… as they never quite make it to where they are going, or if they do are always the last. Go dressed in your pyjamas, strike a pose somewhere in the Museum and post a pic on social media to win a prize.

Weekdays, Monday 30 September to Friday 11 October 2019 | Performances weekdays at 11am and 1pm | $6 per child includes the lighthouse (bookings not required) | Ages 7-16.

SA Maritime Museum | 126 Lipson Street, Port Adelaide | Ph: 8207 6255  E. maritime@history.sa.gov.au
SAYarts
"The Unforgettable Memory Box"
Have you ever had a memory that stuck like glue? Or is there one just out of reach that whispers to you as you fall asleep? What if there was a place we could put all of our precious memories?….A place so obvious, so out there, that you will be amazed.
SAYarts are known for devising theatre with young people. Experience their tried and true making process during October school holiday drama camp led by Claire Glenn and Anthony Kelly. These two extraordinary makers will lead you through a journey of memory-making and performance construction across four days. Parents and friends will have an opportunity to witness your creativity on the final day.
Places are limited. Performance outcome Thursday 3 October at 3.30pm for family and friends.
Monday 30 September – Thursday 3 October 2019,  9.30am-3pm | Performance – Thursday 3 October, at 4pm | Westbourne Park Memorial Hall, 388 Goodwood Rd, Cumberland Park | Ages: 7-13 year olds (Grades 3-9)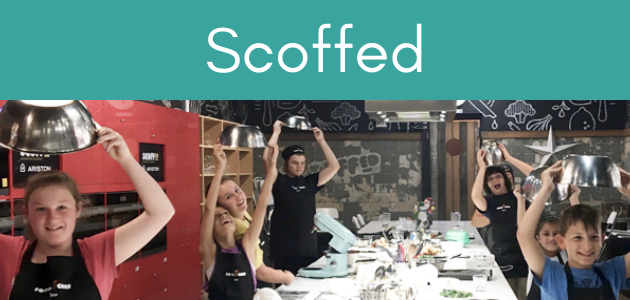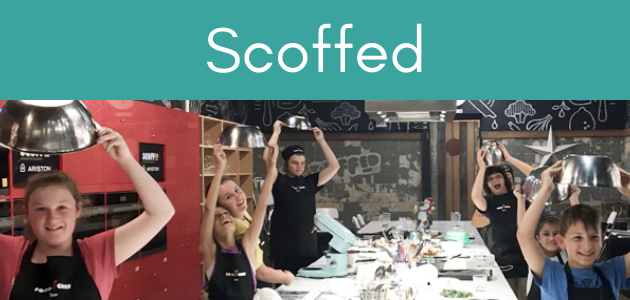 Scoffed School of Food and Fun
Turn things upside down this School Holidays.
Once again, Scoffed School of Food and Fun has a fantastic program of cooking activities for kids of all ages and abilities. It's a great way for your kids to spend some time with their mates away from the TV! Plus, they'll have heaps of fun, get fed and learn to cook from scratch. How good is that?
View the full school holiday program here.
Scoffed School of Food & Fun | 441/D Magill Road, St Morris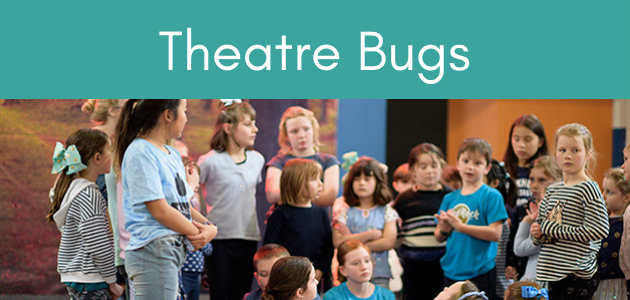 Theatre Bugs
Theatre Bugs are back with their much loved school holiday programs.
Children will enjoy a fun and fabulous week filled with drama activities, rehearsing, and making props which finishes with a production of Rats!: The Musical at 5pm on the last day. Students perform with a stage set and costumes. Every child has a special role to play and lines to learn.
Join The Pied Piper, Grandma, Mickey the Mad Scientist, Erica the Explorer, and Luna the Laughter Therapist as they work to save the town's children and learn why it's important to keep their promises!
It's a magical holiday adventure.
Theatre Bugs has been teaching Adelaide's children to act, sing, and dance for 21 years and during that time many 1000's of children have enjoyed attending the school holiday programs. It is always a thrill to see the brilliant performances the students are able to create in just four to five days.
Week 1: Norwood, Unley & Glenelg | Monday 30 September – Friday 4 October 2019 | $235 for the 5 day program
Week 2:  Norwood and Unley | Tuesday 8 – Friday 11 October 2019 | $205 for the 4 day program
---


---



Barossa Valley Chocolate Company
These October school holidays at the Barossa Valley Chocolate Company, kids can participate in chocolate workshops and a pairing experience.
While you're visiting, watch chocolatiers at work and explore their delicious range of chocolates. You can also enjoy homemade gelato and lunch at Benni's Café or try a wine & chocolate pairing at the cellar door. It's set in beautiful surrounds and very family friendly.
Kids Choc-o-block Decorating Workshop – Decorate your own chocolate block! Kids each get a block of our home made, artisan chocolate, bowls of lollies and liquid chocolate as glue, then let those creative juices flow!  5-12 years| Cost: $20pp
Kid's Tasting Experience – Enjoy a plate of our delicious artisan chocolates matched with three glasses of Bickford's cordials. Kids will feel like they're getting the real cellar door experience!
Junior Chocolate Workshop – Three hands on chocolate activities will provide finger-licking-fun for your kids. Create some chocolate that can be taken home and enjoyed for the rest of the school holidays.  6-12 years | Cost: $38 pp
Chocolate Sensory Workshop –  Learn about the history & origin of chocolate. Hands on chocolate making, sampling & go home with your wares! | 12+ years | Cost: $45 pp
​Bookings essential. Email: enquiries@bvcc.com.auto  to book your school holiday experience or call 08 8568 9800 (or 1300 4 CHOCOLATE)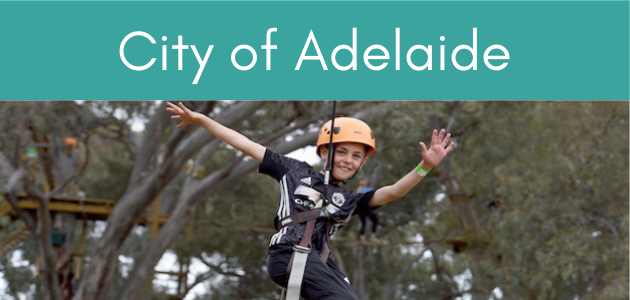 City of Adelaide
School holiday activities in the city.
No need to stay housebound these school holidays. There's plenty to do in the city with this list of free and cost-friendly activities that you and the kids are going to love! The Adelaide Central Market's Little Market Chef will have your kids cooking up a storm; and thrill seekers can find adventure up in the tree tops with TreeClimb.
For free things to do, check out the Jam Factory or Migration Museum free tours that run throughout the school holidays or pack a picnic and head to the Botanic Gardens to enjoy the spring sunshine.
The incredible Nutcracker Ballet descends on the Adelaide Festival Centre just in time for the last week of school holidays with two matinee shows available.
For more information and a full list of school holiday activities in the city, head to the City of Adelaide's School Holiday Fun page.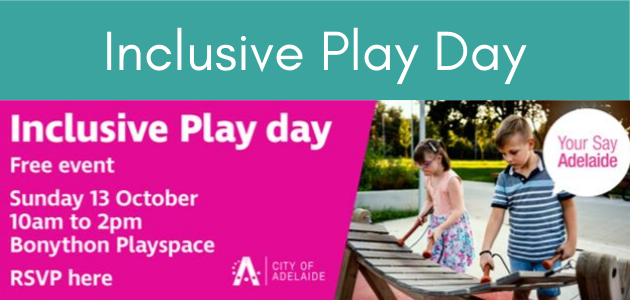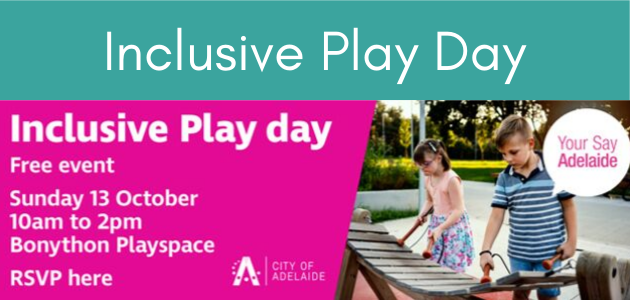 Inclusive Play Day – Bonython Playspace
A new inclusive playspace is being built in Rymill Park / Murlawirrapurka (Park 14) and the City of Adelaide is seeking your thoughts on what you think will create a great play experience for people of all ages and abilities.
Share your ideas for the new inclusive Quentin Kenihan playspace at the Inclusive Play Day, a FREE community event with a range of fun activities for all ages including face painting, a sausage sizzle, coffee cart, Imagination Playground, creative making session and inclusive football 'come and 'try with One Culture Football.
Your feedback is valuable and will help to shape a playspace that is accessible for everyone.
The Bonython Playspace has been selected for the event location because it has better disability access and some accessible play equipment.
Sunday 13 October 2019, 10am-2pm | Bonython Playspace, Corner of Port Road and George Street, Adelaide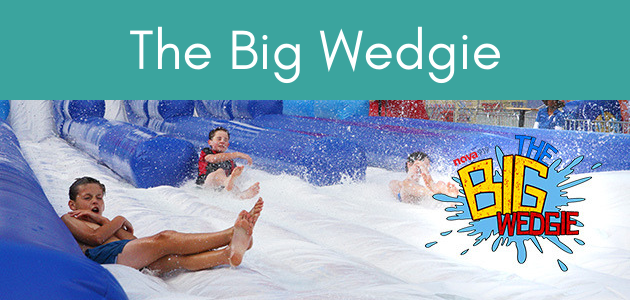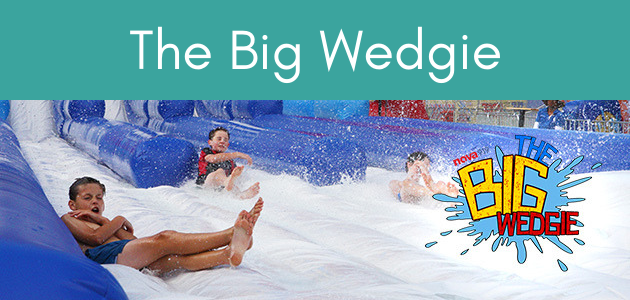 The Big Wedgie
The Big Wedgie returns to West Beach Parks these School Holidays!
Nova 919 presents The Big Wedgie – 5 awesome inflatable waterslides, so there will be loads of family fun for all ages.
Open every day of the school holidays, The Big Wedgie has something that's perfect for all ages and thrill-levels:
The Big Wedgie – the world's TALLEST and most EXTREME inflatable waterslide.
The Big Chucka – the most extreme slide (gives you an unimaginable wedgie) – returning for its second appearance in Adelaide!
And also coming along for the ride are smaller slides:
The Just Right Wedgie – perfect for those looking for a wedgie that's not too big, not too small, but juuuuuust right!
The Little Wedgie – a mini-version of The Big Wedgie
The Little Skidda – an inflatable slip 'n' slide! perfect for young ones, designed for kids ages 3-5
Catch The Big Wedgie at West Beach Parks during the school holidays from Saturday, 28 September until Sunday, 13 October 2019.
Bonus Special Offer: All Play & Go readers get 10% off all online tickets to The Big Wedgie these Spring School Holidays! Simply use online code: PLAYANDGO when booking your tickets.  (Direct online ticket purchases only. Not valid with any other offer.)

---


---



Experience AFL Max
AFL Max is the nation's first immersive football skills facility, designed for today's players, fans and families.
Get involved with the kids these school holidays, at AFL Max! Let them explore the Aerial Zone (trampolines), Climb Zone (rock climbing) and the Bump Zone (inflatable tackle course) designed by Rory Sloane. Then grab yourself a parent pass, where together, you can have a dob, work on your fundamental football skills and race each other using their draft testing equipment.
Purchase a 1hr or 2hr general admission ticket for your child and score a parent pass for half price – giving you access to the Skills, Interactive and Test & Tackle Zones, where you can hone your footy skills, together.
Or if you're after a more relaxing experience while the kids play, head upstairs to the fully licensed café and enjoy a coffee, drink or meal, plus complimentary Wi-Fi, all whilst watching the kids in action.
AFL Max is open every day of the school holidays Monday – Sunday, 10am-6pm. Suitable for kids 5 years and up.

Australian Sports Camps
Australian Sports Camps have run camps for over 36 years and provide the best sports coaching for boys and girls of all standards.
ASC programs are skills-based, interactive and fun, to ensure that participants improve their game and their love for their chosen sport. ASC 3-day camps will feature elite players and guest coaches.
Join ASC for an invaluable sports camp experience and improve your playing ability with their structured and progressive programs including specialist coaching sessions. The programs cater for 6-16-year olds of all playing abilities and each program runs from 9am-3pm daily.
ASC are offering camps during the school holidays in AFL Football, Basketball, Netball and Soccer at Seymour College, Glen Osmond on Tuesday 1, Wednesday 2 and Thursday 3 October 2019, 9am-3pm.Visit the website to book an exciting ASC camp now, have fun and be fit, active and engaged these Spring holidays!
**Special offer for Play and Go readers: save 25% on ASC 3-day camps – use this coupon code: playandgospr19 when booking online. Cost $236.25 for three days instead of $315.
Offer not available for partner programs including horse riding, please visit the website for more information.

Cirkidz
Spring off the couch and into the circus!
Balance, coordination, strength, creativity and teamwork – put them all to the test during the Cirkidz School Holiday Program!
Come and try their popular sessions SOAR (trapeze, hoop, silks) and Off the Wall (tumbling, tramp and acro) or experience a variety of circus skills and challenges in one of their mixed bag sessions of Pick'n'Mix or Circus Smorgasbord. There is also  Parkour for kids aged 8-12.
Beginners welcome and no Cirkid is left behind. Cirkidz trainers and staff are all wonderful and your child will be supervised during all breaks and toilet trips. Bring a packed lunch if they are staying all day!

City of Charles Sturt
FREE School Holiday Sports Program
The City of Charles Sturt is inviting all children aged 2 – 17 years to try a new sport and get involved in their FREE School Holiday Sports Program. The program is open to all children  – you don't have to live in the council. 
Choose from over 20 different sports and activities including Bootcamp, Basketball, Tennis, Fencing, Roller Skating, Scouts and much more. Be sure to book in early as there are limited numbers for each activity.
The City of Charles Sturt Program aims to provide an avenue for young people to:
Try new or different sport and recreation activities FREE of charge

Increase their level of physical activity

Learn about creating a healthy lifestyle through sport and recreation

Boost their self-esteem and self-confidence

Make new friends
There is a karate session for children with 'Special Needs' on Friday 4 October 2019 as well as a 'Girls Only' soccer session on Friday 11 October 2019 and Mums are encouraged to join in.
Registrations for the School Holiday Sports Program are now open for 28 September 2019 – 13 October 2019. Note Monday 7 October 2019 is a public holiday.

Head for the Hills
School Holiday Mountain Biking Adventure
The program begins with a basic skills coaching session to teach participants the fundamental skills of mountain biking including body position and moving on the bike, braking technique, gear selection as well as other handy tips to help ensure a safe and enjoyable experience for all.
Once everybody is comfortable and settled on the bikes, the adventure begins. A series of geocaches containing cleverly constructed cryptic clues are hidden all over the Craigburn Farm trail network. Participants work as a team using good old maps (not google-maps!) to find and decipher each clue, which hints to the next geocache's secret location and the best trail to get there. Participants will cover over 12 kilometres of trail and climb around 300 vertical meters during their adventure. After all the geocaches have been found (approximately 4 hours in the park), riders will travel to the Blackwood Community Centre for some well-deserved rest as well as a bike maintenance workshop and more mountain biking activities.
Fun activities include:
• Skills Coaching with Tyson Schmidt (2017 & 2018 Australian Downhill World Championships Team Manager)
• Introductory trail ride
• Geocache Hunt by Bike
• Bike Maintenance Course
• Bike & Helmet Included
Tuesday 1, Wednesday 2, Thursday 3, Friday 4 October 2019 (more dates may be added) | 9am-5pm | Drop-off at 9am on Craigburn Rd, Blackwood (map) | Pickup at 5pm at Blackwood Community Centre , 4 Young St Blackwood (map) | Ages 11 – 14 years

ICA Sportzworx Stepney
Join ICA Sportzworx Stepney for some school holiday fun. Come and play indoor sports at their popular school holiday clinics. Full day and morning sessions are available, both starting from 9.30am.
They provide a program full of fun indoor sports and games for the kids. This includes indoor cricket, soccer, netball and dodgeball plus much more. Kids are supervised at all times and they are within a safe indoor environment.  Their Junior Sport Coaches cater for kids of varying ages and skill level.
Group discounts are available to be shared amongst your family and friends. Plus, Lunch is provided for all kids.
Check out their website and booking form to view the available dates here.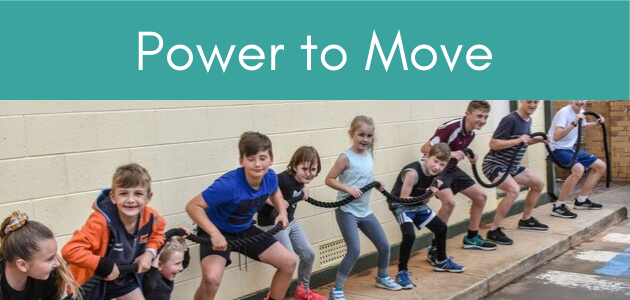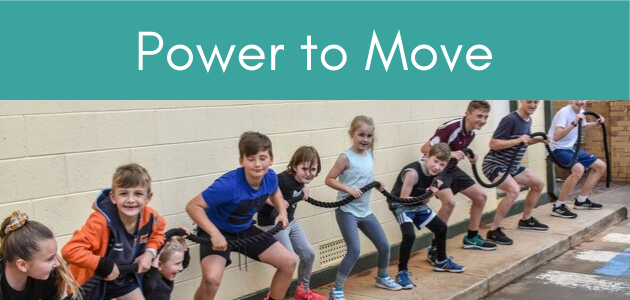 Power to Move
School Holiday Fitness Programs at Mount Barker, Seaford and Bowden
School Holidays are just around the corner and Power to Move has some great programs to get your kids feeling great including FREE classes at Mount Barker and Come and Try clinics at Bowden as well as classes at Seaford.
Mount Barker – Free Fitness Clinics – 60 minute bootcamp and boxing classes with a great warm and up cool down. Free fruit provided for all kids after class.
Tuesday 8 to Friday 11 October 2019 | See website for details of session and times and details here.
Bowden Free School Holiday Come and Try – Find out more about Power to Move's Daily Fitness Programs.  Kids can try a Bootcamp, Boxfit style class to give them a taste of what's on offer. Classes are 60 minutes and incorporate a warm up, cool down and fruit for each child. There are 3 sessions designed for your child. Saturday 28 September 2019 |  See website for session times and details here.
Seaford School Holiday Clinic – Power to Move has 2 x 60 minute holiday clinics running through the October School Holidays at the Seaford Recreation Centre. The clinic includes fresh fruit and veg at each class. The classes will be a combination of Bootcamp, Boxfit, lots of games and heaps of FUN. The 60-minute class incorporates: warm up; class discussion and demonstration about core activity; muscle conditioning phase; warm down; health, movement and nutrition facts.  See website for session times and details here.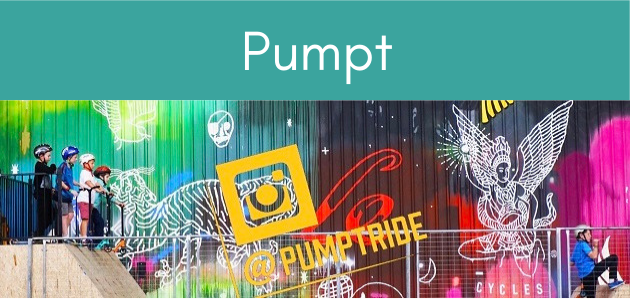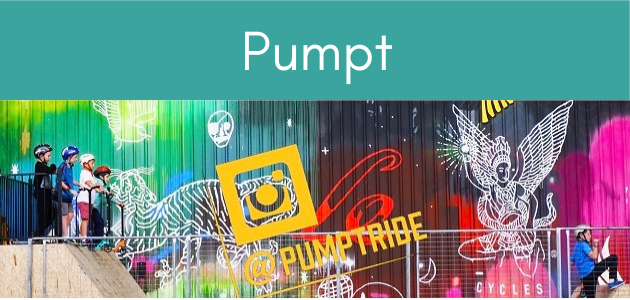 Pumpt
Pumpt is an indoor bike, skate, scooter and ninja course venue.
Pumpt's indoor park is the perfect activity all year round and for all abilities. They have a number of pump tracks with an electronic start gate, ramps, half pipes, resi and an airbag. And when you're done riding there is a ninja course to test out your ninja skills!
Boneshaker Cafe is situated within the park and is fully licensed with an extensive breakfast, lunch and dinner menu. A perfect spot to sit and watch all the activities. They supply the bikes, scooters and skate boards, all you need to bring is a helmet and a smile!
They also have a huge range of scooters, parts, clothes, gift cards and more in their store ready for Christmas. Keep an eye out on their Instagram, Facebook and website page for special deals. Or sign up to their newsletter so you don't miss out!
Ride-a-Bike Right
School Holiday Programs in October School Holidays
Ride-a-Bike Right has mastered the art of teaching anyone to ride a bike. Operating since 2011 they have taught thousands of kids the joys of bike riding. Your child can learn the skills too in a supportive environment that teaches children to ride a bike the right way.
Ride-a-Bike Right offers group learn to ride classes for children in Reception and older, as well as private lessons at times to suit your family. Bikes are provided for all lessons.
Group lessons consist of 3 x 1 hour lessons over 3 days, (one hour each day). October School Holiday group lessons will be held on Tuesday 8, Wednesday 9 and Thursday 10 October, with private lessons also available during the holidays.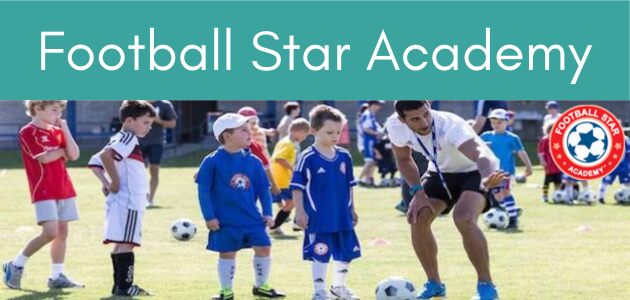 Football Star Academy
Get the kids active these holidays!
The school holidays are an opportunity for children to take part and experience the 'skill-set' learning and fun holistic sport sessions on offer at Football Star Academy which aims to enhance the awareness and well-being of children through activity. Suitable for both boys and girls aged 5-16 years old. All kids welcome, bring a friend!
Book into a Football Star Academy School Holiday Clinic – focus on skill acquisition, performance and fun! 3 locations:  Plympton, Linden Park, Uraidla
Week 1: –Plympton International College – Tuesday 1 & Wednesday 2 October 2019, 9am-12pm
Week 2:  Uraidla Primary School – Tuesday 8 October 2019, 9am – 12pm | Linden Park Primary School – Wednesday 9 October 2019, 11.30am – 2.30pm
Join a weekly clinic in Term 4 at a location that suits for boys and girls looking to further develop their soccer skills and accelerate their player potential, please call 0411 273 810 or see details on website.
Use Early Bird discount code 'T3HC25' for 25% off

Wilderness Escape Outdoor Adventures
Give the Gift of Adventure this October with Wilderness Escape Outdoor Adventures School Holiday Programs.
Wilderness Escape Outdoor Adventures programs are dynamic, fun, and let your children explore all the wonders of the great outdoors, including a range of activities from Rock Climbing and Mountain Biking, to 'Go Wild' Adventure Days and Challenge Ropes Courses, for ages 5-17, they have the perfect program for your child.
Wilderness Escape Outdoor Adventures is SA's largest outdoor education company, with a team of experienced instructors at accredited locations and venues. You can rest easy knowing that your children are having the adventure of a lifetime, under their highly qualified care.
Woodhouse Activity Centre
Drop & Go Day Camps– Kids only – Woodhouse 'kids only' Day Camps offer a different theme each day so you can book in for 1 day, 3 days or all 9, knowing that each day there will be something new for your 5-13 year old to discover all while exploring the 54 hectare natural wonderland! These day camps book out quickly.Click here to view the program line-up.
Just $65 per day covers:
Full facilitation (1:9 staff to child ratio).
Delicious and nutritious, morning tea, lunch and afternoon tea (dietary needs catered to).
Entry to the property and use of onsite activities and equipment.
One very good night's sleep from a very exhausted (and happy) child and a lifetime of memories.
Day Activity Pass = Family Fun – Open 7 days, explore 54 hectares of gumtree-studded countryside, with unlimited use of onsite activities including:
30+ obstacles on Challenge Hill
The Labyrinth – giant split level maze
2 fast and furious Tube Slides (weekends only)
9 'hole' Disc Golf – like regular golf, but with a Frisbee!
7 Orienteering courses
Camping & Activity Pass– Family Fun – There are numerous un-powered camping areas, complete with shared campfire circles and adjacent Basecamps which have been fitted with deluxe creature comforts including toilets, hot showers, hand dryers, vanity mirrors and power points for your hairdryer. Shared dining halls provide shelter, tables and seating, sink and BBQ facilities. ANNNND your camping fee also includes access to all the awesome onsite activities!
37 Spring Gully Road, Piccadilly | Ph 8339 3333 | Email info@woodhouse.org.au
---
Adelaide Zombie Walk | Rundle Park | Details 
Waterworld Aquatic Centre Reopening | Ridgehaven | Details


---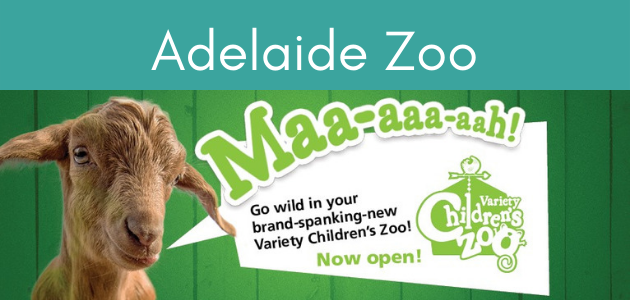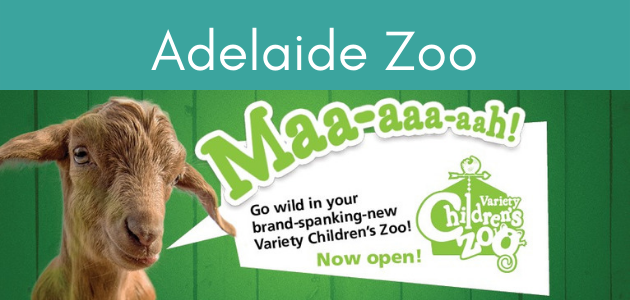 Adelaide Zoo
Go wild at Adelaide's hottest new space for kids!
Smiles will widen and hearts will race when your little ones step foot in Adelaide Zoo's brand-spanking-new Variety Children's Zoo. Opening these school holidays, this wild new space will be the first stop on your Adelaide Zoo adventure and a must-visit for a no-brainer, fun-filled family day out.
Plus it's just a hop, skip and jump from their ever-popular Nature's Playground and Wisteria Café so the kids can learn and explore while you relax with a coffee. So bring your little animals to meet theirs and rub shoulders with the who's who of the children's zoo.
Plus join the Zoo for ZOOcation care, from 30 September – 11 October.  A special school holiday program for 5–12 year olds, ZOOcation care gives kids an opportunity to spend the day at the zoo visiting all their favourite animal friends under the care of a qualified conservation educator. Find out more here.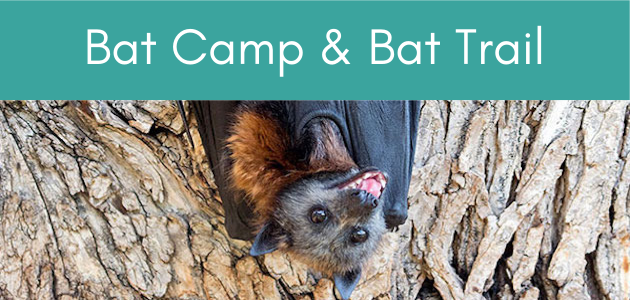 City of Adelaide
Bat Camp! ***Booked Out***
Marvel at one of Adelaide's most marvellous animals, the Grey-headed Flying-fox. Local bat experts will delight kids at Bat Camp! Kids will be able to visit the bats at their roost, participate in kite-making, drawing/painting and peering through microscopes in the 'Bat Cave' and watch a demonstration with live animals by the Adelaide Zoo.   
The City of Adelaide has partnered with the SA Museum, Adelaide Zoo, University of Adelaide, Department of Environment, SA Health and Fauna Rescue SA for this event. 
Wednesday 9 to Thursday 10 October 2019 | Morning and afternoon sessions available | Botanic Park, Adelaide (near the entrance to the Zoo) | Ages 5-12 years old
Bat Trail
Walk the Bat Trail and look for the 25 bat tags to learn more about Adelaide's Grey-headed Flying-foxes. See if you can find them all! Located along the banks of the River Torrens / Karrawirra Pari, adjacent Botanic Park.
The Bat Trail will be accessible from the beginning of October until mid-December and can be accompanied by an activity booklet, available for download online, or selected cafes listed on the City of Adelaide's Bat Trail Page.

Cleland Wildlife Park
Creepy Crawly School Holidays at Cleland
These school holidays Cleland Wildlife Park is going creepy crawly! Activities for the whole family are on every day of the school holidays, and are all free with entry!
Just some of the activities include:
BYOB (Bring Your Own Bug!) insect identification
Cleland's own Bug Man Presentations
Butterfly Conservation Society SA and Adelaide University Bee Expert
Fun With Fangs seminar with Cleland Director Chris Daniels and Steve Donnellan
Ancient Invertebrates with Flinders Paleontology workshop
And so much more!
 Cleland Wildlife Park | Mount Lofty Summit Rd, Crafers

Cleland Wildlife Park – Wildification
Drop the kids off at Cleland Wildlife Park for the day so that you can sit back and relax while they are taken on a wild adventure.
Kids in Wildification get to explore the park while learning lots of cool and interesting facts. Plus they get an animal experience, exclusive animal feeding opportunities, games, craft, keeper presentations, lunch and recess.
Places are limited! For further information or to make a booking call 8130 9019.
Tuesday 1 to Thursday 3 & Tuesday 8 – Thursday 10 October 2019
 Cleland Wildlife Park | Mount Lofty Summit Rd, Crafers
Dolphin Boat
Dolphins are one of the Earth's most fascinating and curious creatures and Temptation offers you this amazing opportunity to encounter them – something that you will remember forever.
With a 360 degree viewing deck you can walk around Temptation and watch dolphins play and frolic, only a few feet away from you and your camera.
On the Adelaide dolphin cruise, Temptation Sailing average 40+ dolphins per trip and on some trips they see over 200 dolphins. For the more adventurous, don a wetsuit and encounter the dolphins underwater.
Special Offer: Receive 20% off the Dolphin Watch Cruise by using discount code 'KIDS20' at checkout.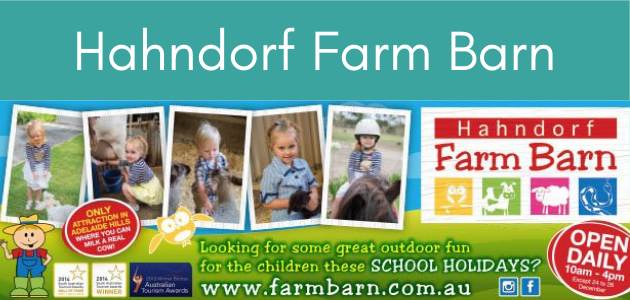 Hahndorf Farm Barn
Looking for some fun activities to enjoy with the kids in the beautiful Adelaide Hills these school holidays?
The Hahndorf Farm Barn is a unique blend of a children's farmyard and wildlife park. You can hold, touch and feed most of their animals in complete safety and at your own comfort level. They pride themselves on providing the best school holiday activities in Adelaide!
There are many activities for kids at the farm – try your hand at milking a cow, take a pony ride, bottle feed baby lambs and hand feed the camels and donkeys to name a few.
You can easily spend hours here enjoying quality time with your family and friends. Enjoy playing in their new playground and sand pit too.
Hahndorf Farm Barn | 2282 Mount Barker Road, Hahndorf | Phone 8388 7289


---


Adelaide Central Market
Big Market Adventures for Little Foodies is back at the Adelaide Central Market these school holidays!
All activities are FREE or low cost and include the ever popular Market Trail at just $9, Little Market Chefs at just $18, plus FREE art workshops.
♥  Little Market Chefs – $18 (bookings essential) or $20 on the day (6–12 years) | Tuesday 1 & 8 October and Thursday 3 & 10 October 2019 at 10am, 11:30am & 1pm.
♥  Market Trail – $9 (4+ years) or $10 on the day  | Tuesday 1 & 8 October, Thursday 3 & 10 October and Friday 4 & 11 October 2019 from 9am – 1pm.
♥  Free Eco Crayon Workshop (4+ years)  |  Thursday 3 October 2019 – 9:30am – 12:30pm.  Grote Street dining area.  Bookings not required.
♥  Free Seedling Planting Workshop (4+ years)  |  Friday 4 October 2019 – 9:30am – 12pm.  Grote Street dining area.  Bookings not required.
♥  Free Market Bag Decorating Workshop (4+ years)  |  Friday 11 October 2019 – 9:30am – 12pm.  Grote Street dining area. Bookings not required.
Churchill Centre
Build a bear and colour a bear these school holidays at Churchill Centre.
Week 1: Build A Bear 
Wednesday 2 to Saturday 5 October 2019 | Sessions from 10:30am
Sunday 6 October 2019 | Sessions from 11:30am
Bookings Essential | Cost: $5 | Ts&Cs apply
Week 2: FREE Colour A Bear
Wednesday 9 to Saturday 12 October 2019 | 11am-2pm
Sunday 13 October 2019 | 12pm-3pm
Ts&Cs apply – whilst stocks last
PLUS, don't forget to visit Little Chicago Express, Adelaide's largest and FREE indoor Shopping Centre playground! Located in the Food Court. Click here for playground opening hours.


---
Want even more inspiration for the Spring School Holidays?
Click Here

to take a look at our list of ideas for EVERY school holidays.
Remember, you can always check in with your Local Library (find yours here) or your Local Council (see our list) as most run special activities for children every school holidays – and many are inexpensive, or completely free!
---
Subscribe to our Weekly Newsletter
Keep up to date with our latest posts and find out what's on, where to go and what to do with the kids in and around Adelaide.
At Play & Go Adelaide we make every effort to provide accurate information to the best of our knowledge at the time of publication. We recommend confirming times, dates and details directly before making any plans as details may be subject to change. Holiday Activities in Adelaide…What do to with the kids during the holidays…School Holiday Ideas…South Australian school holiday guide…Great school holiday ideas….What's on for kids in Adelaide 
---