The Belair Hotel is spacious and inviting with a modern stylish design. There is plenty of room for families either in the dining area or on the communal tables, with also a lounge area to relax in. The wall of glass along the dining room looks out with views of the Adelaide Hills.  A gorgeous large open fire keeps things cosy in the cooler months.
Crowned Australia's Best Bistro in 2010 by the AHA, the Belair Hotel Bistro has something for everybody on their menu, including good options for the kids at very reasonable prices. Even better though, kids eat free at lunch on Sundays (with every Adult meal purchase, valid at time of writing, October 2012).
There are activity packs for $2.50 to keep kids busy at the table. When we visited there was one pack which includes a pop-up juice while the other pack didn't include the drink, but had different contents. They also have a dedicated play room for the kids with some electronic games and a few toys.
Our kids enjoyed their Half Chicken Schnitzel & Chips, Chicken Nuggets & Chips and Pasta with Napolitano sauce (pictured below).
We forgot to ask for salad to be left sans dressing, so unfortunately this was not eaten.
The children's dessert menu was very popular. We chose Ice Cream with Chocolate Topping, the Frog in a Pond and the Chocolate Dipping Sauce with Fruit & Marshmallow skewers.
For the Adults, the Bistro Menu had plenty of variety. There is of course the usual pub fare of schnitzels but here were our choices on the day:
Roast Lamb Pizza with Rosemary Smoked Potato, Spinach, Feta & Pine Nuts; Green Curry Buffalo; Salt & Pepper Squid and the Grilled Chicken Burger.
We all enjoyed our meals. You can check out the menu on their website here.
The menu changes regularly so diners won't get bored each time they visit.
It's a busy place, especially on Sundays, so booking ahead of time is recommended. See the Belair Hotel website for more information.
Editor's Update | 9 November 2013
The Belair Hotel now has an outdoor play area. See our pictures below.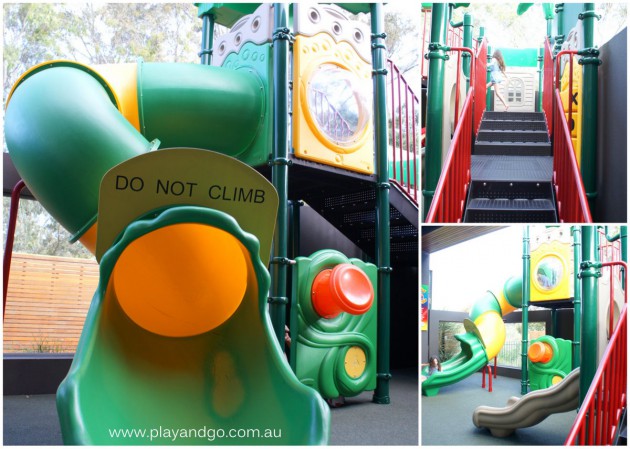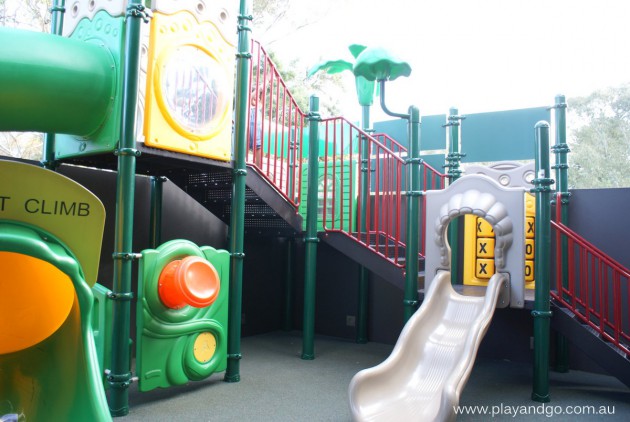 The kids were more than happy with this new addition. There's a small slide for little ones and a crazy side-bending slide for the older ones. It also gives a great viewing platform for the kids when trains go past. A sofa has been added to the indoor play room which still has a couple of computer games on the walls and a few toys.
When we saw this new 'Lolly Bag Sundae' on the dessert menu we just had to try it as it sounded intriguing. The ice-creams really did taste like Redskins, Banana Lollies and Chico Babies! Definitely for anyone with a sweet tooth!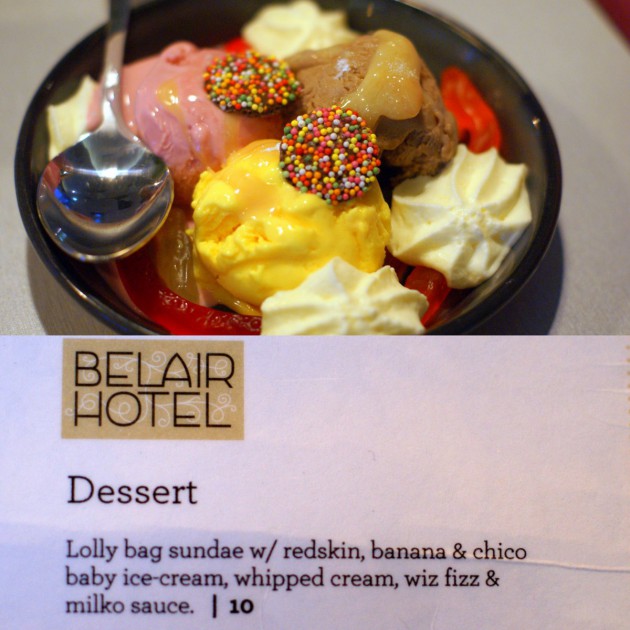 The Frog in a Pond also included a few extra lollies – funnily enough, this rated well with the kids.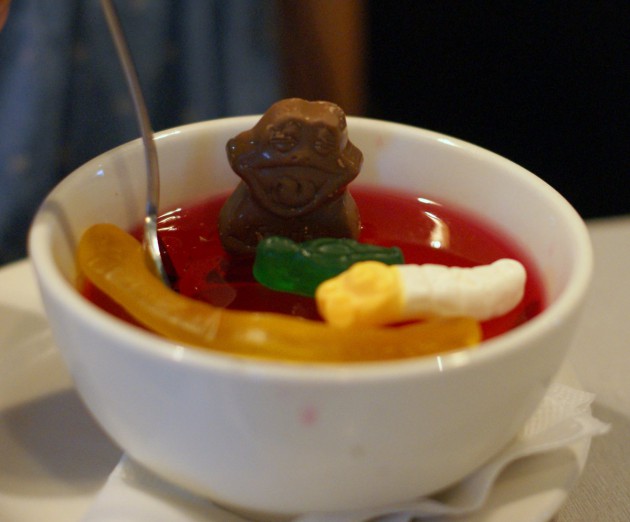 We also tried the Belair Hotel's home-made hot chocolate and petits fours – these little home-made chocolates were so delicious.  We would totally recommend them as a little treat with your coffee. Sorry we don't have a photo of them – they were demolished a little too quickly for the camera.
We also noted that the Kids Eat Free at Sunday Lunch includes up to 2 kids meals with each paid Adult meal. That's a great saving for families with 4 kids! Please note that this was valid as of 2 November 2013 when we visited. Please check conditions of the Kids Eat Free offer with the Belair Hotel whenever you visit as this may change.
What:  Belair Hotel | Kids Eat Free Sunday Lunch
When:  See their website here for opening times
Where:  141 Main Road, Blackwood | Phone 08 8278 8777
Who:  Everyone
Please note that our Reviews are the opinions of the Play & Go Editors, this is not a sponsored post and we do not advise venues prior to or during Reviews.