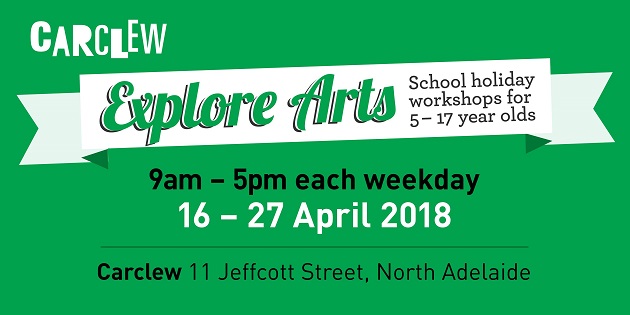 Carclew Explore Arts April school holiday program
Carclew's Explore Arts school holiday workshops return for Autumn with a program of full-day and half-day creative activities at their stunning Carclew castle.*
Their team of professional artists present a broad range of inspiring, hands-on experiences that will nurture your child's inner-artist and allow them to try out new experiences and make new friends.
*not an actual castle but it's pretty majestic and has a tower… so let's use our imagination.
Carclew has a jam-packed program with some of Adelaides finest (and fun-est) artists – their team this season includes Ruby Chew, Amanda Sefton Hogg, Manal Younus, Marijana Dobson, Gilbert Kemp Attrill and more.
Carclew's April program includes some new workshop topics and a few favourites like CANS: aerosol art and a 2-day iPAD SHORT FILM workshop for the big screen.
Other workshops include DIGITAL PORTRAITS, CLAY CRITTERS, BLOCK OUT PRINTING, SPOKEN WORD and much more!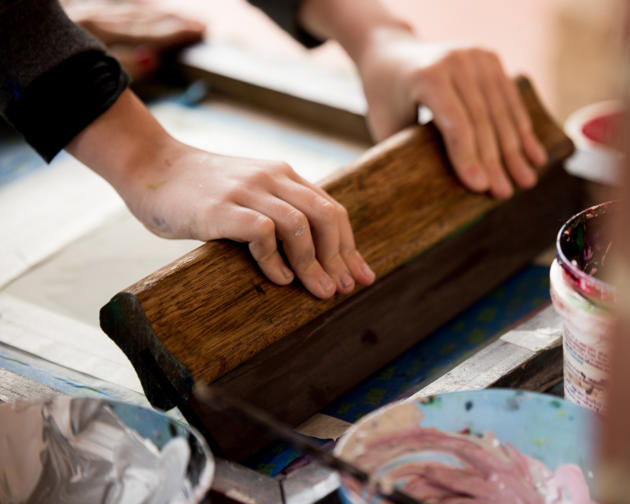 Children's Activities – details of fun things just for the kids
Monday 16 April | 2 in 1: book both workshops for a full day or a single workshop for a half day
COLLAGE IN 3D | Ages: 5 – 12
Making use of recycled materials and aerosol painting techniques, work with artist Min Wong to explore colour, shape and composition of your own foam block collage. This workshop will extend your observation skills and challenge you to think about balancing materials and texture when creating sculptures.
Artist: Min Wong
CONTEMPORARY STRUCTURES | Ages: 5 – 12
Examine and interact with the space and objects around you to discover the beauty in overlooked details of the everyday. Create an experimental contemporary art sculpture that will be a window to seeing Carclew through new eyes!
Artist: Alise Hardy
Tuesday 17 April | 2 in 1: book both workshops for a full day or a single workshop for a half day
PAPER MOUNTAINS | Ages: 5 – 12
Tall, small, round or peaked. If your thoughts, dreams and feelings were a mountain, what shape would they take? How high would they reach? Come along and learn paper techniques to bring the two dimensional into the third. Take home your own wearable or sculpted mountainous range, complete with all of the little creatures and growths that live there.
Artist: Nancy Downes
WEAR YOU FROM | Ages: 5 – 12
Fashion design using papercraft and collage. Use atlas pages to create identities of style and place. An Adelaide shirt or New York onesie. Create personal collage portraits and original works with paper.
Artist: Laura Wills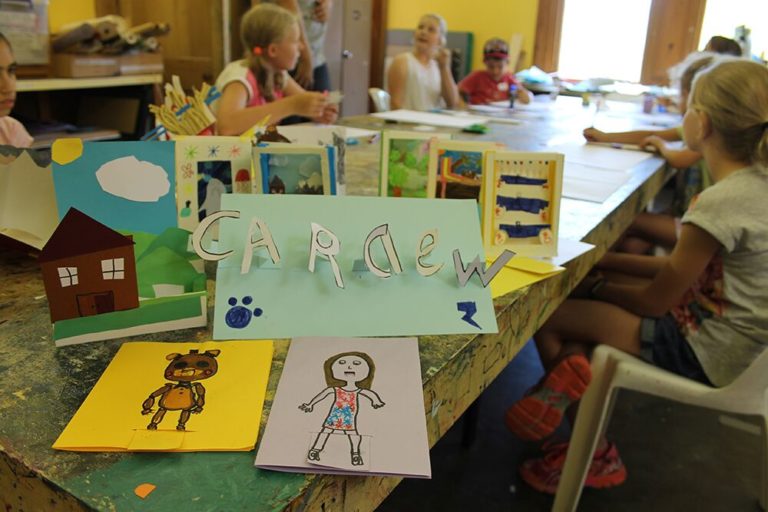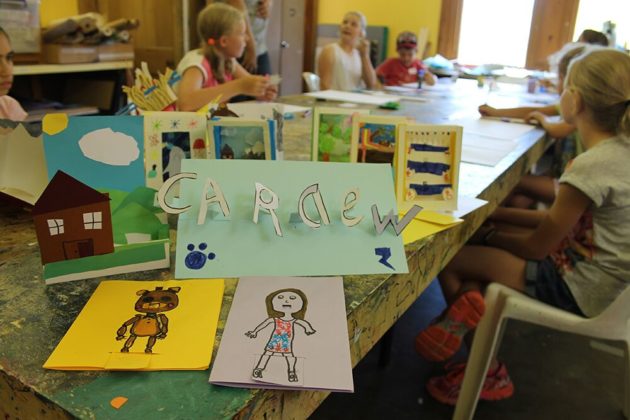 Wednesday 18 April | Book a workshop for a full day
MIRROR MIRROR | Ages: 7 – 12
Treat yourself to a "me" day drawing and painting your self- portrait. Explore your facial features, expressions, profile and silhouette using mixed media including pencil, pastel, paint, paper cutouts and mirrors.
Artist: Amanda Sefton Hogg
BLOCK OUT PRINTING | Ages: 12 – 17
Carve out an image on a foam based block to create a bold and bright Andy Warhol inspired poster. Use the printing press to print multiple colours using repetitive patterns. Get an insight into art history in a fun and tactical way.
Artist: Kerri Wright
Thursday 19 April | Book a workshop for a full day
SPOKEN WORD | Ages: 7 – 12
Everyone has a story to tell and in this workshop you will look at different ways that you can tell yours! Draw inspiration from the sublime to the mundane and everything in between, whilst gaining confidence in public speaking and performance. Once you have developed your poem, you will have an opportunity to perform, just like at an open mic.
Artist: Manal Younus
CANS: Aerosol Art | Ages: 12 – 17
Get the aerosol paints out and develop your skills on a large-scale collaborative work and a smaller individual work that you can take home!
Artist: Nish Cash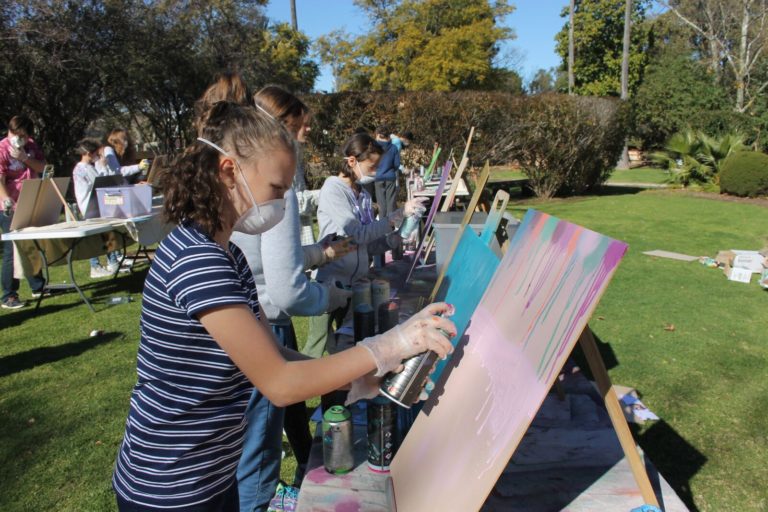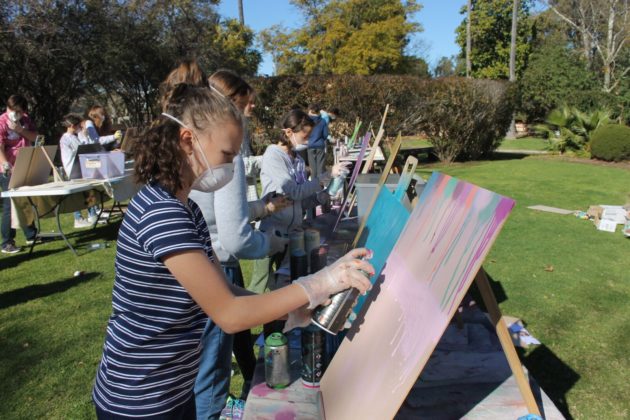 Friday 20 April | Book a workshop for a full day
LOST & FOUND SHADOW PUPPETS | Ages: 7 – 12
Lost and found. Light and shadows. This workshop will let you explore the ancient art of shadow puppetry to make stories come to life! Use mixed media to create basic shadow puppets then experiment with lighting, sound and props to make the shadows come to life!
Artist: Tatiana Arellano
CLAY CRITTERS | Ages: 12 -17
Connect with and draw inspiration from the weird and wonderful shapes, colours and textures created by nature to inspire your very own clay critters. Does it come from the depths of the ocean or grow on trees? Explore ceramic techniques such as slip casting, coiling, inlay, sprigging and sgraffito. Poke the wild spaces of your imagination to see what emerges from the clay in your hands.
Artist: Marijana Dobson
Monday 23 April | Book a workshop for a full day or a book 1 or 2 days of wizarding!
DIGITAL SELF PORTRAITS | Ages: 12 – 17
Turn a photograph into a digital painting and explore the things that make you unique. Learn Photoshop techniques to create a painterly self-portrait from a photograph and explore your identity by creating a collaged background of your favourite things.
Artist: Mia van den Bos
Monday 23 & Tuesday 24 April | Book a 2 day wizarding workshop
WIZARDING INTENSIVE | Ages: 9 – 15
If you solemnly swear you're up to no good, come spend a few days at Carclew as it turns into a School for Witches and Wizards these school holidays! Be spellbound by making wands, creating Carlcew's own house crest banners, banish their boggarts and much, much more. Mischief managed!
Artist: Ruby Chew
Tuesday 24 April | Book a workshop for a full day or a book 1 or 2 days of wizarding!
TACTILE TEXTILES | Ages: 7 – 12
If you have a crazy hat or hair day coming up, or just want to make some weird and wonderful head gear to wear around the house, this workshop is for you. Using various techniques and materials such as textiles, beads, yarn, sequins, create some amazing art work for your head.
Artist: Evy Moschakis
Thursday 26 & Friday 27 April | Book a 2 day short film workshop
ATTRACTOR – iPAD SHORT FILM | Ages: 12 – 17
'Attractor' is about drawing the eye to what we want the audience to see, how to tell a story in a way that is unique to you. Close-up! Wide shot! What do you want to show? Combining intuition and technical skills, 'Attractor' will cover essential story-telling theory and apply these techniques in practical activities, from conception to finished product. Participants will create their own short digital movie that they can take home with them. NOTE: iPads required, BYO or $10 hire
Artist: Gilbert Kemp Attrill

LOCATION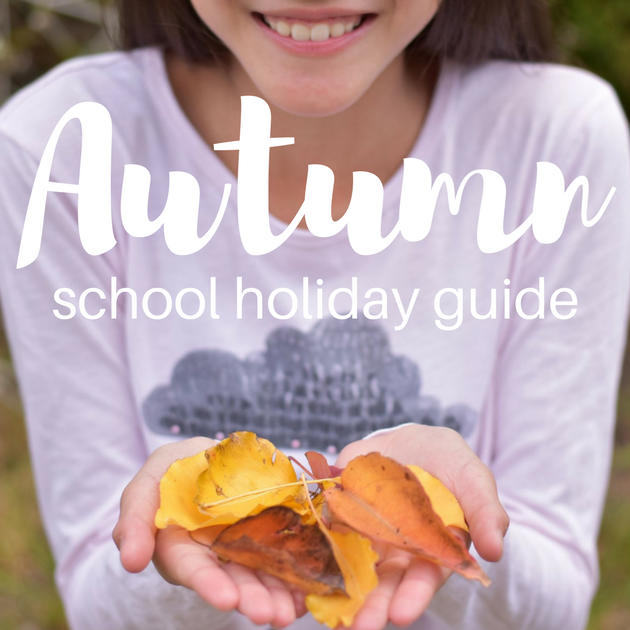 ---
For more information and all enquiries please visit the Carclew website or visit their Facebook page   or  Instagram page
What: Carclew Explore Arts April school holiday program
When:  Monday 16 – Friday 27 April (except Anzac Day)
Where: Carclew House | 11 Jeffcott St, North Adelaide
Who: 5 – 17 (see program guide for workshop details)
At Play & Go Adelaide we make every effort to provide accurate information to the best of our knowledge at the time of publication. We recommend confirming times, dates and details directly before making any plans as details may be subject to change.
Image Source: Carclew 
Subscribe to our Weekly Newsletter
Keep up to date with our latest posts and find out what's on, where to go and what to do with the kids in and around Adelaide.