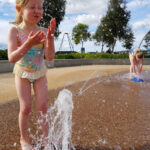 Playford Alive Town Water Play Feature
Playford Alive Town Park water play feature springs into action every year at the commencement of Daylight Saving. From 10am until 7pm every day, right through the Daylight Saving period, the water play feature will be flowing.
Even though there are mild days during Spring, make sure to be sun safe.
The Town […]