The Color Run Adelaide Dream Tour
Dream big Adelaide! Join in at the start line to be transported through a whimsical fog Dream Tunnel as you take your first steps towards making dreams a reality.
The Color Run returns this year as the Color Run Dream Tour, Presented by Sportsgirl where a world is created where anything is possible; unicorns are real and foam clouds make everything better! As participants enter the magical course, they will experience the classic Color Zones and the Foam Zone, where they're surrounded by dreamy colored foam or "clouds" as they run through the most colourful dream of all.
❤️ Read our review of The Color Run Adelaide Dream Tour ❤️
The Color Run Dream Tour, Presented by Sportsgirl is filled with even more vibrant music across the whole course, radiant new colors, giant unicorns and the Dream Wall—a new addition to the course where runners spray paint their dreams on the wall to be seen by all.
After crossing the Finish Line, Color Runners enjoy the Finish Festival, where they party with the Runicorn, dance, find unique photo opportunities and join in on massive color throws.
Read on to find out more about the event and you need to do to register.
All kids 5 and under can run with an adult FREE of charge! And you can bring your stroller.
❤️ Play & Go readers get 20% off tickets! Code PLAY ❤️
The Color Run Registration
Get your tickets here | ❤️ Play & Go readers get 20% off tickets! Code PLAY ❤️
You can opt to also get your event kit delivered to your door for an extra $12.95 upon registration. However, you must register prior to Tuesday 25 April 2017 to be able to add postage onto your registration. Otherwise, kits can be collected on the day.
The Color Run Schedule
7am | Village Opens
8:20am | Zumba Warm Up
8:50am | Start Chute Opens: Wave 1 (Runners)
8:50am | Start Chute Opens
9am | Event Starts
9:45am | Start Chute Closes
10am | Finish Festival Starts
11:30am | Finish Festival Ends
❤️ Read our review of The Color Run Adelaide Dream Tour ❤️
All you need to know about The Color Run
Read the full list of FAQs on The Color Run site
Do I need to be some sweet ole' runner to do this?
Oh my goodness, NO. There are plenty of other great 5k's out there to test speed and performance. The Color Run is all about a colour crazy day with friends and family. You can run, walk, crawl, or cartwheel if you wish!
Is The Color Run timed?
The Color Run™ is not a timed event. The organisers suggest self-timing for anyone desiring a finish time.
Is there an age limit?
There are no age restrictions at the event (one in, all in!). If the participant can cover running, walking, jogging, strolling or dancing the 5km course, they can absolutely do The Color Run! Don't forget, kids 5 and under even run free!
How does the Start Chute work?
The start chute will open 10 minutes before the run commences. They will then let everyone onto the course in waves of approx. 500-800 every 3-6 minutes. They do suggest any serious runners make their way into the chute early so they can be among the first group to enter the course.
What is the Finish Festival?
The Finish Festival is your chance to release a few more endorphins. It's your chance to show off your biggest, baddest dance moves while wildly bopping around to some of the latest and greatest tunes. It also happens to be the place their epic Color Throws take place, so prepare to be even more coloured than you ever thought possible! (yep, we're talking blowing colour out of your nose for the next few hours…or days)
Can I take photos or film at the event?
The Color Run is a great event to get great visuals for your memories, Insta, Facebook page or maybe you even take your photography more seriously and are wanting to prepare a portfolio. They welcome anyone to photograph or film at the event for PERSONAL use only. They DO NOT accredit anyone other than limited official media. So please, come along, enjoy the event and take shots until your colourful heart is content.
What happens if it is raining on event day?
No need to sweat! The Color Run is a rain, shine, or moonlight event. They'll only consider postponing or cancelling the event when the public's safety is at stake.
Who is this mysterious Runicorn I keep hearing about?!
The Runicorn is a magical creature that loves to follow their events all over the country! Try to catch a glimpse of him. He can be seen roaming the village before the run, he might then make an appearance in the start chute and if you don't spot him here you can bet you'll spot him near the stage during Color Throws! If you catch him, be sure to get a selfie and share it to The Color Run Facebook page
What is included with my The Color Run registration?
For the Dream Tour, participants will receive a custom The Color Run t-shirt, headband, finishers medal, temporary tattoo, colour packet, race bib and wristband..
How much does The Color Run cost?
Read more about ticket pricing here
What is the difference between team, individual, family and kids' registrations?
A team registration is four or more friends/colleagues/people you some what know, running skipping or walking together. Four is only the minimum, not the maximum! Your team can be as big as you like!
An individual registration is a participant running solo, in a duo or in a trio.
A kid's registration is for a child aged between 6-15 years. When registering a child, you will still have to chose either team or individual entry. However, their date of birth will ensure the price is automatically discounted to the kid's price. Don't forget, kids 5 and under run free!
A family registration is valid for 2 adults + 2 kids. If you have more than 4 family members, you can purchase additional individual tickets for the extra children/adults. At the event there is no difference or division between participants, so they'll certainly still be able to run/walk with you!
How do I register my child who is 5 or under and what do they receive with their FREE registration?
When registering yourself, you will be asked if you have any children 5 or under running with you. Simply select 'yes' and enter the number of additional children of this age participating with you. You do not need to enter their personal details as you did for yourself.
The child will be attached to your own registration and not receive their own ticket or show on your invoice. However, when we scan your ticket, rest assured it will display that you have an extra child participating with you.
As children who are 5 or under receive a free entry, they will receive a race bib and a wristband with their entry. The organisers sell super cute children's sized Color Run T-shirts online when you register and at the merchandise store at Packet Pick Up and the event. Kids are of course most welcome to wear their own white t-shirt or costume should they wish!
Can I run with a jogging stroller and my kids?
On one condition…if you are prepared to be one of the hippest mums/dads on the planet! As long as they are cute and like to have fun…all kids 5 and under can run with an adult FREE of charge!
Is the course wheel-chair friendly?
All of their courses are accessible, so everyone can enjoy the Happiest 5K on the Planet! Many of the events are on grass however, so please keep this in mind. The organisers suggest an all-terrain wheelchair or to bring a friend along who will be able to help you through more tricky parts of the course.
Can I bring my scooter or bike?
Unfortunately, due to safety reasons, the only wheels allow at the event are prams and wheelchairs. Sorry!
Can I run with my dog/cat/turtle?
Sorry, no animals or fury friends are permitted at any of the events.
Is water supplied?
Organisers encourage all Color Runners to bring a bottle of water with them to keep hydrated. There will be fill up points within the village for you to top your bottle up. We will also have a water station roughly half way along the course and all participants receive a bottle of water as they cross the finish line.
How is the colour administered?
You will see smiling faces along the course with their main goal being to douse you in colourful powder to ensure you look like you ran through a beautiful rainbow by the time you cross the finish line.
You are sure??? Teenagers with paint ball guns are not involved at any point?
Yes. 100% sure, no paint ball guns!
What is the colour made from? Does it stain?
The coloured powder they use is made from corn-starch and natural food dyes. It will wash out of your clothes, however they suggest you leave your designer gear at home! Only wear what you're willing to get colourful ?
Will the colour stain my hair?
The coloured powder does generally wash out of your hair, however they do recommend you take precautions if you're worried! The colour does tend to stick to lighter hair… blondes you are warned! Oiling your hair before the run will help the colour wash out. If you're having trouble washing it after the event, bi-carb soda and anti dandruff shampoo will help get the more stubborn colour out! The organisers do not take any responsibility for additional costs associated with the removal of colour.
Will the colour ruin clothes or running shoes?
The colour does mostly wash out after the event. As with anything dirty, the sooner you wash it the better. They suggest wearing items that you wouldn't mind getting colourful.
How do I preserve those precious colours in my shirt?!
If you would like to preserve the colour in your running shirt, spray it with vinegar, let it dry and then iron it. But if you wash it….it eventually will come out.
Do the kilometre "Color Zones" affect runner vision? Or breathing?
The colour powder used at The Color Run event is certified non-toxic and free of any heavy material. Their bright colours are cornstarch and FD&C dyes. As with any substance, you want to keep it out of your eyes and the color throwers make sure to aim low as you pass by. Some Color Runner opt to wear glasses or goggles for their eyes and use a bandana or dust mask for their mouths.
Are there "cleaning stations"?
They have an air blown cleaning zone within the festival area. With a good dusting off, you aren't 100% clean, but you are totally good for the drive home. It is actually pretty fun to see people still coloured up around town after The Color Run event. It is like a badge of honour!
How does the color affect the inside of cars?
Most people bring some towels for the insides of their cars, just in case. It's like driving home from the swimming pool in your swimsuit ?
Are cameras and phones safe to have in the colour zones?
Their race photographers are totally fine shooting from a medium distance (10-15 meters). If you want to get shots right in the midst of the colour they recommend covering cameras/phones with glad wrap or placing your phone in a zip lock bag.
❤️ Read our review of The Color Run Adelaide Dream Tour ❤️
About The Color Run
The Color Run is a five-kilometre, un-timed fun run, where thousands of participants, or as they like to call them "Color Runners", are doused from head to toe with coloured powder at each kilometre. With only two rules, the idea is easy to follow:
1 . Wear white at the starting line
2 . Finish plastered in colour!
As a for-profit event management company, The Color Run is extremely lucky that they have the opportunity to partner with charities. They want to shine a light on all their amazing work and also raise awareness of their cause. They are very proud to say that they have raised donations for more than 50 charities within Australia since 2012. In fact, to date, The Color Run in Australia has donated more than $1.5 million to charity.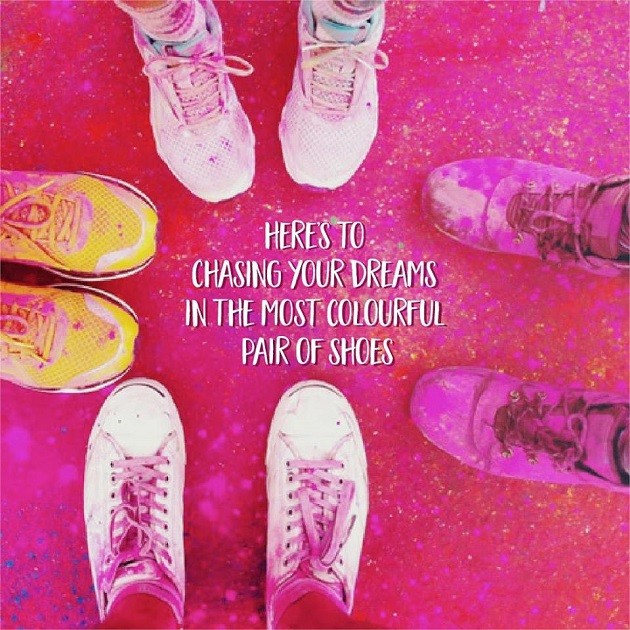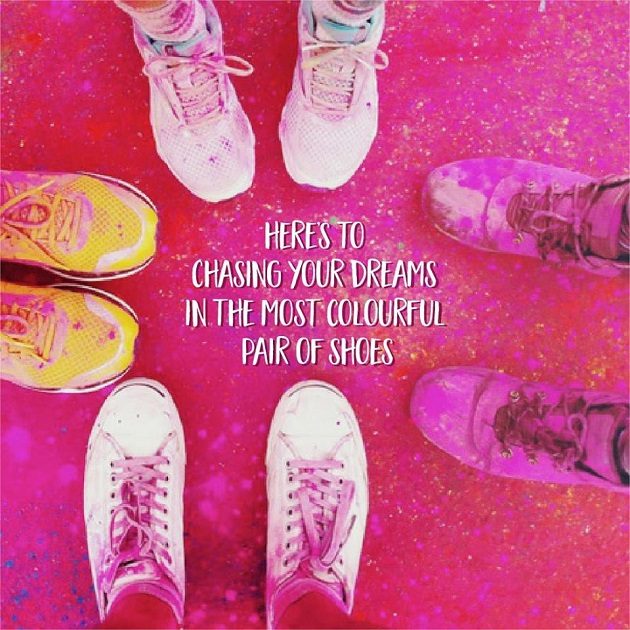 Charity
The Color Run encourages everyone to support their nominated charity Little Heroes Foundation or a charity of their choice.
To start fundraising for the charity of your choice please select during your registration process.
Little Heroes Foundation raises funds towards essential equipment and services for seriously ill children and their families.
Their vision is to fulfill the unmet needs of seriously ill children and their families, to ensure they have access to the very best care, regardless of how rare their diagnosis is.
Since 1996, they have raised close to $20 million for lifesaving equipment at Adelaide's Women's and Children's Hospital, and to provide daily support to families through their Little Heroes Care program.


Currently, the Little Heroes Care Program provides practical assistance, in-home nursing for children with EB in SA & NT, in-home cleaning, car parking close to WCH, fuel and grocery vouchers, financial assistance, dental and educational support and much, much more.
By fundraising at the 2017 Colour Run in Adelaide, you will be supporting their Little Heroes Care program, which is focussed on making a difference to the lives of seriously ill children and their families.
See The Color Run video below:
---
For more information and all enquiries please visit the Color Run website or the Color Run Adelaide Facebook event page
What: The Color Run Adelaide
When: Sunday 21 May 2017 | 9am start
Where: Victoria Park | Wakefield Road, Adelaide
Who: Everyone!
At Play & Go Adelaide we make every effort to provide accurate information to the best of our knowledge at the time of publication. We recommend confirming times, dates and details directly before making any plans as details may be subject to change.
Want to get all the latest events and activities straight to your inbox?



Subscribe to our weekly email newsletter below to keep up to date with our latest posts and find out all the best events & activities for Adelaide families. Newsletters are only sent once a week, and you may sometimes get a special offer exclusively for our subscribers only!
Image sources: Color Run Facebook
Save
Save