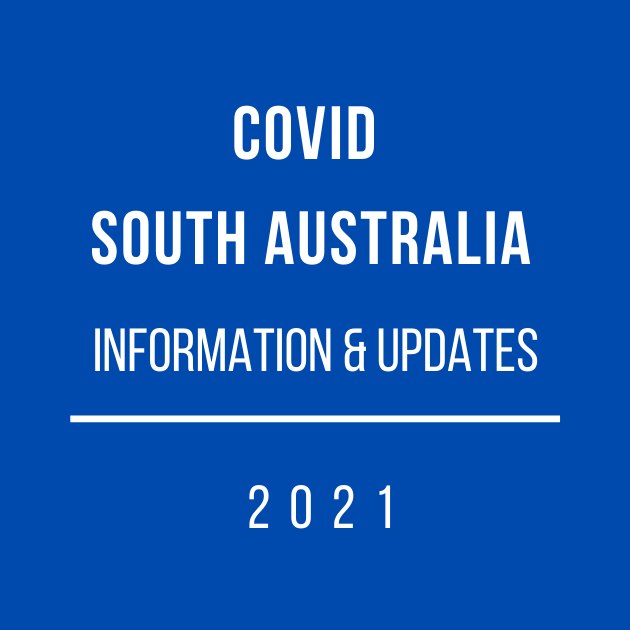 COVID UPDATE SOUTH AUSTRALIA – Tuesday 27 July 2021
To stop the spread of COVID-19 in South Australia, new restrictions will come into effect from 12.01am Wednesday 28 July 2021.
➡️ DENSITY REQUIREMENTS
The following density requirements apply to the conduct of defined public activities:
▪ Indoor or Outdoor Place- 1 person per 4 square metres
▪ Indoor Fitness Facility- 1 person per 8 square metres
People must use their best endeavours to implement physical distancing and remain 1.5m from people they do not know.
Note- The occupier/owner of a place must calculate the density requirements based on the space available for members of the public to use for the defined activity (not including bathrooms etc). Staff and staff areas are not calculated.
➡️ GATHERING PROVISIONS
The following gathering provisions apply:
▪ Gathering/Function at a Relevant Licenced Premises (eg party)- 1 person per 4 sqm and the capacity is defined by the space.
▪ Gathering/Function at a Private Place- 10 people maximum, 1 person per 4 sqm.
▪ Private Residence- Limit of 10 people at a private residence (including people who ordinarily reside at a premises). Where the number of people who live at the residence exceeds 10 they are permitted. For example where 12 people live at house.
▪ Wedding or funeral at any place (excluding a residential premises)- 50 people and 1 person per 4 sqm. If at a residential premises 10 people only. If at licensed premises, governed by density requirements of 1 person per 4 sqm.
Note- Children and infants of any age are counted in the above gathering and density provisions.
➡️ Working from home is still recommended if possible.
➡️ The following activities are restricted:
▪ Dancing- is not permitted unless by the bridal party at a wedding or at a fitness dance studio where alcohol is not served.
▪ Singing- is not permitted in enclosed, non-residential premises unless for the purposes of education, an individual lesson, the person is performing (including backup singers). Karaoke is not permitted.
▪ Shisha/Hookah is not permitted.
▪ Personal Care Services- including services at hairdressers, barbershops, beauty salons, nail salons and tattoo parlours, wellness centres, day spas and massage parlours, saunas and bathhouses are permitted but must wear a mask (except the person receiving the service if it would reasonably interfere with the provision of the service).
▪ Public Entertainment- including concert, live theatre or other live performance, cinema, galleries, museums, publicly accessible historic sites, zoos and other wildlife animal parks or any other place of entertainment that is open to members of the public are is permitted but masks must be worn indoors and density provisions must be followed.
▪ COVID Management Plan events (attendance of more than 1000 people) are permitted but outdoors only and the plan must be approved before the event takes place.
▪ Retail Services are permitted to open but must follow density restrictions and people must wear a mask when indoor public places and must QR code in.
▪ Casinos and Gaming rooms are permitted to open but subject to density, mask-wearing and physical distancing restrictions.
➡️ FITNESS & SPORT
The following restrictions apply:
▪ Indoor fitness is restricted to 1 person per 8 sqm in the entire facility. This also applies to a single room or enclosed space
▪ Dancefloors in dance studios must also apply the 1 person per 8 sqm.
▪ Outdoor fitness is restricted to 1 person per 4 sqm.
▪ People must still remain physically distanced and separated.
▪ Employees are not counted in the density requirement.
▪ A person must wear a mask at an indoor public place (but this is not required when undertaking physical activity).
▪ No team, club and competition sports, except training or as part of a school curriculum and not involving interschool activities.
▪ A person must not attend fitness training, sports or sporting event as a spectator. One person is permitted to attend if they are required to be present as a caregiver for a participant.
Note- Indoor fitness facility means gymnasiums, health clubs, fitness centres, yoga, barre and spin facilities, dance and pilates studios and swimming pools (other than swimming pools being used for rehabilitation purposes authorised by a health or disability practitioner).
➡️CONSUMPTION OF FOOD AND BEVERAGES
Food or beverages which are served for consumption at venues (including pubs, cafes, clubs, restaurants, wineries, etc.) can only consumed while seated (indoors or outdoors). Communal food and beverages are not permitted.
➡️ MASKS
Masks must be worn in the following locations:
▪ passenger transport services
▪ shared indoor public places (not at indoor fitness facilities when undertaking exercise)
▪ personal care services
▪ health care services
▪ high risk settings
Note- the mask can be removed by a customer in personal care services or health care services when they are receiving the service if the mask would reasonably interfere with the provision of the service. Members of a bridal party can remove a mask during the wedding ceremony and photographs regardless of the venue.
➡️ CONTACT TRACING SYSTEM AND RECORDS
▪ Members of the public must sign in using the approved COVID SAfe Check-In system when entering a relevant public place.
▪ The use of QR Codes are vital in stopping the spread of COVID-19 within the South Australian community.
▪ Members of the public are reminded that they are required under the Direction to ensure their details are captured by the relevant system.
⚠️

IMPORTANT – If you are in quarantine because you have visited an exposure site or have been directed by SA Health, you must remain in quarantine for the required period.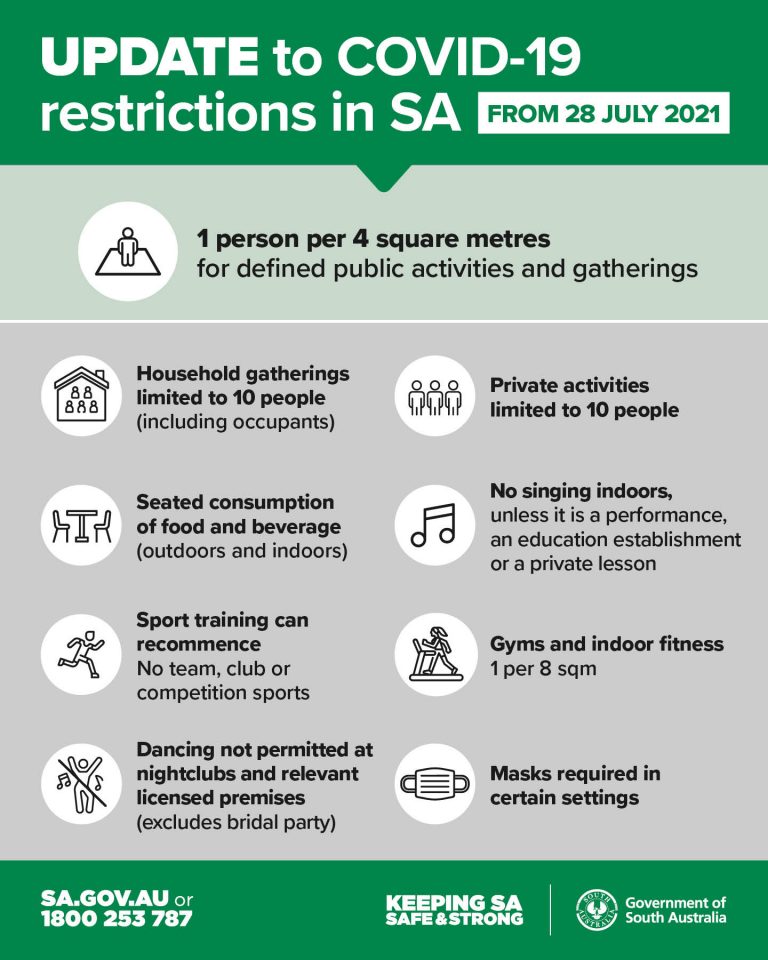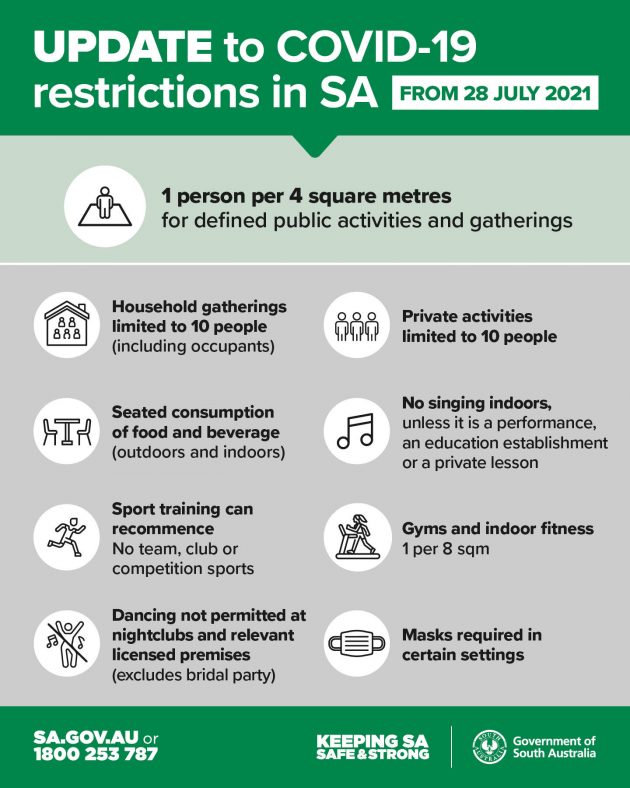 If you have any COVID-19 symptoms, even if they are mild – get tested. You still need to get tested even if you have been vaccinated. Please be patient with testing site staff as testing sites are experiencing longer than usual wait times. We are increasing staff and extending opening hours.
⚠️

EXPOSURE SITES

⚠️
SA Health has identified exposure locations associated with positive cases of COVID-19. People who have been at exposure sites will need to follow the SA Health advice in relation to the particular exposure site.
IF YOU HAVE ANY OF THE FOLLOWING SYMPTOMS, PLEASE GO AND GET TESTED:
fever OR chills (with no alternative illness that explains these symptoms)
cough
sore throat
runny nose
shortness of breath
loss of taste and smell.
Masks
Masks are an important measure to protect yourself and others. If a person wearing a mask is unknowingly infected with COVID-19, wearing a mask will reduce the chance of them passing the virus on to others.
😷 Please wear a mask whenever you can.
From tomorrow, Wednesday 28 July 2021, masks will be mandatory under the Activities Direction for:
• Shared indoor public spaces
• Passenger transport services
• Health care services
• High risk settings
• Personal care services.
Masks will be required in schools for students in Year 8 and upwards, as well as teachers and other adult visitors.
Masks are strongly recommended to be worn in indoor workplaces, especially open plan offices, and in adult learning settings like university and TAFE.
You should also wear a mask when socialising with friends, family and colleagues – anyone from outside your household.
There are exceptions to these mandatory requirements, including:
• Where a person may have a physical or mental health illness or condition, or disability, which makes wearing a face covering unsuitable, including persons with obstructed breathing, a serious skin condition of the face, an intellectual disability, a mental health condition or persons who have experienced trauma.
• For a person communicating with those who are deaf or hard of hearing and visibility of the mouth is essential for communication.
• For a person who wears hearing aids of a style that makes wearing masks difficult and where an alternative style of mask (with ties rather than ear loops) is not available.
• For people whose work or education means that wearing a face mask creates a risk to health and safety.
• Where the nature of the work or education means that clear enunciation (ie speech) or visibility of their mouth is essential. This includes teachers, lecturers, broadcasters or call centre staff.
• Where a person is working by themselves in an enclosed indoor space such as an office unless and until another person enters that space.
• When a person is consuming food, drink or medicine.
• In circumstances where removal of the mask is lawfully required for identification purposes.
• If the person is a child under 12 years of age.
• A mask can be removed by a customer or client if required for the service (e.g. lip waxing), provided it is only removed for the time taken to receive the service.
• Members of a bridal party do not need to wear masks during the ceremony (including photos).
ℹ Find out more about the rules and recommendations around wearing a mask visit sahealth.sa.gov.au/COVIDmasks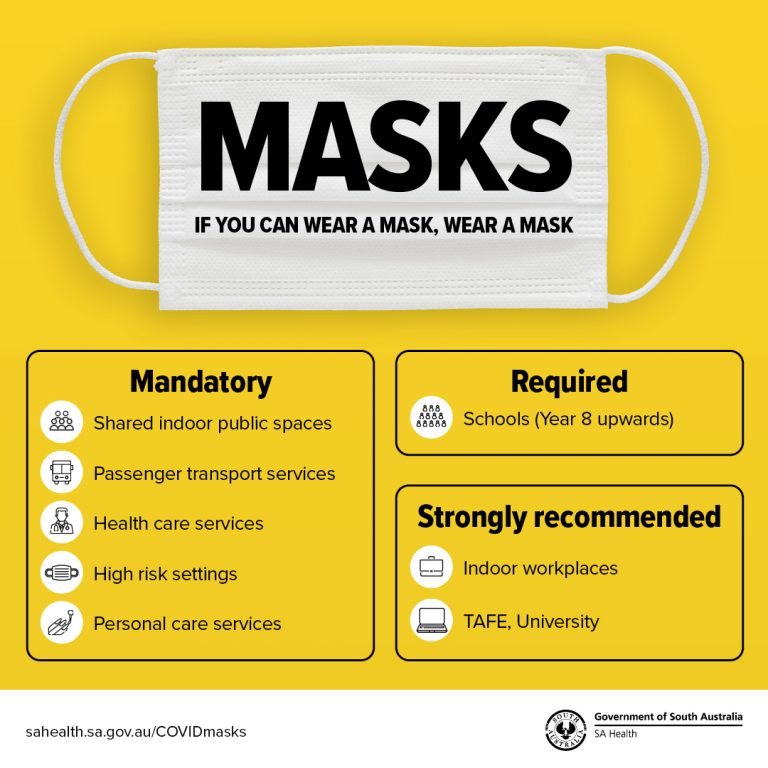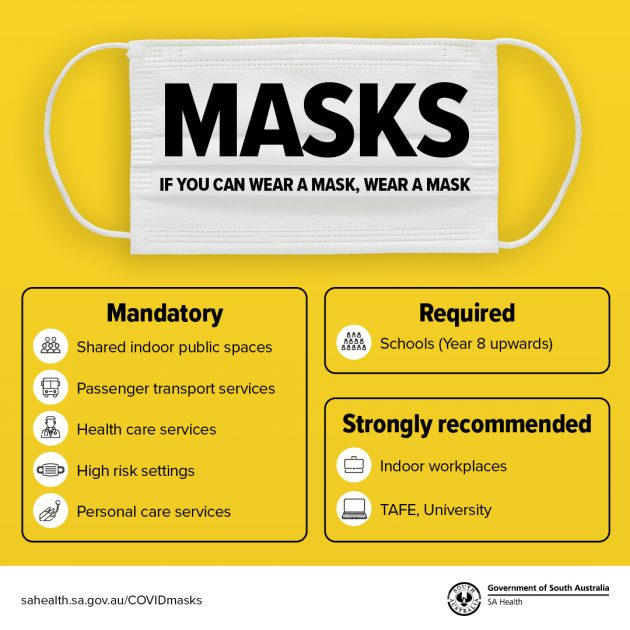 If you require further information you can call the SA COVID-19 Information Line on 1800 253 787 between the hours of 9am to 5pm 7 days per week or go to the SA Health website at www.sahealth.sa.gov.au or www.sa.gov.au/covid-19
IMPORTANT THINGS TO NOTE:
At the beginning of the COVID outbreak, South Australia's transmission potential was 2.5%. The Delta strain poses a transmission potential of 3.5% – 4%. This means that the Delta variant circulating in Australia is more highly transmissible than the COVID original virus in 2020. This is why the South Australian Government is taking a pre-emptive approach to lessening the risk of transmission in South Australia.