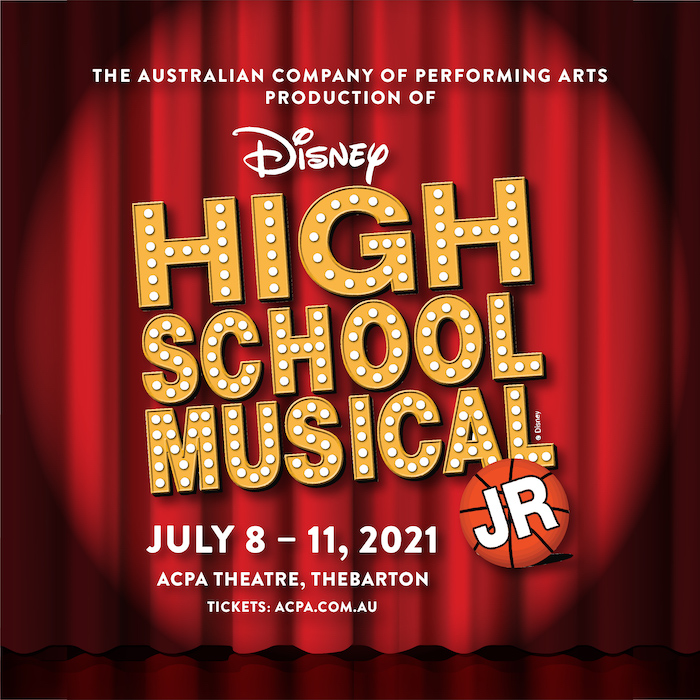 Disney High School Musical JR produced by ACPA
Calling all jocks, brainiacs and thespians, it's GO time!! 🏀 ACPA's production of Disney's High School Musical JR is coming 8 – 11 July. Sing along with Troy, Gabriella and all the students at East High as they navigate the ups and downs of high school life.
Don't miss your chance to see this energetic, family friendly production at the ACPA Theatre.
Based on the book by David Simpatico and the Disney channel original movie written by Peter Barsocchini with songs by Matthew Gerrard & Robbie Nevil; Ray Cham, Greg Cham & Andrew Seeley; Randy Petersen & Kevin Quinn; Andy Dodd & Adam Watts; Bryan Louiselle; David N. Lawrence & Faye Greenberg and Jamie Houston. Music adapted, arranged and produced by Bryan Louiselle.
Licensed exclusively by Music Theatre International (Australasia). All performance materials supplied by Hal Leonard Australia.
Tickets: Admit One $25.00 | Family pass of 4 $88.00
Show Times:
Thursday 8 July 2021 | 10am (SOLD OUT) | 11:45am (SOLD OUT) | 1.30pm | 7pm
Friday 9 July 2021 | 10am (SOLD OUT) | 11:45am (SOLD OUT) | 1.30pm | 7pm
Saturday 10 July 2021 | 2pm | 6pm
Sunday 11 July 2021 | 2pm | 6pm
Tickets on sale now.