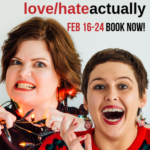 [ February 16, 2019 to February 17, 2019. February 20, 2019 to February 24, 2019. ]
Love/Hate Actually
Amy loves it. Natalie hates it. Who's right? Amy thinks the film Love Actually represents everything good about the human experience of love. Natalie believes it's unrealistic and manipulative crap.
They're staking their friendship on the ultimate test — an audience vote.
Part double act, part film lecture, this comedy showdown asks whether Love Actually is […]