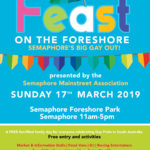 [ March 17, 2019; ]
Feast on the Foreshore 2019
The Feast Festival and the Semaphore Mainstreet Association are working together to present the annual Feast on the Foreshore; a FREE family-friendly event.
This free family-friendly LGBTIQ event is held on the beautiful Semaphore Foreshore Park.  Go along and celebrate the vibrant LGBTIQ community.
There will be information and market stalls, food vans […]