Adelaide School Holidays – December & January 2018
Find all the best activities & ideas for the Adelaide Summer School Holidays.
To make it easier for you to find things for the kids to do during the school holidays, the Play & Go team have put together our Holiday Guide featuring some of the most popular, and some not-so-well-known activities on offer. There are venues all over Adelaide that offer vacation care programs, workshops, clinics, classes and activities for the kids, plus there are plenty of fun things to do together as a family.
Below you will find a list of venues and links to their websites so you can simply click through to check out the activities on offer. Most programs are open to school age children 5 years and older but there are some specifically for younger kids. Remember to book in early if your child is interested in participating as classes fill quickly.
When making a booking be sure to tell them you heard about them through Play & Go
We also have an extensive list of individual posts listing special events, entertainment, shows and much more in our
Summer Holidays 2018-19 category
.
If you know of a venue that should be on our list or you would like to advertise with us, please feel free to leave a comment or send an email via our contact page here.
CLICK ON A CATEGORY BELOW OR SCROLL DOWN TO SEE OUR FULL GUIDE:


Adelaide Gaol
Looking for some head-scratching fun these school holidays?
Adelaide Gaol will be hosting a one of a kind experience, providing children
with the chance to hatch the perfect plan and escape the Gaol walls.
Upon arrival children will be inducted into the Gaol, where they will have
their mugshot taken and become an Adelaide Gaol 'prisoner'. As they explore
the Gaol they will need to solve a number of clues, with each clue providing
a letter that will lead them to freedom..just watch out for the guards as
you go!
Since its opening in 1841, Adelaide Gaol has housed approximately 300,000
prisoners. There have been a number of famous escapes – including one ingenious
(though unsuccessful) attempt in 1983, where a prisoner took his pyjama
coat to art class and painted it to resemble an officer's uniform. To add to
his ensemble, he even created an impressive officer cap out of a biscuit
box!
If your child would like to hatch their own escape plan, head down to
Adelaide Gaol between the 2nd of January and 3rd of February 2019.
Adelaide Planetarium
Venture into space these school holidays
Adventure and entertainment await at the Adelaide Planetarium.  Families are invited to fly to the moon with Tycho, explore the seasons with Annie and Max, venture into the Wildest Weather or witness the creative and spectacular encounters that fuel the cosmos in the new movie, Cosmic Collisions.  There is something for all ages.
Planetarium Experience & Classroom Craft Activity
also running a Planetarium experience & classroom craft activity these school holidays.
Explore the ever-changing constellations that travel through our night sky. Journey through the solar system and visit different and captivating planets, followed by a full dome movie.  The ultimate learning experience that will engage and excite children.
10am-12pm session | ages 4-8 | Planetarium experience with movie Tycho to the Moon followed by time in the classroom where you will have fun learning more about the sun and planets with games, activity book and colouring pages.
2pm-4pm session | ages 8+ | Planetarium experience with movie Wildest Weather in the Solar System followed by time in the classroom where you will assemble and paint a model of the solar system whilst we go through each planet in detail.
7 – 24, January 2019 | Planetarium experience $9 per person | Planetarium experience and craft activity $25 per child, $9 per adult | bookings essential
Bricks 4 Kidz
BOOYAH!
An Extraordinary experience for your angels during summer holidays with uniquely themed workshops!
Galaxy Far Away (inspired by Star WarsTM)
Mining & Crafting (inspired by MineCraftTM)
Brick City Engineers
Spinning Ninjas
Transforming Creations (inspired by TransformersTM)
Jurassic Brick Park (inspired by Jurassic ParkTM)
Bat League (inspired by BatmanTM)
Bricks 4 Kidz 1 or 2 day Summer School Holiday Workshops are now available for kids aged 5 to 12. Summer Holiday Activities are to be held in Walkerville and Burnside locations with Air Con for those hot summer days! All kids get to take home their very own BRICKS 4 KIDZ gift at the end of the workshop! Bricks 4 Kidz Summer School Holiday programs are now open, with AWESOME, Engaging and Super-FUN workshops inspired by famous themes like Star Wars™, Superheroes, MineCraft™ and Ninjas, and MORE! Their popular Workshops with LEGO® are the BEST Holiday Activity in Greater Adelaide!
Monday 17 – Thursday 20 December 2018 &  Monday 7 – Friday 25 January 2019 | Burnside
Monday 14 – Friday 25 January 2019 | Walkerville
Get in EARLY and don't miss out on a spot for your angel at the BEST holiday program in Greater ADELAIDE! 😁
Migration Museum
School Holidays at the Migration Museum
Craft a souvenir
Visit the Migration Museum's latest exhibition Greetings From…the Power of Souvenirs and discover the history behind treasured keepsakes from around the world. Be inspired by the poignant and eccentric trinkets on display and then craft your very own snow dome of memories.
Option 1:  $10 The Museum will supply all the materials you need
Option 2: $5  Bring your own jar, trinkets and photo.
All Visitors are encouraged to bring a photo from home to incorporate into the piece.
Wednesday 2 – Friday 25 January 2019 | weekdays 11am & 2pm | Cost: $5- $10 per child | Ages 5 – 12
Museum Detectives
Someone or something has been lost in the halls of the Migration Museum! Join in during the holidays to help solve the puzzle of the lost museum items. Visit the front foyer for your trusty Detective Kit and then use your wits to solve the mystery. Young visitors will be rewarded with a healthy prize on completion of their detective work.
Wednesday 2 – Friday 25 January 2019 | Weekdays | FREE | Ages 5 – 12
Migration Museum | 82 Kintore Avenue, Adelaide | Ph 8207 7580 or Email: migration@history.sa.gov.au.
National Motor Museum
School Holidays at the National Motor Museum – GooRoo Animation – Make Your Own Movies!
Are you the next Steven Spielberg? Visit the National Motor Museum this school holidays and find out!
GooRoo Animation Claymation workshops will be held during the first week of January where you can learn to create your very own movies. They will teach you about what goes into making a film, giving you a behind the scenes glimpse into producing an animated movie at a professional level. Be inspired by the vehicles on display, and create your own plasticine car to be the star of the show!
Movies will be filmed and put together using the Stop Motion Studio App available on mobile devices. They will then be uploaded to YouTube via the GooRoo Animation Workshops channel so you can share them with all your friends and family.
Wednesday 2 – Sunday 6 January 2019 | 11am – 3pm | FREE with museum admission.
National Motor Museum | Shannon Street, Birdwood | Entry fee to museum: Adult: $15.50 | Concession: $12.50 | Children: $6.50 (children under 5 free) | Family: $35 (2 adults, up to 6 children) | : Phone 8568 4000 or email motor@history.sa.gov.au
NumberWorks'nWords
Once again NumberWorks'nWords are running their very popular School Holiday Program in January 2019.
Kickstart your child's resting brain after the long break before school starts next year and hit the ground running. Students who start the year well, keep the momentum all year.
Each student's program is individualised and tailored for students commencing Reception through to Year 10 in 2019. The focus is to consolidate work and get a head start on the new work.
Sessions will run on Monday 21, Tuesday 22, Wednesday 23 and Thursday 24 January 2019 only. Sessions are 2 hours. For best results, it is recommended children attend all days and focus on one subject but you may choose selected days and do both English and maths.
Places are limited so be sure to book as soon as possible!
Monday 21 – Thursday 24 January 2019 | Session 1:  10am to 12:10pm | Session 2: 1pm to 3:10pm
NumberWorks'nWords Norwood | 53 The Parade, Norwood | Cost: $112 per 2 hour session
For more information, please contact Stella Walls Ph 8333 2121  or  Email: norwood@numberworks.com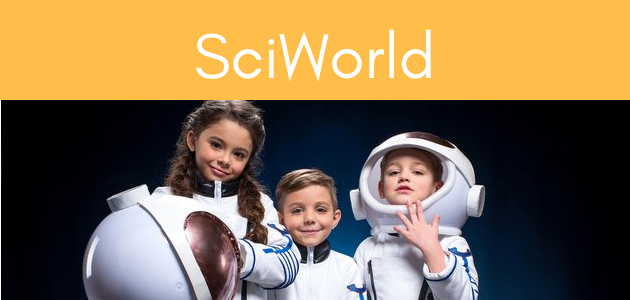 SciWorld
Out of this World Pop Up Science Centre
Plan ahead so the kids can have some fun in January, learning something new in readiness for a return to school!  It's the "Out of this World" Pop Up Science Centre and it will be held at the Adelaide Showground from 15-17 January 2019.
You'll explore the solar system in the digital Starlab (30 mins) and learn something new in one of the workshops (as each workshop is 45 minutes in length, you'll only be able to choose one workshop). Workshops include "Mars Rover Mission Robotics" (great for 8+); "Space Colonies" (all ages); "Survivor: On Another Planet" (great for 8+); "Illusions and Senses" (all ages), "Science Explorers" (ages 4 – 6 years).  Plus see the "Fire and Ice" Science Show (45 mins).
It's all hands-on fun and will leave your brain buzzing with new information about what's "Out of this World"!
Tickets are only $15 (+ booking fee) for children aged 4 – 15 years.  Accompanying adults and younger siblings are free of charge.  Please plan to arrive a little before 2pm so you can select your timed session tickets for your workshop and starlab session.
Tickets will be available on the day subject to availability. Door sales will be $20 ticket, so book early and save!
There's plenty of parking available.  Doors open at 1:30pm for a 2pm start. Plan to spend the full three hours with SciWorld!
DATES: Tuesday 15 January 2019,  Wednesday 16 January & Thursday 17 January 2019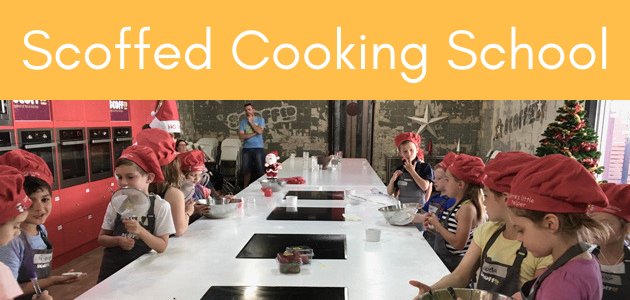 Scoffed School of Food and Fun
Looking for a unique gift for the budding chef in your family?
This summer learn how to cook something different every day at Scoffed.  Whether you want to make edible gifts or decorations in one of their Christmas treat classes or go to one of their more traditional classes in January, they have a fantastic program for kids of all ages (5+) and abilities.
Check out the Food Saucerer classes where master chef wannabes age 9+ can try their hand at making dishes like croquembouche, and learning how to make chocolate soil, or Food Chiefs Master Classes age 8+, where they can learn to make bread, pizza, pasta and pastry from scratch.   And for kids who are just starting out, the Food Chief Entrée classes are the perfect way to learn new dishes and skills.
Scoffed even have classes for all the family, so if you want to get stuck in too and learn with the kids then check out their family program.  All the recipes are tailored to the specific age group, ensuring the kids get as much to do as possible. So whether they are just starting out or have a few skills they want to build on, Scoffed cooking classes are perfect.
Classes start at 11.30am and 2pm every day in the holidays.  Prices from $33 for a casual 90 minute class.  Gift vouchers available for all classes.
Scoffed School of Food & Fun | 441/D Magill Road, St Morris
South Australian Maritime Museum
School Holidays at the South Australian Maritime Museum
The crazy crew from Heaps Good Productions are back to their swashbuckling best with a tale of piracy and adventure on the high seas!
Well… almost! The Big Book of Pirates is a guide for the brave, the not so brave, and the total scaredy-cats amongst you, into the world of what it takes to be a pirate!
Join the not quite ferocious Captain Salmon Beard, and his not very mean and only a little bit horrible crew, as they bumble their way across one or two of the seven seas, with The Big Book of Pirates as their guide!
Do they have what it takes to join the celebrated pantheon of such famous pirates as Bluebeard, Long John Silver, and the notorious pirate queen Teuta of Illyria? Or will it all end in disaster, mayhem, and an awkward retreat back home?
Do you have what it takes? Come dressed in your pirate gear, follow the crew on their blundering misadventures, and maybe even show them a thing or two!
Monday 7 – Friday 25 January 2019  | Performances at  11am & 1pm | Entry fee to museum: Adult: $15.00 | Concession: $9.00 | Children: $6.00  | Family: $34.50  | Tickets purchased online receive a discount

SA Maritime Museum | 126 Lipson Street, Port Adelaide | Phone 8207 6255 or email maritime@history.sa.gov.au
Theatre Bugs School Holiday Programs 
A fun and fabulous week filled with drama activities, rehearsing, and painting props which finishes with a production of BEAUTY & THE BEAST at 5pm on the last day.
Students perform with a stage set and costumes. Every child has a special role to play and lines to learn.
Join Belle, The Beast, Gaston and a host of other magical characters as they bring this classic fairy tale and theatrical adventure to life.
Theatre Bugs has been teaching Adelaide's children to act, sing, and dance for nearly 20 years and during that time many 1000's of children have enjoyed attending the school holiday programs. It is always a thrill to see the wonderful performances the students are able to create in just 5 days.
Week 1: Norwood, Unley & Glenelg | Monday 7 – Friday 11 January 2019 | Cost: $230 for the 5-day program
Week 2: Norwood and Unley | Monday 14 – Friday 18 January 2019 | Cost: $230 for the 5-day program
Week 3: Norwood, Unley and Golden Grove | Monday 21 – Friday 25 January 2019 | Cost: $230 for the 5-day program
BOOK NOW BEFORE SOLD OUT!
---
---


National Railway Museum
The National Railway Museum is the largest undercover railway museum in Australia.
It contains almost 100 exhibits, housed in two major display pavilions.
Attractions within the venue include a large model railway, wonderful displays and a theatrette.
There are various steam locomotives, huge diesel engines and lots of different carriages to admire.
Everyone who visits the museum can ride on the miniature train at no additional cost, you can have as many rides as you choose.
National Railway Museum | 76 Lipson Street, Port Adelaide | Cost: Family $32 (two adults and up to 3 children) |  Adult $12 | Concession $9 | Child $6 (5 – 15 years)

Once Upon a Star | Star Academy
Once upon a time on a very special day, all the little princes and princesses were invited to play.
Join Star Academy for a magical day in the January School Holidays with activities including:
Alice Tea Party & Cupcake Decorating
Snow White's Magical Make Over
Sing along with the Ice Queens
Sleeping Beauty's Crown Decorating
Pass the Glass Slipper with Cinderella
Princess Dancing Lessons
Learn how to Hula with the Tropical Princess
Rapunzel's Hair Salon Lesson.
A great day out in the January school holidays for children aged 3+ to be accompanied by a parent/guardian. Their studios will transform in to a magical wonderland with all of your favourite characters. All guests will receive a take-home bag with special treats and crafts that they will collect throughout the day. Little Princes and Princesses are encouraged to dress up in Royal fancy attire!
100 Grote Street, Adelaide | Tuesday 22 January 2019 | Cost: $50 per child – includes take-home gift back* Souvenir Royal Invitation can be added to your ticket price for $10*  One guardian is included in the ticket price.
Summer Festival – City of West Torrens
Summer Festival draws hundreds of people to West Torrens each year. Lawns are transformed by a sea of deck chairs, picnic rugs and cushions as people take advantage of the free summer evening entertainment during January and February. This is the tenth year the City of West Torrens has staged a summer event series and each time people come from local and neighbouring areas to enjoy movies, live music and fun activities.
Don't miss these events made for children, young people and their families:
Little Day Out: Beach
Little Day Out: Splash
Little Day in: STEAM
The 2019 program also includes four free open-air cinemas (including two new venues in Novar Gardens and North Plympton), 'All together Now' – a music and arts festival held in the beautiful West Torrens Memorial Gardens, the Thebartonia! street party in Thebarton and 'Take a Fork on the Westside' with more than 30 food trucks, bands and fun for all ages at Kings Reserve.
The Big Wedgie – West Beach Parks
The Big Wedgie is back for the Summer School Holidays and they've got 2 new slides that will make this season it's biggest yet…
The Big Wedgie team are excited to introduce a new, extreme addition to their West Beach event: The Big Chucka! The Big Chucka welcomes thrill-seekers to experience a vertical free fall! An exhilarating 80 degree plunge, catapulting riders up to 8 metres into the air onto an inflatable pillow.
Less extreme but perfect for little kids, The Little Skidda joins the event as a fantastic addition for children aged 6 and under. It's an inflatable slip 'n' slide and the first of it's kind to hit Australia.
The Big Wedgie also consists of it's namesake slide, The Big Wedgie – which was awarded the world record for the world's tallest freestanding inflatable waterslide in 2015. Rounding out the show are 2 family-friendly waterslides: The Just Right Wedgie, and The Little Wedgie – which has been newly redesigned to be less extreme, but still loads of fun for younger kids. An even littler Wedgie, if you will… The Big Wedgie event is made up of 5 awesome slides that are perfect for all ages and thrill levels. Fun for the whole family!
At Play & Go Adelaide, we're giving you 10% off online tickets for the Summer School Holidays – Use this code at the checkout: PLAYANDGO (Online tickets only. Excludes online specials. Not valid with any other offer.)
The Big Wedgie  |  24 November 2018 – 10 February 2019  |  Military Road, West Beach (at West Beach Parks)
---
---


Australian Sports Camps 
Australian Sports Camps have run camps for over 36 years and provide the best sports coaching for boys and girls of all standards.
ASC programs are skills-based, interactive and fun, to ensure that participants improve their game and their love for their chosen sport. ASC 3-day camps will feature elite players and guest coaches.
Join ASC for an invaluable sports camp experience and improve your playing ability with their structured and progressive programs including specialist coaching sessions. The programs cater for 6-16-year old's of all playing abilities and each program runs from 9am-3pm daily. ASC are offering camps during the school holidays in Basketball, Netball, Soccer and Cricket at Westminster School, Marion on 23, 24 and 25 January 2019. Also, ASC have partnered with the amazing Megan Jones Riding School to offer Horse Riding programs in Hahndorf (1-5-day options available). Visit the website to book an exciting ASC camp or partner program now, have fun and be fit, active and engaged these Summer holidays!
Special offer for Play and Go readers: save 20% on ASC 3-day camps – use this coupon code: playandgosum19 when booking online. Cost $236 for three days instead of $295. Offer not available for horse riding, please visit the website for more information.
Cirkidz
Help your family discover their unique circus superhero power at South Australia's home of circus!
Cirkidz programs are built with a focus on mindfulness, safe risk-taking, inclusion, social interaction and are reflective of the Future of Work requirements which predict the creative and strategic learning and thinking skills that students will need in the future. They also have the science to back this up! Recent UniSA research studies show an increase in student motivation and engagement as well as enhanced task management skills when participating in circus activities at school. So basically what Cirkidz are saying is YES circus is really fun, but it's also very beneficial for you!
5 – 12-year-olds: Cirkidz December 2018 and January 2019 Holiday Program | $55 half-day, $100 full day 
Includes the following options:
SOAR: It's all about aerial! trapeze, tissu (silks), cloud swing, hoop and more!
OFF THE WALL:  Tumbling, acrobatics, bouncing, trampoline, foam pit (plus plenty of crash mats).
CIRCUS PICK'N'MIX: Pick your activities out of a hat!
PARKOUR: 8 – 12 year olds: Learn cool (and safe) ways to roll, climb, swing and vault over obstacles.
December Week 1: Monday 17 to Friday 21 December 2018 | Parkour (8 – 12's only): Tuesday 18 December  8:30am – 4:00pm
January Week 1: Wednesday 9 January to Friday 11 January 2019 | Parkour (8 – 12's only): Wednesday 9 January 2019 12:30pm – 4:00pm
January Week 2: Monday 14 January to Friday 18 January 2019 | Parkour (8 – 12's only): Monday 14 January 8:30am – 12pm, Wednesday 16 January 8:30am – 12pm & Friday 18 January 12:30pm – 4:00pm
January Week 3: Monday 21 January to Friday 25 January 2019 | Parkour (8 – 12's only): Tuesday 22 January 8:30am – 4:00pm, Wednesday 23 January 12:30pm – 4:00pm & Thursday 24 January 8:30am – 4:00pm
To book please call Kylie on 8346 5735 or email circus@cirkidz.org.au
Erin Bell Netball 
EB Netball January School Holiday clinics
Erin is mixing it up these holidays – full day and half day skills clinics, and 2 hr intensive specialist position sessions – shooting, defence, mid-court.  Erin will be visiting ALL clinics, plus the defence sessions will be taken by Kate Shimmin from the Thunderbirds!
Erin Bell's 2 hour intensive specialist sessions are suitable for those netballers who have been playing netball for a few years and are ready to start mastering a certain position – aged 10 – 13yrs.  Each player will be given individual feedback on how to improve their games in those positions.
Glenelg | Wednesday 16 January 2019
Campbelltown | Thursday 17 January 2019
Unley | Wednesday 23 January 2019
Full Day Skills & Wellbeing Clinic (6-12yrs) | Half Day Skills Clinic (6-9yrs) | 2hr intensive specialist position sessions (10-13yrs)
EB Netball Specialist Clinics have been so popular they have sold out before Christmas, but places are still available at skills sessions.  Full Day Skills & Wellbeing Clinic (6-12yrs) – Campbelltown; and Half Day Skills Clinic (6 – 9yrs) – Glenelg & Unley.  Erin will be visiting all clinics!
To be a good netballer you don't need much: Drive; Dedication & of course Determination.  If you have these things & believe in yourself then anything is possible! Help Erin help you achieve your goals!
Use EARLYBIRD10 code for 10% off (valid until Monday 17 December 2018)
ICA Sportzworx Stepney
Indoor Holiday Fun @ ICA Sportzworx Stepney
ICA Sportzworx Stepney is an indoor sports centre conveniently located 5 minutes from the CBD. Starting from Monday 17 December, school holiday clinics are available for your kids to go and have some sporting fun. Kids play indoor cricket, soccer, netball and lots of other fun games.
Quick and easy bookings can be completed via ICA's website. Dates for December and January are available to book now, plus book early for January and you are guaranteed 2018 prices.

Ingle Farm Recreation Centre
Ingle Farm Recreation Centre has a range of activities these Summer school holidays to choose from to keep the kids happy, active and entertained.
The options these school holidays include:
Public Roller Skating every Monday, Wednesday and Friday**
Mega Kindigym Wednesday 19 December (Christmas themed) & Wednesday 16 January (Kung Fu Panda Themed) -Suitable for ages between 1 and 5 years old*
Learn to Skate Friday 18 January 2019
Squash Clinics*
*Bookings Required
**The Centre will be closed from Saturday 22 December 2018 until Sunday 6 January 2019.
Latitude
Conquer The Grid these school holidays.
Latitude is unveiling its brand new ninja-parkour course THE GRID. Designed to challenge your strength, agility, focus and confidence, The Grid is the ultimate test!
Swing, vault, jump, free run and catapult yourself through the unique challenges The Grid has to offer. Your mind will be spinning and your body racing to keep up as you charge through the parkour obstacles, the spider wall, tightrope test and warped wall.
Your General Session grants you access to all your favourite bounce, climb and fly activities, plus the latest addition, THE GRID! Suitable for kids 8yrs and over, The Grid will provide hours of fun for your little ninjas – Open mid-Dec 2018.
Remember to secure your spot online before you come and bring closed toe shoes for climbing and The Grid.

Little Tennis Stars
Little Tennis Stars is a tennis coaching program offered in Early Learning Centres and schools across Adelaide, as well as the Collingrove Tennis Club in Broadview. It introduces tennis to young children to further develop their technique, fundamental, and perceptual motor skills in a safe and fun environment.
In the school holidays, Little Tennis Stars will be running a Hot Shots Clinic at Collingrove Tennis Club in Broadview to give children an opportunity to get outside and active in the school holidays and give tennis a go!
First clinic: Monday 17, Tuesday 18, and Wednesday 19 December 2018.
Special Australian Open clinic: Monday 21, Tuesday 22, and Wednesday 23 January 2019
Lunch, snacks and drinks included
Collingrove Tennis Club Broadview | 9am – 12noon | Cost: $50 per day or $125 for all three days
Suitable for Little Tennis players in the Red (5-8 years), Orange (8-10 years), and Green Hot Shots Stages (9+ years).
Mega Courts Indoor Sports

 
MEGA COURTS INDOOR SPORTS now have SPECIAL OPZ Next Generation Laser Tag.
Special Opz indoor and outdoor Laser Tag utilises next-generation modern laser guns. Enjoy a real-life Fortnite adventure with the latest technology including real-time mobile updates and statistics, upgrades, level ups, and customisable rewards. World leading laser guns – straight out of the USA!
CLICK HERE FOR MORE INFO ABOUT LASER TAG
MEGA COURTS Indoor Sports Centre is located in Windsor Gardens (only a 5-minute drive from the CBD) and has over 5000m2 of Courts and facilities. Their premier centre proudly boasts 4 Mega Sized Courts, 2 x Standard Indoor Courts, a Gym & Fitness Centre, Inflatable Fun Zone plus a Cafe' – perfect for all indoor sports, recreational activities and MEGAFUN!
Their MEGA INFLATABLE FUN ZONE is open all School Holidays and includes a Commando Course. Test your skills with your friends! Jumping castles, mazes, basketball and soccer skill shots, all under the one roof.

Pumpt
Pumpt is an indoor bike, skate, scooter and ninja course venue.
Pumpt's indoor park is the perfect activity all year round and for all abilities. They have a number of pump tracks with an electronic start gate, ramps, half pipes, resi and an airbag. And when you're done riding there is a ninja course to test out your ninja skills!
Boneshaker Cafe is situated within the park and is fully licensed with an extensive breakfast, lunch and dinner menu. A perfect spot to sit and watch all the activities. They supply the bikes, scooters and skate boards, all you need to bring is a helmet and a smile!
They also have a huge range of scooters, parts, clothes, gift cards and more in their store ready for Christmas. Keep an eye out on their Instagram, Facebook and website page for special deals. Or sign up to their newsletter so you don't miss out!
Ride-a-Bike Right
School Holiday Programs 17-19 December 2018 & Private Classes January 2019
Ride-a-Bike Right has mastered the art of teaching anyone to ride a bike. Operating since 2011, they have taught thousands of kids the joys of bike riding.  Your child can learn the skills too in a supportive environment that teaches children to ride the right way.
Ride-a-Bike Right offer group learn to ride lessons for children 5 years and older, as well as private lessons at times that suit your family.  Bikes are provided for all lessons.
Group lessons consist of 3 x 1 hour lessons over 3 days (one hour each day).  See the website link below to view the timetable.
Group sessions will be held on 17, 18 & 19 December 2018 and private lessons are also available in January 2019.
Volleyball SA
Volleyball SA are pleased to be running a number of beach and indoor school holiday clinics for boys and girls aged 8-13 these summer holidays!
There is something for everyone beginning in December with three Spikezone Clinics for players of any skill level. Two beach clinics being held at Victor Harbor and Adelaide City Beach and an indoor clinic at Brighton Secondary School all within the first week of the holidays!.
VSA are also excited to announce they will be holding a number of clinics as part of the Summer Sets Festival in early January on the iconic Glenelg Beach! There will be four Come and Try's for those who are looking to give volleyball a go for the first time as well as a two-day Development Clinic for those looking for something a bit more advanced.
Learn the game from some of the state's best junior coaches! Nomination forms and additional information on dates/times/costs can be found on the Volleyball SA website.
Woodhouse Activity Centre
School Holidays UNPLUGGED –'Kids Only' Day Camps
Once again, the team at Woodhouse are eagerly awaiting the opportunity to wear out the children of Adelaide, getting them 'unplugged' from electronic devices and reconnecting them with nature.
Designed for boys and girls aged 5-15, the 'drop and go' day camps are fully facilitated, fully catered and offer a different theme each day, so you can book for 1 day, or all 8!
Included in your 'School Holidays UNPLUGGED' booking:
Qualified instruction, care and entertainment for your cherub from 9am-5pm (generally a 1:9 staff to child ratio)
Delicious and nutritious, morning tea, lunch and afternoon tea (Dietary needs catered to. They are nut free)
Use of Challenge Hill (weather and program permitting)
All equipment, materials and supplies
One very good night's sleep from a very exhausted (and happy!) child
A lifetime of memories
Just 20 minutes up the freeway, Woodhouse Activity Centre is located at 37 Spring Gully Road, Piccadilly | Ph 8339 3333 | Email info@woodhouse.org.au
Mini Shimmy | Belly Dance School Holiday Workshop |

Details
Adelaide Sailing Club Tackers School Holiday Programs | Details
Adelaide Gillette ODI | Australia vs India | Tuesday 15 January 2019 | Details
Adelaide Strikers Big Bash League Games | Details
Adelaide Strikers Women's Big Bash League Games | Details
INEA YMCA @ Walkerville | School Holiday Program | Details
Gillespie Sports Vacation Coaching Clinics | Details
Adelaide 36ers Home Games | Details
Road & Cycle Safety Centre | Road Safety Education Lessons |
Ridgehaven | Details
Tiger Tennis | School Holiday Clinics | Details
---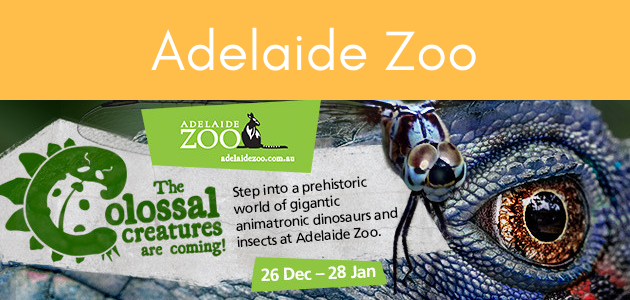 Adelaide Zoo – The Colossal Creatures are coming!
These school holidays at Adelaide Zoo, come face to face with spiders as long as horses, wasps the size of tigers and dinosaurs bigger than a building.
Step into a prehistoric world and get up close to gigantic animatronic insects and dinosaurs displayed throughout the zoo.
Follow in the footsteps of some of the world's largest creatures and learn all about what life was like millions of years in the past.
This enormous experience starts Boxing Day and will run until 28 January 2019.
And, if you're planning a trip to Monarto Zoo these holidays, be sure to check out their events and activities HERE.
Adelaide Zoo | Frome Road, Adelaide | phone 8267 3255
Cleland Wildlife Park School Holiday Activities
Minibeasts
Mighty Minibeasts – Welcome to the wonderful world of minibeasts. To celebrate the opening of the Cleland Butterfly Aviary, kids can explore and discover some of the spectacular small creatures of Cleland.
Mighty minibeasts -self-guided trail – Join the self-guided trail to explore and discover some of the mini creatures in the park and the important roles they play in the environment. | Saturday 22 December 2018 – Monday 28 January 2019 |  Daily 9.30am – 5.00pm | Free with park entry
Mighty minibeasts- guided activities – Join Cleland staff to observe minibeasts up close! Have fun participating in a variety of activities including a craft activity to take home. | Monday 7 January- Friday 18 January 2019 | Daily- 12noon – 2pm | Drop in station – Oceans to Outback Centre | Free with Park entry
Professor Flint's Excellent Aussie Adventure
Well known for his singing adventures about Australia's wonderful prehistoric animals. Join Professor Flint on a journey to better understand the animals that are alive today, in order to ensure they don't go the same way as the animals of yesterday. Along the way, as well as meeting some of Cleland's most iconic animals, and singing some awesome songs about them, find out what you and your family can do, to make a real difference.
Wednesday 2, Thursday 3,  Saturday 12 & Sundays 13 & 20 January 2019 | 11am- 12:15pm | $10 child & $10 adult (plus booking fee) | Session does not include entry to Cleland | CLICK HERE TO BOOK TICKETS
Kids Yoga in the Park
Take a walk through nature and have some fun with this kids yoga program. Join Ashleigh in a guided yoga routine with emphasis on animal and nature poses, games music and mindfulness set in the beautiful Cleland Wildlife Park.
Monday 7 – Friday 11 January 2019 | 9.30am- 4 – 7-year-olds (Session runs for 45 mins) & 10.30am- 8 – 12 year olds | $10 each child per session (plus booking fee) | Session does not include entry to Cleland | CLICK HERE TO BOOK TICKETS 
Hahndorf Farm Barn
Looking for some fun activities to enjoy with the kids in the beautiful Adelaide Hills these school holidays?
The Hahndorf Farm Barn is a unique blend of a children's farmyard and wildlife park. You can hold, touch and feed most of their animals in complete safety and at your own comfort level. They pride themselves on providing the best school holiday activities in Adelaide!
There are many activities for kids at the farm – try your hand at milking a cow, take a pony ride, bottle feed baby lambs and hand feed the camels and donkeys to name a few.
You can easily spend hours here enjoying quality time with your family and friends. Enjoy playing in their new playground and sand pit too.
Hahndorf Farm Barn | 2282 Mount Barker Road, Hahndorf | Phone 8388 7289
---
---
Churchill Centre
FREE Christmas Craft*
Wednesday 19 – Saturday 22 December 2018 | 11am-2pm
Sunday 23 December 2018 | 12pm-3pm | *limited stock available per day.
Look out for Santa throughout the Centre or at the Little Chicago Express Santa Station.
Wednesday 19 December 2018 | 9:30am-11:30am
Thursday 20 – Saturday 22 December 2018 | 11am-2pm
Sunday 23 December 2018 | 12pm-3pm
PLUS, visit the GIANT Christmas tree! Adelaide's largest, real indoor tree!  And the Little Chicago Express, Adelaide's largest and FREE indoor Shopping Centre playground! Located in the Food Court. Click here for playground opening hours
Elizabeth City Centre
Santa Happy Snaps – Lights, camera, Santa!
Are you ready for your family Santa happy snaps? Santa will be at Elizabeth City Centre getting photos with everyone from Thursday 22 November – Monday 24 December near Harris Scarfe and he would love to see you!  Quiet Santa, their dedicated Santa visiting events for children who need a little more peace and quiet during their visit, will also be available on select dates.
Get festive and decorate an ornament for your Christmas tree at the FREE fun workshops for kids from 17-24 December.
For event times and more information including the Hip Hip Holiday trading hours, visit their website link below.
ELizabeth City Centre | 50 Elizabeth Way, Elizabeth

The Outlet Nanny at Harbour Town Adelaide
Your dreams have come true. Harbour Town is offering a Free Nanny Service so you can get all your Outlet Shopping done distraction free.
Customers will be able to access a FREE nanny service for a maximum of 2 hours, 4 hours per week, at Harbour Town Adelaide, so they can do just that and enjoy 2 hours to focus just on themselves.
Children up to 10 years of age will be accepted to the Outlet Nanny Service or up to 12 years old if booked in with a sibling under 10 years old.
The Outlet Nanny Service is outsourced to The Hessel Group, the experts in professional childminding.  Available Wednesday to Sunday during the January school holidays and Thursday to Sunday at all other times.
December opening hours : Thursday to Saturday, 10am to 2pm and Sundays/Public Holidays 11am to 3pm. 
January opening hours: 1 to 27 Monday to Saturday, 10am-2pm and Sunday 11am – 3pm
Port Canal Shopping Centre
Father Christmas is coming to Port Canal!
Visit Father Christmas and receive a FREE gift bag* and FREE 5x7inch professional photo to take home. Go along to the Port Canal Shopping Centre Saturday 15 December & Thursday 20 through to Monday 24 December between 10am and 1pm where you can meet Father Christmas and tell him what's on your wish list!
Saturday 15 December  | 10am–1pm
Thursday 20 – Monday 24 December | 10am–1pm
*Only 80 gift bags available per day
Plus, you can enter the draw to win 1 of 5 $1000 Coles Gift Cards just by spending $50 at Kmart or Coles, $25 at Rite Price or $15 at any other Port Canal Shopping Centre retailer.

Westfield Tea Tree Plaza
Back to School Activity Zone
Join Westfield Tea Tree Plaza during the last week of the holidays for fun, exciting and mess-free Back to School activities.
From Monday 21 January to Friday 25 January between 11am and 2pm on Level 2, near Kmart.
Get the kids back to school ready with the following activities:
Monday | Library bag art
Tuesday | Pencil case craft
Wednesday | Lunchbox decorating
Thursday | Notebook design
Friday | Drink Bottle decorating
Westfield Tea Tree Plaza | 976 North East Rd, Modbury
Westfield West Lakes
Transformers Immersive Zone & Bumblebee Meet & Greet
Transformers Immersive Zone (21-25 January 2019)
Test your skills in the Decepticon NERF challenge arena, complete team roll-out puzzles and challenges, interact with the mission tech iPads, trace your own Transformer and have a photo taken with fan-favourite, Bumblebee!  11am – 2pm near Target, in between QBD Books & Minimax. Click here for more information.
Bumblebee Meet & Greet (21-25 January 2019)
Have you ever wanted to meet a Transformer? Well now's your chance! Bumblebee is pulling into Westfield West Lakes these school holidays at 11am-11:30am, 12pm-12:30pm & 1pm-1:30pm near Target, in between QBD Books & Minimax.  Click here for more information.
Spendless Shoes DIY Pencil Case (22-24 January 2019)
Join the team from Spendless Shoes to customise your very own pencil case and put the cool into Back to School. It's first come, first served – so be sure to grab your spot early! From 10am – 12pm next to Woolworths.  Click here for more information.
Westfield West Lakes  |  111 West Lakes Boulevard, West Lakes
---
---




Want even more inspiration for the Summer School Holidays?
Click here to take a look at our list of ideas for every school holidays.
Remember, you can always check in with your Local Library (find yours here) or your Local Council (see our list) as most run special activities for children every school holidays – and many are inexpensive, or completely free!
Subscribe to our Weekly Newsletter
Keep up to date with our latest posts and find out what's on, where to go and what to do with the kids in and around Adelaide.
At Play & Go Adelaide we make every effort to provide accurate information to the best of our knowledge at the time of publication. We recommend confirming times, dates and details directly before making any plans as details may be subject to change. Holiday Activities in Adelaide…What do to with the kids during the holidays…School Holiday Ideas…South Australian school holiday guide…Great school holiday ideas….What's on for kids in Adelaide 
---