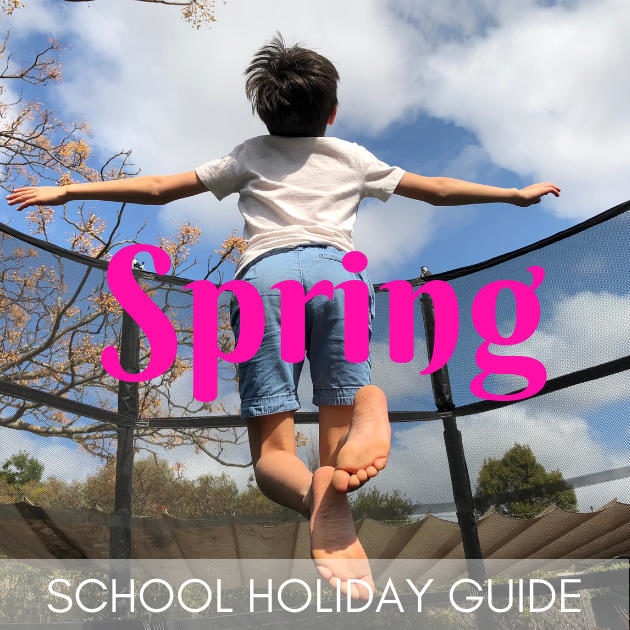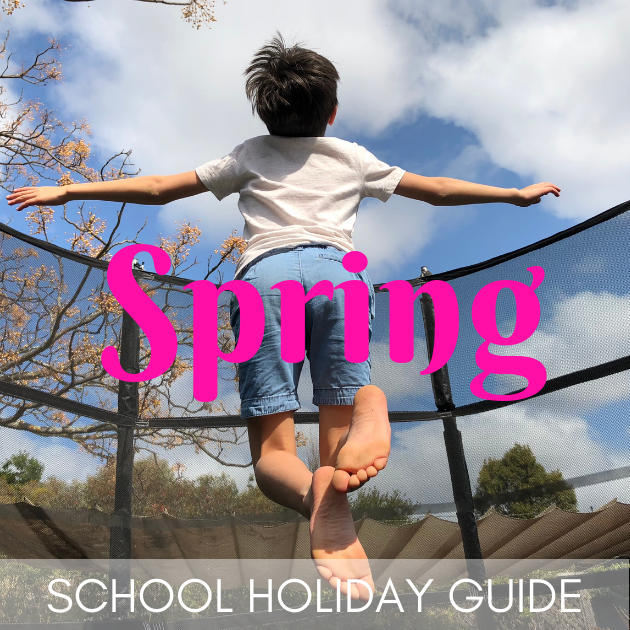 Adelaide School Holidays – October 2018
Find all the best activities & ideas for the Adelaide October Spring School Holidays.
To make it easier for you to find things for the kids to do during the school holidays, the Play & Go team have put together our Holiday Guide featuring some of the most popular, and some not-so-well-known activities on offer. There are venues all over Adelaide that offer vacation care programs, workshops, clinics, classes and activities for the kids, plus there are plenty of fun things to do together as a family.
Below you will find a list of venues and links to their websites so you can simply click through to check out the activities on offer. Most programs are open to school age children 5 years and older but there are some specifically for younger kids. Remember to book in early if your child is interested in participating as classes fill quickly.
When making a booking be sure to tell them you heard about them through Play & Go
We also have an extensive list of individual posts listing special events, entertainment, shows and much more in our Spring Holidays 2018 category.
If you know of a venue that should be on our list or you would like to advertise with us, please feel free to leave a comment or send an email via our contact page here.
CLICK ON A CATEGORY HERE OR SCROLL DOWN TO SEE THE FULL GUIDE


Adelaide Aquatic Centre
Spring is in the air and summer is around the corner!
The warmer weather makes it the perfect time to go for a swim. But it's important to make sure your little one is safe and confident when they take the plunge. Here's five great reasons to sign your child up with the friendly swimming instructors at Adelaide Aquatic Centre in North Adelaide:
Small Classes – Guaranteed one-on-one time with your child.

Convenience – Flexible classes and assessments seven days a week.

Temperature-controlled Pools – Will keep you cool, but not too cool!

Free Pool Access – For students at any time, and for you while class is on.

Family Friendly Spaces – Family change areas and child minding services on site

Australian Sports Camps
Australian Sports Camps have run camps for over 35 years and provide the best sports coaching for boys and girls of all standards.
ASC programs are skills-based, interactive and fun, to ensure that participants improve their game and their love for their chosen sport. ASC 3-day camps will feature elite players and guest coaches.
Join ASC for an invaluable sports camp experience and improve your playing ability with their structured and progressive programs including specialist coaching sessions. The programs cater for 6-16-year old's of all playing abilities and each program runs from 9am-3pm daily.
ASC are offering camps during the school holidays in Basketball, Netball, Soccer and Cricket at Immanuel College, Novar Gardens on 9, 10 and 11 October 2018. Also, ASC have partnered with the amazing Megan Jones Riding School to offer Horse Riding programs in Hahndorf (1-5-day options available).
Visit the website to book an exciting ASC camp or partner program now, have fun and be fit, active and engaged these Spring holidays!
Special offer for Play & Go readers: save 20% on ASC 3-day camps – use this coupon code: playandgospr18 when booking online. Cost $236 for three days instead of $295. Offer not available for horse riding, please visit the website for more information.

Cirkidz
Help your family discover their unique circus superhero power at South Australia's home of circus!
Cirkidz have over 50 different apparatus at the centre to try including aerial hoop, trapeze and silks, manipulation gear like juggling balls, batons and poi and of course the trampolines and foam pit!
Cirkidz teach all sorts of things including acrobatics, balance, coordination and you may just be surprised at what your family can do! Cirkidz encourage safe risk-taking in a positive and non-competitive environment. The classes are run by professional circus artists (you may have even seen their Fringe shows!) who have a holistic approach to learning. Cirkidz is proudly a not for profit organisation.
5 – 12 year olds | Cirkidz Holiday Program | Cost: $55 half day | $100 full day 
Week 1: Tuesday 2 October to Friday 5 October 2018
Week 2: Monday 8 October to Friday 12 October 2018
Soar: It's all about aerial! trapeze, tissu (silks), cloud swing, hoop and more!
Off The Wall: Tumbling, acrobatics, bouncing, trampoline, foam pit (plus plenty of crash mats).
Circus Pick'n'Mix: Pick your activities out of a hat!
Circus Smorgasbord: Sample a selection of circus favourites
Parkour (8-12's only): Learn cool and interesting ways to move your body from point A to point B
CirCreate (8-12's only): Build, perform, create and develop through creative circus play


The City of Charles Sturt – FREE School Holiday Sports Program
The City of Charles Sturt is inviting all children aged 2 – 17 years to try a new sport and get involved in their FREE School Holiday Sports Program.
The program will be held during the October school holidays from 29 September to 14 October 2018.
Choose from over 20 different sports including AFL football, Calisthenics, Yoga, Karate, Cricket, Hip-Hop, Fencing and much more. Be sure to book in early as there are limited numbers for each activity.
The City of Charles Sturt Program aims to provide an avenue for young people to:
Try new or different sport and recreation activities FREE of charge

Increase their level of physical activity

Learn about creating a healthy lifestyle through sport and recreation

Boost their self-esteem and self-confidence

Make new friends


Erin Bell Netball 
Erin Bell Netball – October School Holiday Clinics
Tuesday 2 October 2018| Gawler

Wednesday 3 October 2018 | Campbelltown

Thursday 4 October 2018 | Unley

Friday 5 October 2018 | Mt Barker

Monday 8 October 2018 | Golden Grove

Wednesday 10 October 2018 | Westminster School, Marion
Erin Bell's full day clinics have a variety of activities to keep everyone smiling including: Skills, Match Play, Game Sense, Nutrition, Inspirational Hero Talk
Clinics inspire, educate and motivate in a super fun environment! High-quality coaching teamed with nutrition, fitness and team-work.
Clinics are created to suit all stages from the basics to extending your skills to the next level and ther experienced coaches give expert tips to help advance your play. Through netball they motivate and inspire netballers to reach their potential!

Ingle Farm Recreation Centre
Ingle Farm Recreation Centre has a range of activities these October school holidays to choose from to keep the kids happy, active and entertained.
The options these school holidays include:
Public Roller Skating | Every Monday, Wednesday and Friday (Including Monday 1st of October)

Mega Kindigym | Friday 5 October and Wednesday 10 of October 2018 | Wiggles Themed with a visit from Dorothy the Dinosaur (Suitable for ages between 1 and 5 years old)*

Learn to Skate | Friday 5 & Friday 12 October 2018*

Squash Clinics*
*Bookings Required
Ingle Farm Recreation Centre | Cnr Beovich Road & Roopena Street, Ingle Farm 


Latitude
No Joke, It's For Real – Latitude's Two Hours for $25 Spring Holiday Special Is Back!
Looking for the freedom to run totally wild and have some adrenaline-pumping fun these School Holidays? Well Latitude is the place to be and they're serving up a cracking school holiday offer to sweeten the experience too!
Let loose on Latitude's massive activity floor with 100's of awesome trampolines, challenge yourself on the sky-high obstacle course and rock-climbing walls or get competitive with your mates on the dodgeball court.
There's heaps of big fun for little kids too. Latitude's Kids Zone gives kids under 5 years their very own trampolines, climbing walls and multi-story jungle gym. It's a huge adventure for little explorers.
TRAMPOLINES – 100+ trampolines, dodgeball & basketball courts, plus a giant air-bag.
ROCK CLIMBING – 180+ metres of climbing fun – just don't look down.
SKYWALK– 8 meters above ground level, this sky-high obstacle course is fun and thrilling.
KIDS ZONE – Dedicated to little kids 18mths-5 years looking for big adventure.
BASECAMP – Take a break in their specialty café, refuel and catch up with friends.
Don't miss out, book Latitude's two-hour holiday promo online today! T&Cs apply. See website for more info.


Little Tennis Stars
Little Tennis Stars is a tennis coaching program offered in Early Learning Centres and schools across Adelaide, as well as the Collingrove Tennis Club in Broadview.
It introduces tennis to young children to further develop their technique, fundamental, and perceptual motor skills in a safe and fun environment.
In the school holidays, Little Tennis Stars will be running a Hot Shots Clinic in Week 2 at Collingrove Tennis Club in Broadview to give children an opportunity to get outside and active in the school holidays and give tennis a go!
Clinic times:
Monday 8, Tuesday 9 & Wednesday 10 October 2018 | 9 am-10:30am for the Petite stage (18 months -3 years) and Blue Stage (3-5 years) | 9am-12pm for the Red stage (5-8 years), Orange stage (8-10 years) and Green stage (9 years plus).
Snacks, lunch and drinks are included.
To book or for more information please get in touch via info@littletennisstars.com.au or 0405 419 252.


Mega Courts Indoor Sports 
MEGA COURTS INDOOR SPORTS now have SPECIAL OPZ Next Generation Laser Tag.
Special Opz indoor and outdoor Laser Tag utilises next-generation modern laser guns. Enjoy a real-life Fortnite adventure with the latest technology including real-time mobile updates and statistics, upgrades, level ups, and customisable rewards. World leading laser guns – straight out of the USA!
MEGA COURTS Indoor Sports Centre is located in Windsor Gardens (only a 5-minute drive from the CBD) and has over 5000m2 of Courts and facilities. Their premier centre proudly boasts 4 Mega Sized Courts, 2 x Standard Indoor Courts, a Gym & Fitness Centre, Inflatable Fun Zone plus a Cafe' – perfect for all indoor sports, recreational activities and MEGAFUN!
Their MEGA INFLATABLE FUN ZONE is open all School Holidays and includes a Commando Course. Test your skills with your friends! Jumping castles, mazes, basketball and soccer skill shots, all under the one roof.


Ride-a-Bike Right
School Holiday Programs
Ride-a-Bike Right has mastered the art of teaching anyone to ride a bike. Operating since 2011, they have taught thousands of kids the joys of bike riding.  Your child can learn the skills too in a supportive environment that teaches children to ride the right way.
Ride-a-Bike Right offer group learn to ride lessons for children 5 years and older, as well as private lessons at times that suit your family.  Bikes are provided for all lessons.
Group lessons consist of 3 x 1 hour lessons over 3 days (one hour each day).  See the website link below to view the timetable.


SA Aquatic & Leisure Centre
Active Kids Holiday Fun is a great program offered at the SA Aquatic & Leisure Centre, Oaklands Park,  which provides children with fun activities on both dry land and in the water.
Let the kids have fun with crafts, games, cooking and more while you enjoy 3 hours either within the centre or at local amenities.
Week 1: Tuesday 2 , Wednesday 3 & Thursday 4 October 2018 | 9:00am – 12:00pm | Aquatic Activity, Games and Craft
Week 2: Monday 8, Tuesday 9, Wednesday 10 & Thursday 11 October 2018 | 9.00am – 12.00pm | Aquatic Activity, Games and Craft 
Cost:  Members – $10.00 | Members also using Creche – $7.00 | Casuals – $20.00
Limited spaces available. Registrations close 48 hours prior to the program date.


Wild Imagination
Outdoor Nature Play Vacation Care and Family Fun Events
Wild Imagination makes it easy to bring more nature and more play into our lives. They have both days for parents to attend with their children and get amongst the fun, as well as the full day drop and go sessions for those who need all day care.
This Spring, Wild Imagination will be making seed bombs for the kids to take home, using native flowering plants.
What do they do there? You'll be spoilt for choice with something for all ages and abilities…
Water play – including building waterfalls and 'creeks' with beautifully hand-crafted wood logs, plus potion-making with flowers, herbs and spices.
Mud play – including mud kitchens and a large mud pit.
Nature crafts – including clay play, paint and paintbrush making, stick craft, dream catchers and so much more!
Loose parts play – in the growing 'Inventors Playground'!
Bush cubby building – including knot tying and construction techniques.
Lots more outdoor fun – including tree climbing, bug and bird watching and more.
Location: Location is the beautiful olive grove on East Terrace, corner of Halifax Street near Victoria Park
SPECIAL: 10% Discount Code for Play & Go readers
Dates:  Monday 1 October | Friday 5 October – Monday 8 October  2018


Woodhouse Activity Centre
School Holidays UNPLUGGED – Drop & Go Day Camps
Once again, the team at Woodhouse are eagerly awaiting the opportunity to wear out the children of Adelaide, getting them 'unplugged' from electronic devices and reconnecting them with nature.
Designed for boys and girls aged 5-15, the 'drop and go' day camps are fully facilitated, fully catered and offer a different theme each day, so you can book for 1 day, or all 9!
Included in your 'School Holidays UNPLUGGED' booking:
Qualified instruction, care and entertainment for your cherub from 9am-5pm (generally a 1:9 staff to child ratio)

Delicious and nutritious, morning tea, lunch and afternoon tea (Dietary needs

catered

to. They are nut free)

Use of Challenge Hill (weather and program permitting)

All equipment, materials and supplies

One very good night's sleep from a very exhausted (and happy!) child

A lifetime of memories
Just 20 minutes up the freeway, Woodhouse Activity Centre is located at 37 Spring Gully Road, Piccadilly | Ph 8339 3333 | Email info@woodhouse.org.au




Adelaide Zoo – Zoomagination
Let your little ones get creative with fun, unstructured play these school holidays at Adelaide Zoo.
Playing outdoors and getting messy is a great way to learn new skills and keep both humans and animals in tip-top shape!  Grab a copy of the school holidays Zoomagination booklet and learn how to create some amazing animal artworks using things found in the great outdoors.
Be sure to look out for the themed animal presentations explaining just how the incredible animal residents use nature in the wild to learn and play.  Then, join nature play experts Wild Imagination every weekday near Nature's Playground and get messy with their range of nature-based activities.
Activities will run from 11am-1pm on business days (excludes Monday 1 October).  So let your little monkeys and their imaginations run wild these school holidays at Adelaide Zoo with Zoomagination.  See you there!
And, if you're planning a trip to Monarto Zoo these holidays, be sure to check out their activities HERE.
Adelaide Zoo | Frome Road, Adelaide | phone 8267 3255


Cleland Wildlife Park
Join in the fun at Cleland Wildlife Park with 3 great school holiday activities.
Go and explore the park on the Great Nature Hunt!
Use your artistic flair and create something wonderful at the Nature Mud Art Station.

Make a cubby – use the branches provided to make a fun "home" for you.

Discover your Favourite Place in the park- draw, write or take a photo to take home with you.
Saturday 29 September 2018 – Sunday 14th October 2018 | 9.30am-5:00pm |  Free with entry
Native Orchid Walk
Join Michael Clark, Cleland volunteer & Field Trip Co-ordinator of the Native Orchid Society of SA on a Native Orchid walk at Cleland.
Tuesday 9 October 2018 |  10.30am & 11.30am- 2 tours only | Free | Bookings essential: ph 8339 2769
Professor Flint – Dancing with Diprotodons
What was Adelaide like during the age of the mega-fauna? What kinds of prehistoric giants walked and hopped in this place in the not too distant past? Discover the animals of Cleland, and their prehistoric cousins in an awesome multi-faceted, palaeontological journey into the past, and the present!
Adelaide's own world-renowned singing palaeontologist will see you through an adventure where you get to make your own mega-fauna fossil. You'll experience firsthand some of the fascinating fossils of a giant kangaroo, an enormous wombat, and a huge scissor-toothed koala. There'll be some fabulous tunes to sing and dance to, finishing with a short tour of Cleland to meet some of the relatives of Adelaide's own prehistoric giants! 
Wednesday 10 October – Friday 12 October 2018 | Suitable for ages 5 to 10, and their grown-ups! (Session does not include entry to Cleland)


Goolwa Animal Farm
At the Goolwa Animal Farm, from 10am to 4pm every day throughout the school holidays, you can feed the goats, lambs, chooks, emus and lots of other animals.
Children can interact with small animals in the barn and meet the rescue joeys, visit the newly hatched babies, look in on the mini-pigs, have a chat with their cocky and galahs, feed the donkeys or sheep in their paddocks. Take a free trailer ride too! The ever popular pony rides will also be available every day, subject to the weather, (be sure to book on arrival).
Why not enjoy a coffee and snack in the café too at Animal Farm Goolwa. Admission is just $8 per child and $10 per adult. Pony rides $5.
It's a wonderful day out for the whole family.
Located next to Goolwa Airport on Airport Road  |  Phone: 0451 502 858


Hahndorf Farm Barn
Looking for some fun activities to enjoy with the kids in the beautiful Adelaide Hills these school holidays?
The Hahndorf Farm Barn is a unique blend of a children's farmyard and wildlife park. You can hold, touch and feed most of their animals in complete safety and at your own comfort level. They pride themselves on providing the best school holiday activities in Adelaide!
There are many activities for kids at the farm – try your hand at milking a cow, take a pony ride, bottle feed baby lambs and hand feed the camels and donkeys to name a few.
You can easily spend hours here enjoying quality time with your family and friends. Enjoy playing in their new playground and sand pit too.
Hahndorf Farm Barn | 2282 Mount Barker Road, Hahndorf | Phone 8388 7289


Warrawong Sanctuary
Junior Keeper Experience at Warrawong Sanctuary
Experience the life of a professional keeper for a day! From 10am until 3pm, budding keepers will get up close and personal with Warrawong's collection of Gliders, Possums, Kangaroos, Pythons, Parrots and more. They'll also feed and observe the free-roaming animals of the Sanctuary, like the elusive platypus. Junior Keepers will work side-by-side with qualified, experienced professionals and learn about animal husbandry, feeding, animal handling, captive breeding, and experience what it takes to look after a Wildlife Sanctuary. There's even time for a few selfies with the animals.
The Junior Keeper Experience is available to children aged 8-16 years. It kicks off these school holidays and is available any day of the year (excluding Christmas and Boxing Day), as long as there are 2 children booked. What's more, places are limited to 5 Junior Keepers, so everyone gets the most from their hands on experience. In addition, every Junior Keeper takes home a t-shirt, cap, participation certificate, and a million memories. It's educational, it's entertaining. Now that's "edu-tainment"!





Adelaide Central Market
Big Market Adventures for Little Foodies is back at the Adelaide Central Market these school holidays!
Help your little one discover the colour, fun and excitement of the Market these school holidays! You can't beat the ever popular Market Trail for fun and value at just $9, or Little Market Chefs with Sprout Cooking for just $18. Or enjoy free activities including art and seedling planting workshops and cooking demonstrations with the Australian Mushroom Growers.
♥ Little Market Chefs – (5–12 years)  |  Tuesday 2nd, Thursday 4th, Tuesday 9th & Thursday 11th October 2018 at 9.30am, 11.30am & 1.30pm.  BOOK HERE
♥ Market Trail – (4+ years)  |  Tuesday 2nd, Thursday 4th & Friday 5 October 2018 from 9am to 1pm and Tuesday 9th, Thursday 11th & Friday 12th October 2018 from 9am to 1pm (self guided).  BOOK HERE
♥ Art workshop – FREE (all ages)  |  Friday 5 October 2018 from 9.30am to 11.30am with the team from Little Picassos.
♥ Bag Decorating Workshop – FREE (4+)  |  Friday 12 October from 9.30am to 12pm.  A fun workshop where children will have the chance to decorate their very own Market bag to bring along to their next Market shopping trip. Free Market bag included (numbers limited).
♥ Cooking Demonstration with Australian Mushroom Growers – FREE  |  Friday 12 October 2018 from 10am to 12pm. Learn how to make delicious family meals with Australian mushrooms, complete with recipes and free samples.
Adelaide Central Market  |  44-60 Gouger Street, Adelaide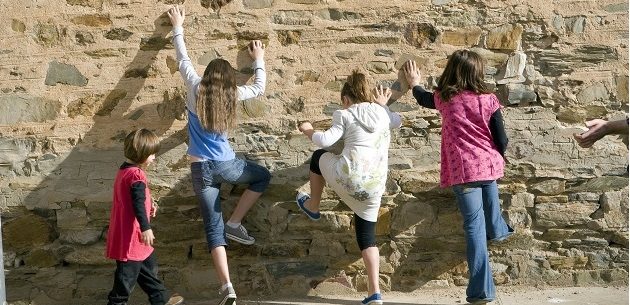 A
delaide Gaol
Brick by Brick – October School Holiday Activity
Did you know that there was once a very unique way of preventing prisoners from escaping? Long before technology was used to monitor movement, guards relied on honeycomb bricks placed strategically along the tops of the walls to alert them to any potential breakouts.
Visit Adelaide Gaol these school holidays to learn more about these bricks and participate in a school holiday activity.  Hear the unique story behind the honeycomb bricks, and how they kept even the most mischievous inmates from escaping the Gaol. Children can then release their inner builder and construct their very own low-level honeycomb brick wall (with the help of a parent or guardian).
Dates:
Friday 5 October 2018 | 11am – 12pm

Tuesday 9 October | 11am -12pm

Thursday 11 October | 11am -12pm
Cost: Free activity with ticket entry | Age: 5-12 years of age | Duration: 60 minutes
*Parents are required to supervise children throughout activity.


Adelaide Planetarium
Venture into space these school holidays
Adventure and entertainment await at the Adelaide Planetarium.
Families are invited to fly to the moon with Tycho, explore the seasons with Annie and Max, venture into the Wildest Weather or witness the creative and spectacular encounters that fuel the cosmos in the new movie, Cosmic Collisions.  There is something for all ages.
Tuesday 2 to Thursday 11  October 2018 | Cost $9 per person | Bookings essential

Arts at Carclew 
Carclew's Explore Arts school holiday program is here and we're excited to announce that October is THE BEST OF EXPLORE ARTS.
All your favourite workshops, the ones that sold out superfast or icymi – are back!
This Spring will be bouncing with tech at SET IN MOTION: Stop Motion with GooRoo, LIFE AT 25 FRAMES PER SECOND: excursion to Anifex and MAKE IT MOVE: mechanical sculpture.
Roll up your sleeves and get your hands dirty with CELLOGRAPH: aerosol art with street artist, FLORA AND FAUNA: foam printing, MONSTER CREATIONS: stand up cutouts and zine making, CRAZY CREATURE HEADRESS: masks to wear or hang, BOOK ILLUSTRATION: sketching, storyboarding and visual storytelling.
So tell your friends and book now before you miss out. #nofomo


Little Picassos
Spring School Holiday

ART

Workshops
Join Little Picassos this Spring break for a selection of wonderful holiday classes in a studio setting that provides an inspirational and motivational Art space for children.
Two studio locations, Glenelg and Hyde Park, as well as classes in Blackwood and Cumberland Park.
Their Art programs have something for everyone, classes with accompanying adults from 2 years, Drop and Go sessions from 4.5 years for 1, 2 or 3 hours, half and full day experiences in a variety of mediums including drawing painting, printmaking, sculpture, clay, textiles and construction. If you choose more than one session on the day your child is fully supervised over the breaks, so you can make a full day of it.
Classes running Tuesday 2 October to Friday 12 October 2018 |  Times vary each day – check the programs for details.
Glenelg | 686 Anzac Hwy, Glenelg   &   Hyde Park | Rear of 330 Unley Road, Hyde Park


Migration Museum
School Holidays at the Migration Museum – An interactive installation by SBS and Google Creative Labs
For many in the developed world, life can be consumed with material objects. Our possessions inadvertently become everything to us. But what if you had to flee your homeland forever? What's the one item you couldn't live without?
Created by SBS's Digital Creative Labs using technology developed by Google's Creative Lab, this interactive experience shares stories of people who left their homeland, and almost everything they own, in search of a new life in Australia.
Your mobile phone is required to engage with this interactive experience. Presented and produced by SBS' Digital Creative Labs. Free wifi available. Suitable for ages 5+. FREE drop-in activity
SALA FESTIVAL: Departure, Transit, Arrival: stories by Joanna Majchrowska
Where do you come from?
Take the time to see this beautiful photographic exhibition that illustrates Joanna's journey from Poland to Australia in the 1960s, long before digital cameras were invented. Think about your family's journey to Adelaide, and make your own personal life map.  Suitable for ages 5-12. FREE drop-in activity
Saturday 29 September – 14 October | 10am – 5pm | FREE ages 5 to 12
Migration Museum: 82 Kintore Avenue, Adelaide | Ph 8207 7580 or Email: migration@history.sa.gov.au.


National Motor Museum
School Holidays at the National Motor Museum – GooRoo Animation – Make Your Own Movies!
Visit the National Motor Museum this school holidays and make your very own 'Brick Film'. Drawing inspiration from the vehicles on display at the museum, kids can create their own Lego car chase, or assemble their own unique vehicle.
GooRoo Animation Claymation workshops will be held on the last weekend of the holidays where you can learn to create your very own movies. They will teach you about what goes into making a film, giving you a behind the scenes glimpse into producing an animated movie at a professional level.
Movies will be filmed and put together using the Stop Motion Studio App available on mobile devices. They will then be uploaded to YouTube via the GooRoo Animation Workshops channel so you can share them with all your friends and family.
Saturday 13 & Sunday 14 October 2018 | 11am – 3pm | Free with Museum admission | Bookings preferred
National Motor Museum | Shannon Street, Birdwood | Entry fee to museum: Adult: $15.50 | Concession: $12.50 | Children: $6.50 (children under 5 free) | Family: $35 (2 adults, up to 6 children) | : Phone 8568 4000 or email motor@history.sa.gov.au


NIDA (National Institute of Dramatic Arts)
NIDA comes to Adelaide this Spring!
Help your kids unlock their creative potential and build confidence these spring holidays.
Led by industry professionals in a fun and supportive environment, NIDA holiday courses for grades 3–12 start Monday 8 October at Scotch College. Running from 2–5 days, courses include NIDA Drama School, Screen Acting Boot Camp, NIDA Audition Preparation and more! They all conclude with a presentation to an invited audience including family and friends!
Places are filling quickly, early booking advised.


SciWorld
Pop Up Science Centre – World of Change
Workshops! Shows! Hands-on Exhibits from Questacon! Starlabs! If you love Science and can't get enough of it, if you're looking for a quality school holiday experience, then go along and spend a full three hours with SciWorld at their Pop-Up Science Centre this October school holidays.  Conveniently located at the Adelaide Showground (Thomas Edmond Studio), with access and loads of parking available off Rose Terrace, Wayville.  The theme is World of Change.  See the new "It's Elemental" science show and learn something new in one of the workshops: Chemistry Capers, States of Matter, Up Up & Away and Robotics. Learn about the solar system in the new digital Starlab and explore the hands on exhibits.
Affordable, quality family fun at just $15 for children aged 5-15 years, with younger siblings and accompanying adults completely free.  This is also a Children's University Learning Destination, so don't forget to bring your passports for three hours of learning time!  A limited number of tickets may be available at the door, subject to online sales (door tickets will be $20 per child).
DATES: Tuesday 9 October: 10am – 1pm; or 2pm – 5pm  |  Wednesday 10 October: 2pm – 5pm | Thursday 11 October: 2pm – 5pm


Scoffed School of Food and Fun
Why not get the kids to give their thumbs a rest and use their dexterity in a different way these school holidays?
Cooking classes at Scoffed start from just $33 for a 90 minute session which includes eating or taking away their creations. Kids age 5+ get to try their hand at dishes from all over the world like Mexican, Chinese, Japanese and of course Italian amongst many other things.
Tuesdays and Thursdays are their "sweet treat" days when they get to make dessert, whilst on other days they teach healthy, balanced, and very yummy meals.  All their recipes are tailored to the specific age group, ensuring the kids get as much to do as possible. So whether they are just starting out or have a few skills they want to build on, Scoffed cooking classes are perfect.
Classes start at 11.30am and 2pm every day.  Choose from one of the many school holiday classes on offer from Scoffed.
Scoffed School of Food & Fun | 441/D Magill Road, St Morris


South Australian Maritime Museum
School Holidays at the South Australian Maritime Museum – Sunken Secrets
Are you ready to get down and dirty? The ocean holds many secrets hidden in the muddy sea bed.  How do we find sunken relics, how do we know what they are, and what do they reveal about lost ships and past voyagers?
Sunken Secrets lets you get your hands on history – literally.   Working with their archaeologists, you will handle real artefacts and learn how they help piece together the puzzles of our maritime past.
Equipped with your new skills, follow the museum trail and take the 'Time Detectives Challenge'. Reward yourself with a climb up the lighthouse and imagine the Port River one hundred years ago.  Will there be secrets there? You will soon find out!
Tuesday 2 to Friday 12 October 2018 | Weekdays 10am – 3pm | $6 per child includes the lighthouse (bookings not required).

SA Maritime Museum | 126 Lipson Street, Port Adelaide | Phone 8207 6255 or email maritime@history.sa.gov.au




The Big Wedgie – West Beach Parks
The Big Wedgie inflatable waterslide is back for the October School Holidays! And they have a brand new home by the sea at West Beach Parks.
The Big Wedgie is the world's TALLEST and most EXTREME waterslide – they even have the world record to prove it! Standing at a whopping 18.2 meters tall and 82 meters long, The Big Wedgie is not for the faint-hearted and is definitely a thrill ride. Coming along for the ride are The Just Right Wedgie and The Little Wedgie – 2 smaller slides that are less extreme but still loads of fun.
The Big Wedgie events are always made up of many awesome slides that are perfect for all ages and thrill levels. Fun for the whole family! Tickets: $15-$35.
Tickets are on sale now and Play & Go Adelaide are giving you 20% off all online tickets for the October School Holidays! Use this code at the checkout: PLAYANDGO
The Big Wedgie  |  Saturday 29 September – Sunday 14 October 2018  |  Military Road, West Beach (at West Beach Parks)


Capri Theatre 
CHEAP MOVIE TICKETS
Buy cheap Scoopon movie tickets to see movies at the beautiful Capri Theatre these holidays.
See Christopher Robin, Smallfoot, or Teen Titans Go! To The Movies at the historical Capri Theatre these school holidays – just $5 for a kid's movie ticket, $9 for an adult ticket or $25 to take the whole family!
Buy as many Scoopons as you like and see them all! Plus, present your kid's or family Scoopon at the Box Office on the day of your movie and receive $1 off popcorn. Or present your adult Scoopon and get $1 off a wine or beer. Movies screen every day of the holidays.


City of Adelaide
Gather the family for a day of fun and learning

in

nature!

Pack your picnic and embark on a journey through a native woodland to follow the popular book 'The Bunyip of Berkleys Creek' 🌲

Plus, download your free Bunyip Trail Activity Booklet filled with activities to complete at different points along the 200m trail.

Find out more about the Bunyip Trail and other great activities in the city these school holidays.


Eighty Eight O'Connell – Pop Up Nature Maze 
88 O'Connell Street in North Adelaide is being transformed into a free magical play space for kids these school holidays!
Nature-lovers can explore in the pop-up maze filled with a variety of nature play areas and activities. Discover the fairy nook, the music nook, a sandpit and a loose junk play yard for kids to build and create.
Suitable for children of all ages – all children must be accompanied by an adult.
Thursday 4 October – Sunday 7 October  &  Thursday 11 – Sunday 14 October 2018 | 10am-2pm


Fashion on Parade presented by Norwood Place
Fashion on Parade – Free event on Sunday 14 October 2018
As Adelaide's premier fashion, dining and lifestyle precinct, The Parade, Norwood has it all – from unique labels and leading boutiques to cutting edge hair and beauty.
This year, Fashion on Parade presented by Norwood Place will be bigger and better than ever, showcasing the latest trends from across the city in three spectacular catwalk shows and fashion talks.  There will be children's activations, styling bars and beauty tips for teens as well as local designer pop up shops, giving you the opportunity to purchase the hottest items straight from the catwalk.
This is a free event not to be missed, so bring your friends, children and families, grab a bite to eat and get immersed in fashion for the day.
Sunday 14 October 2018 | 11am – 3pm | The Parade, Norwood (George Street to Edward Street) | FREE event


GAME ON 2.0 with Matty Grey
Matty Grey is back with a whole new show about video games!
Game On 2.0 is the sequel to the 2015 cult interactive comedy for kids all about video games – Game On! Matty Grey is returning to Gameland to fight his way to freedom through a whole new series of games and pixelated chaos. 
Watch Matty journey through Gameland as he battles through live action games including Pokemonand some little indie game called Fortnite. Fast paced 'snot comes out your nose funny' for the whole family.  Every person gets a Nerf gun to use in the gigantic live action Fortnite finale.   This show is hot on the heels of its sold out Edinburgh Fringe run.
Reviews from GAME ON 1.0
"5 stars… An hour of magical chaos – this is how you do a freaking children's Fringe show!" – The Advertiser
"5 stars…marvellous, multicoloured maestro of munchkin merrymaking" – Herald Sun
Critics Choice – Time Out Edinburgh – #1 – Best Kids Shows at the Fringe – Edinburgh Evening News 2015
Holden St Theatres | 34 Holden St, Hindmarsh  |  Tuesday 2 – Friday 5 October 2018 at 11am and 1pm daily | Tickets $15.00 | Group of 4 $50.00


Play at the Bay – Glenelg
School Holidays? Play at the Bay!
Wednesday 3 to Friday 12 October, in and around Jetty Rd, Glenelg.
Kids… don't be bored this school holidays! Grab your siblings and/or mates and register for one of the many school holiday activities at Play at the Bay.
Get arty! Be crafty! Get cooking or get outdoors.
There's so many fun activities available, from planting, crabbing or skating to a family BARRE class, or a race about the bay!
Check out what activity you would like to do and book now.


Temptation Dolphin Cruise
Temptation Sailing offers dolphin lovers an unforgettable experience to see wild dolphins in their natural habitat.
Our gulf is home to thousands of dolphins and sometimes within minutes of leaving the marina there is an opportunity to see the first dolphins of the day, which seem to come out of nowhere to play and frolic around Temptation's hulls.  During the morning, the cruise will usually stop 3-4 times to allow guests to swim with different pods of dolphins in different areas along the coastline.
Whether you swim or stay dry on board to view them you will experience a close-up encounter with wild dolphins.
Departing from Marina Pier, Glenelg only 15 minutes from Adelaide CBD.


Theatre Bugs School Holiday Programs
A fun and fabulous week filled with drama activities, rehearsing, and painting props which finishes with a production of Pinnochio at 5pm on the last day.
Students perform with a stage set and costumes. Every child has a special role to play and lines to learn.
Join Pinocchio and Jiminy Cricket on a series of unexpected adventures. Can Pinocchio tell the truth and stop his nose from growing?
Theatre Bugs has been teaching Adelaide's children to act, sing, and dance for nearly 20 years and during that time many 1000's of children have enjoyed attending the school holiday programs. It is always a thrill to see the wonderful performances the students are able to create in just 4-5 days.
Week 1: Norwood, Unley & Glenelg | Tuesday 2 – Friday 5 October 2018 | $180 for the 4-day program
Week 2: Norwood, Unley & Golden Grove | Monday 8 – Friday 12 October 2018 | $225 for the 5-day program
BOOK NOW BEFORE SOLD OUT!


Castle Plaza
Kids Cooking Classes with Sprout
Castle Plaza has it all these school holidays! Join them for FREE Cooking Classes with Sprout and enjoy a mini-tour of their fresh food retailers to discover what's in season and to try some delicious fresh produce, followed by a cooking class where children will be introduced to all elements of preparing a nutritious dish.
When: Tuesday 2, Wednesday 3, Thursday 4, Monday 8 and Tuesday 9 October 2018.  Cost: Free.  BOOK HERE
There will be free Face Painting during the October School Holidays too on Wednesday 10, Thursday 11 and Friday 12 October from 11am to 1pm.  Find the face painting station in the western mall, near the kid's playground.
Bakers Delight are hosting mini finger bun decorating workshops during the school holidays. Join in the fun and enjoy creating your own delicious treat!  No bookings necessary and this is also a free activity.  Tuesday 2, Wednesday 3, Monday 8,  Tuesday 9 and Wednesday 10 October between 10am and 12pm.



Harbour Town – The Outlet Nanny
Free Nanny Service While you Shop!
Your dreams have come true. Harbour Town is offering a Free Nanny Service so you can get all your Outlet Shopping done distraction free.  Customers will be able to access a FREE nanny service for a maximum of 2 hours, 4 hours per week, at Harbour Town Adelaide, so they can do just that and enjoy 2 hours to focus just on themselves.
Children up to 10 years of age will be accepted to the Outlet Nanny Service or up to 12 years old if booked in with a sibling under 10 years old.
The Outlet Nanny Service is outsourced to The Hessel Group, the experts in professional childminding.  Available Wednesday to Sunday during the school holidays and Thursday to Sunday at all other times.
Opening hours are Wednesday to Saturday 10am to 2pm and Sundays/Public Holidays 11am to 3pm.


Hollywood Plaza
Visit Hollywood Plaza these School Holidays for crafty kids entertainment! Book now to take part in their Build-A-Bear sessions for just $8, get creative at toy workshops & heaps more!
All activities are located under the Dome, from 11am-2pm daily unless otherwise specified.
Tuesday 2, Wednesday 3 & Thursday 4 October 2018 | 10am-1pm | Decorate Your Own Pencil Case with Spendless Shoes

Friday 5, Monday 8 & Tuesday 9 October 2018  | Build-A-Bear Workshops for $8 (Bookings essential) CLICK HERE TO BOOK FOR BUILD-A-BEAR  T&C's apply.

Friday 5 October 2018 | Face Painting

Monday 8 October 2018 | Balloon Modeller

Tuesday 9 October 2018 | Roving Toy Story Characters

Wednesday 10 October 2018 | Make Your Own Fidget Spinner

Thursday 11 October 2018 | Make Your Own Slime Putty

Friday 12 October 2018 | Ice Cream Decorating with Wendy's Icecream


Ingle Farm Shopping Centre

Westfield – Tea Tree Plaza
Visit Tea Tree Plaza these school holidays for Wildbur's Wildlife Zone, Soccajoeys Soccer clinics and Donut King Donut Decorating!
Wildbur's Wildlife Zone
Things are getting wild these October school holidays at Westfield Tea Tree Plaza where you can meet a range of snakes, lizards, hopping mice, frogs and insects!  Get hands on patting the animals from Wilbur's Wildlife, plus get crafty at the reptile craft zone and create your very own reptile to take home.
Tuesday 2 – Saturday 6 October 2018  |  11am – 2pm  (Tea Tree Plus, near Rebel)  Details
Soccajoeys Soccer Clinics
Saturday 6 – Monday 8 October 2018 | FREE Soccajoeys Soccer Clinic, ideal for little ones aged 2.5 – 6 years.  At Soccajoeys they'll learn the basics of dribbling, ball mastery and kicking goals.  Up to 8 children per 30 minute session.  BOOK HERE
Donut King Donut Decorating 
Bring the kids along for FREE donut decorating fun these school holidays. Let them get creative and hands on as they decorate their 'holy' snack , which they get to eat and enjoy!
Monday 8 – Friday 12 October 2018  |  11am – 2pm  (level 1, near Bupa)  Details


Westfield – West Lakes
Experience Superman, Batman, Wonder Woman and the Flash up close and personal and immerse yourself in the DC Comics characters line up at Westfield West Lakes these school holidays.  You can also meet and take a selfie with your favourite superhero, Wonder Woman.
Justice League Immersive Zone
Monday 8 – Friday 12 October 2018  |  11am – 2pm daily  (located near Target)
Wonder Woman Meet and Greet
Monday 8 – Friday 12 October 2018  |  11am – 11.30am, 12pm – 12:30pm & 1pm – 1:30pm daily  (located near Target)
Wildbur's Wildlife Zone
Get up close and meet a few of Australia's native animals these School Holidays.
Tuesday 2 – Saturday 6 October 2018  (located near Target)

Free Fun 4 Kids at Unley Shopping Centre | Kidz Zone & Sprout Cooking Classes | Details