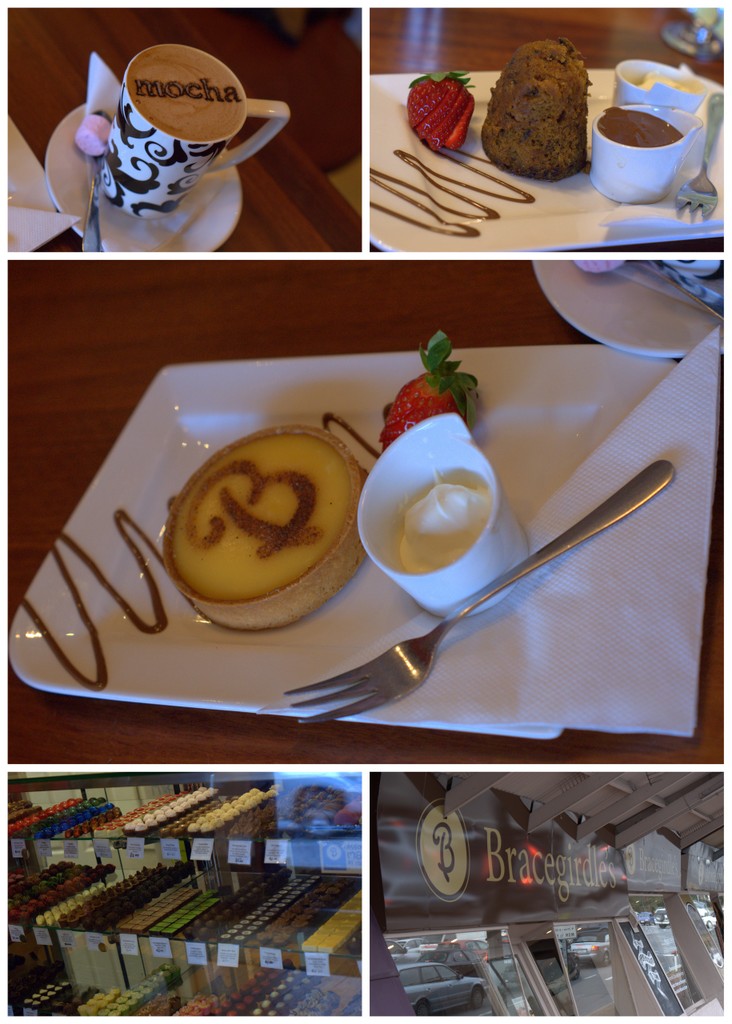 Bracegirdle's House of Fine Chocolate is one of our favourite cafes to visit for a chocolatey treat. You could take the kids there as a holiday treat, a reward for doing something great or perhaps for a Birthday treat on a non-party year…or just because!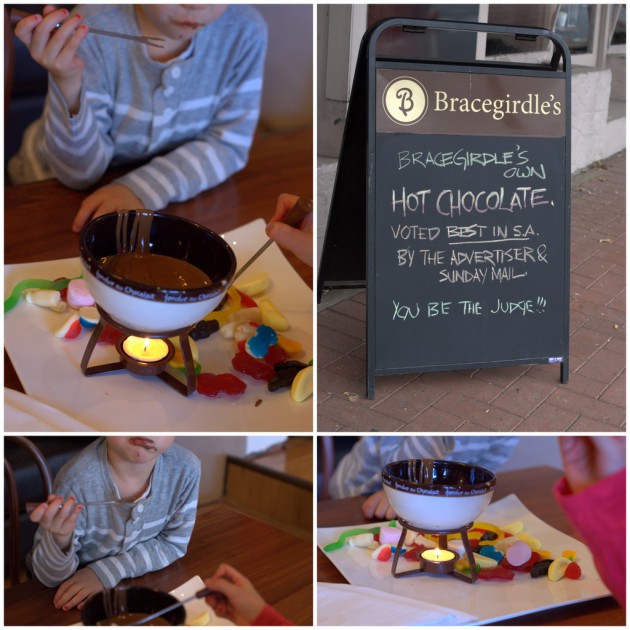 If your kids like lollies and they like chocolate, they will not believe their eyes when presented with the Lotsa Lollies plate – a whole plate of lollies with a fondue bowl of Bracegirdle's signature warm melted chocolate for dipping. That's right – can you believe it, not only are there lollies, you also get to dip them into delicious chocolate! Just don't mention this to their dentist!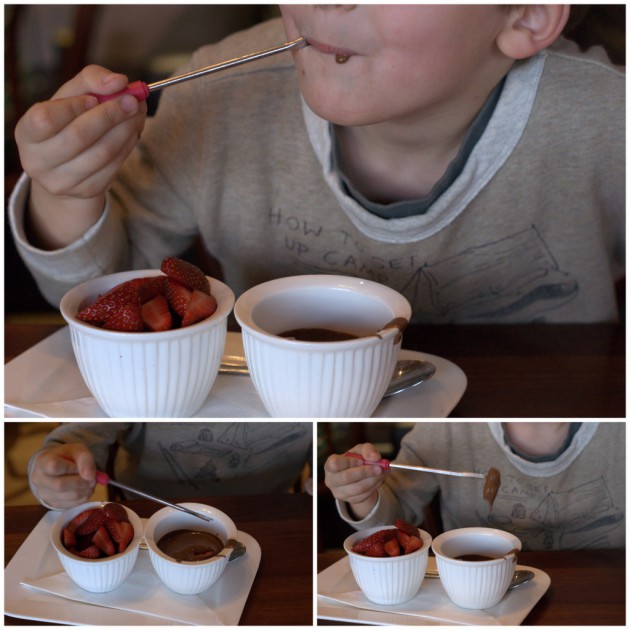 A favourite for strawberry lovers is the Strawberry Dip – the pictures above say it all.
We are also fairly partial to the Sticky Date Pudding… and pretty much most of the other cakes and desserts on the menu.
They have a full range of coffees; their renowned hot chocolate plus iced drinks as well as smoothies and frappes.
A great Adelaide establishment, their selection of chocolates are handmade right here by their award winning Chocolatiers and created from the finest Belgian Chocolate.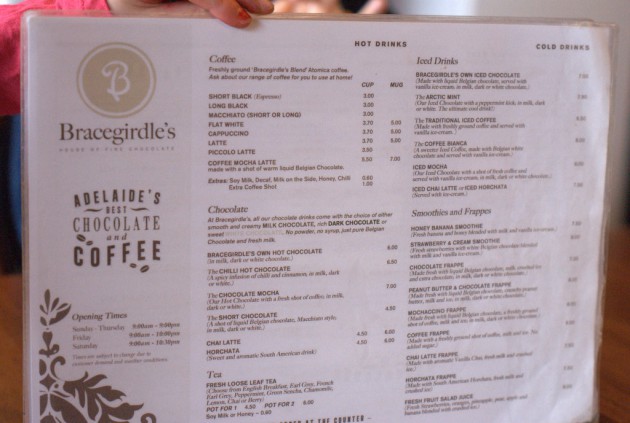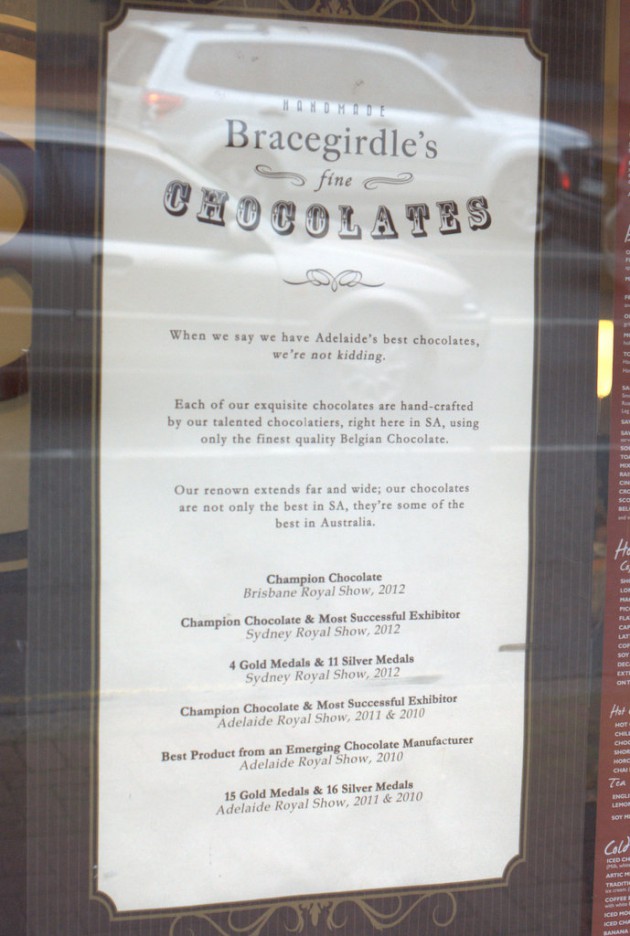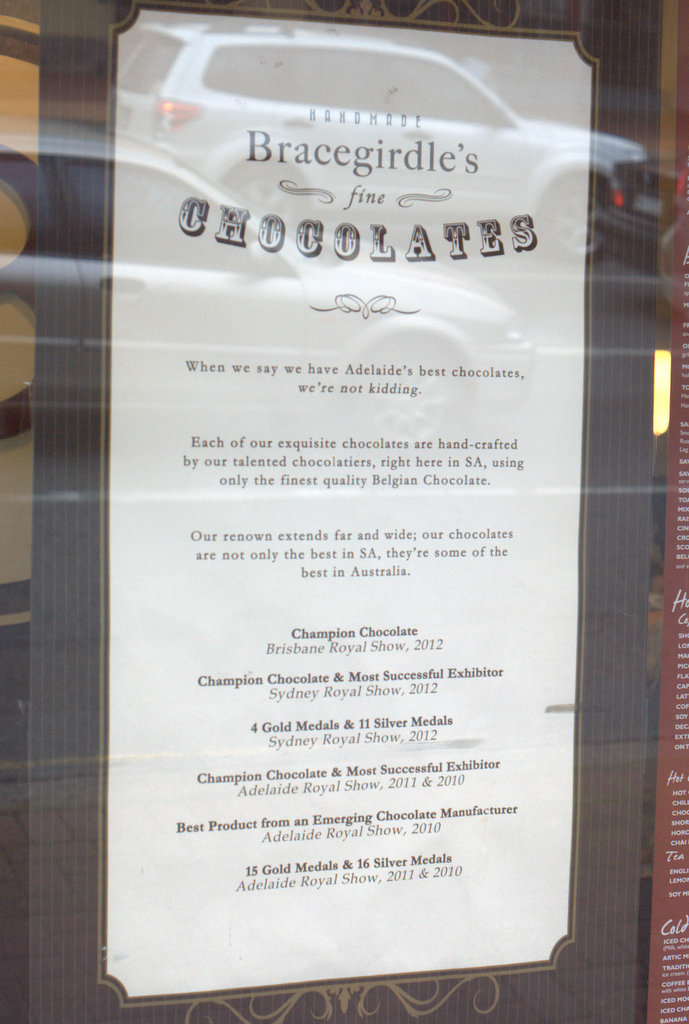 These photos were taken on our last visit to the Toorak Gardens cafe but they also have a cafe at Glenelg, their original and flagship store, and recently took over Market 190 in McLaren Vale, re-naming it Bracegirdle's at 190. The McLaren Vale cafe also offers main meals and has a large alfresco area and undercover courtyard with a traditional cubby house for children to explore.
As for being family friendly, there are always families there; and like most cafes, it is generally lively and noisy, so that does help to drown out your own children's noise.
Beware though that after a dose of chocolate the kids may not sit still for long afterwards.
See the Bracegirdle's website here for more information.
What:  Bracegirdle's
When: Anytime you need a chocolate, coffee, dessert, sweet or savoury treat (see opening hours here)
Where:  Glenelg – 31 Jetty Road  |  Toorak Gardens – 389-391 Greenhill Road  |  McLaren Vale – 190 Main Road
Who:  Chocolate & Dessert Lovers