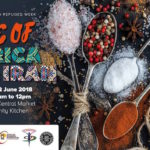 [ June 22, 2018; 10:00 am to 12:00 pm. ]
Taste of Africa and Iran, Adelaide Central Market
The most highly anticipated cooking demonstration of the year returns to the Adelaide Central Market Community Kitchen.
A Taste of Africa and Iran will see African 'mamas' including celebrated chef Dorinda Hafner share the kitchen with local Iranian women.
During the free cooking demonstration they'll talk about their love for […]