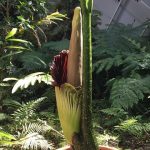 [ January 3, 2017 to January 4, 2017. ]
The rotting flesh-smelling Titan arum, Ganteng (Amorphophallus titanum), better known as the Corpse Flower – has begun flowering at Adelaide Botanic Garden's Bicentennial Conservatory!
If you missed it when one bloomed at Mt Lofty Botanic Garden here's your chance to see it in the city, but you only have around 48 hours to see it.
The Conservatory's […]