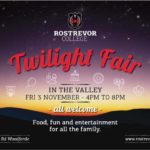 [ November 3, 2017; 4:00 pm to 8:00 pm. ]
Rostrevor College will throw open its gates to host their annual Twilight Fair on Friday 3 November 2017.
A fun-filled evening at sunset, this year will see a focus on food and entertainment and a variety of stalls created and run by Rostrevor College students, staff and parents.
Rostrevor College Principal Damian Messer says The Twilight Fair will […]