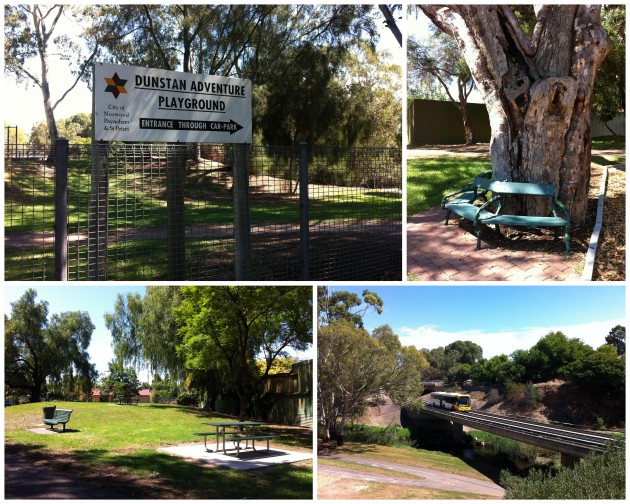 Dunstan Adventure Playground
There's usually a major drawcard at a playground kids keep asking to return to, and at this one it's pretty obvious….
The first thing you notice at the Dunstan Adventure Playground is the super-sized slide.  Better suited to older children this downhill racing strip is not for the faint hearted.  Be warned too that on a hot day the slide gets, well – hot!  Along with the slippery dip the big kids will also appreciate the suspended wobble footbridge and a decent length flying fox.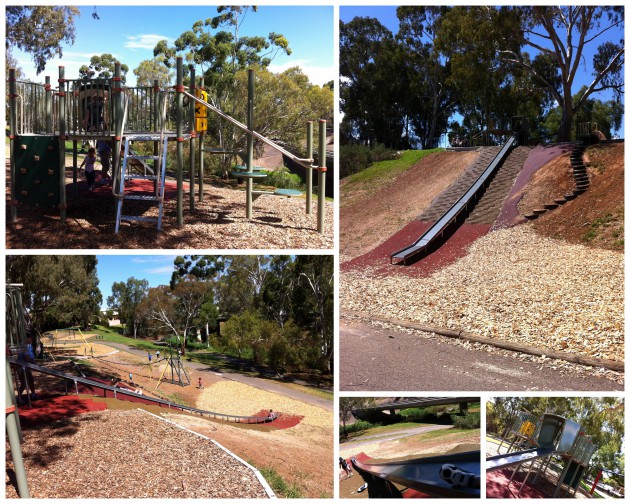 There is quite a bit to play on here with a range of play equipment to suit all ages:
climbing equipment
a smaller slide
various swings (including a baby swing)
a swinging log
monkey bars
wobble horses; and more.
Located on a steep hill, along the Linear Park trail and beside the River Torrens makes this a playground requiring extra caution. Parent supervision is always essential, but here even more so.  There are a few shady spots to relax in as well as a lawn area, numerous benches and a picnic area with tables and seats.  The playground overlooks the O'bahn rail so kids can also enjoy watching the buses zoom past as they travel in and out of the city. You can also watch and feed the ducks on the Torrens too.
You can get to this playground by parking on Winchester Street, either on the road or in the small carpark, or by walking or riding along the bike track below.  The playground can be seen from Stephens Terrace, but you'll need to enter off Tenth Avenue if driving there.
❤️ Please note that there are no toilet facilities here.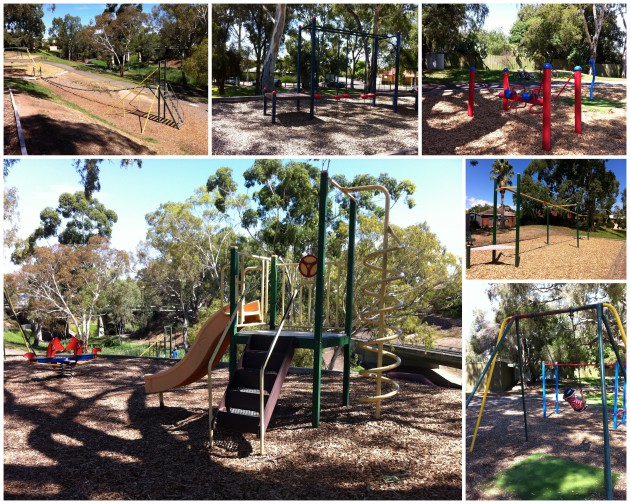 What:    The Dunstan Adventure Playground
When:    Every day
Where:     Winchester Street, St Peters (see map)
Who:     All ages