Winter Holidays in Adelaide! Find all the Best Activities & Ideas for the July School Holidays.



To make it easier for you to find things for the kids to do during the school holidays, the Play & Go team have put together our Holiday Guide featuring some of the most popular, and some not-so-well-known activities on offer. There are venues all over Adelaide that offer vacation care programs, workshops, clinics, classes and activities for the kids, plus there are plenty of fun things to do together as a family.

Below you will find a list of venues and links to their websites so you can simply click through to check out the activities on offer. Most programs are open to school age children 5 years and older but there are some specifically for younger kids. Remember to book in early if your child is interested in participating as classes fill quickly.
When making a booking be sure to tell them you heard about them through Play & Go
We also have an extensive list of individual posts listing special events, entertainment, shows and much more in our
Winter Holidays 2017 category.
If you know of a venue that should be on our list or you would like to advertise with us, please feel free to leave a comment or send an email via our contact page here.
CLICK ON A CATEGORY HERE or SCROLL DOWN TO READ OUR FULL GUIDE BELOW
Adelaide Aquatic Centre
Help fast track your child's skills with the Intensive Learn to Swim program at Adelaide Aquatic Centre this July.
The intensive nature of the lessons provides students with the opportunity to receive focused tuition on their skill development in swimming and water safety whilst building on their confidence and endurance by swimming every day.
If you are one of those families with busy schedules who cannot make term time swimming lessons, this is a great alternative for your child to learn to swim.
It also gives them something productive to do during the school holidays. Book now for their school holiday program running Monday 17 to Friday 21 July 2017.


Australian Sports Camps
Join Australian Sports Camps for an invaluable three-day sports camp and improve your playing skills with their structured and progressive programs including specialist coaching sessions and guest sports stars! Guest stars Karyn Bailey, Maddy Proud and Tom Fields are already confirmed for the Winter Camps! Visit the ASC website for more information.
ASC's programs cater for 6-16-year old's of all abilities and each program runs from 9am-3pm daily. ASC are offering four sports camps during the school holidays in Basketball, Netball, Soccer and AFL Football at Westminster School, Marion on Wednesday 19, Thursday 20 and Friday 21 July. Book a terrific ASC program now and join the experienced panel of coaches and guest stars!
Special offer for Play and Go readers: save 20% on ASC camps – use this coupon code: playandgowin17 when booking online. Cost $236 for three days instead of $295.


Cirkidz
The SA Circus Centre has a huge program that includes circus, parkour and iPad movie making! The sessions all take place under the roof of their fully equipped centre so the winter chills and weather won't be bothering anyone come rain, hail or shine! Choose from a half day, full day or a full week |  Mornings 8.30am – 12noon | Afternoons 12.30pm – 4.00pm. Drop off available for morning sessions from 8.00am and pickup available for afternoon sessions until 5.00pm.
Program 1: CIRKIDZ Holiday Program: Suggested ages 5 – 12 | Monday 10 July  – Friday 21 July 2017
SOAR | It's all about aerial trapeze, tissu silks, cloud swing, hoop and more!
OFF THE WALL | Tumbling, acrobatics, bouncing, trampoline, foam pit (plus plenty of crash mats).
NEW SESSION: 15 TRICKS IN THE MORNING/AFTERNOON | Try 15 different tricks in each session.
NEW SESSION: CIRCUS PICK'N'MIX | Pick your activities out of a hat!
PROGRAM 2: PARKAWESOME: Ages 9 – 14.
Learn cool (and safe) ways to front sault, roll, climb, swing and vault over obstacles.
PROGRAM 3: LIGHTS, ACTION, CIRCUS with Kids, Camera, Action! Ages 9 – 12 | Thursday 20 and Friday 21 July. Two days of fun, movement & iPad movie making! Learn circus skills and then create your own short film and perform your own stunts!

Hockey SA
Hockey SA is pleased to offer School Holiday Clinics for boys and girls aged 6-17 these school holidays on July 18-20. Beginners through to experienced players are welcome with children grouped by age/skill level and each field player session tailored to be a fun and interactive participation clinic for all involved.
Go and experience an Olympic sport and have a fun filled day outdoors with coaching from current SA Hotshots & SA Suns state players, state coaches and SASI athletes & coaches.
Dates: Tuesday 18 July, Wednesday 19 July and Thursday 20 July | 9.00am-3.00pm
Price: $59 one day, $99 for two days or $149 for three days. (Book before June 30 for Early Bird discount prices)


Latitude Adelaide
Get your adrenaline pumping these school holidays at Latitude.
Boasting an acre of indoor aerial entertainment, there is something for the whole family. Harness in and race your mates up the climbing walls or tackle Sky Walk, the sky-high obstacle course. If your courage is really peaking try the 10 metre Down Rush – it's all fun and games until you stand on the ledge! High performance tramps, giant airbag and a huge free jump zone are always jam packed with freestylers. And the little tackers have a dedicated Kids Zone, designed specifically for kids from 18 months to five years. Complete with mini trampolines, a huge foam pit and their very own jungle gym.
Latitude is open 7 days a week. In fact, they've got so much going on that they're opening at the earlier time of 9am weekdays during the school holidays. Remember to bring your closed toe shoes for all the climbing activities. You won't be able to climb without them.
Bookings essential! So, book your session today and take your school holiday fun to new heights!


Mega Adventure
At Mega Adventure, the aerial SkyMate structure takes adventure to a whole new level of fun. Can you imagine playing tennis in the sky, rowing a boat mid-air or manoeuvring between obstacles like the floating esky, BMX bike and sky-high picnic table? And, for those who are up for the ultimate challenge, you can take a leap of faith from the ParaJump – all in the safety of Mega Adventure's world-class equipment.
The SkyMate structure stands 26 metres tall and boasts over 50 different crossings. Obstacles vary in difficulty so guests can choose their own adventure. For those feeling less adventurous – you can enjoy uninterrupted and breathtaking views across Adelaide and West Beach from the SkyWalk. For the smaller ones, the MegaBounce bungee trampolines won't disappoint.
The Mega Adventure experience is a universal one. As well as thrill-seekers, the park is the perfect location for corporate groups, families, bucks and hens groups, schools and parties.


Mega Courts Indoor Sports



MEGA COURTS INDOOR SPORTS is a new Indoor Sports Centre located in Windsor Gardens (only a 5-minute drive from the CBD). With over 5000m2 of Courts and facilities, their premier centre proudly boasts 4 x Mega Sized Courts (34m x 18m), 2 x Standard Indoor Courts, a Gym & Fitness Centre, Inflatable Fun Zone plus a Cafe' – perfect for all indoor sports, recreational activities and MEGAFUN!
The Mega Courts centre currently runs sport leagues across Cricket, Netball and Soccer, Academy Programs, Club Training, Casual Court Hire, Birthday Parties and Corporate/Fundraising events.
Their MEGA INFLATABLE FUN ZONE is open all School Holidays! It's MEGA FUN – BIG TIME! How fast can you complete the Commando Course? Test your skills with your friends! Jumping castles, mazes, basketball and soccer skill shots, and lots more to explore.
2 hour come and play sessions from 9:30 am until 7:30 pm right through school holidays.
Cost: $12 per person |$10 per person (Groups of 8+) Bookings essential.


 Netball SA
Future Stars Camp
Are you a budding netballer looking to learn new skills and take your game to the next level? Netball SA have the perfect program for you – the 2017 July Future Stars Camp. The respected two-day program gives players aged between 11 and 16 years the chance to develop their netball skills and work alongside some of South Australia's most respected netballers and coaches.
Dates: Tuesday 18 July & Wednesday 19 July 2017
School Holiday Clinic
Mums, dads and carers – are you looking for something for the kids to do in the school holidays? Why not send them along to one of Netball SA's School Holiday Clinics? The clinics provide all players aged 5-16 years with the chance to be coached by accredited Netball SA Community Netball Coaches. Clinics focus on technique, ball control, footwork, goal shooting, defence, passing and small sided games and most importantly they are FUN! 
Dates: Tuesday 11 July to Thursday 13 July 2017

Ready Steady Go Kids
With the Winter weather about to set in, Ready Steady Go Kids will give your child the chance to use up plenty of energy while still remaining indoors!
These Holiday Programs are open to ALL children aged 3-6 years of age and cover aspects of THREE different sports in a fun, energetic, 2-hour session.
These holidays, Ready Steady Go Kids will be covering Soccer and Tennis in Session 1 and Hockey and Basketball in Session 2. Athletics games will be included in both Sessions.
Dates: Monday 17 & Wednesday 19 July 2017 | 9.45 – 11.45am
Location: Marion Leisure and Fitness Centre (Cnr Rosedale Ave and Oaklands Rd, Morphettville)
Cost: $25 per session or $40 for both sessions*
(*Price if paid before Fri July 14, 5pm. Payment after this date is $30 per session)
For further info, please contact james@readysteadygokids.com.au


Wild Imagination 
Outdoor nature play vacation care and family events
Give screen time the flick and get back to nature! Wild Imagination provides a fun, safe and engaging way for children (and sometimes parents) to get outside and connect with the natural world. Join Wild Imagination this school holidays at Bonython Park, right next to the Kiosk and show your children a taste of the childhood you remember… getting muddy, having fun, inventing games and making memories. There is a huge area with tonnes of activities to choose from. And the best part is, the kids get to choose what to do! Here's a taste of the activities to expect:
Fire – including toasting marshmallows, making damper and story time around the fire pit. (Fire safety is taught to all participants and the fire will be managed by a staff member at all times.)

Mud play – including mud kitchens and a mud obstacle course.

Nature crafts – including clay play, paint and paint brush making, stick craft, dream catchers and so much more!

Loose parts play – in the expanded 'Inventors Playground'!

Bush cubby building – including knot tying and construction techniques.
Choose from 3 great options….KIDS ONLY days are open to primary school aged kids (5-12 years) and are a great alternative to Vacation Care. Open 8:15am-5.15pm, kids get to play all day and choose their own adventure. Wild Imagination FAMILY FUN sessions are great for kids of all ages (1-101 years) and run from 10am-1pm. The area will be fully fenced to provide a safe and secure environment for guests. Tickets are essential.
Play & Go readers can receive 10% off the Kids Only and Family Sessions during Autumn. The code is: PLAYANDGO

Gillespie Sports Vacation Coaching Clinics | Details
INEA YMCA @ Walkerville | School Holiday Program | Details
Inflatable Zone | Indoor inflatable playground at Marden | Details
Road & Cycle Safety Centre | Road Safety Education Lessons | Ridgehaven | Details
Wilderness Escape Outdoor Adventures | School Holiday Programs | Details

YMCA | Winter School Holiday Camps | Details

Swim and Survive Largs Bay | School Holiday Program | Details
Come 'n Try | Winter School Holidays | Details
No Heat Kids Yoga | Bikram Yoga & Hot Pilates | Details
Tiger Tennis | School Holiday Clinics | Details
Adelaide Zoo & Monarto Zoo
Keep little and big people alike busy these school holidays and visit the adorable baby giraffes at Monarto Zoo or join the fun of free arts and crafts during the week from 11am to 1pm at Adelaide Zoo! Learn from their keepers about their furry, feathered and scaly animals and immerse yourself in nature.
Did you know you can visit Adelaide Zoo or Monarto Zoo for half price?
Enjoy the best of both zoos these school holidays when you purchase a 'Two Zoos Pass' and get 50% off the price of your ticket to the second zoo!
Plus, make sure you book your little monkeys in now for their popular vacation care program! Your kids can spend a fun-filled day of nature-based learning with their qualified conservation educators and get to know all the animals that call Adelaide Zoo home!  
Adelaide and Monarto Zoo are open every day from 9.30am – 5pm.
For extra fun, download the Adelaide Zoo app to your smartphone to discover more and to have a virtual keeper in the palm of your hand!

Animal Farm Goolwa
At the Animal Farm Goolwa, from 10am to 4pm every day throughout the school holidays, you can feed the goats, lambs, chooks, emus and lots of other animals. Children can interact with small animals in the barn and meet the rescue joeys, look in on the pigs, have a chat with our cocky and galahs, feed the donkeys or sheep in their paddocks. Take a free trailer ride too! The ever popular pony rides will also be available every day, subject to the weather, (be sure to book on arrival).
Why not enjoy a coffee and snack in the café too at Animal Farm Goolwa.  Admission is just $8 per child and $10 per adult. Pony rides $5.
Located next to Goolwa Airport on Airport Road. See Google here for directions or Trip Advisor (Award Winner 2015 & 2016) for details.
It's a wonderful day out for the whole family. Contact: 0451 502 858.

Hahndorf Farm Barn
Looking for some fun activities to enjoy with the kids in the beautiful Adelaide Hills these school holidays? The Hahndorf Farm Barn is a unique blend of a children's farmyard and wildlife park. You can hold, touch and feed most of their animals in complete safety and at your own comfort level. They pride themselves on providing the best school holiday activities in Adelaide!
There are many activities for kids at the farm – try your hand at milking a cow, take a pony ride, bottle feed baby lambs and hand feed the camels and donkeys to name a few.
You can easily spend hours here enjoying quality time with your family. Play in their brand new playground and sand pit too.


Platform 1 Heritage Farm Railway
Gum Boots are a must! July School Holidays Paddock to Plate and Train Experience
Put on your boots, Throw on a coat, and let's go 'slosh in the mud'.
How do sheep keep warm and dry in winter? What does hay taste like? How do you know if your eggs are good or bad? Can you blow a cow horn or crack a whip?
All these questions and many more will be answered as the Farmer's wife shows you around the farm.
Make butter, collect the eggs, grind wheat, and learn to crack a whip. Discover about the food chain and find out why poo is an important part of a healthy farm. Walk the paddocks and learn how Mother Nature prepares itself for winter. The children will be learning about farms and farm animals without even knowing it; they will think it is all fun.
Have a train ride, play on the hands-on railway displays and have a go at the outdoor old fashioned games. Then feed the friendly farm animals, blow cow horns, walk the open paddocks and then warm up in the undercover picnic area with yummy homemade pancakes. So bring your coat and wear your rubber boots. Bookings are essential.
Tuesday 11 July at 1pm |Thursday 13 July at 1pm | Saturday 15 July at 9.30am | Sunday 16 July at 9.30am | Wednesday 19 July at 1pm | Friday 21st July at 1pm
Cost: $10 child 2-5 years,$15 child over 5 years, $18 adult

Adelaide Central Market

Big Market Adventures for Little Foodies is back these school holidays at the Adelaide Central Market!
All activities are free or low cost and include the ever popular Market Trail at just $8 (plus booking fee), Little Market Chefs at just $18 (plus booking fee), FREE craft workshop, cupcake decorating, baby animal nursery, face painting and the Big Balloon Giveaway!


Grill'd Norwood

Kids Masterclass – Entertain the kids these school holidays at Grill'd Norwood with 1.5 hours of fun activities and healthy burger making whilst you take some time out on The Parade. The cost is $22 per child which includes a burger, chips and a drink.
Wednesday 19 July 2017 
10.00 – 11:30am | Grill'd Norwood – Corner of The Parade and George St, Norwood


Adelaide Planetarium

Calling all star-gazers and junior astronauts, go and take a tour of the solar system!
Venture to the Adelaide Planetarium, a theatre with a domed-shaped ceiling and a star projector to realistically show the position of constellations, stars and planets. You can almost feel the earth turn as the projector rotates to simulate the motion of the earth's rotation during the course of the night. One of the Planetarium's experienced educators will guide you through the solar system before you experience one of their full dome movies.
Monday 10 July – Thursday 20 July 2017 | all tickets $8 each | bookings essential | *ages 3+ will require a ticket |  See session dates & times here
SciFun Days: Have fun with balloons! Make hovercrafts and have a ride on one yourself! 
Monday 10 July & Tuesday 11 July 2017  | choose an AM or PM session 10am – 1pm or 1.30pm – 4.30pm | only $22 per child (recommended age 5-11 year olds) | adult ticket $8 each
SciWorld Spectacular Show – there'll be fire, there'll be big bangs and there'll definitely be Oohs and Aahs!
Planetarium & Mars Rover Mission Robotics Workshop – work with the Lego NXT Mindstorm Robots and learn all the coding needed to send yourselves on a Mars Rover Mission.
Monday 17 July 2017 | 2pm – 4.30pm | Cost $15 per child (recommended age 9-15 years) | Adult ticket $8 each
Astronomy for Kids Course – an introductory course tailored to kids, which is fun and educational!
Thursday 13 July 2017 | 2pm – 4pm | Course cost $20 per child (recommended age 7-11 years)

Carclew
Carclew's Explore Arts Winter School Holiday Workshops
Carclew's school holiday workshop program offers full day and half-day creative activities for kids aged 5 – 17 years in their stunning North Adelaide venue. Their team of professional artists present a broad range of inspiring, hands-on experiences that will nurture your child's inner-artist and allow them to try out new experiences and make new friends. Their winter program includes some new workshop topics and a few favourites. There is also an opportunity for a deep-dive into the art of painting with a 3-day intensive.
Other workshops include shoe-box photography with Heidi Kenyon, screen printing with Kerri Ann Wright, weaving with Brooke Goyne and illustration with Robin Tatlow-Lord. And that's only scratching the surface!
Special offer: Bring a friend for 1/2 price
Everyone loves spending time with their BFF, especially during the school holidays. Simply book your child into any full priced workshop and book a second place for 1/2 price. This offer applies to friends who haven't attended an Explore Arts workshop in the last 12 months.
10 – 21 July | All workshops located at Carclew, 11 Jeffcott St North Adelaide

Little Picassos
Little Picassos: Winter School Holiday ART Workshops
Join Little Picassos this Winter break for a selection of wonderful holiday classes in a studio setting that provides an inspirational and motivational Art space for children.
Their Art programs have something for everyone, classes with accompanying adults from 2 years, Drop and Go sessions from 4.5 years for 1, 2 or 3 hours, half and full day experiences in a variety of mediums including: drawing painting, printmaking, sculpture, clay, textiles and construction. If you choose more than one session on the day your child is fully supervised over the breaks, so you can make a full day of it.
Also available this Winter break is Art Camp, Clay Camp and teen workshops. All sessions over two days for the full artistic experience.
Classes running Monday 10 to Friday 17 July & Monday 17 to Friday 21 July 2017 | Times vary each day, please check their programs for details.
Two studio locations: GLENELG: 686 Anzac Hwy, Glenelg | HYDE PARK: Rear of 330 Unley Road, Hyde Park | As well as classes at Blackwood and Cumberland Park.

Migration Museum



8 – 23 July Hopes and Dreams at the Migration Museum
Australia's migrants come with hopes and dreams for the future – what are yours?
Drop into the Migration Museum and explore why people come to Australia. Some people come as refugees – they have no choice. Others come because they have hopes and dreams. What are your hopes and dreams? Bara, from the Syrian Youth Forum, wants to be the best soccer player in the world and his classmate Khaled wants to set up a prestigious car yard of quality collectable vehicles, Hanan wants to be a famous photographer and Dania a doctor.
Write a Letter of Welcome to our newest Syrian arrivals after viewing their Forum exhibition, dream, draw and create your aspirations and make a tree of hope to take home and plant. 
When: Saturday 8 July to Sunday 23 July 2017 | 10.00am-4.00pm weekdays | 1.00-4.00pm weekends    Cost: FREE
Location:  82 Kintore Avenue, Adelaide
CLICK HERE FOR MORE INFO

National Motor Museum
8 – 23 July School Holidays at the National Motor Museum
Visit the National Motor Museum during the school holidays to explore over 400 vehicles including the 'Big Foot' from the Mad Max films. All children will receive a free souvenir the Wheelie Good Activity Book which contains a range of entertaining and informative activities that young visitors can explore while at the Museum. Kids can also interact with the video gaming machines in the Retro Gaming Lounge (includes the bespoke Virtual Reality racing game based on the 1990s Adelaide Grand Prix).
The extensive grounds of the Museum have barbeque areas and are ideal for large or small families and groups to get together.
When: Saturday 8 to Sunday 23 July 2017 | 10.00am-5.00pm     Cost: $6.50-15.50 | Family$35.00 | children under 5 free
Location: Shannon Street, Birdwood
CLICK HERE FOR MORE INFO

Sciworld School Holiday Activities 
Come and see Sciworld's 'Fire and Ice' show, explore the solar system in a stardome, learn something new in one of their workshops – Palaeontology, Illusions or Rocket Science. Explore the hands on interactive exhibits. Three hours of fun for only $15 per child (ages 5 – 16) with accompanying parents absolutely free!
Pop Up Science Centre: Science shows, stardome sessions, science workshops and exhibits galore!
Elizabeth 12-13 July | Wayville 18 – 20 July | 2pm – 5pm
Tickets available at the door on the day. $15 per child 5 – 15 years. Parents free!

South Australian Maritime Museum
10 – 21 July Treasure Island – the other side of the story at the South Australian Maritime Museum
Treasure Island: the other side of the story gives us a glimpse into some of the things that can go wrong while sailing in search of excitement.
What was it like having to deal with pirates? What was it like if the food or the wind ran out? How did you cope if your clothes were washed overboard, and all you had were your pyjamas?  Follow Captain Pedro Pyjama and his crew on their adventure to almost discover some of the world's greatest treasures… as they never quite make it to where they are going, or if they do are always the last to arrive. Come dressed in your pyjamas and you might join Captain Pedro's crew!!
When: Monday 10 to Friday 21 July 2017 | performances weekdays at 11am and 1pm.   Cost: $6 per child. Explore the Museum, climb the Lighthouse and see the performance.
Location: 126 Lipson Street Port Adelaide
CLICK HERE FOR MORE INFO

Woodhouse Activity Centre
GET ACTIVE, BUILD FRIENDSHIPS!
With children spending so much time on electronic devices, a day at Woodhouse Activity Centre, just 15 minutes up the freeway, provides a wonderful opportunity to step away from the screen and really burn up some energy.
Just 15 minutes up the freeway, Woodhouse is offering nature based, fully facilitated day camps for boys and girls aged 6-15 in the July School holidays.
CLICK HERE FOR FULL PROGRAM DETAILS
SPECIAL RATE FOR PLAY AND GO READERS:
Quote 'PG01' and pay only $54 per day ( regular price $60). Hurry – limited spaces remaining!
Phone 8339 3333 to secure your child's place. Woodhouse Activity Centre 37 Spring Gully Road, Piccadilly

Adelaide Oval 
Take the kids on an unforgettable journey behind the scenes on an Adelaide Oval Tour. Together you'll visit areas that are usually inaccessible and learn about the heritage of Adelaide Oval while being entertained with stories of legends and characters who have contributed to the Oval's rich history.
The kids will love following in the footsteps of their sporting heroes as they run onto the ground to the roar of a 50,000-strong crowd through the interactive player's race. You'll also get to climb the stairs to the 100-year-old heritage-listed scoreboard and gain an insight into match-day preparations inside the players' change-rooms.
Adelaide Oval Tours are led by expert volunteer guides who share captivating tales of the venue, the sporting greats who have competed here and the Oval's iconic status in SA.
Bookings are recommended to avoid disappointment. Please visit their website for departure times or call their team on 08 8205 4700.
Prices: Adults $24 | Concession $19 | Child (5-15years) $14


Free Bubble Soccer
FREE Bubble Soccer is back for the July school holidays! Round up your kids and head along to Victoria Square/ Tarntanyangga (Southern end) for a game of free bubble soccer. Kids will be able to don an inflatable bubble suit that allows them to run, bounce, roll and spin, all while playing a game of soccer…and bumping into other bubbles. Adults welcome to join in too!
No soccer skills or bookings are required, just a willingness to have fun! Games last for a maximum of 10 minutes, leaving plenty of time for a food truck lunch.
Dates & Times: Thursday 13 July 2017 | Friday 14 July 2017 | Thursday 20 July 2017 | Friday 21 July 2017 | 11am – 2pm


Event Cinemas
Escape the winter chills while entertaining the kids these school holidays by catching one of these family titles on the BIG SCREEN!
DESPICABLE ME 3:  another fun-filled romp with Super-Villain turned Crime-fighter GRU.
CARS 3: for those with a need for speed, CARS 3 has Lightning McQueen setting out to prove to a new generation of racers that he's still the best race car in the world.
DIARY OF A WIMPY KID: Finishing up the holiday line-up is DIARY OF A WIMPY KID – The Long Haul. What could be more fun than a Heffley family road trip to attend Meemaw's 90th birthday party? Things go hilariously off-course thanks to Greg's newest scheme to get to a video gaming convention.
Why not catch all of these great movies at Event Cinemas Marion or GU Film House Glenelg! Not a CineBuzz member? Why not check out Event Cinema's free Movie Club membership, for special advanced screenings and discounted offers.
Sealink
Hop over to Kangaroo Island these school holidays with kids travelling FREE on SeaLink ferries! While children under 3 always travel free, when booking one or two paying adults and a vehicle, up to two kids (aged 3 to 14 years) travel free to Kangaroo Island, saving families up to $100!
It's a magical time of year to visit Kangaroo Island with the wildlife coming out in the cooler months. See echidnas roaming, watch as joeys peek out of their Mother's pouches and admire the pods of dolphins by the coast, or the Southern Ocean Whales as they migrate past the island. Offer valid for travel until 31 August 2017.

Stamford Plaza & Stamford Grand School Holiday Special
In a unique opportunity for families Stamford Hotels and Resorts have put together a program that gives parents and carers a break whilst the kids get to enjoy a sensational range of fun activities – as well as having time to spend together as a family. 
Staying at Stamford Plaza in the city, or Stamford Grand in Glenelg, is Child's Play these school holidays. Plan a family getaway and enjoy this great offer which includes:
♥ FREE Kid's Activity Sessions
♥ FREE Wi-Fi
♥ FREE Self Parking
♥ Plus KIDS EAT FREE
While the kids play, you can relax and enjoy a meal in one of their great restaurants! Find out more about the deal here.

Winter Wonderland Glenelg
Winter Wonderland is back at Glenelg this July! You can strap on your skates and glide under SA's first clear domed marquee on Moseley Square. This year there's also a 25 metre long genuine ice slide for Tobogganing. Whether it's rain, hail or shine; morning, noon or night, take the family to skate by Adelaide's favourite beach.
1 hour skating sessions available at 10am, 11.30am, 1.00pm, 2.30pm, 4.00pm, 5.30pm and 7.00pm.
An additional 8.30pm skate session is available Friday and Saturday nights only.
Sunday to Thursday | 10.00am to 8.00pm | Friday and Saturday | 10.00am to 9.30pm.

Churchill Centre
Free July School Holiday activities at Churchill Centre
Be entertained and join in on the fun with the Winter in Wellies Show with Digger the Dog! Wednesday 12 until Sunday 16 July at 11:15am and 12:45pm.
Plus decorate your very own pair of free Gum Boots* at the Mix 102.3 Boot Station, 11am Friday 14 July 2017.
Also – Whilst you're at the Centre, don't forget to visit Little Chicago Express, Adelaide's largest and free indoor Shopping Centre playground! Located in the Food Court, it's not to be missed. Open Monday 9.45am – 5.15pm, Tuesday, Wednesday and Friday from 9am – 5.15pm, Thursday 9am – 8.45pm, Saturday 9am – 4.30pm, and Sunday 11am – 4.30pm.
*150 pairs of Gum Boots available in a range of sizes and colours. One pair per child. (Children must be present to receive boots)

Elizabeth City Centre
Free July School Holidays Entertainment at Elizabeth City Centre
Peppa Pig is visiting Elizabeth City Centre these July School Holidays with a free stage show for kids!
Join Peppa Pig on an adventure as she plays games, enjoys a day out and of course jumps in muddy puddles!
Peppa Pig Live Daily Stage Show and Meet & Greet | Monday 10 – Friday 14 July | 11.30am and 1.30pm daily shows and 12.30pm daily meet and greet with Peppa Pig | Located in the food court, Elizabeth City Centre
IKEA
Free Kids Activities at IKEA these school holidays
There's always plenty of free activities for the kids, including their Creative Kids workshops and Treasure Hunt. Be sure to check their website and Facebook page to see what's on.
Mon-Fri 10am-9pm | Sat & Sun 9am-5pm | Phone (08) 8154 4532


Port Canal Shopping Centre
Create your own furry friend this school holidays at Port Canal Shopping Centre.
Choose from a variety of bears to stuff, name and take home! All bears come complete with a birth certificate, fabric LOVE to go inside and a love promise ceremony.
While stocks last. Cost includes teddy bear & birth certificate. ONLY $7 (RRP $25) for the first 180 bears per day.
Clothing & accessories are available at an extra cost. Once daily limit of 180 bears is reached, cost will increase to $12 plus accessories extra.
When: Monday 17 to Friday 21 July 2017 | 9.30am – 4.00pm
Location: Port Canal Shopping Centre | 200 Commercial Road, Port Adelaide

Westfield West Lakes
LEGO Immersive Zone at Westfield West Lakes.  Keep the kids busy and engaged these July school holidays at Westfield West Lakes LEGO Immersive Zone. This MASSIVE and free zone allows children's imaginations to run free with numerous free-play LEGO tables , diorama LEGO displays, integrated iPad technology zones PLUS loads of challenges including:
Speed Challenge- Beat your friends or the clock in the race to build the model the fastest!

Blindfold Challenge – Can you copy the build…while blindfolded?
Monday 10 July- Sunday 16 July (7 days) | 11am –  2pm | Westfield West Lakes, near Target
There's also a Free Kids' Footy Zone (Thursday 13 July), the Free Glitter Hair & Braid Bar (until 15 July) the chance to make your very own unicorn hot chocolate, Kids' Corner the new free kids' play space,  the chance to meet Jerry & Dave from Despicable M3 (19-21 July), free face painting (22-23 July)
CLICK HERE FOR MORE INFO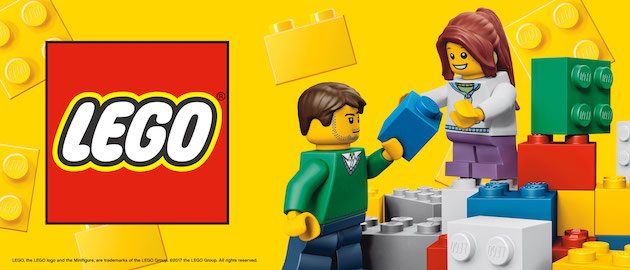 Westfield Tea Tree Plaza
These July School Holidays don't miss the FREE PJ Masks "Meet The Heroes" Live Show! 
PJ Masks 'Meet the Heroes' is a brand new live show experience, featuring Catboy, Owlette & Gekko. Learn what it takes to be hero and a member of the PJ Masks team. In this live interactive training session, everyone will not only have fun, but will uncover the secrets of thwarting the night time villains. Sing, dance and perform the PJ Masks special super-power moves to discover the real meaning of being a hero.
Mon 17 – Fri 21 July | 10am, 11am and 12pm | Centre Court, level 2 near Pandora | click here for details
Little Foodies Pasta Making and Chef Hat decorating | Mon 10 – Fri 14 July | 11am – 2pm | Tea Tree Plus, outside Toys R Us | click here for details
Iron Man Meet and Greet – meet the one and only Iron Man at Tea Tree Plus! He'll be roaming the centre taking photos with fans and showing off his amazing gadget suit! | Thu 13 – Sat 15 July | 10:30am – 3pm | Tea Tree Plus, Roaming | click here for details
Muffin Break Cookie Decorating – Children can let their imaginations run wild and decorate cookies with sprinkles and icing, however they like, with prizes for the best decorated cookie! Registrations are essential | Mon 10 – Fri 14 July | 11am and 12pm | Level 1 near Bupa | click here for details
Kids Camera Action
Special offer for July School Holiday program – Save $30 using promo code PLAY&GO
Kids Camera Action! is a unique filmmaking school, designed especially for kids and teens, who are aged 8 – 16. Since 2010 they have been teaching the art of filmmaking across South Australia using a fun, interactive and hands-on approach that kids and teens love.
Kids Camera Action July School Holiday Program | 10th July – 21st July
Ultimate Film Week offers Stop Motion Animation, Special Effects Make-Up, iPad Movie Making, Acting for Screen and action-packed GoPro filming. Choose individual days or join for the whole week!
4-day filmmaking programs offer separate courses for kids and teens to create their own short films. They write the script, act, direct and edit films and the completed films are screened on the Kids Camera Action YouTube Channel.
Lights, Camera, Circus! Teaming up with the awesome gang from Cirkidz, students will learn amazing new circus skills, incredible filmmaking techniques and come away with their very own short film!
Kids Camera Action classes are suitable for kids and teens of all levels from complete beginners to experienced movie makers.

Slingsby
Th
eatre
Company
Emil and the Detectives
Never underestimate the determination of a child! Young Emil catches a train to visit family in the big city. Something valuable is stolen. But the thief soon discovers Emil was not such an easy target. A group of quick-thinking and resourceful children rallies around. Can a bunch of kids work together to uncover and outsmart the true criminal? These July school holidays, join Slingsby Theatre Company on a journey in wonder for Emil and the Detectives… 
Public Performance Dates: Wednesday 19 July to Sunday 23 July 2017

Theatre Bugs
Thumbelina Holiday Programs | Norwood, Unley, and Glenelg locations | July 10 – 14 & July 17 – 21
Enjoy 5 fun, fabulous days filled with drama activities, rehearsing, and painting props which finish with a production of Thumbelina at 5pm on the last day. Students will perform with a stage set, professional lights, and costumes.
Every child will have a special role to play and lines to learn.
These highly popular Theatre Bugs Holiday Programs for children aged 5 to 13 years are filling quickly. Online bookings for Thumbelina are now open but there are limited places for each program so bookings are subject to availability.
CLICK HERE TO BOOK or phone (08) 8332 1228 or email admin@theatrebugs.com.au

Something on Saturday
Adelaide Festival Centre celebrates 40 years of SOMETHING ON SATURDAY with 43 stand out shows over 19 weeks. There's plenty of variety over the school holidays:
Saturday 8 July 2017 – How to be a Rock Star By Tessa Waters | suitable ages 3 to 8 yrs – Release your inner rock legend with this hilarious, high-energy show about positivity and being comfortable in your own skin. CLICK HERE TO BOOK
Saturday 15 July 2017 –  The Boat | By SA Circus Centre, The home of Cirkidz | suitable ages 5 to 12 yrs – Join the young circus stars from Cirkidz for a journey across long rivers and wide oceans to discover the secrets they keep beneath the surface. You'll discover the joy of keeping things afloat – like juggling balls and acrobats – tumbling, flipping and flying off the ground. CLICK HERE TO BOOK
Saturday 22 July 2017 – SciWorld's Science Magic Show | all ages – Levitation, green fire, invisible forces and much, much more! Learn how to do all your favourite magic tricks – and the science that makes them work. With breathtaking illusions, mindboggling magic, and a truckload of fun, SciWorld's Science Magic Show promises to educate and delight.  You won't believe your eyes! CLICK HERE TO BOOK
Each week you can also take advantage of the FREE Foundation Kids Corner Workshops with art and craft activities.
Festival of Learning & Participation | Adelaide Symphony Orchestra | Details
School Holiday Performing Arts Workshop | Play Every Day | Details
Want even more inspiration for the Winter School Holidays?
Click here to take a look at our list of ideas for Every School Holidays.
Remember, you can always check in with your Local Library (find yours here) or your Local Council (see our list) as most run special activities for children every school holidays – and many are inexpensive, or completely free!
Subscribe to our Weekly Newsletter
Keep up to date with our latest posts and find out what's on, where to go and what to do with the kids in and around Adelaide.
At Play & Go Adelaide we make every effort to provide accurate information to the best of our knowledge at the time of publication. We recommend confirming times, dates and details directly before making any plans as details may be subject to change.oolHoliday Activities in Adelaide…What do to with the kids during the holidays…School Holiday Ideas…South Australian schol holiday guide…Great school holiday ideas….What's on for kids in Adelaide these hoiday