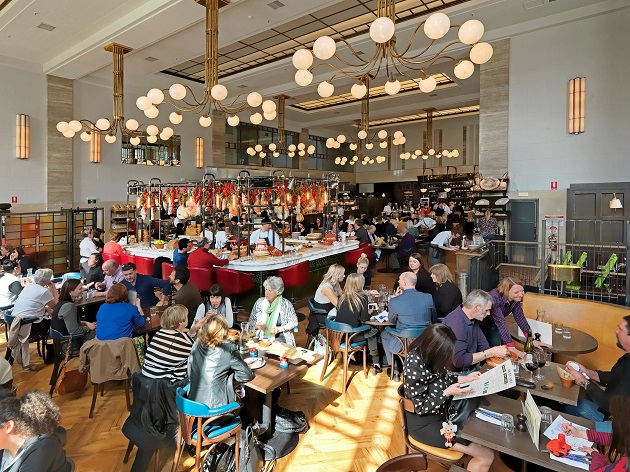 Jamie's Italian Restaurant opened in September 2014 with much excitement and stories of full bookings for months ahead. We've seen his cooking shows where everything looks delicious and many of us have tried his recipes at home. Therefore when Jamie Oliver came to town (well, his franchised restaurant empire, that is) we couldn't wait to try it out. Housed in the beautiful old bank building at 2 King William Street in the city, during the day the restaurant is filled with lots of natural light streaming through the huge windows and the impossibly tall ceilings make it a beautiful setting to dine in.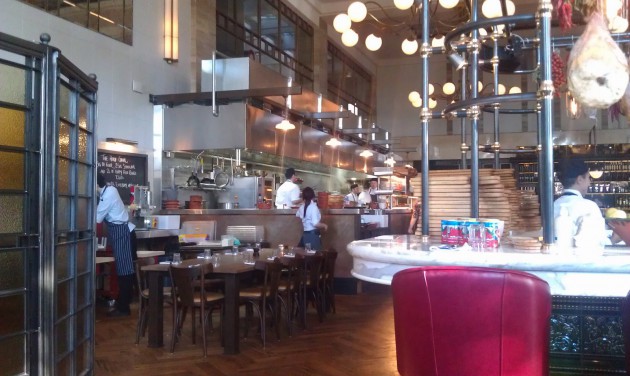 The restaurant is full service so you have a waiter/waitress looking after you – the kids thought this was a bit special, to 'have our own person looking after us'.
It's very family friendly. For one, it's a big place and quite noisy, so no-one is going to hear your kids (except the people sitting right next to you). There are highchairs and the staff seemed very accommodating towards children ie they were friendly towards them and didn't look like they were going to pass out when they saw them coming! I noted that a table near us had a baby in a highchair and the staff were eager to help the parents entertain her and were very obliging with their stroller.
Our kids loved these special 3D old style viewfinders with which they can see the children's menu. You look through the viewfinder and there are pics of each dish on their menu. You just flick the handle to switch from image to image so the kids can see exactly what they're going to get.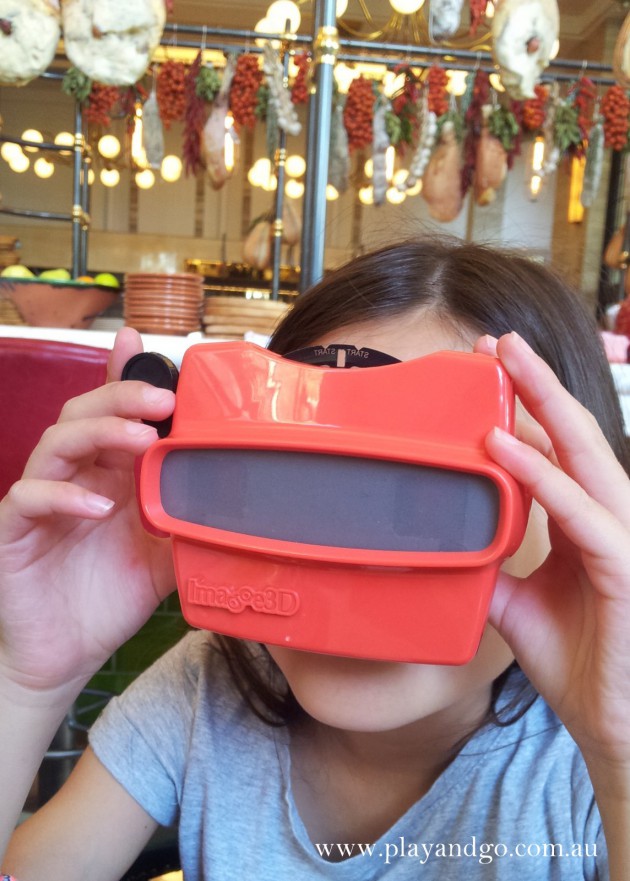 Here is a copy of the Kids Menu below (current as of October 2014) to give you an idea of the selection. For $9.50 they get a meal including a 'Shake Me' salad (see pic below) plus a juice. For an extra $2.50 they can get a serve of fresh fruit or ice cream for dessert.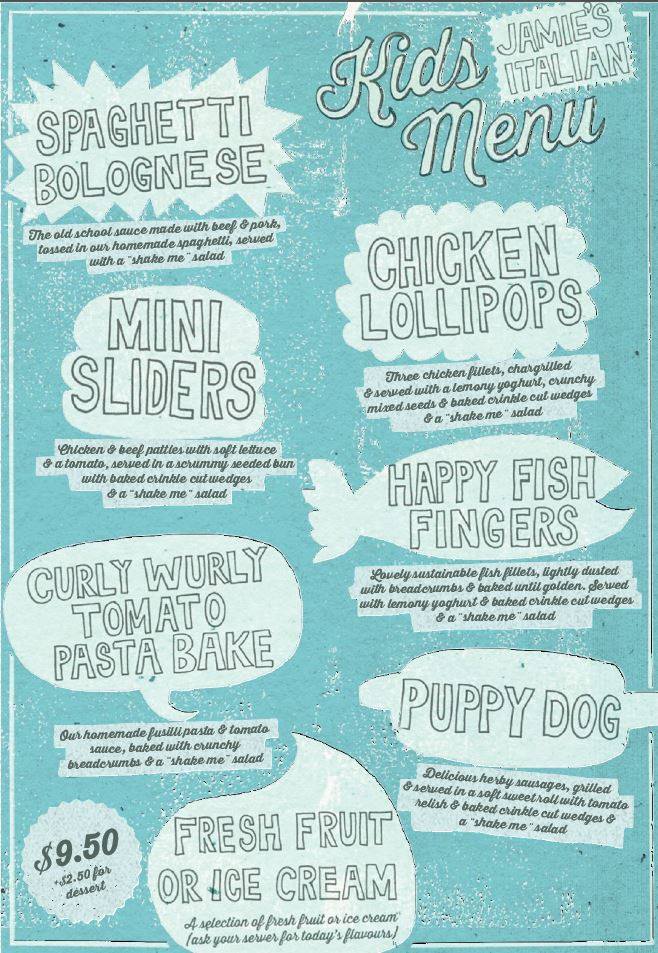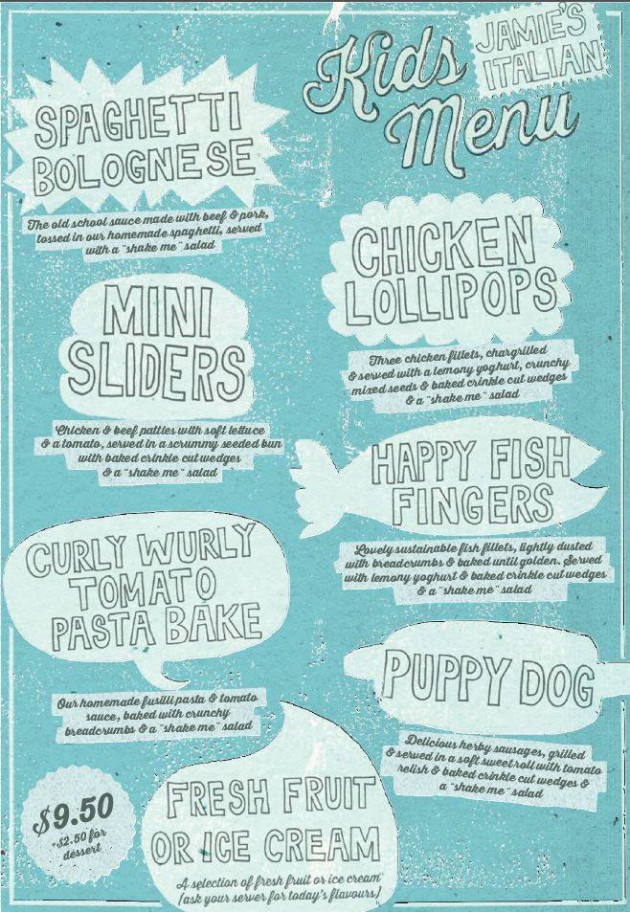 Children are also given colouring in sheets and crayons to keep entertained. There's no playground of course, but be sure to check out the toilets downstairs – they are housed in the old bank vaults, interesting to visit, will kill some time and kids do like stairs!
As mentioned before, each kid's meal comes with a 'Shake Me' salad below. The kids did enjoy shaking their salad in the container but sorry Jamie, my salad-fearing children were not swayed to eat much of their salad I'm afraid. The novelty did entice my daughter to try some though, which is a plus.
The pic below is of the kid's serve of Spaghetti Bolognese. All pasta served in the restaurant is made from scratch by the chefs in-house.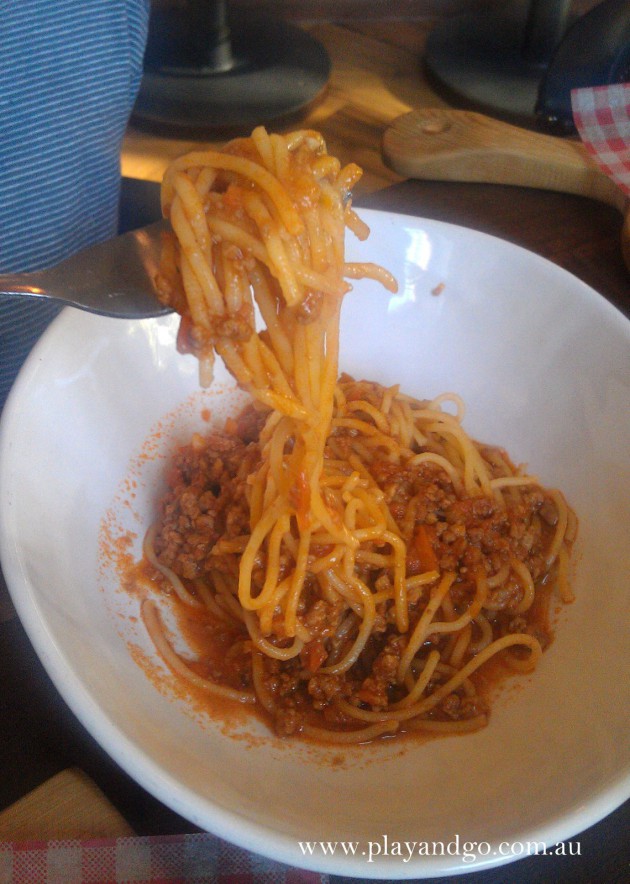 Here is the children's serve of ice cream for dessert: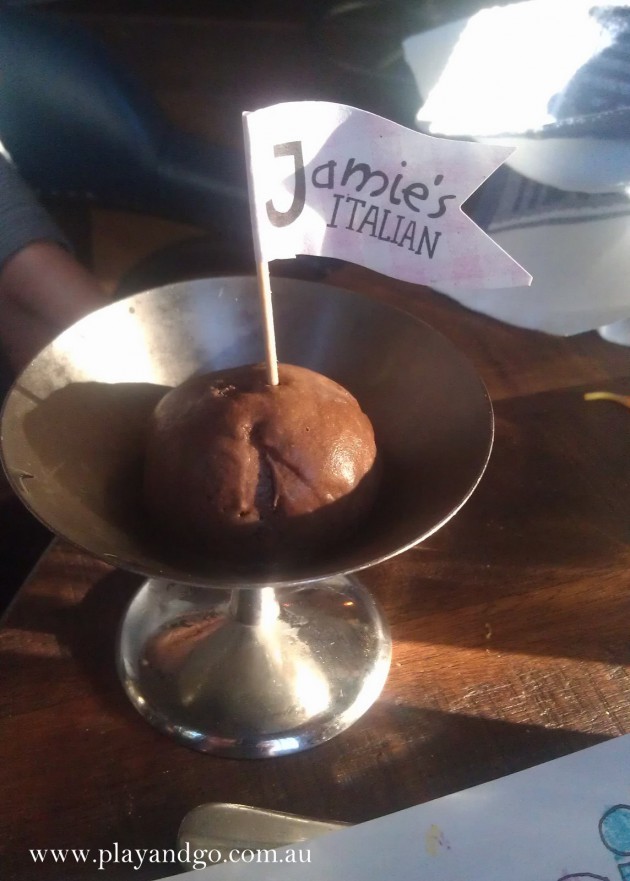 We also ordered pasta for our Adult main meals: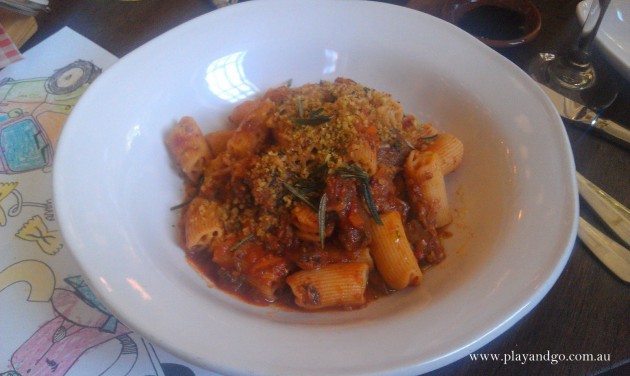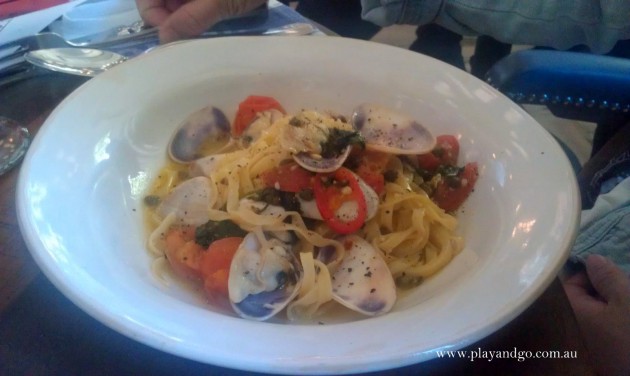 For dessert we tried the Creamy Panna Cotta with compote of seasonal fruits. We can tell you that the Fudge Brownie dessert was delicious – unfortunately this got eaten before we managed to take a photo!
If you prefer to eat an early dinner with the kids anyway, and there are no timeslots available for Dinner online, you could do what we did and book the last Lunch time slot at 4.45pm. This was perfect for us as by the time we settled in, had a drink and ordered, we were eating around 5.30pm which is a great time for the kids. Being a large restaurant with lots of tables, you may easily get a table walking in without a booking too – they do have seats at the bar for waiting guests.
The menu pricing is comparative to other Italian cafe/restaurants around Adelaide, with the kids' meals being good value for money. The servings are on the small side so order accordingly. Just because a restaurant has a kid's menu and highchairs doesn't automatically make them family friendly – but I would say that Jamie's Italian is very welcoming to families and children.
For more information and all enquiries please visit the Jamie's Italian Restaurant website here.
What: Jamie's Italian Restaurant | Review
When:  See their website for opening times
Where: 2 King William Street, Adelaide
Who: Families
Please note that our Reviews are the opinions of the Play & Go Editors, this is not a sponsored post and we do not advise venues prior to or during Reviews.
At Play & Go Adelaide we make every effort to provide accurate information to the best of our knowledge at the time of publication. We recommend confirming times, dates and details directly before making any plans as details may be subject to change.
The top image is from the Jamie's Italian Facebook page, all other photos are by Play & Go.