Mars Bar Slice is an old favourite which is always a winner at parties or anytime you need a sweet treat.
Crispy Rice Bubbles in a rich and chewy, chocolate-caramel mixture with chocolate icing on top – sounds moreish doesn't it?
What You Need
Ingredients for Mars Bar Layer
♥  1 Bag of fun size Mars Bars (216g) or equivalent
♥  100g Butter
♥  1 1/2 Tablespoons Golden Syrup
♥  3 3/4 Cups Rice Bubbles
♥  Line an 18cm x 28cm baking/slice tray with non-stick baking paper
Ingredients for Chocolate Icing
♥  200g Milk Chocolate (we use Cadbury Dairy Milk Chocolate)
♥  45g Butter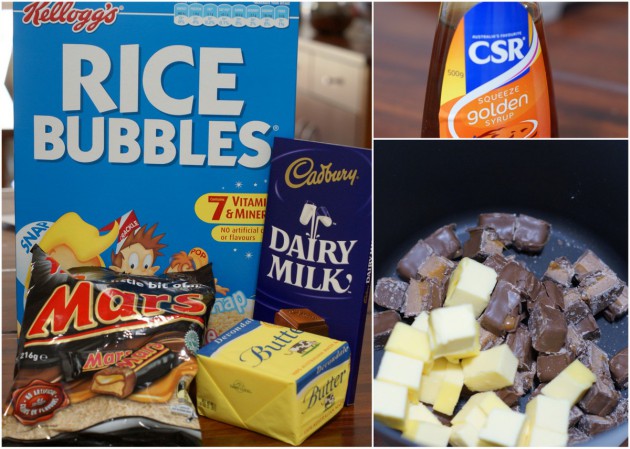 What to Do
1. Cut up the Mars Bar pieces into quarters and the Butter into similar size cubes – this will allow them to melt easier and consistently.
2. Place the Mars Bar pieces, butter and golden syrup in a saucepan over low-medium heat. Stir constantly, using a spoon to break up the Mars Bar and squash any bits of nougat that are slow to melt.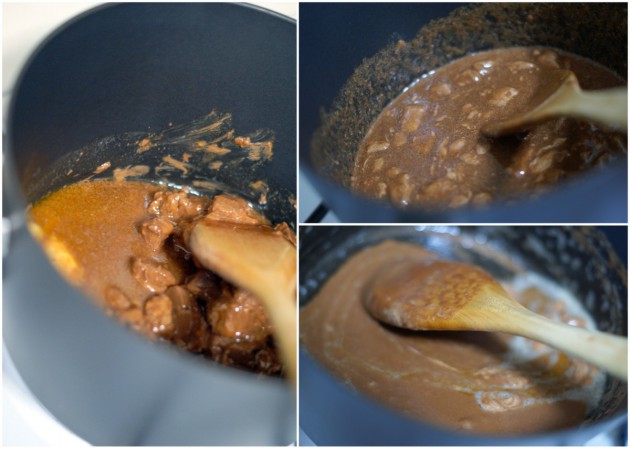 3. When the butter has melted and only small unmelted bits of nougat remain, take the saucepan off the heat. The mixture will go through a stage where it looks separated (see pic above on the left). Keep stirring vigorously until the mixture thickens slightly and is fairly smooth and combined together. The mixture is ready when it has a creamy ganache-like consistency.
TIP: It's better to take the saucepan off the heat earlier rather than later. There were a few times when I first started making this when I overcooked it or had the heat too high and the chocolate mixture seized. You can always put it back onto the heat for a little while if it's not combining well and needs a little more heat.

4. Place Rice Bubbles in a large bowl. Add Mars Bar mixture and stir to combine. Be careful not to crush the Rice Bubbles too much.
TIP: Pour the Rice Bubbles into a 1 Cup measuring cup inside the bowl/jug you are going to use – it's much less messy than trying to scoop it out of the Rice Bubbles box, or pouring into the measuring cup on its own. See pic below.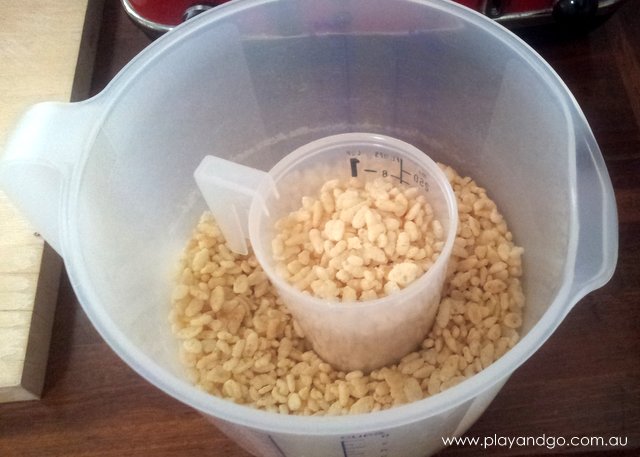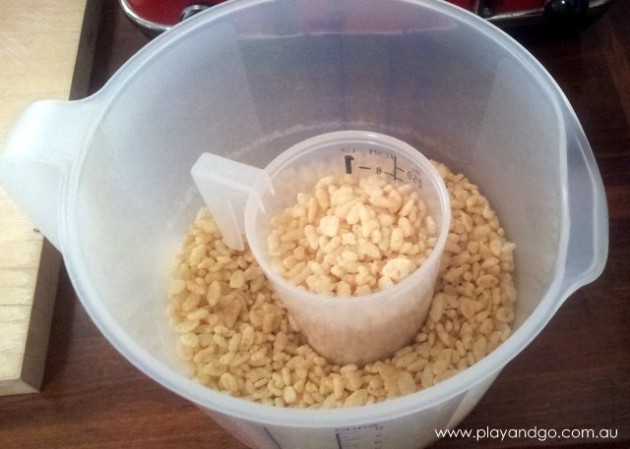 5. Press mixture into prepared pan and refrigerate while preparing the Chocolate Icing.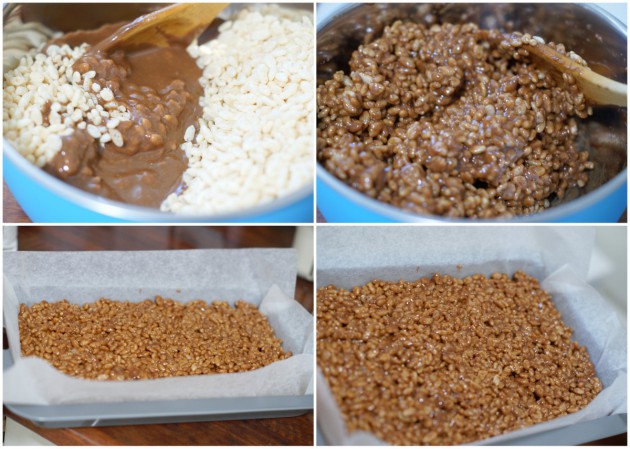 6. Melt the chocolate and butter in the microwave – only doing short bursts of about 15 to 20 seconds on medium heat at a time. You don't want to overdo or the chocolate will seize. Alternatively melt in a bowl over a saucepan of hot water.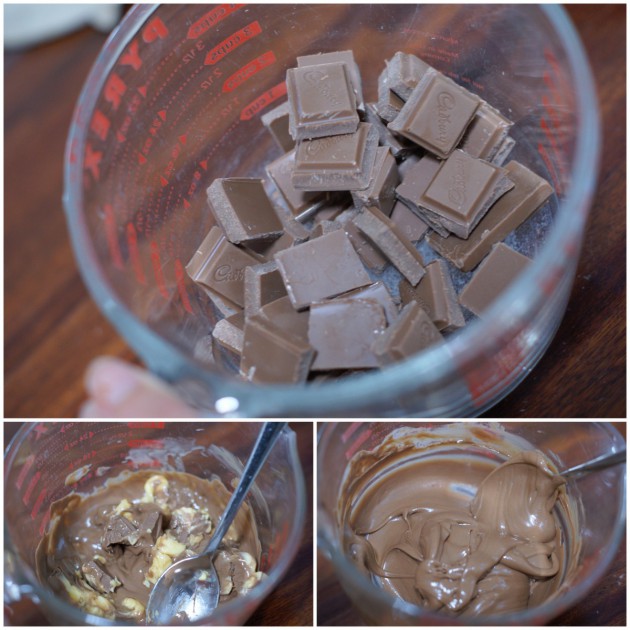 7. Spread chocolate icing over the top of the Mars Bar mixture and then refrigerate to set.
TIP: Give the pan a gentle shake from side to side – it will help smooth out the lines of the chocolate icing on top.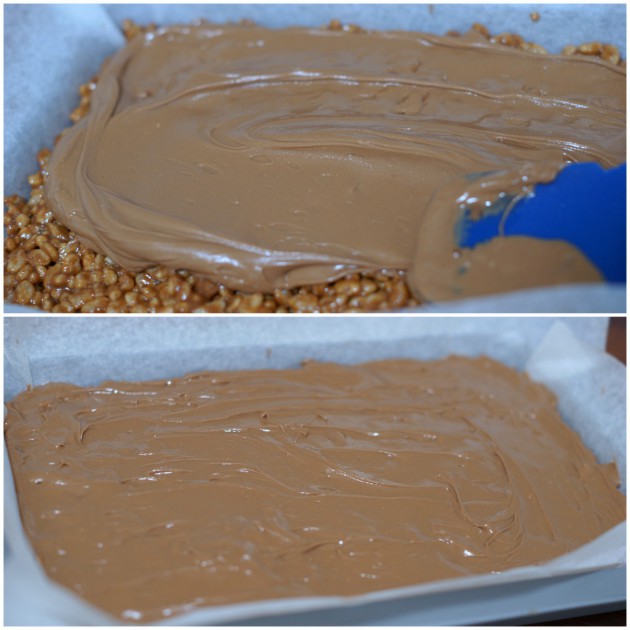 8. Cut into pieces to serve with a sharp knife.
Tip: run knife under hot water and dry before cutting to get straight clean cuts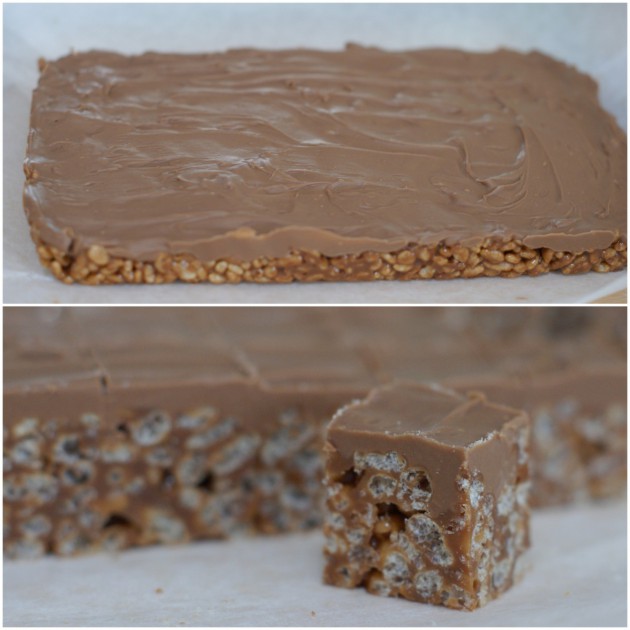 I often serve them at parties in individual patty cases for presentation and it's easier to transport them without sticking together if you need to take to a party.
Alternatively they can be piled into a bowl just loose as well. Put into a glass jar with a nice ribbon tied around and they make a lovely gift. Put pieces in a clear cellophane bag tied with ribbon to sell at school fetes or cake stalls, or give as gifts.