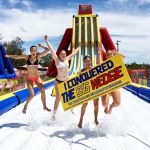 [ December 18, 2021 to December 31, 2021. January 1, 2022 to January 31, 2022. ]
Inflatable Waterslide Park The Big Wedgie in Adelaide
The Big Wedgie is returning to West Beach Parks with their four favourite inflatable slides offering family fun for all ages.
The Big Wedgie will be at West Beach Parks during the Summer holidays from Saturday 18 December to Sunday 30 January 2022
as well as every weekend in February.
The […]