Rundle Mall is always a hive of activity on the weekends, but there's even more to entertain city shoppers now with some unique street theatre to entertain the whole family – and it's FREE. Every weekend Rundle Mall comes alive with something extra to see to make your weekend shopping experience a little more exciting.
Keep an eye out for the following street performances in Rundle Mall over the next 2 weeks…
The Doogans
Pandora Pink joins forces with juggling genius Mr. Spin to perform a charming, mischievous and irresistibly funny act! You can catch their short sharp shows along Rundle Mall at the following times:
Sunday 18 November 2012 – 1.15pm & 2.15pm
'Roo'd' – The Giant Bouncing Kangaroos!
Don't miss these giant kangaroos on bouncing stilts!  These amazing characters are a crossover of outback macho and inner city punk savvy and they always 'Roo'd' but never offensive!  You can catch the Roo's jumping around the mall at the following times:
Saturday 24 November 2012 – 12pm & 2pm
Sunday 25 November 2012 – 12.30pm & 2.30pm
Parking in the City
As well as free entertainment, car parking near the mall is now more affordable too with a $6 flat rate all day on Sundays at all city UParks. On Saturdays the standard day parking charges apply at Rundle Street and Gawler Place.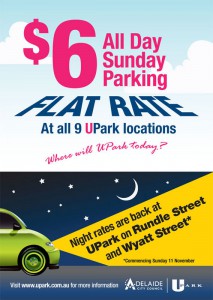 What:   Rundle Mall Weekend Street Theatre
When:   Weekends (see times above)
Where:   Rundle Mall, Adelaide
Who:   Everyone
Click here for more information.

All information and images courtesy of official Rundle Mall website and Rundle Mall Facebook Page (Official Rundle Mall Fan Page!)