For months we've been told about all the amazing activities included at Santa's Wonderland at the Adelaide Showground, so we're thrilled that it's finally here! So, what is it really like? Well, they promised to bring some Christmas magic to Adelaide… and we think they have truly delivered.
This is a magical wonderland for kids, and all the excited smiling faces we saw, proved it.
Where do we start??
Ice Skating & Toboganning
The huge ice skating rink is a drawcard. We wondered if it would be cold but surprisingly it really isn't. The whole event is inside the pavilion so you don't have to worry about the weather at all. It's cool when you first start so a long sleeve top and pants is a good idea, for protection as well. However, you won't need thick jackets to stay warm unless you are one to really feel the cold. If your child is prone to falling when ice skating or is a beginner we would recommend gloves to keep hands warm and offer protection if they fall. Remember to tell them to put their hands into a fist if they fall. It's worth bringing a spare change of clothes for the kids too, in case they get wet, as it wouldn't be very comfortable doing the other activities if wet and cold.
There are learner skates for the little ones that you velcro onto your own shoes. These are great for kids who are not confident on a single blade. The red sleigh pictured above is also fun to go on a ride – two people can sit in it.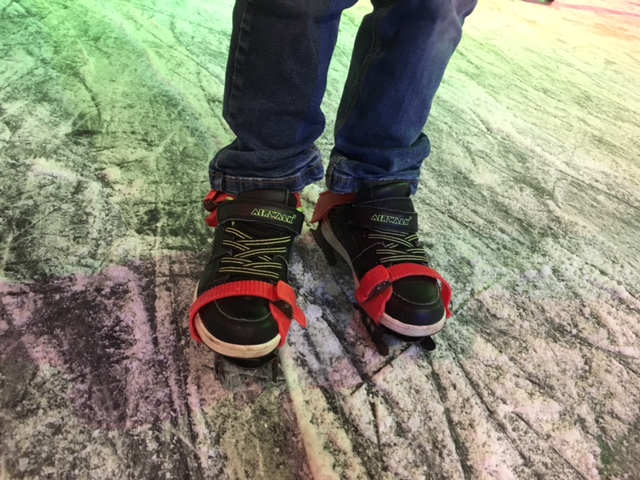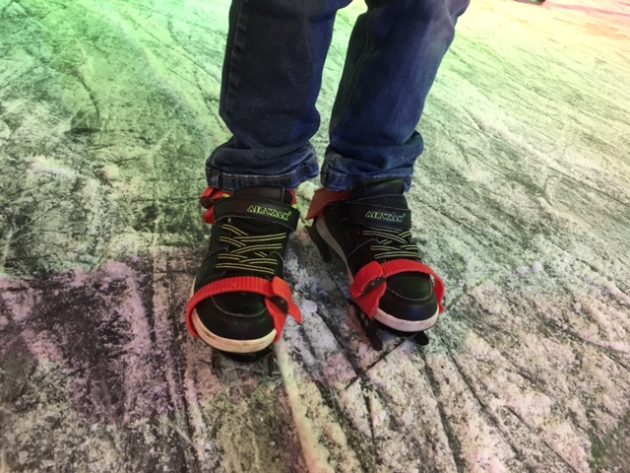 The toboganning is a lot of fun. You can either slide down on a single slide or go on a double where kids can slide together, or an adult can slide with a child. It's quite fast and be prepared, you may slide to the side but there is fencing on one side as a break. For those watching on the open side, be sure to keep an eye out as some of the sliders may veer towards the crowd accidentally. This was very popular so at times there may be a bit of a line-up.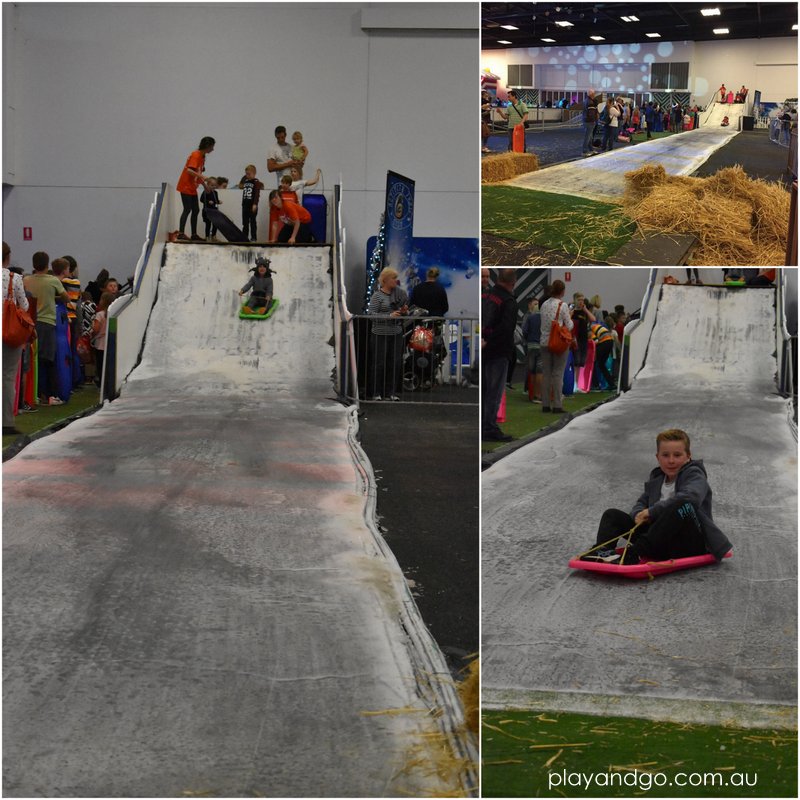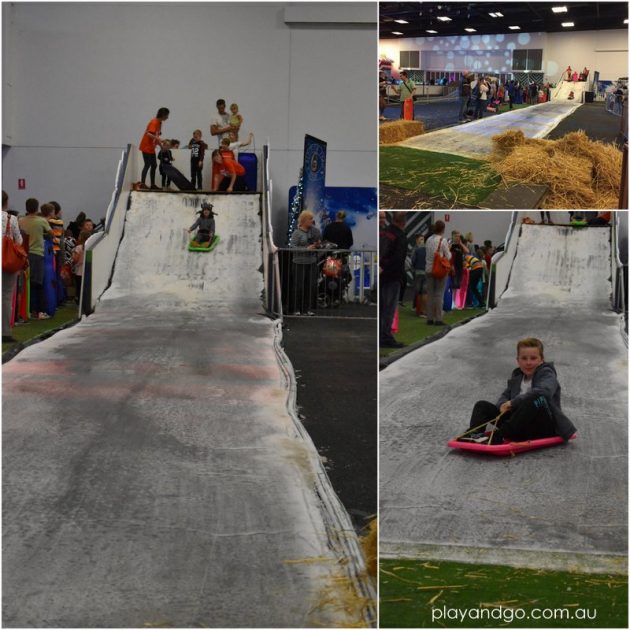 Amusement Rides & Bouncy Castles
If your child loves rides, then they are going to LOVE this. There are rides galore and they are all included as part of your ticket price. The unlimited rides allowed us to say "yes" to the constant requests for "ANOTHER" turn on the roller coaster, or toboggan, or bouncy castle, or… or….. or…! It was really nice to not spend the whole time saying "No" to expensive attractions.
These are the same rides you would normally pay about $6 to $8 per ride at The Show. You will easily make up for your ticket price if you go on a few rides over the 3 hours. Check out the selection of rides below. Most are probably suited to children under 10 years old – obviously this depends on your child.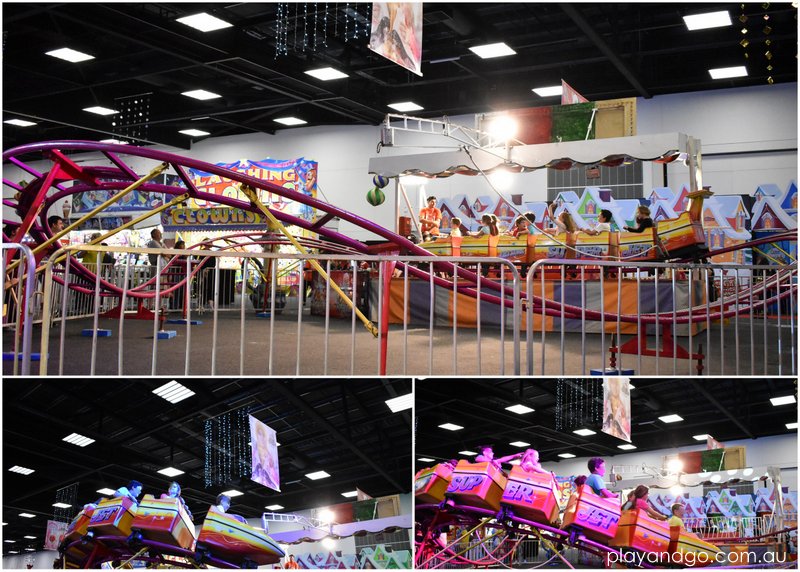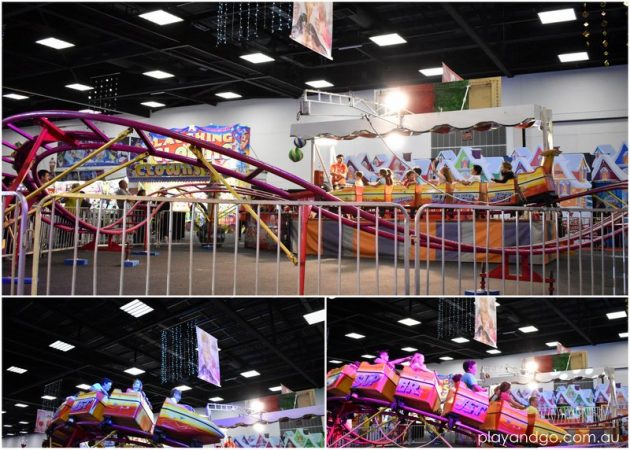 There are not one, but two mini roller coaster rides.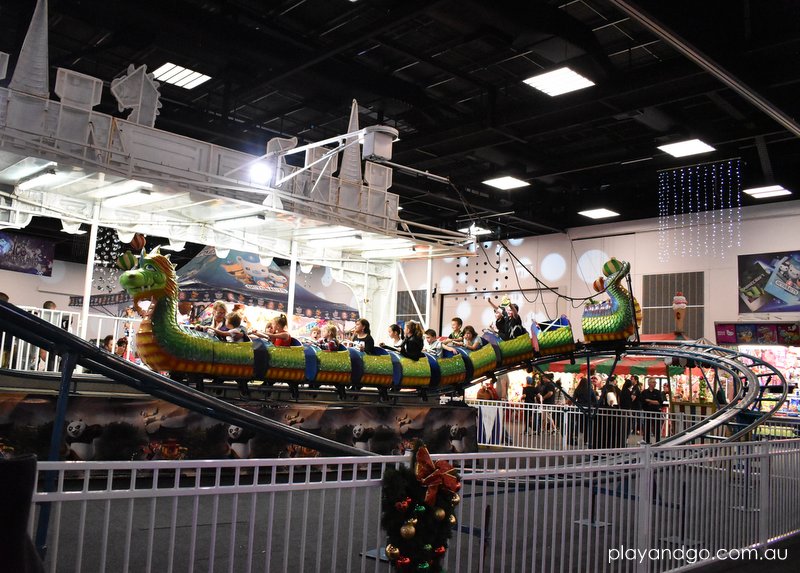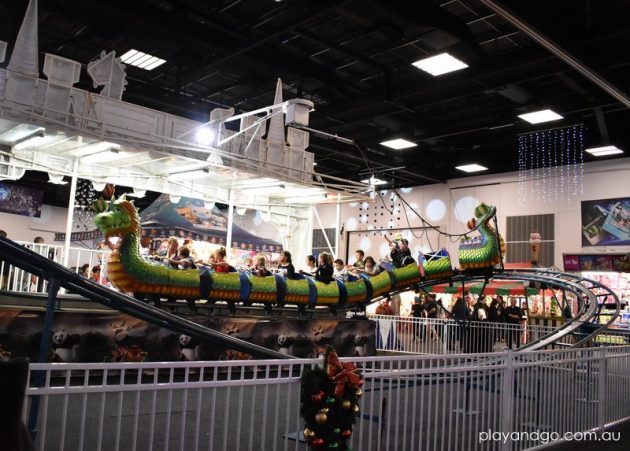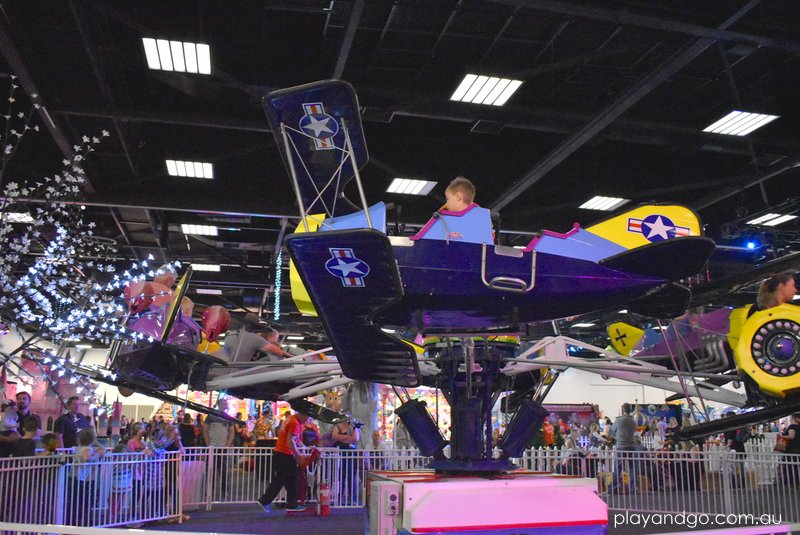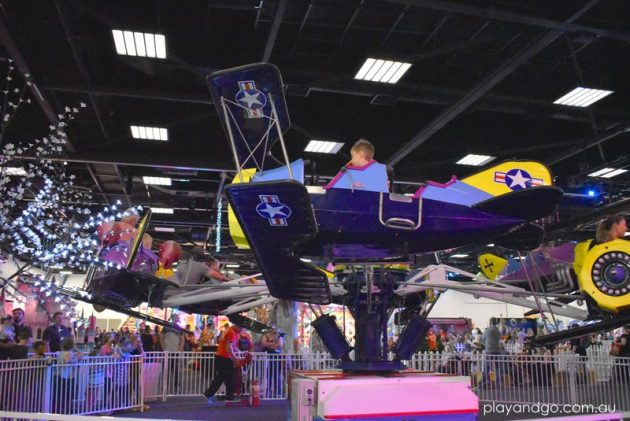 There is an aeroplane ride, a train ride, car ride, animal train ride, and tea cup ride, all pictured below.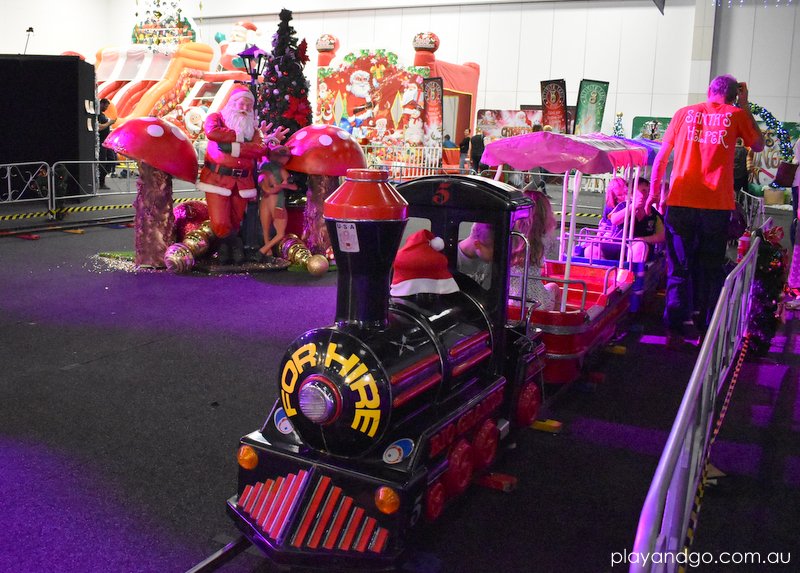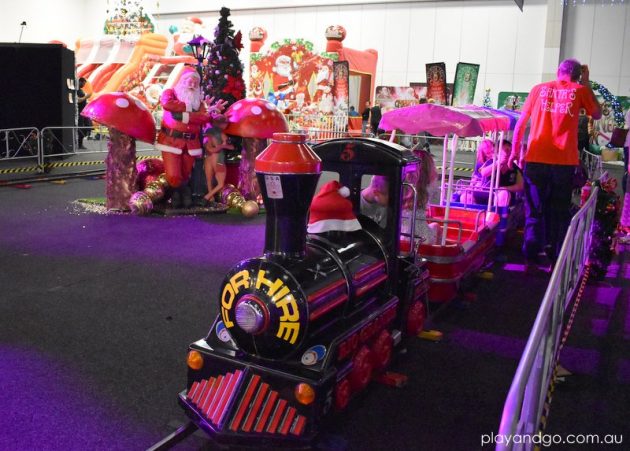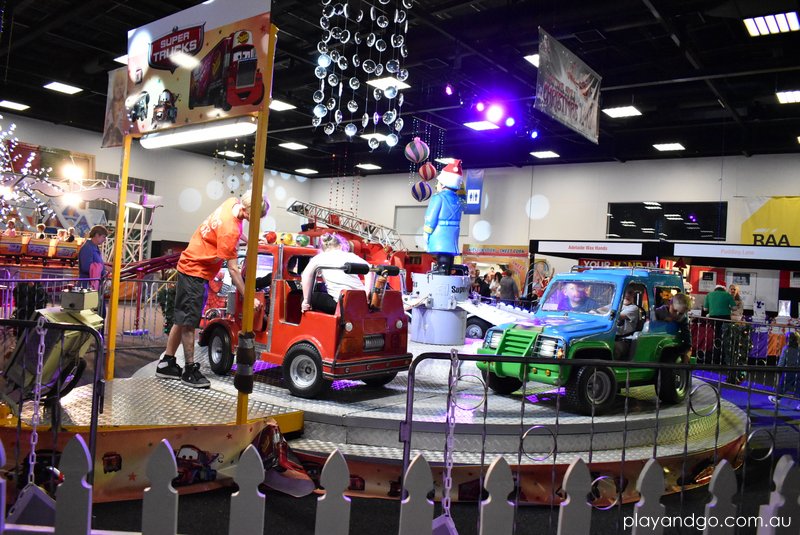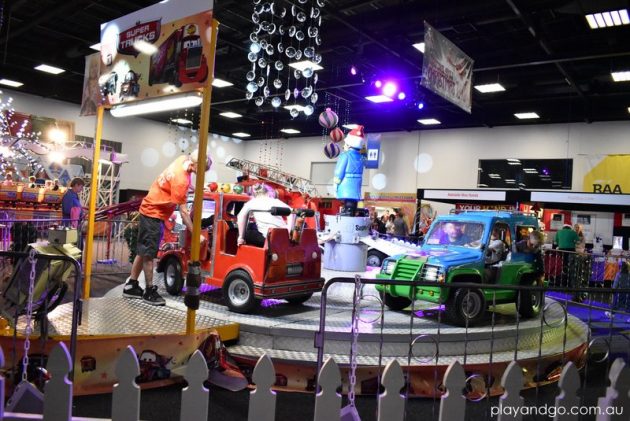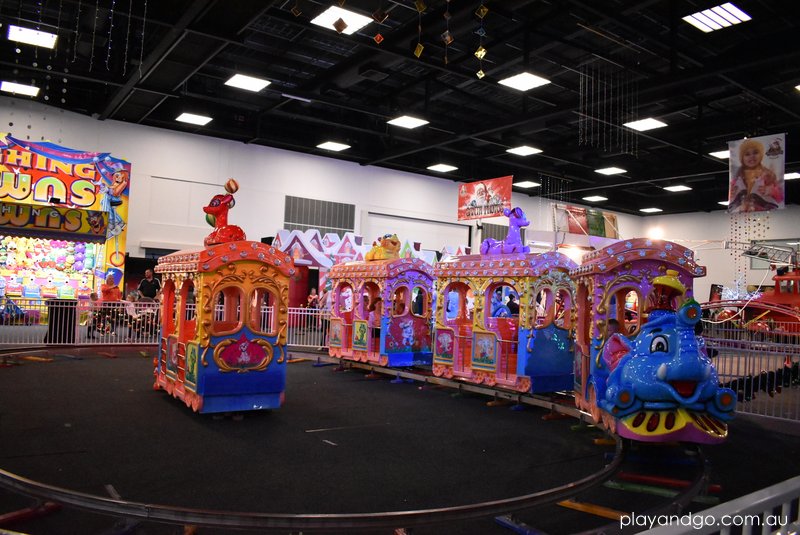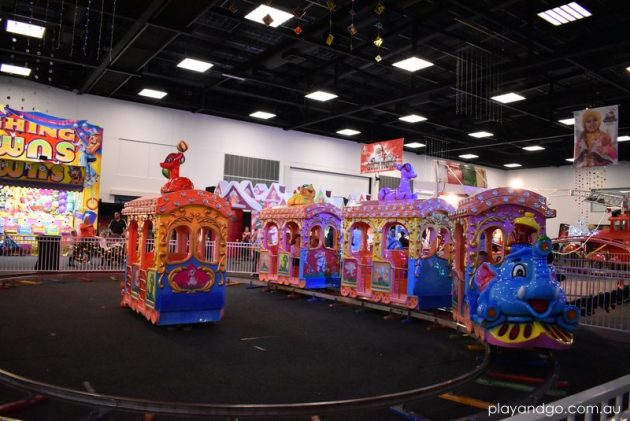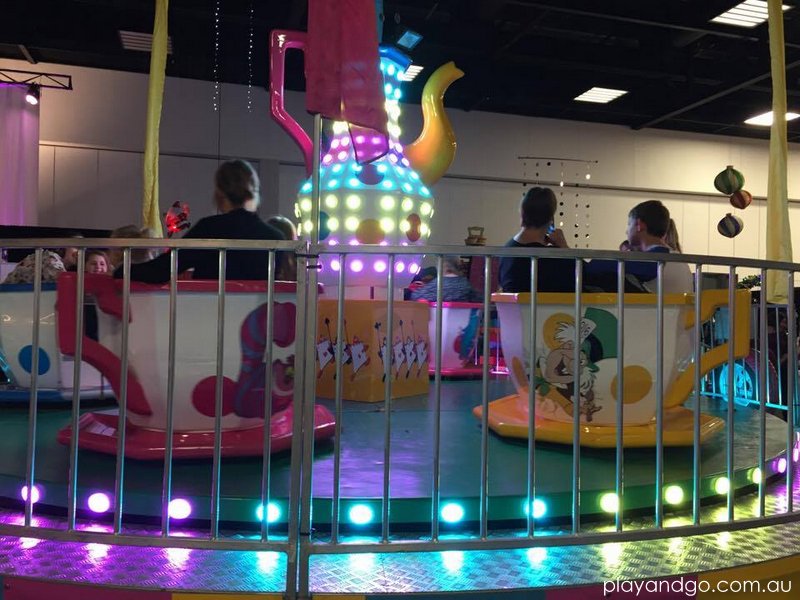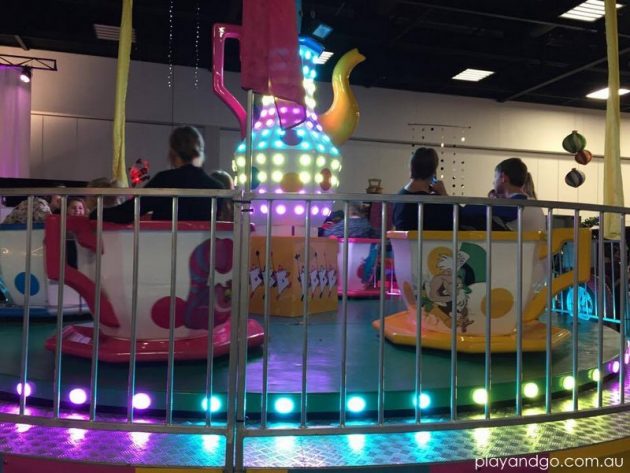 Ride your very own reindeer in the Reindeer Corral. These are like PonyCycles except they're reindeer. You propel yourself along, and adults can even have a turn.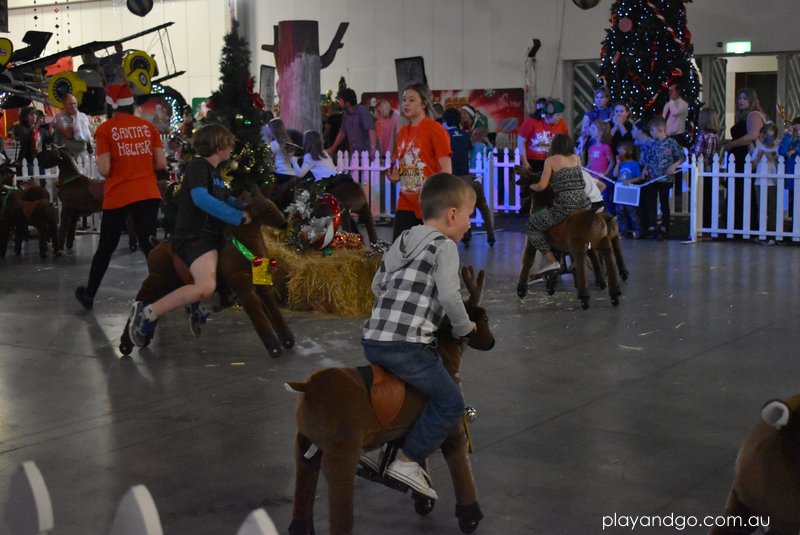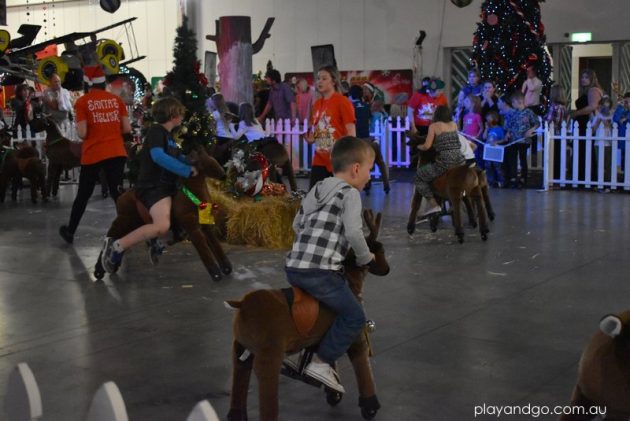 PLUS there are 5 big bouncy castles and slides.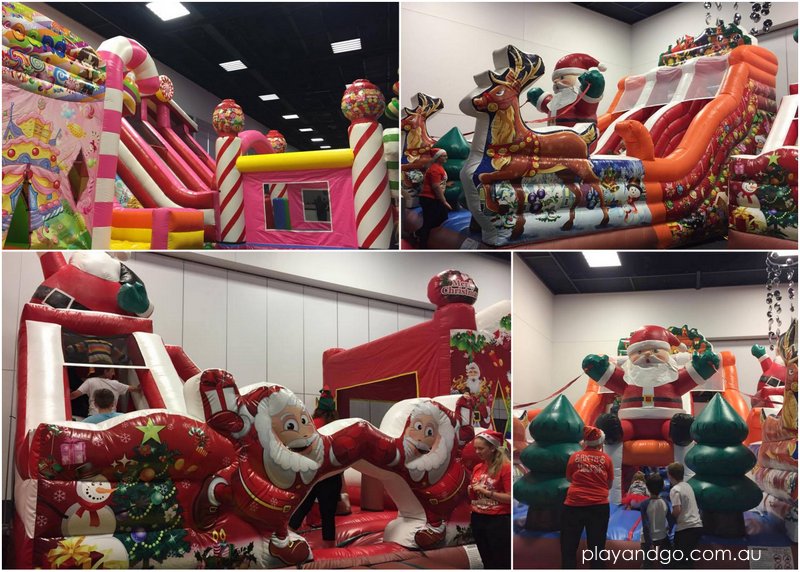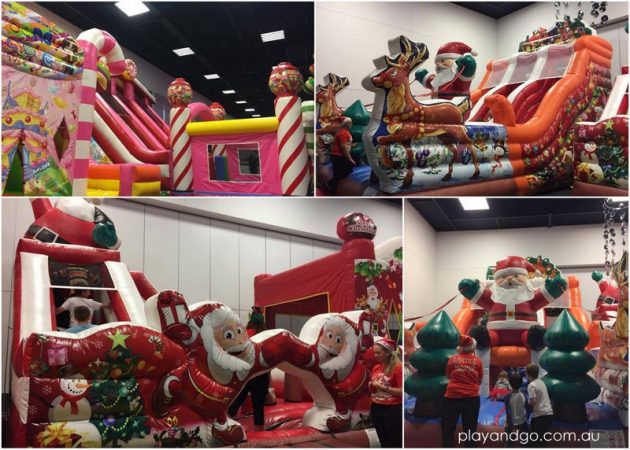 You can visit Santa and have a photo with him below. We didn't do this when we visited as we wanted to maximise our time on all the other activities.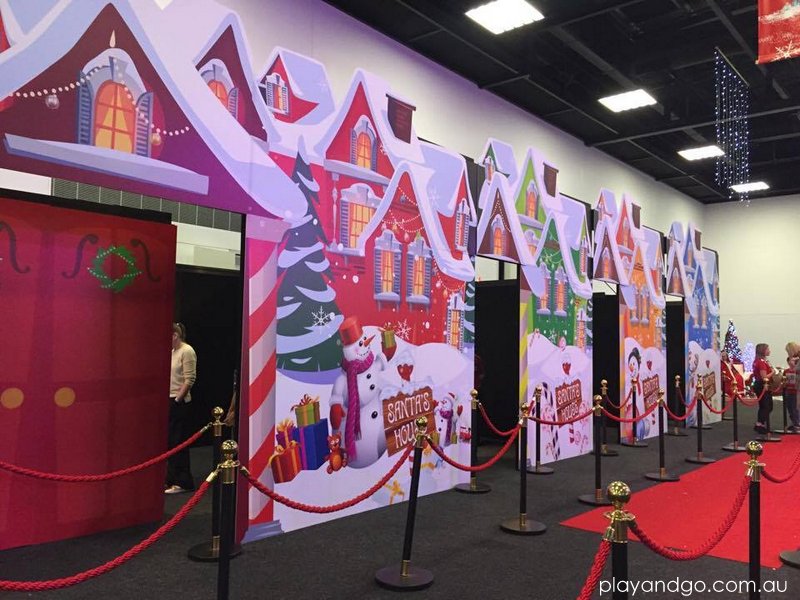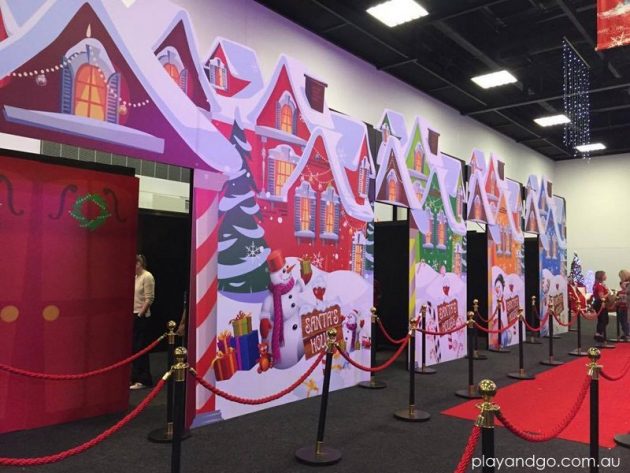 There are several different activity 'worlds'. This one below is where you can decorate your own Christmas bauble to take home.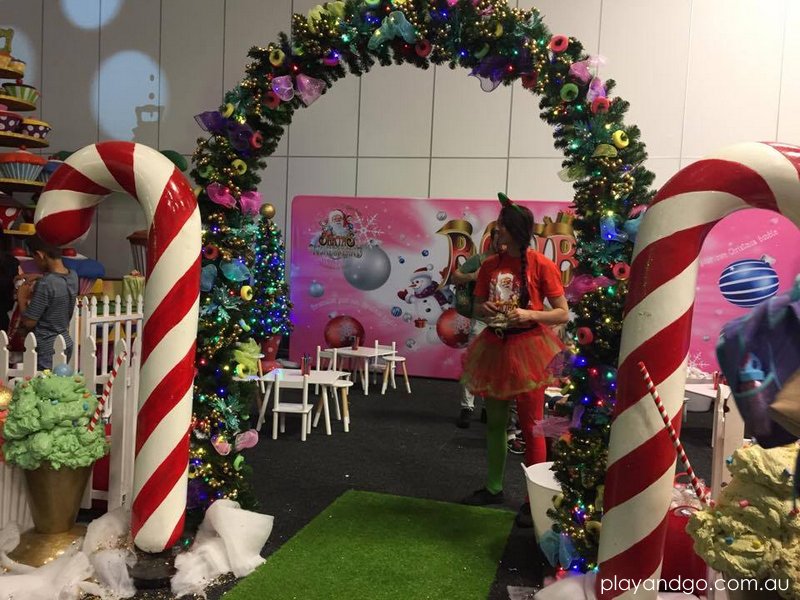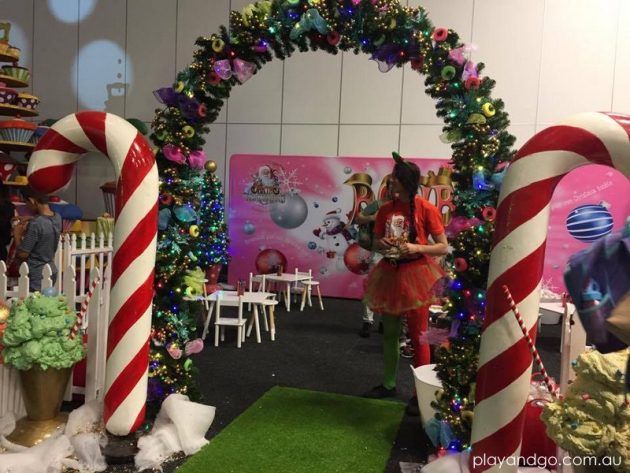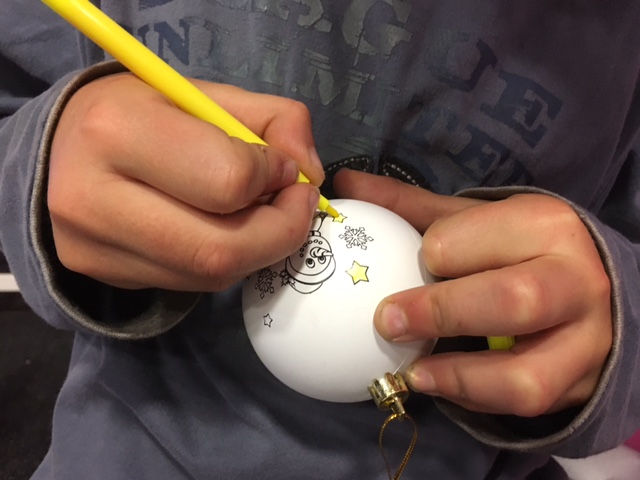 Write a letter to Santa below and just next to this you can have a photo with Mrs Claus who sits on a beautiful throne.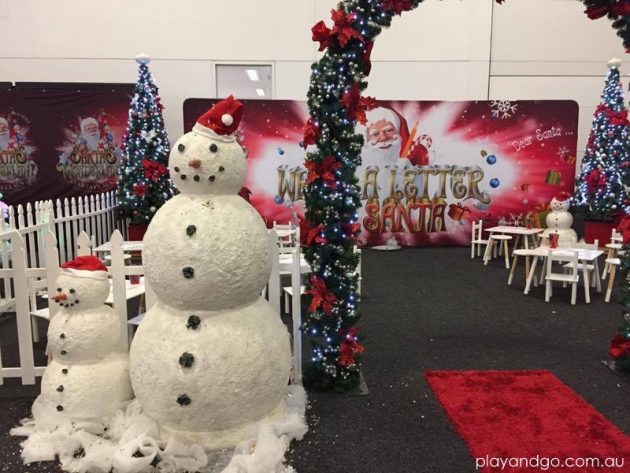 Watch the live performances on the stage. While we were there, wonderful carol singers sang all the carols we know and love. There are roaming characters and the performers are very interactive and entertaining on the stage.
Everywhere you look there are Christmas decorations, gigantic Christmas trees and plenty of photo opportunities. You can take a photo in the snow dome or in Father Christmas' sleigh and visit the Ice Queen. You can also get up close to some of the floats from the Credit Union Christmas Pageant like Fergus the Fire Engine below and old favourites Nipper and Nimble.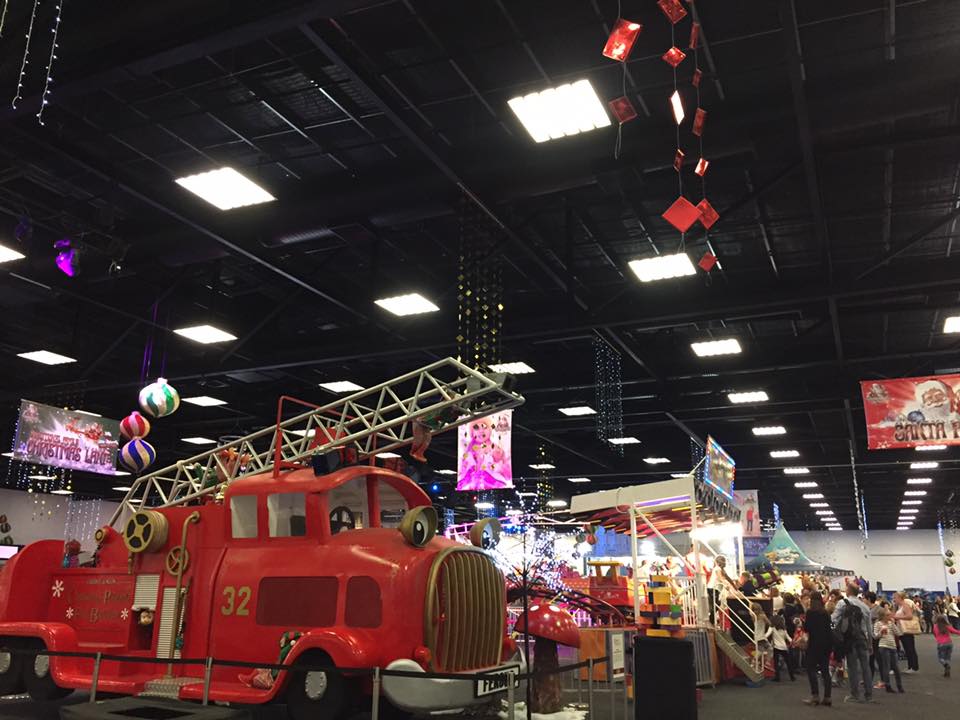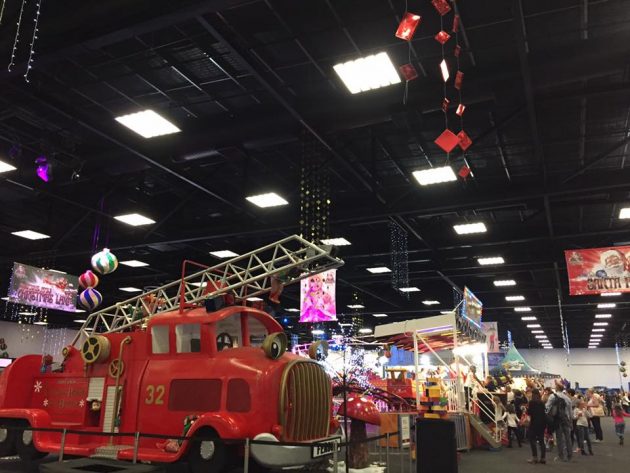 A note for those who don't cope well with sensory overload – it's not the place for kids (or parents) who don't cope in high-sensory environments.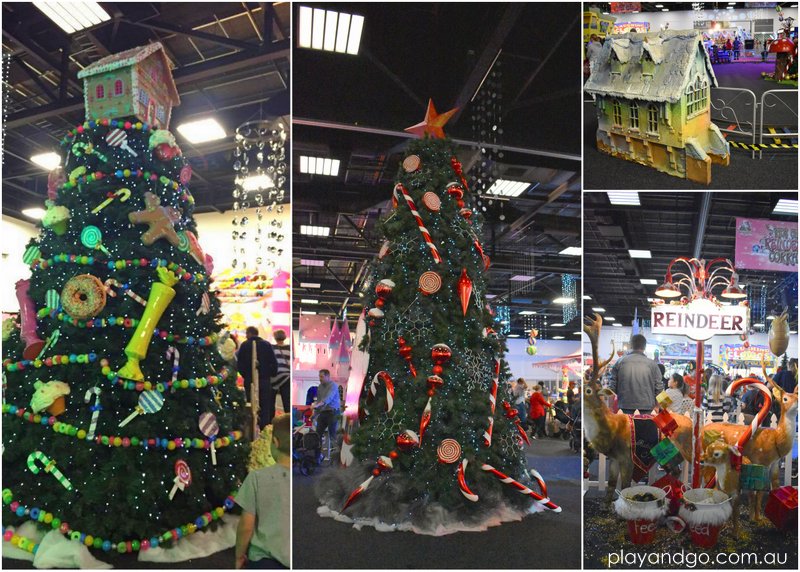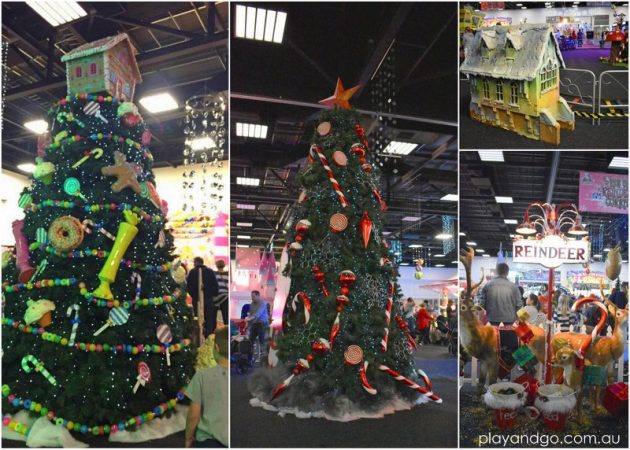 Food
This is a wonderland for children so as you can imagine there are lots of treats here. Fairy floss, slushies, lollies, sno-cones, strawberries with chocolate and ice-cream, chips on a stick (which were very yummy and not soggy), corn on the cob, plus Vili's pies & sausage rolls, fish & chips, burgers etc. Cheese toasties are $2.50 and soft serves are also $2.50. There are tables and chairs to sit at, to eat or take a rest.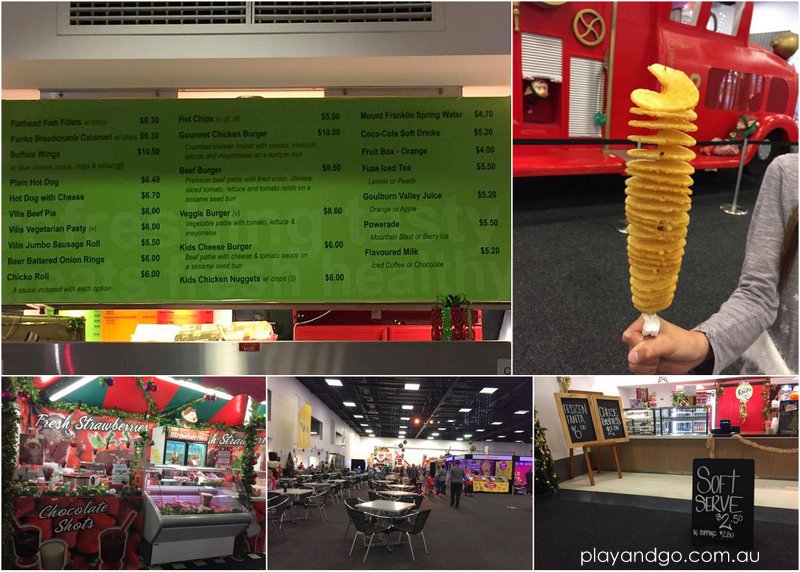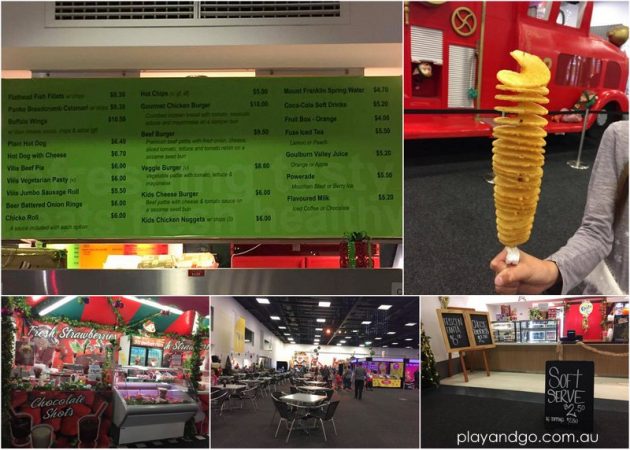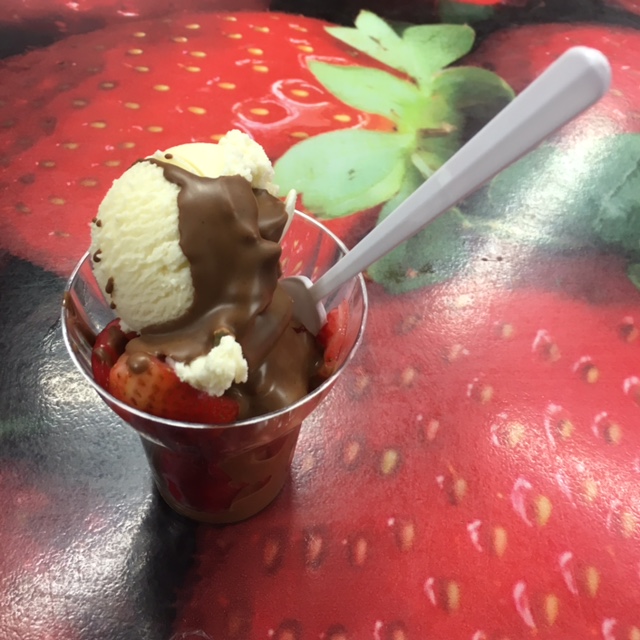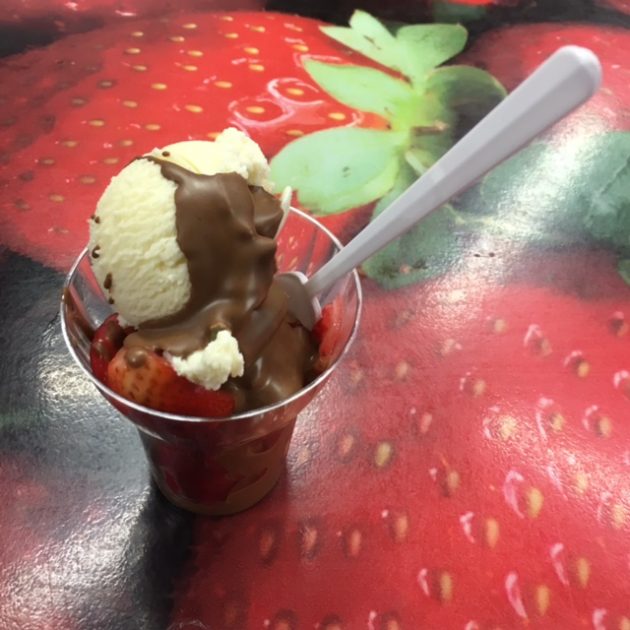 Side Show Activities Not Included in Your Ticket Price
We need to point out that there are also side show activities (like the Laughing Clowns) which are not included in your ticket price. They are dazzling to children and as an example, no matter what you say you may not convince your child that it's nearly impossible to get a ring on the blue bottles or in fact any bottle, with a $10 bucket worth of rings, to win one of those big prizes.
There is a show bag stand as well with some of the favourites you would normally get at The Show. With the $6 bags please note that you can get 2 of these for $10 – eg we got the Cadbury Furry Friends and Hubba Bubba, basically because I was too tired to argue that this was really not necessary and because the other child had spent $10 on a bucket of rings with no hope of getting one around a glass bottle…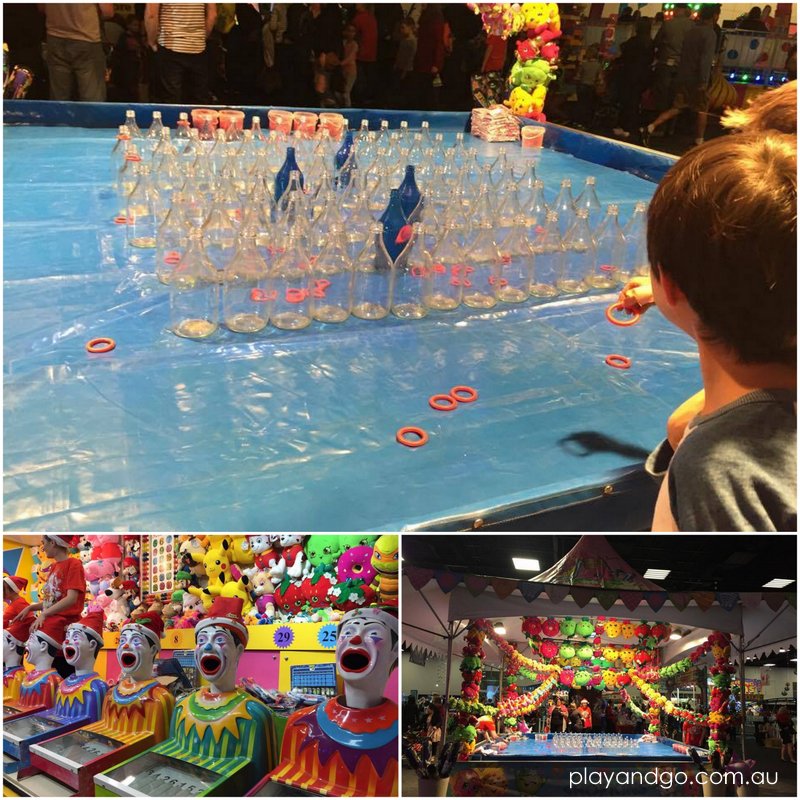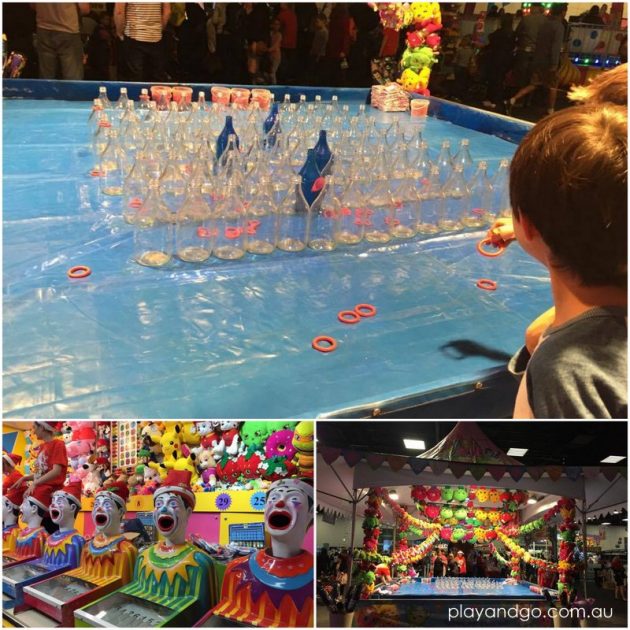 The three hours flew by so quickly and you really need the whole time to get through all the activities. Having said that it is plenty of time to do all the rides – we didn't feel rushed. We spent a lot of time on the ice skating rink but you may prefer doing the rides more. Check out all the activities on offer above and have a little bit of a plan of what you want to do to make sure you don't miss doing anything. We didn't have to wait in line for long for any of the rides as there are so many to choose from (toboganning was probably the longest line).
There are plenty of  'Santa's Helpers' who interact with the kids and offer friendly help when little ones need. It was really good not to see a bunch of surly teenagers begrudgingly dressed as elves to earn a bit of extra summer cash – they all genuinely seemed to be enjoying themselves. The atmosphere is very festive with carols in the background and Christmas magic all around you. Led by MC Elf there are roaming fairies, elves and other fun characters who interact with the kids. This is an outing that will have children dazzled – they probably haven't seen anything like it before, and are sure to remember the fun they have.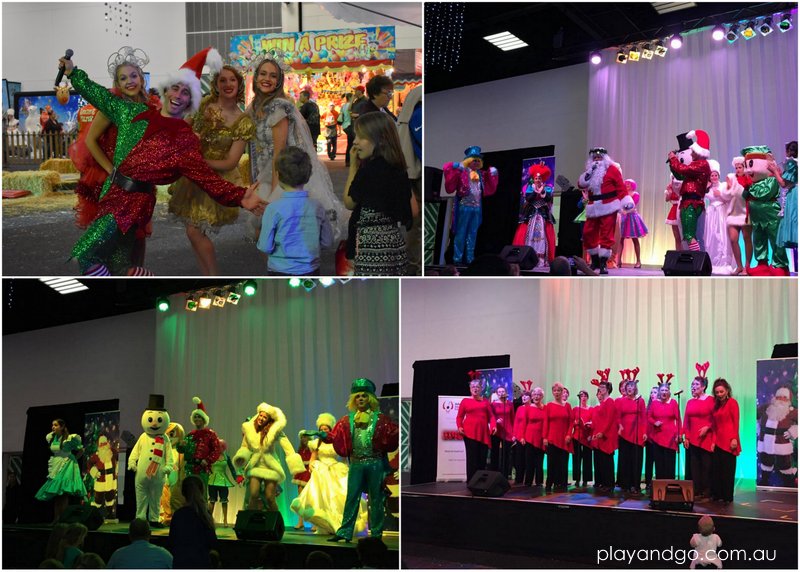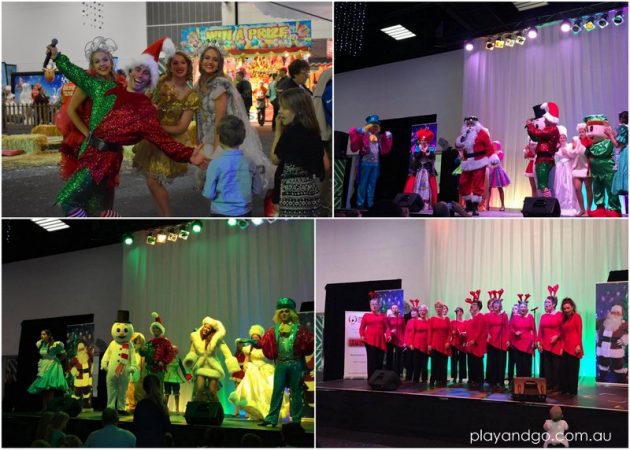 We love love love that just before the 3 hour session finished there was the final 'Christmas Parade' and show on the stage, where Santa came, did a quick song and then told everyone to go home… it made it relatively easy to bundle the kids away after that as everything closed and we weren't left to be dragging over-tired kids away from all the fun still happening. We were sincerely dreading having to get them out of that place without resorting to bribery so this was a very well thought out and helpful way to do it!
Santa's Wonderland has certainly brought plenty of Christmas magic for Adelaide families to enjoy. They have managed to pack in a lot of fun activities into one place and have created an experience that children will sure to have fond memories of.
Note: If you do happen to need first aid they are situated behind the 'Write a Letter to Santa Land' – it's not sign posted – it's a room hidden behind this area.
Ticket Cost for 3 hours: buy 4 or more tickets for $26.50 per person or $31.50 per person (plus booking fee). Children under 2 years old – free entry. Session times: 10am to 1pm & 2pm to 5pm during the week | plus 6pm to 9pm on Friday & Saturdays.  Photo packages are $28.95.
There are no additional costs unless you choose to buy food, buy Santa's photos/merchandise, showbags or play family carnival games.
---
What: Santa's Wonderland – Christmas comes alive in Adelaide
When: Friday 9 December 2016 to Sunday 18 December 2016
Where: Adelaide Showground, Wayville
Who: Christmas Fans!

Christmas Pageant Guide – your guide to South Australia's Christmas Pageants
Christmas Events Guide –  check out what's happening around Adelaide leading up to Christmas
---
Want to get all the latest events and activities straight to your inbox?

Subscribe to our weekly email newsletter below to keep up to date with our latest posts and find out all the best events & activities for Adelaide families. Newsletters are only sent once a week, and you may sometimes get a special offer exclusively for our subscribers only!
Save
Save
Save
Save
Save
Save
Save
Save
Save
Save