Something on Saturday is organised by the Adelaide Festival Centre and runs every Saturday in May until early September this year with a selection of no less than 18 fabulous shows.  The program is jam packed with entertainers such as Peter Combe, The Chipolatas and performers ranging from talented musicians to mystifying magicians and all forms of entertainment inbetween.  There's Bubble Wrap & Boxes, 'Ready, Set, Giggle', Dreamer in the Deep and Skip just to name a few.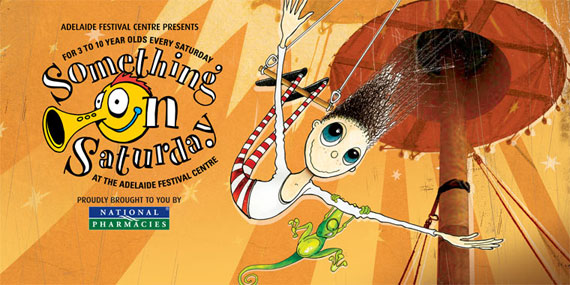 As well as the shows there's also Foundation Kids Corner held in the Festival Theatre Foyer.  Free for those attending the show, this is usually an activity based around the show's theme where children are able to make something to take home.  Check the times when booking your tickets. Children must be supervised in this area at all times.
The Presenting Partner of Something on Saturday is National Pharmacies who aim to "help provide a low cost live entertainment program for children, which aims to provide access to the arts, cultural and educational events within the reach of South Australian families. The program is…providing children the opportunity to view live performances and participate through 'hands on' activities".
Something on Saturday subscribers have a priority booking period from now until March 29th.  Tickets for each performance are just $13 each, or if you subscribe to 4 or more shows they come down to just $10 each.  General tickets go on sale on March 30th 2012.
Something on Saturday booklets can be picked up at National Pharmacies stores.
What:  Something on Saturday
When:  Saturdays from 5th May – 8th September 2012
Where:   Various Venues
Who:   3-10 years
Click here to visit the Adelaide Festival Centre's website for a full list of shows.
Tickets are available through BASS.