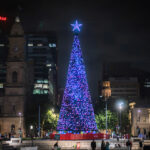 [ November 13, 2021 to January 1, 2022. ]
The Giant Christmas Tree in Adelaide's Victoria Square/Tarntanyangga
This beautiful Christmas Tree towers over Victoria Square each year and lights up nightly from 8.00pm until the end of the festive season as part of Council's Christmas Festival. The tree features a light display which runs for approximately 15 minutes.
This is a fabulous Christmas outing with the […]