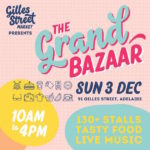 [ December 3, 2017; 10:00 am to 4:00 pm. ]
The Gilles Street Grand Bazaar on Sunday 3 December 2017
With 170 exhibitors this outdoor market event is going to be epic.
The Gilles Street Kids "Made it" Market returns with a handful of children, setting up shop and selling their wares.
The Christmas Tree Plantation will be setting up a pop up shop with fresh real trees […]