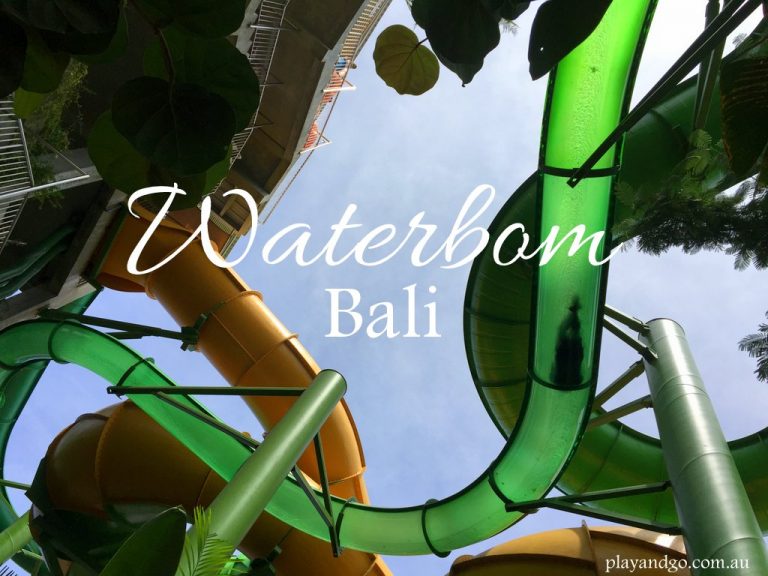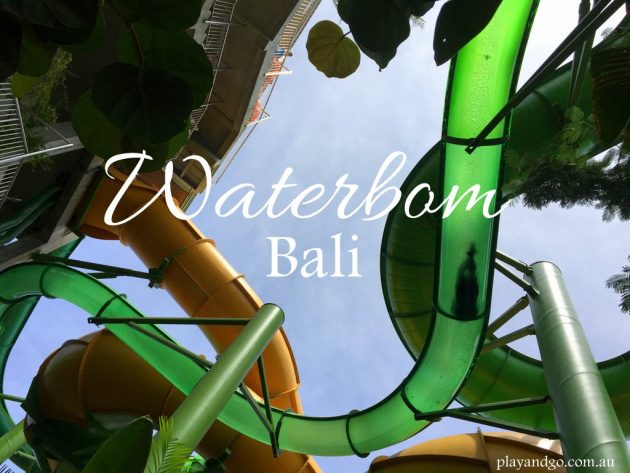 It's been voted as the number 1 water park in Asia on Trip Advisor, and I can totally see why. Waterbom is a must visit attraction for families in Bali. It's a water park with plenty of waterslide rides to thrill all ages.
The first thing you'll notice is just how beautiful it is. The waterslides are set amongst 3.8 hectares of lush tropical gardens.
It's a huge place – be prepared for some exercise! There's quite a distance just going from one waterslide to another and looking up it can be confusing working out which waterslide weaves around to which exit point.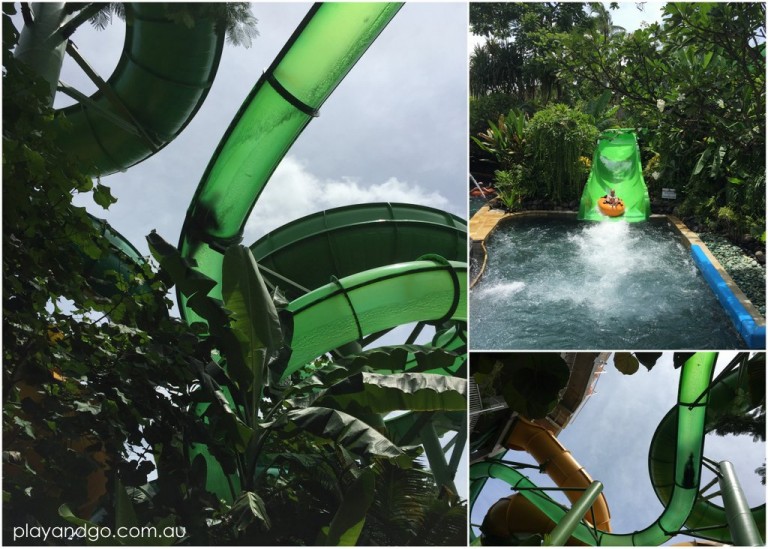 Sorry but there are no lifts to get up to the top of the slides – yes, you do need to use leg power to climb the stairs, 4 or 5 storeys high. And you need to do it over and over again. However, the adrenalin rush and excitement seem to power those legs – I was amazed how many times the kids did this all day. I didn't see anyone complaining of being too tired.
There are rides for everyone – some you go down solo, others you go can go on a tube with another person (eg the Constrictor or the Boomerang) and there's the Python where a family of up to 4 can ride in the raft together. You can race a friend down the Twin Racers or literally shoot down the Climax vertically on your own.
Being a total scaredy cat and someone who gets motion sickness easily I was very hesitant to go down any slides at all. You see, I'm one of those people who is happy to keep my feet firmly on the ground and hold everyone's things at a fair, while they go on the rides. The rest of the family happily tested out all the rides for me to gauge which ones were suitable for a non-thrill seeker. The Constrictor was the way to go for my first big waterslide ride. I shared the two person tube with Mr 7. It was so much fun… without being completely petrifying. This is a good one to start with especially if you have little ones. The other one that was popular with the younger ones was the Green Vipers.
TIP FOR GOING SLOWER OR FASTER
If you want to go a bit slower, sit low in the tube so your bum touches the slide – the friction will slow things a little. If you want to go faster, sit higher and let the tube do its thing. On slides without tubes, rashie tops slow you down a bit, so dress accordingly.
WATER PLAYGROUND
For the little ones, there is the Funtastic water playground below. There are a few attendants supervising the play area at all times watching over the children. Notice the poor guy below in the blue waterproof poncho? I think he drew the short straw, getting drenched fully by the huge water bucket every few minutes!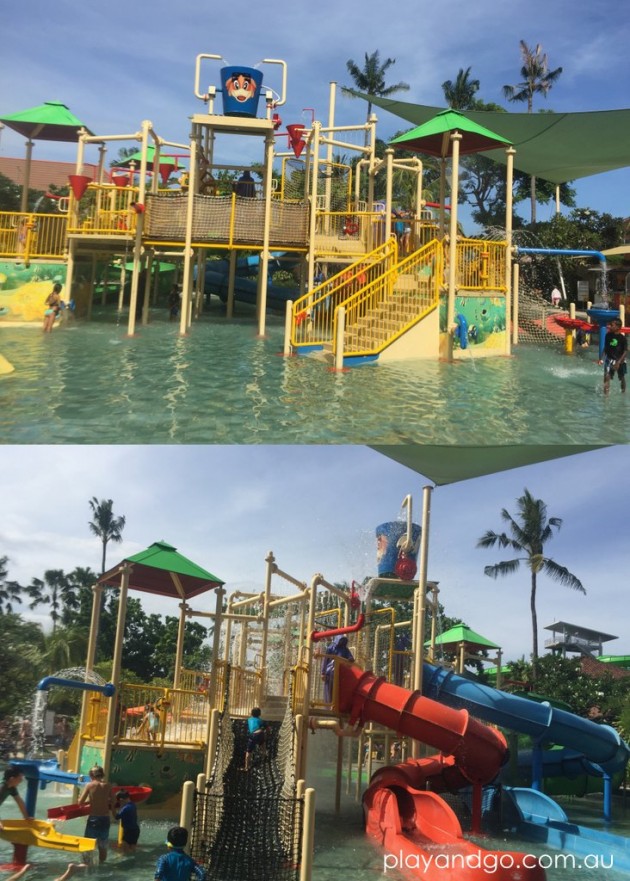 LAZY RIVER RIDE
The Lazy River weaves around the water park with entry/exit points at different spots. You get to float along on either a single or double raft. Don't expect it to be completely relaxing though – there are fountains and water spouting out at you at different points. Plus if you share a raft with your 7 yr old and he gets to steer, you can be sure that you will get directly squirted at every fountain!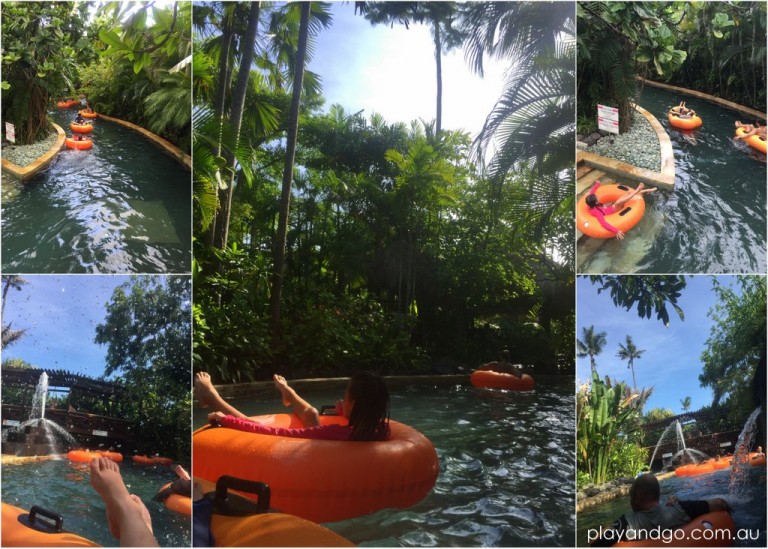 CASH-LESS SYSTEM
Waterbom is very well run. They have a cash-less payment system where you are given a velcro waterproof wrist band which you load money onto your account, and use it to purchase things like food, drinks and other services or activities, during the day. Any amount you don't spend you just get refunded to you before you leave. It means you can put your wallet into a locker and not have to worry about carrying money or cards with you.
TOILETS
If like me, public toilets freak you out, do not fear. There are attendants who literally clean the bathrooms constantly. The toilets and basins are seriously clean. There's even basins with hand soap for handwashing provided, just by one of the cafes.
GAZEBOS/CABANAS/SUN LOUNGES
Lovely thatched roof gazebos (cabanas) are available for hire if you want a base for the day to put your things and perhaps a meeting point for everyone plus a place to chill out in between rides. These book out quickly so you need to get there early in the morning to get one. By the time we arrived around 10.30am they were all booked out. As it turns out, we didn't need it. There was no time for chilling around in a gazebo with two kids who were non-stop with rides. There are also free sun lounges dotted around the pool areas which you can use (we chose this option).
FOOD
When I think of theme park food, I think of overpriced soggy chips. We were pleasantly surprised. The food options were so varied, everything from fish & chips, Japanese, Indonesian, Italian, Mexican, steaks, salads, rolls – truly something for everyone. Everything we had was delicious and fresh and so were all the meals we saw at tables near us. No soggy chips in sight. Pricing was very reasonable – much cheaper than what you would expect in Australia.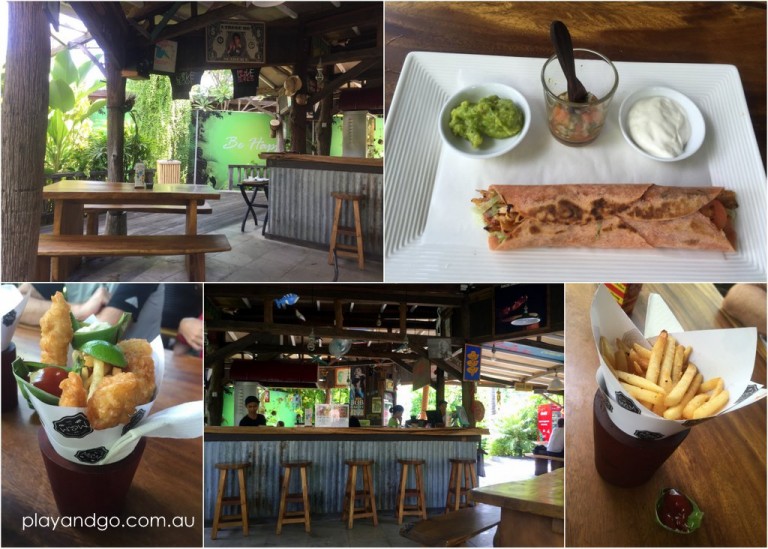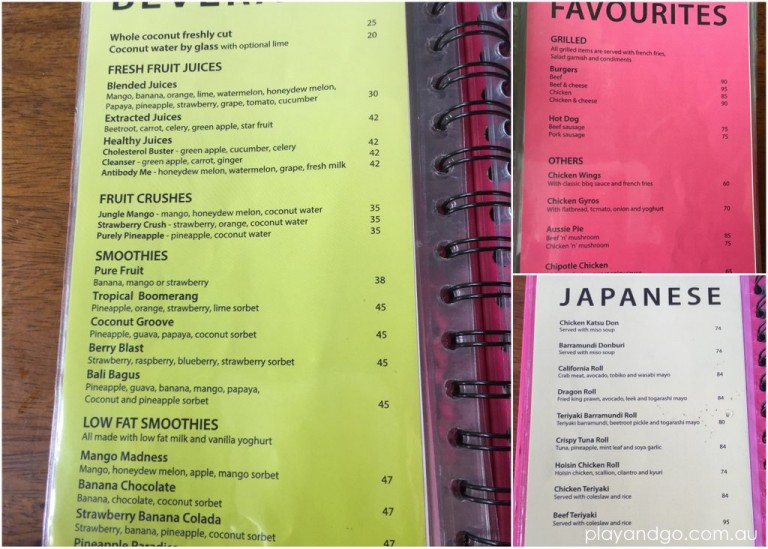 Much to the children's delight there was a little stall making Churros. Also the ice cream is so cheap – a serve of ice cream was about AUD $2.50 and 2 toppings was only an extra $1.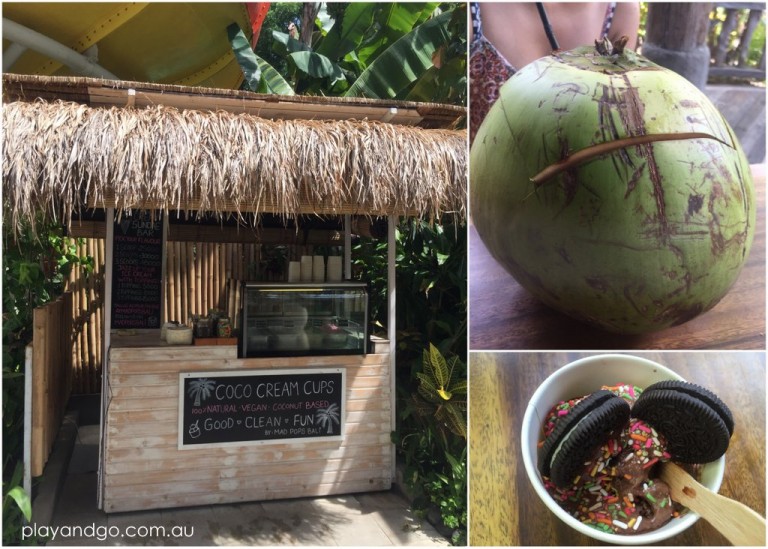 OTHER ATTRACTIONS
Other attractions at Waterbom include the Water Blaster game where you get to catapult water balloons at your opponent and the Euro Bungy below. This bungey trampoline was super bouncy (to 9 metres apparently) and seemed to go higher than any we've been on in Australia. These things are an additional cost. A turn on the bungey was AUD $5.50 (as of April 2016).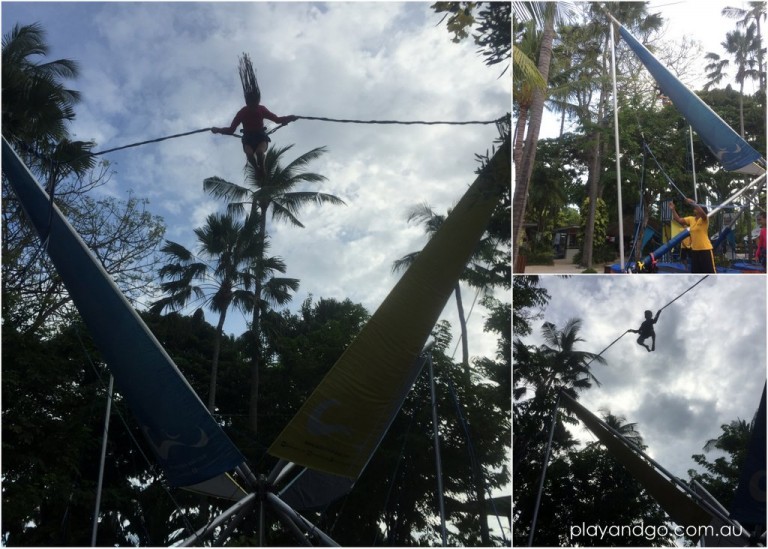 You can also have a massage, get your hair braided, nail art or foot fish spa (where the little Garra Rufa fish nibble dead skin off your feet).
TOWELS
You can hire towels for AUD$1 per towel (current as of April 2016). To be honest, we probably didn't need to get a towel each. It is not like it's cold in between waterslides, and you dry off pretty quickly so we didn't use them at all during the day. You could get away with sharing a towel between you.
WATERPROOF POUCH FOR MOBILE PHONES
I can highly recommend buying one of the waterproof pouches for your mobile phone. This is especially if you use your mobile as your camera to take photos. There are some rides where you cannot have your phone on you for safety reasons. In these instances there is a station where you can leave it and get it back afterwards. Many of the photos in this post were taken with my iPhone6 inside the waterproof pouch, so it doesn't seem to reduce the quality of your pics too much. The pouches are different sizes for different phones – just make sure you buy the right one for your phone. Mine was AUD$27 to give you a guide. The staff were very helpful in putting the phone in the pouch for me, ensuring all the air was squeezed out. They are re-usable and are handy to use anytime you are near water or on the beach for example. From someone who dropped my last phone and smashed it against rocks and into the sea earlier in the year, this is a worthwhile investment.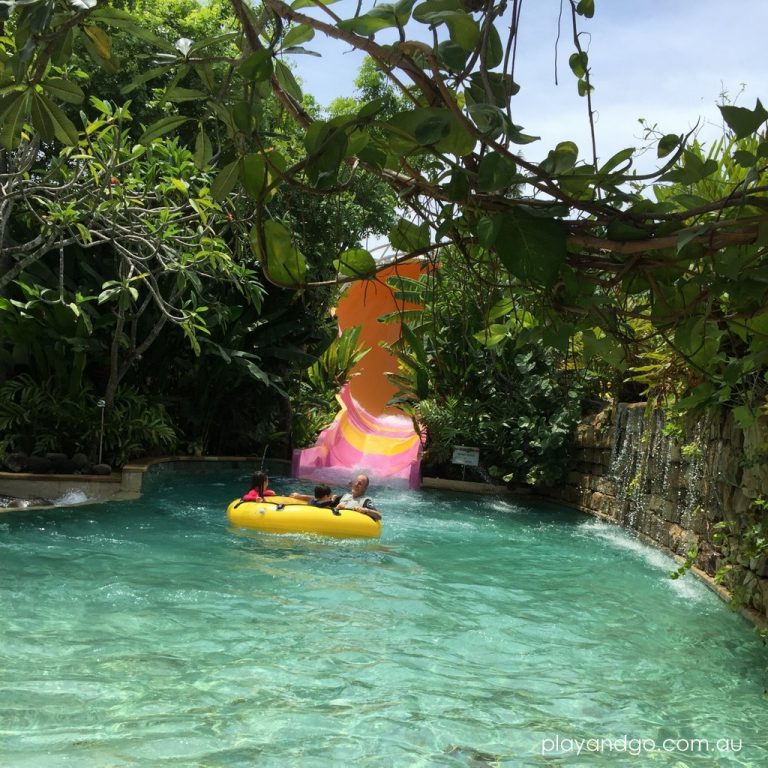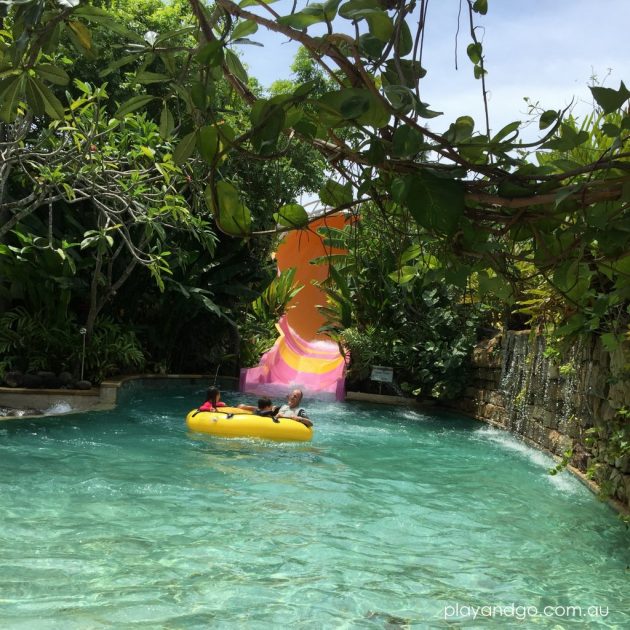 QUIET TIME
Some people like to get to Waterbom nice an early when they open at 9am. Apparently the line-ups are shorter then. Perhaps it's because the party crowd who have been out all night are not out of bed yet. If you want to rent a cabana/gazebo for the day you will need to get there early as they get booked out fast. On our visit we got there at 10.30am and found that the last couple of hours before Waterbom closed at 6pm was the quietest time. Many families who have been there since 9am with young children may be worn out by then, as well as the party goers who have had a big night before. We had so many of the waterslides practically to ourselves in those last couple of hours with no line-ups. So if you still have the energy, it's worth staying on and making the most of the day and getting your money's worth.
CHILD SAFETY
The distance between where you take off on a waterslide and the exit point may be quite far away and it is a bit of a maze to get around. If you have young children you may wonder how to supervise them properly. We had a situation where our 7 year old slipped and cut his chin while getting into his tube on the Constrictor. All the other times he had been on that slide in a double tube with one of us – this was the first time he was doing it on his own. Miss 11 and I went first. He was on the tube straight after us. Luckily his Dad was still there when this happened – if he had gone down his tube already, Mr 7 would have been on his own up there and we would have all been waiting at the exit quite a distance away. The cut to his chin was bleeding and unfortunately he had to walk down all the flights of steps to get to the First Aid room. My daughter and I waited for them to come down and knew something was up when they didn't arrive a few minutes later. We didn't have mobile phones on us.  The First Aid staff were wonderful (luckily no stitches needed) and with plenty of bandages and waterproof layer he was still able to continue on the slides where he was in a tube so he didn't get it too wet. Some families had the parent go down the slide first so that they could be at the bottom to meet their child. If we had done this Mr 7 would have been on his own when he had this injury. Therefore, for kids under 12 and especially under 8, if you are concerned, you may want to go on slides where you can go together in the one tube, or have an adult at both ends – one at the bottom to meet them and one at the top to help them on.
DISCOVERY SHOPPING MALL
Almost directly across the road from Waterbom is the Discovery Shopping Mall. This is a large shopping centre with department stores, boutiques and places to eat. You will see a KFC and Burger King (what Hungry Jack's is called everywhere else) out the front. Over the other side there are places to eat overlooking the Kuta beach. We found it an easy option to have a quick meal at Burger King before heading back to our resort, as everyone was a little tired from a full day watersliding. Be warned though, the menus at both KFC and Burger King are not quite the same as in Australia. For example, by default, most meals come with rice, not fries.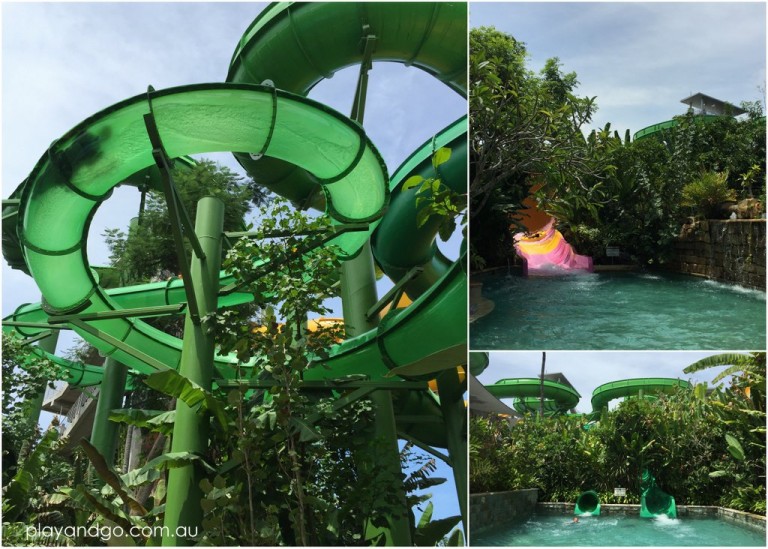 SUMMARY
If you're a waterslide thrillseeker you will love Waterbom Park. However, if you're like me and not usually a watersliding fan, you may be surprised just how much fun you will have. I was such a novice that even the polite attendant couldn't help laughing at me when I had no idea how to exit out of my tube. Basically, I face planted into the water, (Oh no, NOT the hair!!!) when I ejected myself out of the hole. Thanks to my darling daughter for being absolutely no help at all…  "Mum that looked really… awkward!" she laughed, (so unhelpful, but quite honest)!
If you're worried about walking around in just your bathers all day (another concern of mine) please be assured, everyone is too busy having a good time, going from one waterslide to another, no-one cares how good you look in a swimsuit 😉
It was a great family day out and I loved seeing so many families simply having a ball together; laughing and having fun. Some with young kids, some with teenagers. It's one of those experiences you and your kids are sure to have fond memories of. Enjoy it while you can.
Voyagin are offering discounted tickets to Waterbom Bali to Play & Go readers.
---
For more information and all enquiries please visit the Waterbom Bali website here.
Click here for all our other posts about places to visit, and things to do in Bali.
At Play & Go Adelaide we make every effort to provide accurate information to the best of our knowledge at the time of publication. We recommend confirming times, dates and details directly before making any plans as details may be subject to change.
As per all our Play & Go reviews, this is not a sponsored post and our review is done completely independently. All photos are by Play & Go.
Want to get all the latest events and activities straight to your inbox?



Subscribe to our weekly email newsletter below to keep up to date with our latest posts and find out all the best events & activities for Adelaide families. Newsletters are only sent once a week, and you may sometimes get a special offer exclusively for our subscribers only!
Save
Save
Save