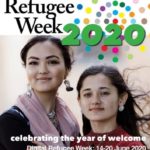 [ June 14, 2020 to June 20, 2020. ]
Refugee Week 2020 – Celebrating the Year of Welcome – Online
Things are looking a little different this year for Refugee Week, given the social distancing restrictions. They have taken this as an opportunity to innovate Refugee Week, and so are bringing you a whole host of digital events and resources in 2020.
Refugee Week is Australia's […]