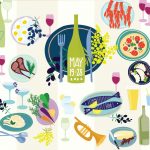 [ May 19, 2023 to May 28, 2023. ]
Clare Valley SCA Gourmet Week 2023
Australia's longest-running traditional wine and food festival returns for its 39th year in 2023. Linked together by a series of constantly revolving bus routes, Clare Valley wineries turn it on for visitors bringing music, food and interesting wines out of the cellar in celebration of the 2023 gourmet festival weekend.
Events:
[…]