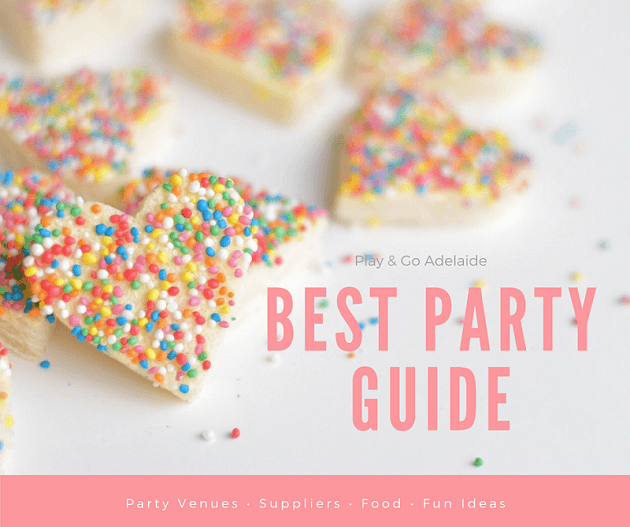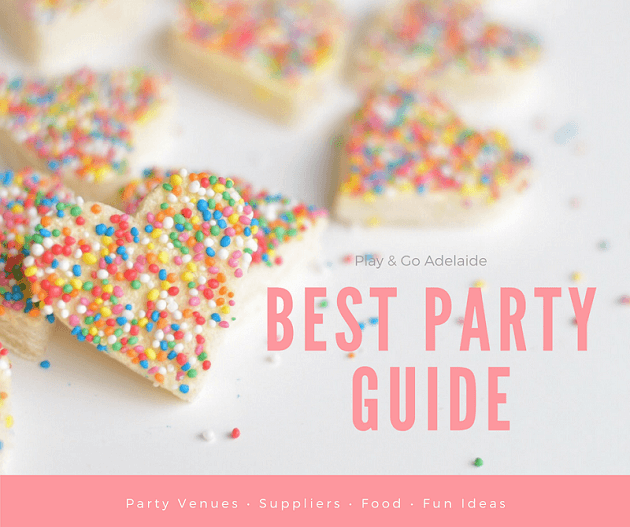 Birthday Party Ideas for Kids in Adelaide
Everything you need to find inspiration, cakes, party food and venues to organise the best birthday party for your child!
At Play & Go we love birthday parties, but we know how much work it can be for busy parents to research and organise a great party. To help you plan your child's birthday party we've put together some of the best party venues and party suppliers in Adelaide. We also share some of our favourite party food ideas and birthday cakes that have been popular with our kids. They'll have "the BEST party ever"!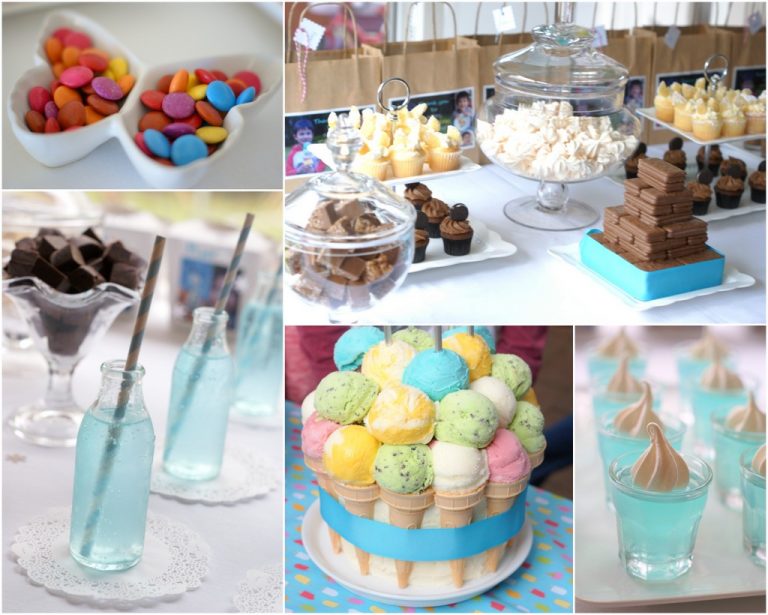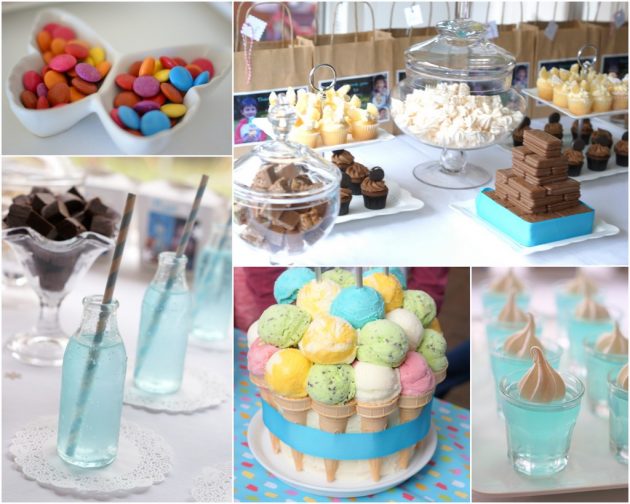 Planning your child's birthday party and wondering where to look for the best party venues in Adelaide?
Check out these great options below.


SA Base Camp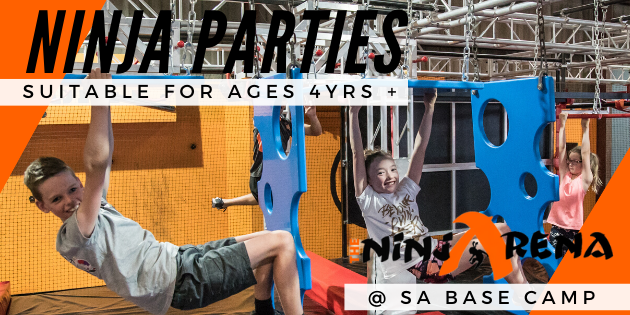 SA Base Camp Presents 'The Ninja Arena'
Do you have Australia's next Junior Ninja Warrior?
Did you know SA Base Camp now caters for Kids aged 4yrs and up?
SA Base Camp have 2 Ninja Warrior Courses which are sure to test your little Ninjas.
Also with multiple party options from starting at just $28pp for a 2 hour session, including your own party host, party room as well as food and drinks to keep them going.
Head to their website for further information and package options.
Base Camp | 30-34 Quebec Street, Port Adelaide | Phone (08) 7226 0533


Bloom Flower Crowns

Bloom Flower Crowns Workshop Parties
$320 for up to 15 guests. Suitable for ages 7+
Bloom Flower Crowns Workshop Parties come to you, supply fresh or artificial flowers, materials and your workshop host for up to 2 hours. After a demonstration, your workshop host will go around and help your guests create their very own beautiful flower crown to take home.
Once everyone has finished, Bloom Flower Crowns pack up, no mess, no stress. Tattoos and coloured hairspray also included. Unicorn flower headbands also available for unicorn lovers.
Add on the Bloom Boho Party Package $50 for 2-hour hire along with a workshop. Includes low tables, rugs and cushions.
Or for a deluxe boho party experience hire their 5m Bloom Boho Bell Tent $150 for 2-hour hire along with a workshop. Includes set up and styling with rugs, cushions, low tables, bunting and dream catcher.
Bloom Flower Crowns | Phone 0431 392 636 | E. bloomflowercrowns@gmail.com

Bop till you Drop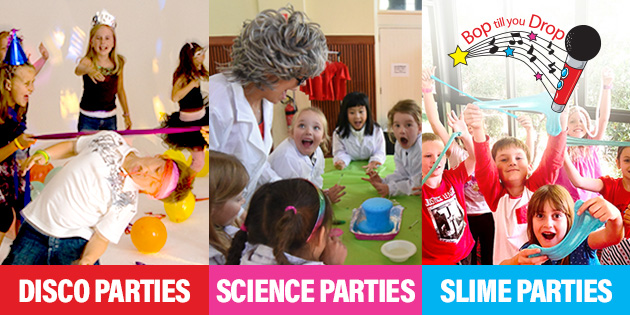 Bop till you Drop provide a stress-free party solution for your child's birthday.
You will actually get to relax, take photos and socialise with your guests as Bop till you Drop have a team of professional entertainers who know how to keep children focused. Their structured style Disco & Karaoke Parties are packed with singing, dancing and super cool party games. This is all done on a powerful PA system with microphones and spectacular disco lights.
Their other popular parties are the Slime and Science Parties. Every child loves slime making, but Bop till you Drop teach the children to make it the proper way, without the mess. Their Science Parties are educational, and fun rolled into one. This is a 100% hands-on party where the children will learn how to make blasting rockets, exploding volcanos, bubbling lava lamps, just to name a few.
Their parties are suitable for 1 – 13-year olds and tailored to suit the age, gender and musical interests of the children at your party. And of course, the birthday child is the star of the show. They ensure the party is centred around them.
Bop till you Drop also host events for schools, preschools, sports clubs, etc.

Bop till you Drop | Phone 1300 13 03 13 | E. adelaide@boptillyoudrop.com.au


BOUNCE
BOUNCE has run more than 100,000 parties across BOUNCE venues in 10 countries around the world and every BOUNCE party is uniquely different and totally awesome.
From junior jumpers to freestylers, they have something for everyone.
BOUNCE offers 3 party types:
BOUNCE Junior Party
They've taken their world-famous party formula and specially modified it for Junior Jumpers.
Their Junior BOUNCE Parties focus on active play, including games that have been adapted from their Mini BOUNCE Squad coaching program. It's the perfect party for kids aged 2 – 5.
BOUNCE Classic Party
Classic BOUNCE Parties focus on fun games where everyone can get involved.
It's their world famous party formula, showcasing all the best areas of BOUNCE for kids aged 5 – 8.
BOUNCE Freestyle Party
Freestyle BOUNCE Parties take it to the next level with adventure challenge games and team activities.
Their role as your Freestyle host is to make sure you and your friends get a VIP experience and enjoy the most awesome parts of BOUNCE for your crew aged 8 – 12.
Bounce's job is to make sure you and your friends have the best party ever. BOUNCE parties are fun and inclusive for kids, and hassle free for parents. BOUNCE is the ultimate kids party venue!
164-168 Richmond Road, Marleston
Cirkidz

Be the star of your own party, come rain, hail or shine!
• Held on Sundays at Cirkidz fully equipped, indoor circus venue in Bowden.
• Friendly party hosts and a wonderful and unique party experience.
• Engaging circus session with real take home skills and activities.
• Non-participants can watch and no experience is necessary.
Party sessions can include the following circus skills:
Tumbling
Trapeze
Fast track
Juggling
Human pyramids
Diablo
Tight wire
Trampoline
All sessions consist of 1 hour and 45 minutes of Circus fun, followed by 15 minutes to open presents and have a slice of cake.
Costs: Set cost of $399 (up to 20 participants)
Easy, no fuss and you don't have to worry about cleaning your house, entertaining the kids yourself or tidying up afterwards!
Cirkidz | 27 Fifth St, Bowden | Phone 8346 5735


Croc's Playcentre and Cafe

Croc's Playcentre and Café in Kilburn is a child's birthday party venue like no other!
Croc's play facilities have been designed by one of the leading indoor play specialists and are intended to ensure children of all ages have FUN!!
Party packages can be tailored to create your child's dream party. There are 5 exciting themed party rooms to choose from. You will receive a dedicated party host to meet your every need, unlimited play, interactive party games and activities, a safe and clean environment and best of all, leave the clean up to them!
The Muffin Break Café has a large selection of food made fresh onsite daily to ensure quality food that all guests can enjoy. They can cater for all dietary requirements and have an extensive range of platter options available for parents.
No matter what the weather brings, you and your guests will enjoy your day in comfortable facilities – there is even free Wi-Fi. Croc's also offer their facilities for after hour functions, such as Christenings, large family gatherings, fundraisers, sporting presentation nights etc.
Flip Out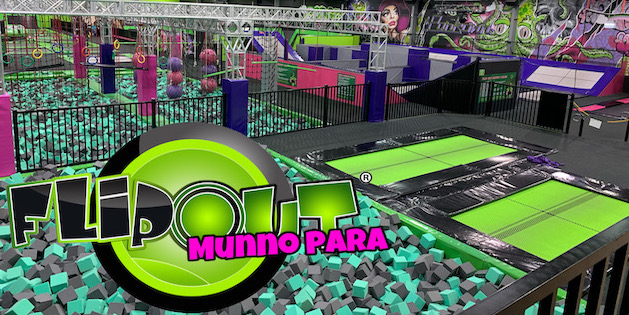 There ain't no party like a Flip Out party!
Have a super cool day, jam-packed with fun and special moments that will have everyone at your party Flipping Out! Flip Out takes care of everything, so the only thing you need to worry about on the day is enjoying yourself.
The Main Arena provides a network of interconnected floor and wall of trampolines allowing participants to glide and fly, like a Ninja. At Flip Out, you will also find:
A Foam pit
Kids Arena for kids under 130cm
An indoor playground for younger kids
Ninja Course
Super Tramp
Games – basketball and dodgeball
Parties are tailored to make the experience completely unique. From entertainment to party food and the post-party clean up, their complete kids party solution has you covered.
Bookings via phone only.
Flip Out | 600 Main North Road, Munno Para Shopping City | Phone 08 8254 3700 | Email: contact@flipoutsa.com.au


Funtopia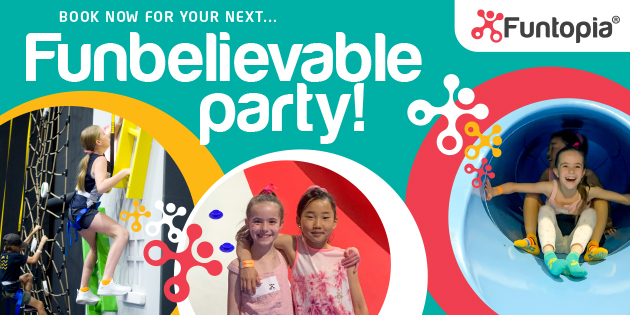 A Funbelievable Party Awaits at Funtopia!
As one of the most adventurous and unique party venues in Adelaide, the kids are sure to leave with smiles, laughter, and wanting to come back for more! Every Funtopia birthday party includes a private party room and FUNTASTIC party host!
They're party experts, so you don't have to worry about the nitty gritty of party planning!
Choose a Playground or Climbing Party (10 guests) for $350.00. Additional kids $30pp.
Minimum 1 hour access to your chosen World
Private party room for 2 hours
Dedicated host for the duration of your party
Free Playground World pass for the birthday VIP
2 complimentary coffee vouchers for party parent/s
Includes food and drinks for little ones
Regency Plaza | Tenancy 8, 259 – 269 Main North Road, Sefton Park


Hahndorf Farm Barn
Party amongst their friendly farm animals, or have the animals come to you!
Spend quality time out and about on a country farm creating lasting memories! Children of all ages just love having birthday parties at the Hahndorf Farm Barn surrounded by their favourite cute and cuddly animals.
Kids can have fun bottle feeding baby animals, cuddling cute bunnies and guinea pigs, visiting the wildlife park, watching the farm show, and having pony rides. Or play in their brand new playground and sandpit.
You can choose a personally hosted party or you can self-cater – or they can even bring the party to your place.
Hahndorf Farm Barn | 2282 Mount Barker Road, Hahndorf | Phone 8388 7289


ICA Sportzworx Stepney
It's party time at ICA Sportzworx Stepney!
Kids will love having a party at ICA Stepney where they can play their favourite sports with their friends. They can choose from cricket, soccer, netball, dodgeball and footy plus other fun games. All ages are welcome and their sports coaches can accommodate any age groups and skill levels.
Catering is included (gluten free on request) and the party is set up and cleaned up for you. Could it get any easier? All you need to organise is the birthday cake and invite the kids.
ICA Sportzworx Stepney is fully airconditioned and bookings are essential.
Please visit their website for more party details, pricing and to book online.
ICA Sportzworx Stepney | 1 Stepney St, Stepney


Ingle Farm Recreation Centre Birthday Parties
Have your child's birthday party at the Ingle Farm Recreation Centre!
The Ingle Farm Recreation Centre offers a range of birthday party options for you to choose from to keep the kids happy, active and entertained. The children will have a great time at Ingle Farm Recreation Centre. They can choose one of the following options:
Roller-Skating Party (Suitable for children 5-16 years old)
Kindigym Party (Suitable for children 1-5 years old)
Sports Party (Suitable for children 5-12 years old)
Visit the website for more details on a great range of inclusions for each party type.
Ingle Farm Recreation Centre | Cnr Beovich Road & Roopena Street, Ingle Farm | Phone 8406 8585


Latitude Adelaide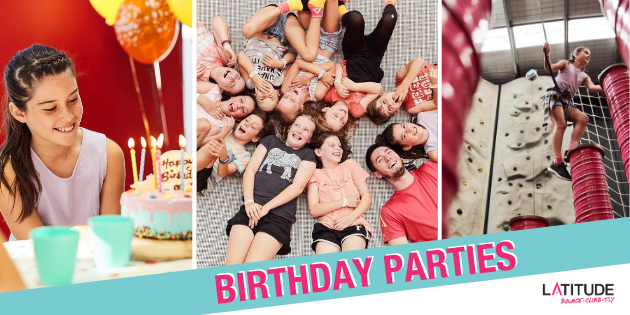 Everyone loves a Latitude party!
Book a celebration that's easy for you and unforgettable for the kids at Adelaide's best indoor aerial adventure, Latitude.
With all-inclusive party packages, there's no better place to celebrate than with non-stop action and endless fun with friends, family and your awesome Latitude party host.
Latitude offers the option of four activities to choose from to suit your birthday superstar. Enjoy 60 minutes of action-packed activity across their choice of the adrenaline-pumping ninja course, thrilling climbing adventures, sky-high obstacle course and varied trampoline activities to make it a party to remember.
Then it's into your own VIP party room for 40 minutes of catered celebrations with your choice of four delicious party food packages. Your exclusive party host takes care of it all, so that you don't have to! For the little ones aged 18 months – 5 years, Latitude has a dedicated Kids Zone for their very own slice of the action.
Book your Latitude party today!
Latitude | 13-15 Fosters Road, Greenacres, Adelaide | Phone 1300 123 528

Mega Courts Indoor Sports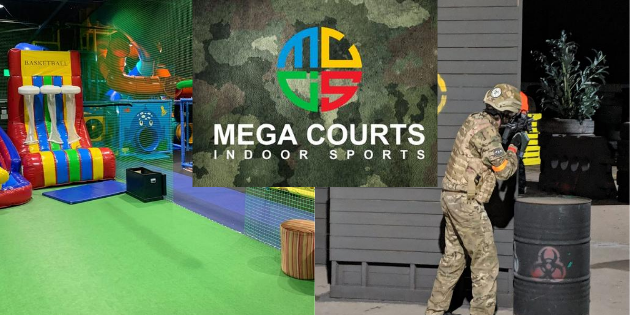 Mega Courts Birthday Parties!
Don't strike out when organising your child's next birthday party. Get Mega Courts Indoor Sports, Adelaide to organise and host a party that will leave all the young guests thoroughly entertained, with not a single person complaining that they're bored.
Mega Fun Gel Ball Party
The Mega Fun Gel Ball Party is perfect for everybody aged 12+. Played on their urban battlefield, you will be treated to a no-nonsense, adrenaline-filled 90 minutes of fun whilst trying to get one over on your mates.
It doesn't matter if you're a gel ball expert or new to the sport, they can tailor your party to suit. Their dedicated party hosts will create multiple game formats to challenge every player.
YMCA & Mega Gymnastics Party
1.5 hours of hosted action-packed activities including 60 minutes of gymnastics plus 30 minutes of playground and inflatable zone.
Mega Fun Inflatable & Sports Combo Party
Includes all your birthday inclusions, like printed invitations, your very own party host, all food and drinks fully catered for. Your choice of sports may include, soccer, dodgeball, cricket, netball, hockey, football. Ample time to burn off the party food on the mega inflatable zones and access to the new mega slide playground. They provide table cloths, cups and plates, cutlery and cake serving utensils. Mega parties can even provide themed parties in your very own designated party zone with space for parents. All you need to bring is your cake.
Mega Fun Laser Tag & Sports Combo Party
For older children wanting something a little more high-octane, nothing beats the adrenaline pumping rush found on an urban laser tag battlefield. Book one of three laser tag birthday packages offered by Mega Courts Indoor Sports, Adelaide and everyone at the party will be talking about the event for days.
10-18 Albert St, Windsor Gardens | Email jessica@megacourts.com.au

The Old Cottage Playgroup & Party Venue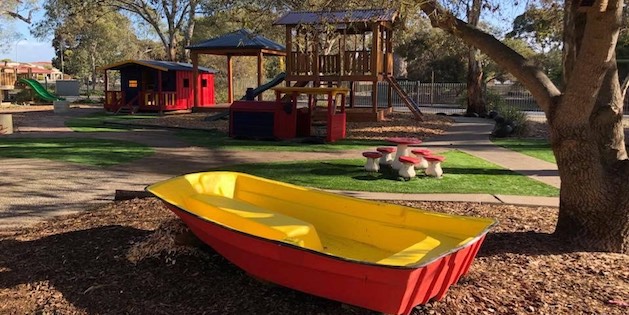 The Old Cottage Playgroup is a volunteer run, not-for-profit community playgroup set in a venue that is perfect for kids parties.
Located in Happy Valley, this is a perfect venue for kids birthdays, as there is a fully fenced playground and ample space to sit in the shade or indoors for adults and children.The toy shed is packed with bikes and trikes and there is a sandpit and outdoor covered area. The inside area is stocked with more toys for ages 0 to 6 years.There is also a fully equipped kitchen including oven, microwave and complimentary tea/coffee facilities and the premises are fully air conditioned too.Prices start from $180 for 4 hour hire to $250 for full day hire.Also available for Mums Groups with 4 sessions running daily during the week and available for party hire on weekends. Two free trials available to mums looking to join an existing group session.


Sugar & Spice High Tea Parties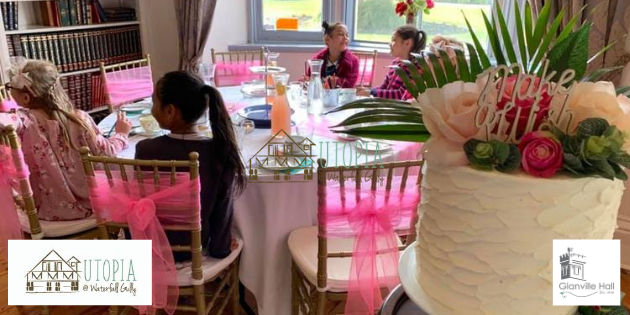 Treat your little prince or princess to a party experience they'll never forget!
Sugar and Spice High Teas have been created especially for children aged 5-12 years – combining all the elegance of a traditional high tea with a delicious, child-friendly menu, beautiful face painting and a gorgeous birthday cake too.
Choose from Glanville Hall's elegant Victorian Tudor manor or Utopia's century-old chalet tearoom and let your little one be treated like royalty on their special day.
Utopia @ Waterfall Gully, 170 Waterfall Gully Rd, Waterfall Gully | Glanville Hall, 8 Park Avenue, Semaphore South




Birthday Party Food Ideas & Recipes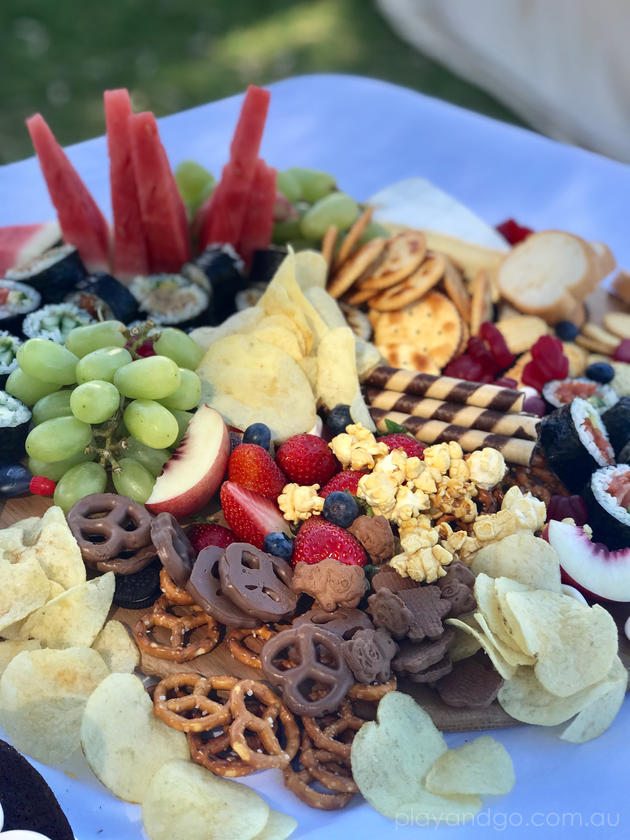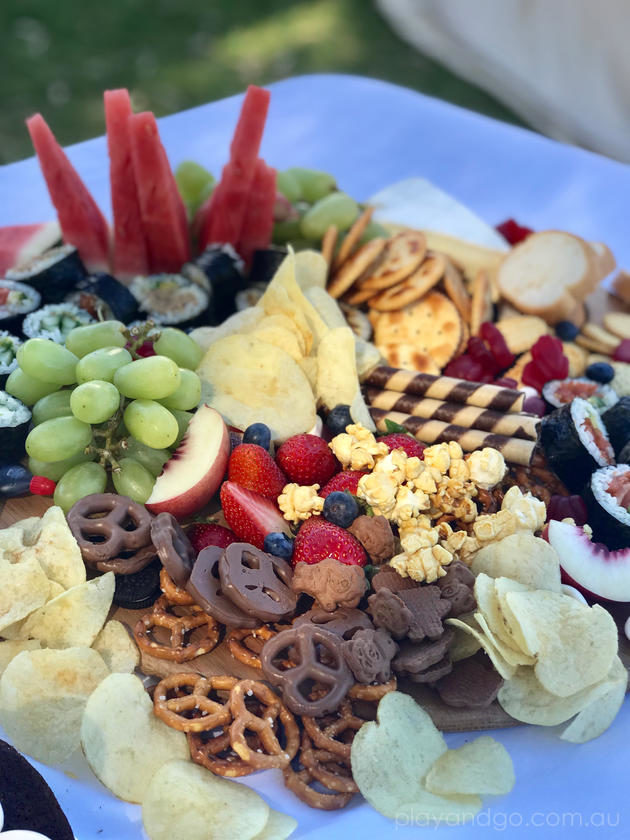 Kids' Grazing Platters | As easy way to throw together all the foods they like to eat. Read more here
Easy to Make Shape Biscuits | An easy recipe for biscuits you can cut into any shape you like. Easy Biscuit Recipe
Mars Bar Slice | This chewy chocolate treat is always a winner. Mars Bar Slice Recipe
Teddy Bear Cars | Cute & fun – the kids can even help to make them. Teddy Bear Cars Recipe
Mini Meringues | Melt in your mouth sweet that's great on their own or use to decorate jelly or cakes. Mini Meringues Recipe
Rainbow Jelly Squares | Always has the WOW factor. Rainbow Jelly Squares Recipe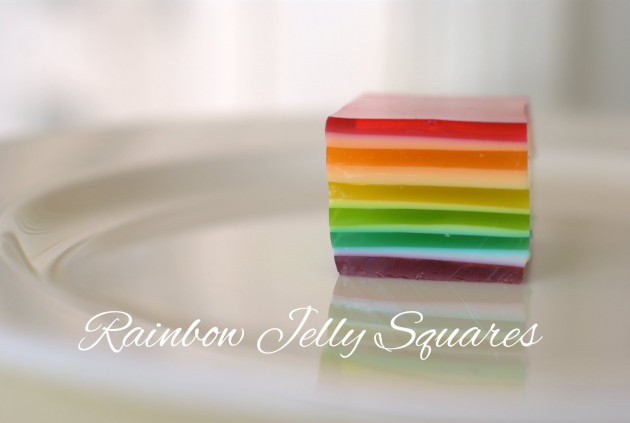 Cupcakes | We love cupcakes for parties and we've used them as the birthday cake too. Cupcake recipe ideas
Chocolate Apricot Fudge | So easy to make… and eat! Chocolate Apricot Fudge Recipe
Chocolate Brownies | A favourite! We have 2 recipes for brownies: Chocolate Brownie Recipe 1 and Chocolate Brownie Recipe 2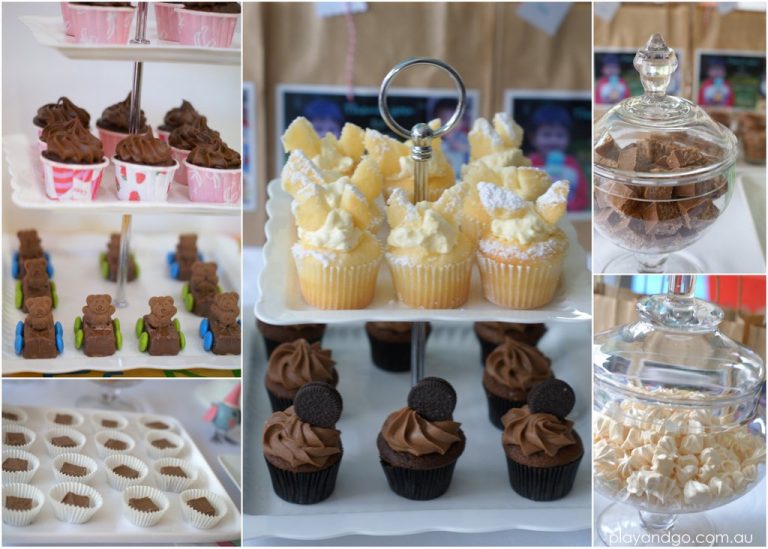 Kids Rocky Road | An easy version that uses only three ingredients: Kids' Rocky Road Recipe
Cinnamon Donuts | A super easy recipe that kids will love: Cinnamon Donuts Recipe




Fun Birthday Ideas
A teen party for girls who love to shop. Read about this mum's great idea for a Kmart Challenge birthday party for her 13 year old daughter. CLICK HERE TO READ
A pretty flower crown party. Here's a sweet idea for some flower fun. CLICK HERE TO READ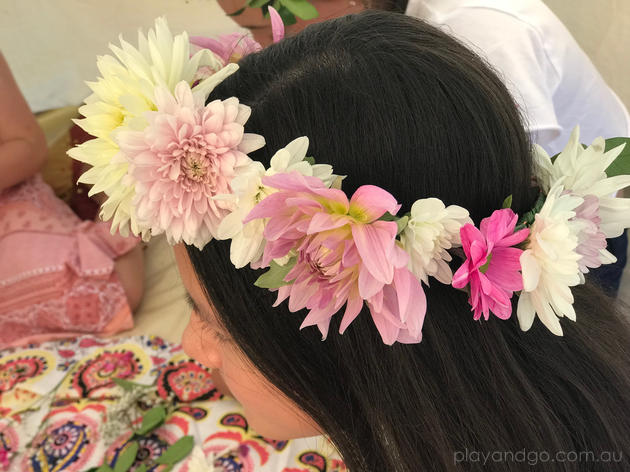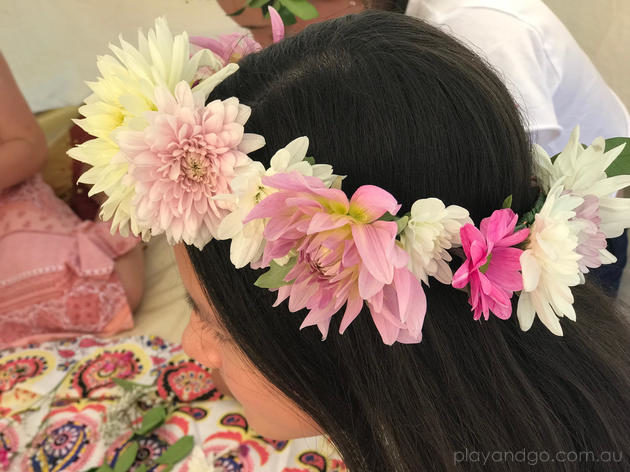 Want some ideas to make your child feel special on their birthday without spending a lot of money? Click here for some great fun ideas.


Kids' Birthday Party Cake Ideas
For a brownie version of the "cookie cake" which is simple to make and oh so pretty, check out our Flower Brownie Cake. Click here for all the details.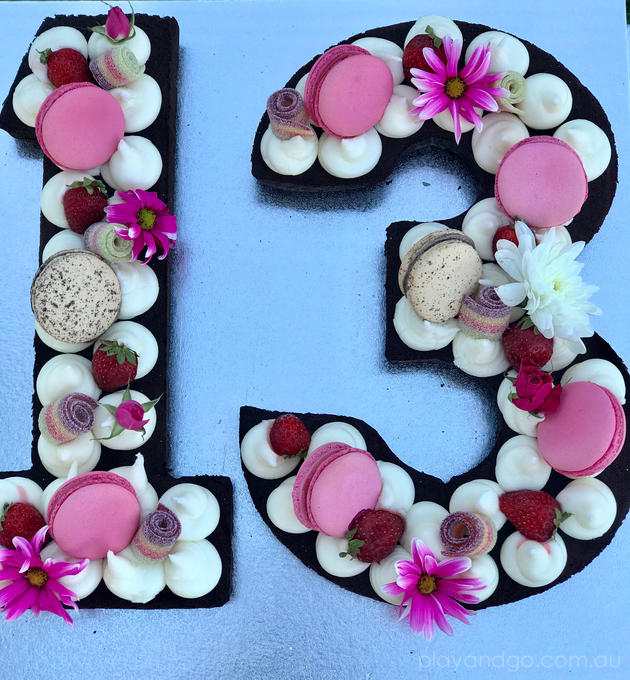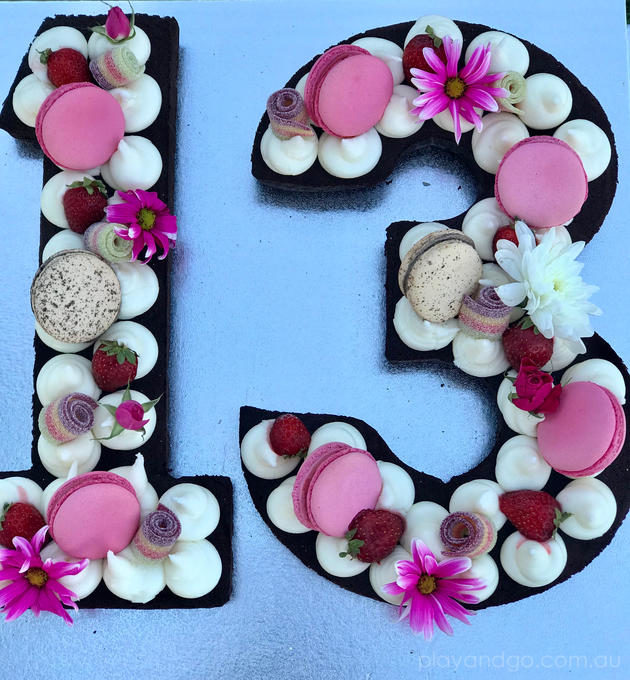 Chocolate House Birthday Cake | Click here to read
Disney Frozen Birthday Ice Cream Cake | Click here to read
Pony Party Smash Cake | Click here to read
Ice Cream Cone Cake | Click here to read
How To Train a Dragon 2 Cake | Click here to read
Bluey the Beach Birthday Cake | Click here to read
Maltesers Birthday Cake – Triple Chocolate Treat | Click here to read
Where is the Green Sheep Cake | Click here to read
Mini Name Bunting Cake | Click here to read
Stiletto Cupcakes | Click here to read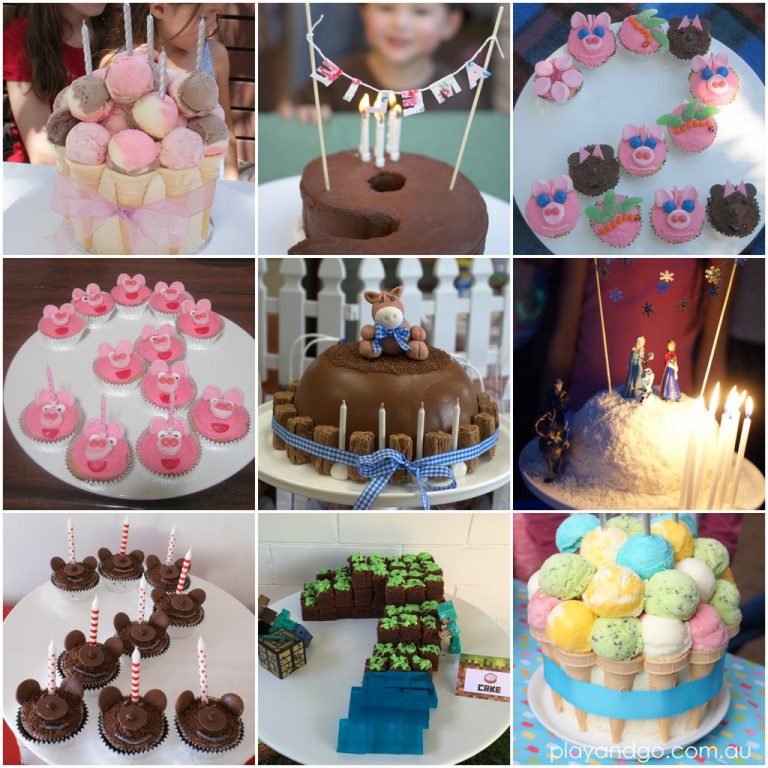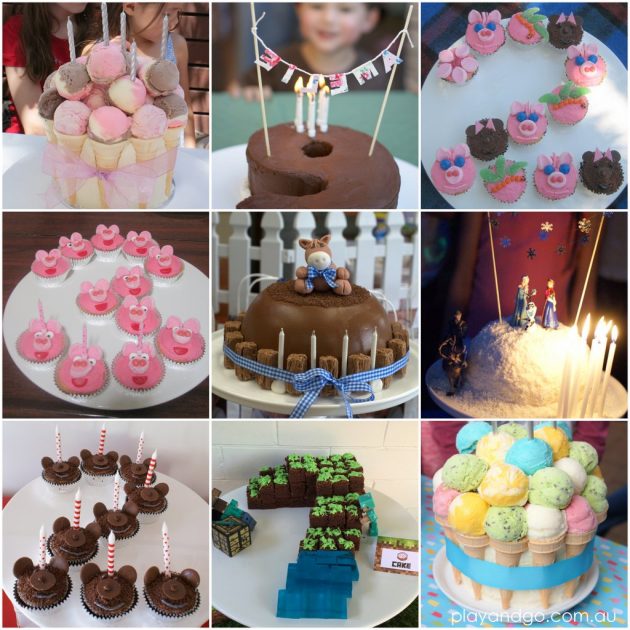 When making a booking be sure to tell them you heard about them through Play & Go!
If you would like to advertise with us, please feel free to send us an email at hello@playandgo.com.au or send a message via our contact page here.
SUBSCRIBE
Subscribe to our weekly email newsletter below to keep up to date with our latest posts and find out what's on, where to go and what to do with the kids in and around Adelaide. Newsletters are only sent once a week, and you may even get the odd 'special offer' exclusively sent to our newsletter subscribers only!
At Play & Go Adelaide we make every effort to provide accurate information to the best of our knowledge at the time of publication. We recommend confirming times, dates and details directly before making any plans as details may be subject to change.
Adelaide party hire … Kids' birthday parties … Planning a party in Adelaide … Adelaide party supplies..