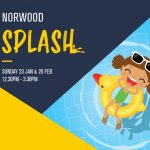 [ January 23, 2022; February 20, 2022; ]
Norwood Splash
Bounce into fun this summer at Norwood Splash.
Take the family along to the Norwood Swimming Centre for some extra fun in the sun this summer. The kids can try out their skills on the pool's inflatable obstacle course. There will be prizes on offer for those who beat the clock.
There are two dates for […]