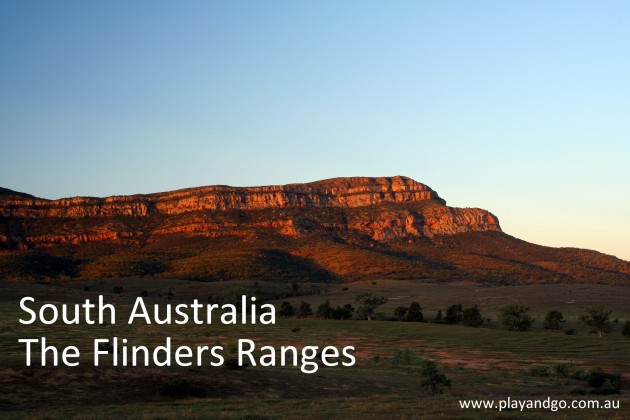 If you want to get a taste of the Outback right here in South Australia, there is no better place to head than the Flinders Ranges. Travelling around 400km north of Adelaide gets you into the heart of the Flinders Ranges National Park where you will enjoy breathtaking scenery around every turn.
The journey up to the Flinders Ranges is best made by car so you can set your own pace and make as many stops as you need to break up the journey. We travelled with the kids and took the route up through the Clare Valley, stopping for lunch on the way. From door to door we travelled for more than six hours, including a couple of stops, but the scenery and changing landscape kept us all interested and happy along the way! We were fascinated by the vastness of the landscape and the massive distances we drove from one homestead to the next. The kids were really intrigued by how different life must be for children living in such rural communities.
Accommodation options in and around Flinders Ranges
There are a few different accommodation options in and around the Flinders Ranges National Park. At the hub of the park is Wilpena Pound and here you'll find the Wilpena Pound Resort. Wilpena Pound  is a natural amphitheatre of mountains, an immense ring of mountains in the heart of the Flinders Ranges covering an area 8km wide by 17km long. The resort is located just outside out this natural wonder. With a range of accommodation options from hotel to cabins as well as camping for tents and caravans, there is something for all budgets.
Rawnsley Park Station
When we went, we stayed in a resort around 15 minutes away called Rawnsley Park Station, which was absolutely wonderful and perfect for our needs. They offer luxury Eco Villas, Holiday Units and a bunk house as well as a campground for both tents and caravans. We stayed in one of the two bedroom Holiday Units, which had a double room, twin room, bathroom, lounge area and a small kitchen. We also had a deck out the front with outside dining furniture.
We were lucky enough to be travelling with two other families and the Rawnsley Park staff were really helpful over the phone and we managed to get our three units all together and close to the free BBQ area. In front of the units there are also fire pit areas for wonderful evening campfires and toasted marshmallows! All of the units enjoy a breathtaking view across to Rawnsley Bluff.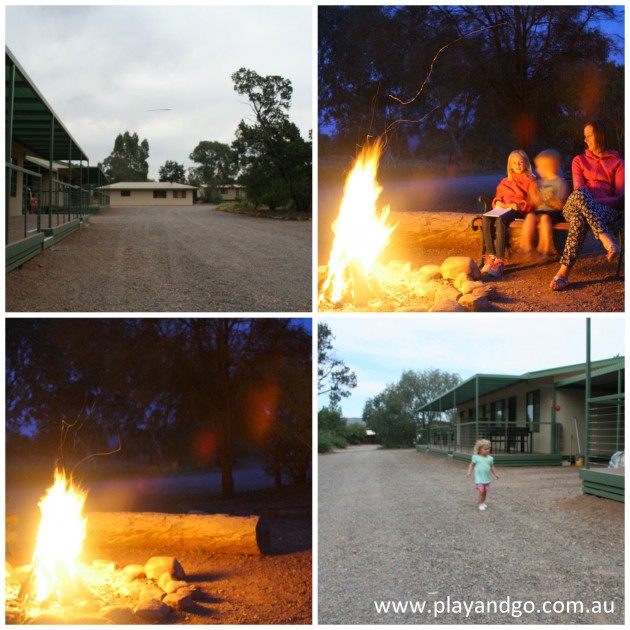 At first glance it doesn't sound like it is going to be a really child friendly holiday. There is a small swimming pool that all guests can use but not the traditional play areas that you might expect. Despite that, the children had an absolute ball. It is such a joy to see the kids playing in nature and exploring their surroundings.
A walking and trail map was provided which included a few trails less than 2km that were easy for little legs. We enjoyed spotting different birds and looking out for the many emus wandering around. If you walk quietly and keep your eyes peeled you can see kangaroos too! We visited over the long weekend in October and were treated to many baby emu sightings too. If you are feeling adventurous you can even arrange a balloon or light aircraft flight over Wilpena Pound.
Wilpena Pound Resort
Whilst we were visiting the Flinders Ranges we had two full days to explore our surroundings. On the first day we drove to the Wilpena Pound Resort and then did a bush walk into the pound. There are a range of different walks and hikes you can do here, we opted for a flat shady walk along a creek towards the Hills Homestead. The homestead lies within the perimeter of Wilpena Pound and was a round trip walk of around 7km from the carpark.
There was a little shuttle bus that could take you some of the distance if your little ones aren't keen to walk so far. There were also toilets near the homestead. From there you can choose to walk an extra km uphill to get a spectacular view over the whole of the pound. Well worth the extra effort for an amazing view! We visited in the Springtime and were treated to a carpet of beautiful purple flowers and a whole family of baby emus wandering close by in the shade close to the Hills Homestead.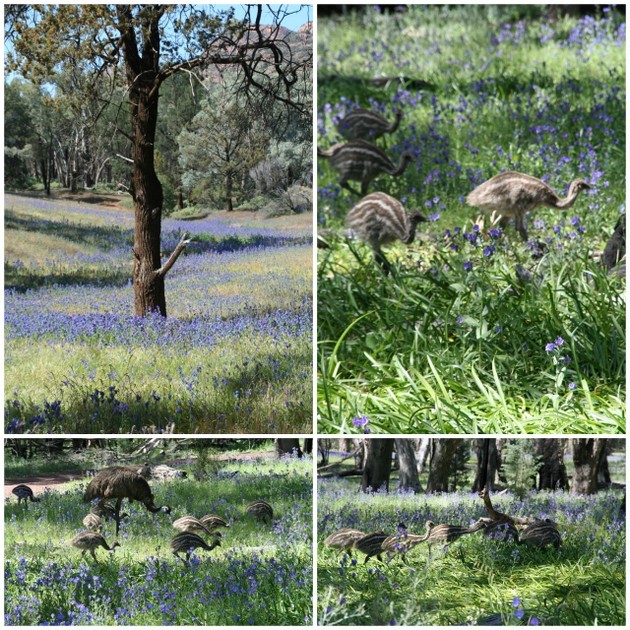 Back at the Wilpena Pound Resort, you'll find an excellent gift shop and very well stocked small grocery store (as well as a large ice cream freezer if the kids need an extra incentive to make it the last few steps back)!
Central Flinders Ranges
Another great day out was a big driving day through the Central Flinders Ranges. When you think of spending time with small children, a day out in the car doesn't always sound like the most fun, but this really was!
There was a lot of stopping and getting out and exploring along the way which kept the whinging at bay. The drive we did was just north of Wilpena Pound and took us right through Bunyeroo Gorge, then Brachina Gorge and lastly Parachilna Gorge. The views are just spectacular. The drive through Bunyeroo Gorge gives you stunning views of the Razor Back Lookout, the Heysen Range of mountains and the ABC Range.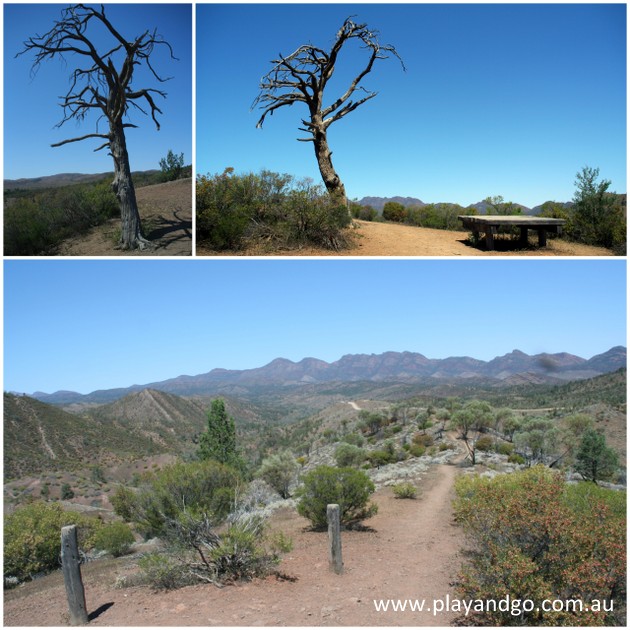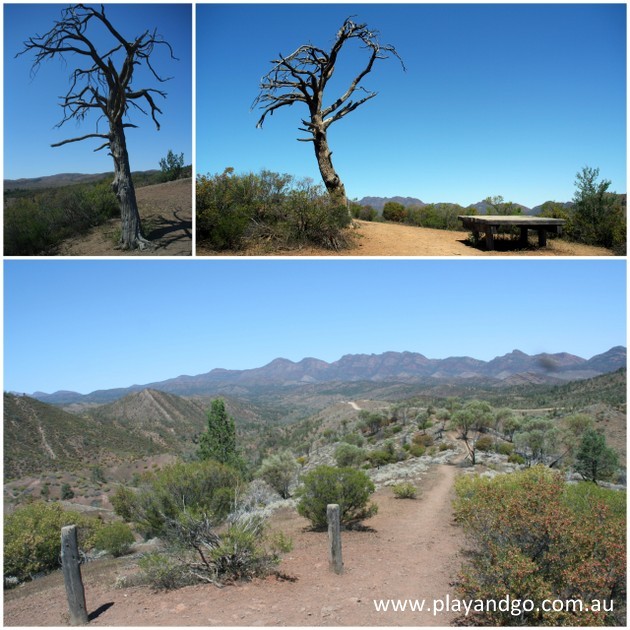 There are parts where you can get out and walk a little way as well. In Brachina Gorge you are mainly driving along an old creek bed through magnificent rock formations and a large number of fossils. Because you are driving through a creek, when we went, there was the odd bit of standing water to drive through but really nothing worth worrying about. You don't need a 4×4 to make the drive. There is also a part of the Gorge where it is common to spot Yellow Footed Rock Wallabies. We got out and waited a while but weren't so lucky.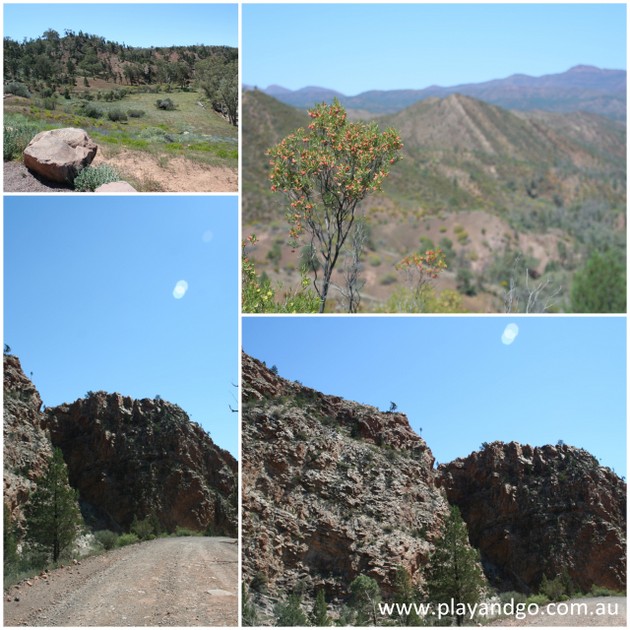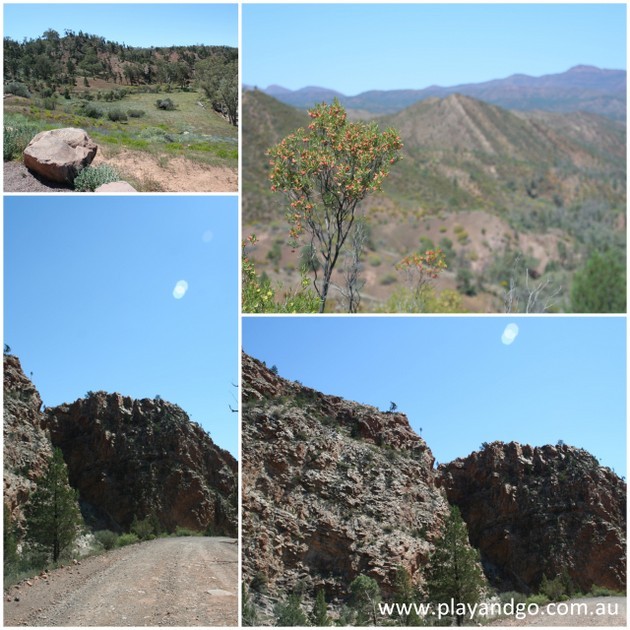 Prairie Hotel
We headed up to Parachilna next and to the famous Prairie Hotel for lunch (the staff at Rawnsley Park had kindly called ahead and made a booking for us). The hotel is famous for the 'Feral Food Platter' which includes emu, goat, kangaroo and camel. If that's not quite your thing they also had normal burgers, salads and sandwiches and a kids menu. The setting is great and the interior is decorated with many stunning Aboriginal works of art, both for display and for sale.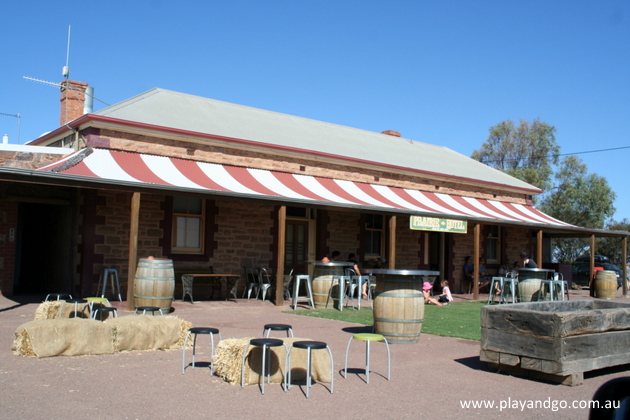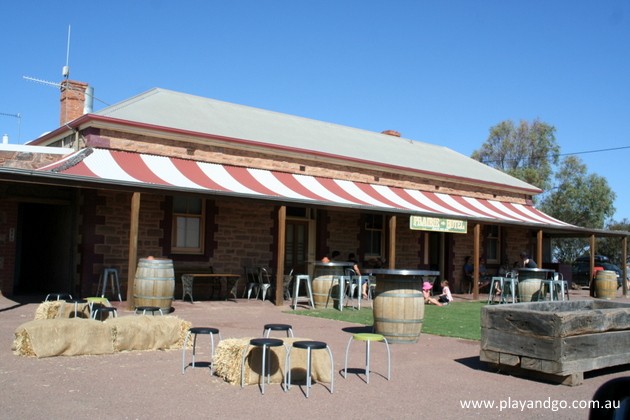 The journey back to Rawnsley Park took us through Parachilna Gorge, some of which follows the original road they used back in the pioneering days to bring copper from Blinman to Parachilna with bullock trains. The township of Blinman is a historic Copper mining town where you can take a tour through the old mine. The tour takes you back to the 1880s when the mine was a hub of activity. In Blinman there is also a small convenience store and a tea room. it proved a useful ice cream stop on our journey! From there it was a straightforward easy drive back to our accommodation, with the option for more lookout opportunities along the way.
The Flinders Ranges might not spring to mind as an obvious choice with the kids, but living in South Australia, it felt like a must do. And we are so glad we did. In our group we had children ranging from age 3 to 8 and they all had a great time. The adults were wowed by the surroundings and the landscape and the kids loved the freedom of the setting and all the wildlife. It was a very special weekend!
You may also like to read about our camping experience at Melrose – review here (a popular place to stop on the way to the Flinders Ranges).
---
Find more info at The South Australian Tourism Commission website here.
What: Exploring South Australia with Kids – The Flinders Ranges | Review
When:  Anytime (we visited in October 2014)
Where: The Flinders Ranges, South Australia
Who: Families
Please note that our Reviews are the opinions of the Play & Go Editors, this is not a sponsored post and we do not advise venues prior to or during Reviews.
All photos are by Play & Go Adelaide.