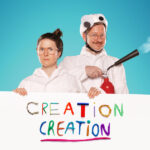 [ May 22, 2021 to May 23, 2021. ]
Creation Creation – DreamBIG Children's Festival
Windmill Theatre Co
How did we get here? What is the meaning of life? And is it possible to lick your elbow?
We've been on a mission asking you, the general public, what you really want to know.
Then, we chose two of our favourite artists to answer these burning questions using any […]