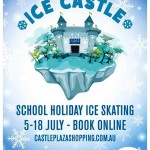 [ July 5, 2014 12:00 pm to July 18, 2014 12:00 pm. ]
Introducing Castle Plaza's magical school holiday activity…. Ice Castle!
Ice Castle is Castle Plaza's very own synthetic ice skating rink – the first one in South Australia to be open to the public. It is the very same synthetic ice that Disney on Ice perform on when real ice is not available.
Come and experience the magic […]