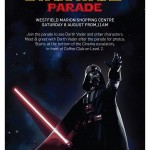 [ August 8, 2015; 11:00 am to 12:00 pm. ]
Calling all Star Wars Fans!
Come and join the Parade to see Darth Vader and other Star Wars characters at the Westfield Marion Shopping Centre this Saturday.
The Parade starts at 11am at the bottom of the cinema escalators, in front of the Coffee Club on Level 2.
At the end of the Parade (and at several spots […]