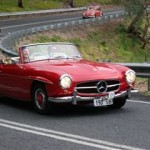 [ September 13, 2015; 12:00 pm to 4:00 pm. ]
Put Sunday 13 September in your diaries and head down to Rundle Street as the Bay to Birdwood converges on Rundle Street East.
Rundle Street, Vardon Lane and Ebenezer Place will be closed and over 70 classic cars and motorbikes will be on display from the 50s, 60s and 70s.
There will be fashion, food and Rock […]