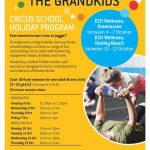 [ October 4, 2016 to October 7, 2016. October 10, 2016 to October 13, 2016. ]
The Circus returns to ECH Wellness this spring school holidays!
Due to the success of the previous Cirkidz programs held during the January and April school holidays, ECH are excited to once again be running a series of sessions across the spring school holidays.
Designed specifically for grandparents and their grandchildren, the program is a great way […]