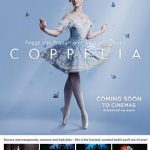 [ April 29, 2017; April 30, 2017; May 3, 2017; ]
Coppélia is a sparkling tale of magic and mischief.
It was lovingly revived by founding Artistic Director Peggy van Praagh and Theatre Director George Ogilvie, and exquisitely dressed by master designer Kristian Fredrikson.
It will have its world premiere in cinemas in 2017.
Show Times/ Locations:
Wallis Mitcham
Saturday 29 April 2017 | 10am & 1pm
Sunday 30 April 2017 | […]