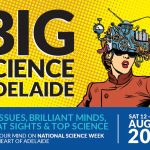 [ August 13, 2017; August 18, 2017 to August 20, 2017. ]
State Library of South Australia Science Week Events
The State Library is participating in National Science Week as they explore innovation, technology and research drawn from their collections.  National Science Week is Australia's annual celebration of science and technology – big issues, brilliant minds, great sights and top science in the heart of Adelaide.
Explorer in Residence – […]