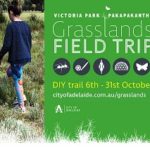 [ October 6, 2018 to October 31, 2018. ]
Grasslands Trail at Victoria Park/Pakapakanthi
Your kids will love the blend of nature and history in this new city-based discovery trail, where children can explore one of Adelaide's most unique natural habitats.
The self-guided trail is designed for your children to imagine, observe and explore.
Simply grab a free activity book and follow the signs!
Booklets can be picked […]